I've heard a lot of people talk about wanting to use more Instant Pot Buttons. Most of the recipes you'll find use the manual/pressure cooker button, but there are a few other buttons you'll use all the time.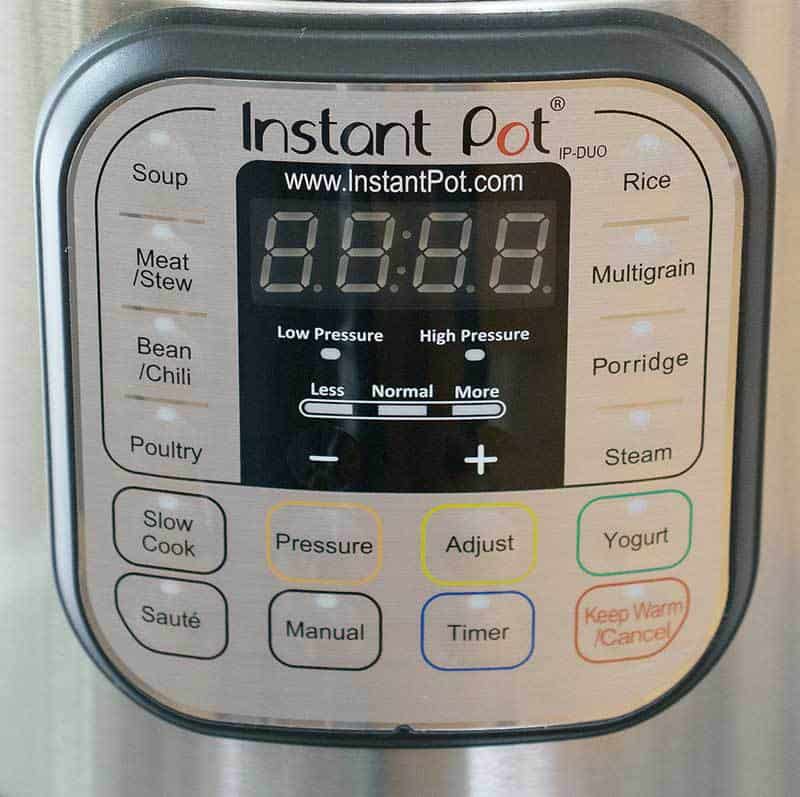 What Do All Those Instant Pot Buttons Do Anyhow?
All the buttons except the sauté, yogurt (not on Lux models), and slow cooker settings are actually pressure cooker shortcuts.
Even steam is a special version of a pressure cooker setting. I'll explain in more detail below, but each button has a preset time and cooking level that you can still adjust manually if you like.
Most Used Instant Pot Duo Buttons
Keep Warm/Cancel Button
Press to cancel current program/cooking selection.
Adjust temperature with the adjust button (less/normal/more)
When you press the button it will turn the Instant Pot off.
By default, the Instant Pot will keep your food warm after the cooking time has elapsed. Time will count up so that you know how long it's been on the keep-warm cycle.
You will use the Keep Warm/Cancel button often to end the sauté function before you start your next cooking program, such as pressure cooking added ingredients.
Sauté Button


Note: No lid is used with this function.
Change the temperature with the adjust button (less/normal/more)
The sauté function can also be used to heat the pot so it will come up to pressure faster
Use this setting after a pressure cooking cycle to reduce the amount of liquid left if needed
This button is used to sauté right in the pot so you don't have extra cleanup. We will use it to cook onions and the like before adding the ingredients that will be finished on the manual or slow cooker settings.
You will click the cancel button to stop sautéing before you click the pressure cooker setting.
Manual/Pressure Cook


Note: Pressure cooking lid is always used with this setting with the vent sealed
Adjust cook time in minutes with the + and – buttons.
Adjust temperature with the adjust button (low/high)
This is the function you will use most often with your electric pressure cooker.
Timer Button


Note: You must select a cooking method, like manual/pressure cook, before you can set the time.



Adjust cook time in minutes with the + and – buttons
The timer will count down until it's time to begin cooking
This is a great function to use to wake up to fresh steel-cut oats in the morning. Set the timer to start cooking when you wake up in the morning.
Warning: Do not put perishable food in the pot without heat for long period of times. This is best for doing a plain water and grain mixture if it will be in the pot overnight.
More Instant Pot Articles