I've got some of my favorite Instant Pot recommendations for you today in my Instant Pot Gift Guide. I help you decide the model and size IP that's right and tell you about my favorite accessories. They are perfect for beginning and advanced electric pressure cooker users. I hope they help you create your holiday list in a flash!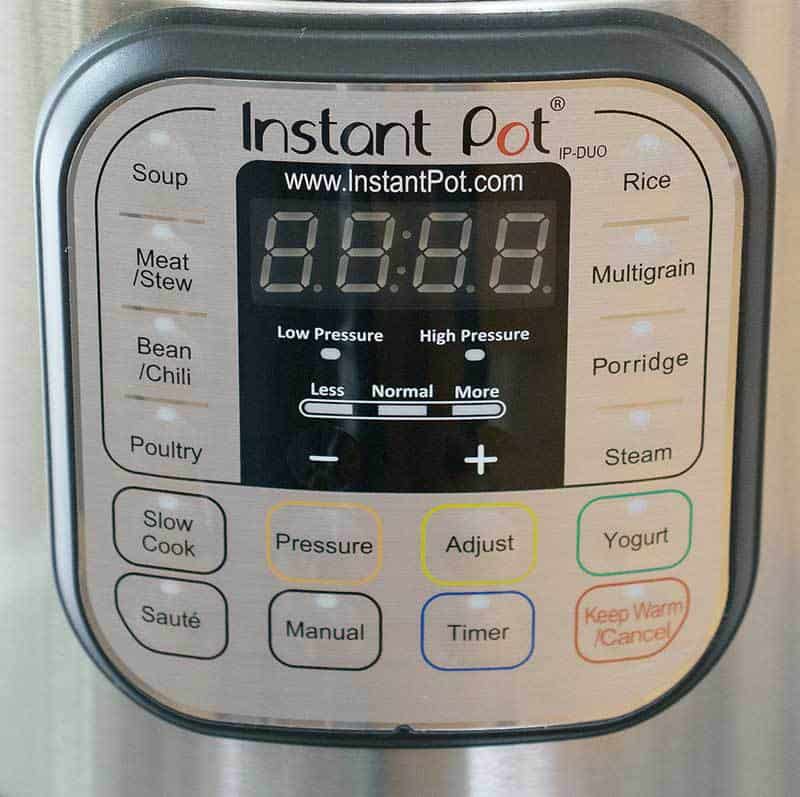 What Instant Pot Cookbooks Should I Buy?
Usually I don't toot my own horn, but I do think my book, The Ultimate Vegan Cookbook for Your Instant Pot has great info. There are sections on staples, vegetables, grain, beans, and so much more. There is also a photo for each recipe.
Jill Nussinow's book, Vegan Under Pressure, is already a classic. Lots of great, healthy recipes and great cooking time information. Jill's awesome and contributed a couple of recipe to my book too. I love it when other vegan authors are supportive of each other!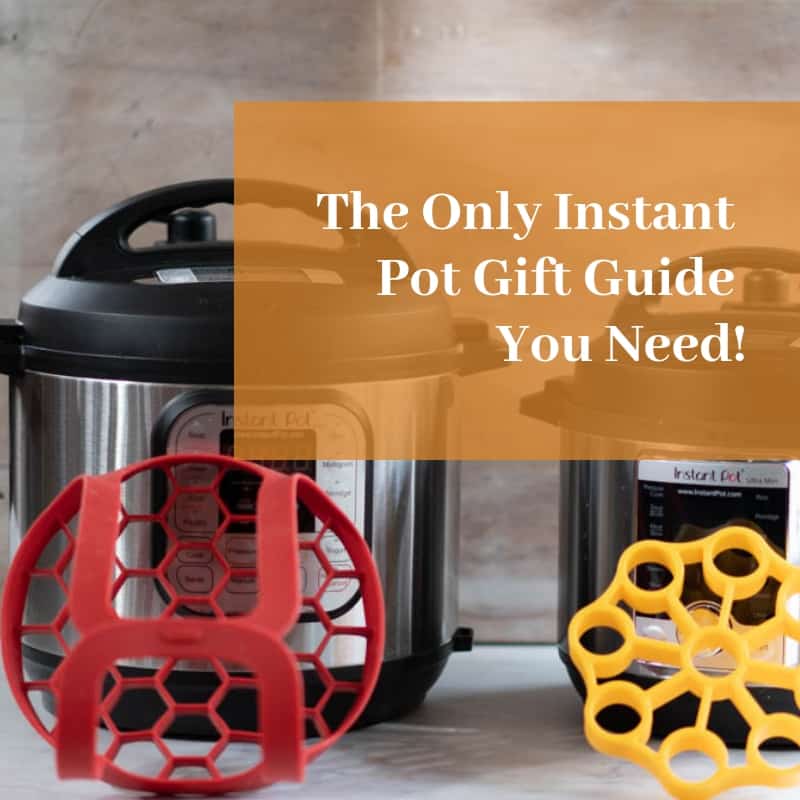 This year JL Fields came out with a revised edition of her book, Vegan Pressure Cooking. There are lots of easy recipes and quite a few photos.
Epic Vegan Pressure Cooking is a self-published book by High Carb Hannah and all the recipes are oil free.
Be sure to use the look in the book feature on Amazon to see which of these appeal most to you. You can get a feel for them from the comfort of your own home!
Are There Any Online Instant Pot Classes You Recommend for Beginners?
Why, yes there are! I have 10 online video classes that you can take on demand and I'm adding new ones all the time. You can look at all my classes here on teachable.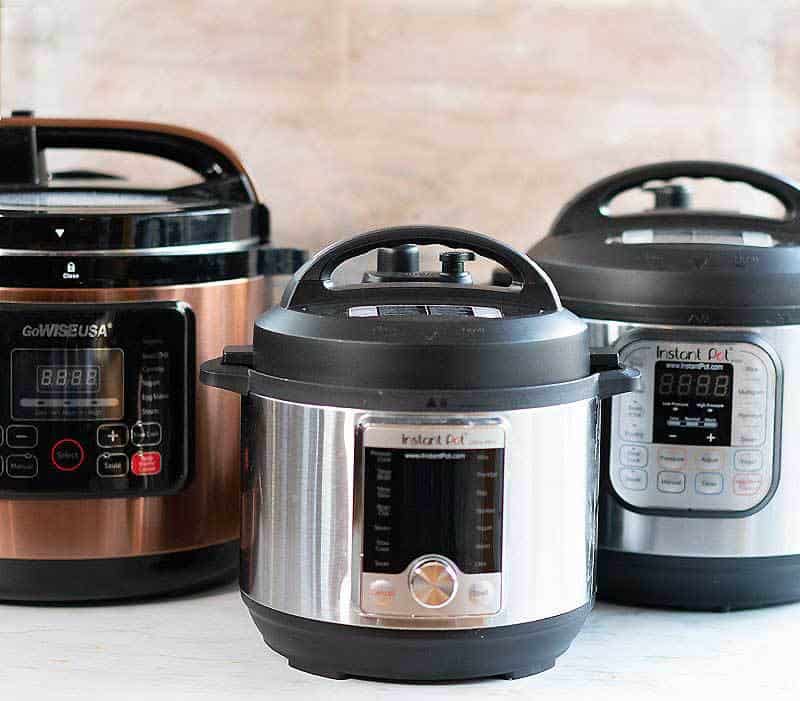 What Size Instant Pot or Electric Pressure Cooker Should I Buy?
This is the question that gets asked the most. Just so you know Instant Pot is a brand name and electric pressure cooker includes other brands like Fagor, Cuisinart, GoWise, and many more.
Cooking for 1 or 2 ?
Try the 3 quart mini Instant Pot. (The one in the middle of the photo above.)
Cooking for 3 to 5?
Try the 6 quart Instant Pot. (The one on the right of the photo above.)
Cooking for 6 or more?
Try the 8 quart Instant Pot. Go Wise has a 6, 8, 10, or 12 quart electric pressure cooker, but they are not listed on Amazon right now. You can see them on GoWise's site. (The one on the left of the photo above.)
What's the Difference Between Instant Pot models like LUX, DUO, DUO Plus, and Ultra?
I was going to put a photo here, but honestly I don't think you need to see the differences. Plus if you're like me you'll go back and forth and make yourself crazy over little things that don't matter much.
I think the Instant Pot DUO model is right for most people, but you can read below to see if there's something you need to have on your electric pressure cooker.
The LUX doesn't have a yogurt setting or a low pressure setting, and is the least expensive of the bunch.
The DUO is my favorite and doesn't cost much more than the LUX. I find it fits all my cooking needs and is a great deal.
The DUO Plus has some extra presets, but you won't find yourself using those presets very often in my opinion. I have one and it cooks great. It does have a sterilization setting if you're interested in that. If it's on sale and cheaper than the DUO I'd go for it if I were you.
The Ultra also has more preset settings that you don't really need. It has a way to manually release the steam with out touching the steam release with your hand. So if that makes you feel more comfortable it's a plus. It also has a digital screen and a knob to select the setting. It takes a little getting used to, but it is nice. Note: You must click the start button on this model, the others start when you select a setting.
There is a bluetooth model and the new Max, but honestly I think they cost more than they're worth at this point. But that's just my opinion. If you want to control settings through your phone or wait to see if the canning function on the Max gets approved by the USDA, then you may want to check them out.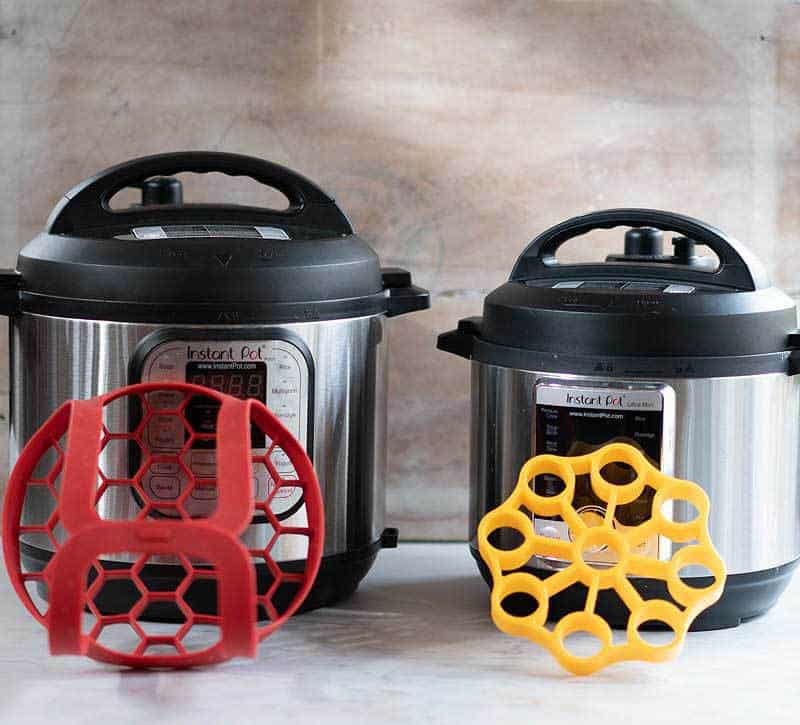 What Are the Essential Instant Pot Accessories?
Don't get me wrong, you can do a ton with an Instant Pot right out of the box. But there are some things that make life easier or let you do more. Be sure to buy any accessory for the size electric pressure cooker you have or will get!
The very first time you cook something with a strong smell you'll be glad you went ahead and bought extra silicone sealing rings. They pick up smells and honestly it's just easier to have one for curries and another for oatmeal at my house!
My second buy would be OXO's bakeware sling. It's the red one pictured in the photo above and is solidly constructed. It will help you get small pans out of your IP. Plus it means you will never need to make aluminum foil handles. It's one of my favorites!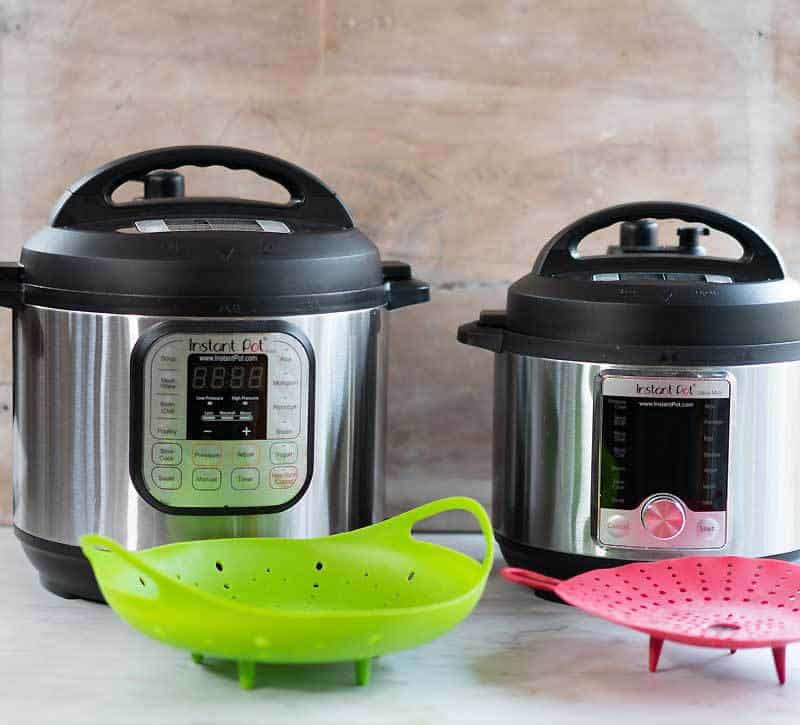 I Love Instant Pot Steamers!
These are not very expensive at all. I use them to steam the veggies and cashews for my cauliflower queso. (You can look at the video for the queso to see me use the 3-quart metal steamer.)
I have 2 silicone steamers pictured above that I do a lot of my cooking in. I also love the stainless steel and mesh steamer baskets.
Be sure to buy any accessory for the size electric pressure cooker you have or will get!
What Pans Can I Use to Cook an Instant Pot Cake or Cheesecake?
Yes, you can bake in your pressure cooker. It's perfect for cheesecakes and very moist regular cakes, like my Instant Pot Carrot Cake Sweetened with Dates or The Veggie Queen's Cashew Lemon Cheezecake.
I love the stainless steel Ekovana IP cheesecake pan. It has a handle so there's no need to make aluminum foil handles to use it. The bottom also pops in and out making it so much easier to remove cakes!
You can also find some springform pans that will fit. Be sure to measure your IP and take the spring into consideration when picking a size.
The next thing I like will seem odd because of what it's called – an egg bite mold. But don't get your feathers ruffled, we plant based people use them to make vegan cakes. You could also make some vegan quiches or breakfast tofu bites in them too.
Be sure to buy any accessory for the size electric pressure cooker you have or will get!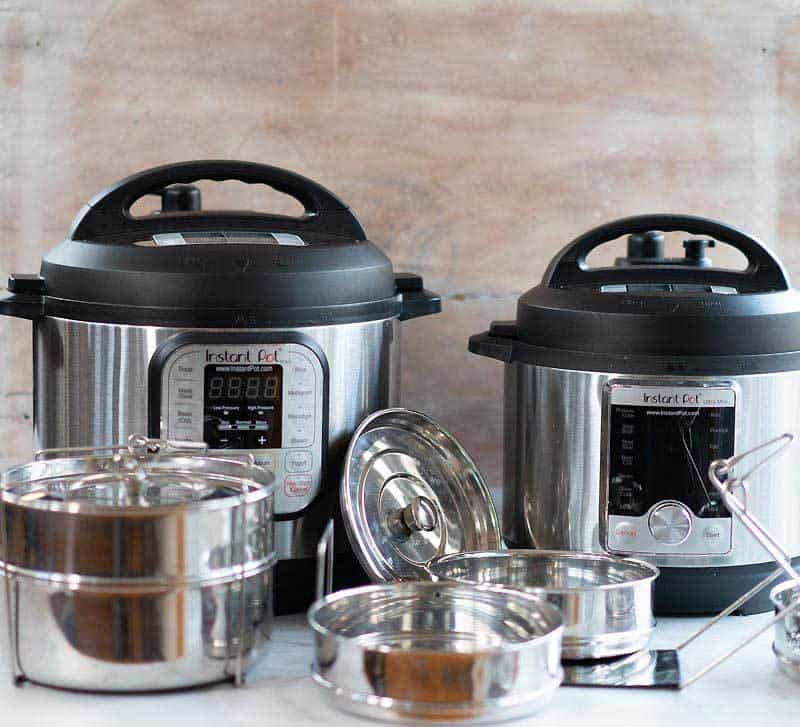 What Do I Need to Cook More Than One Recipe at a Time?
You'll hear this called layered or pot in pot cooking and it's when you stack pans to cook more than one dish at a time. That's the method I use to cook Creamy Mushroom Curry and Pilaf at the same time.
These have improved so much since I wrote my vegan Instant Pot cookbook. They are heavier and some even have a steamer inserts you can switch out.
I have several of stackable stainless steel sets and really get good use out of them. I love that they have handles that help you get them in and out of your IP.
Be sure to buy any accessory for the size electric pressure cooker you have or will get!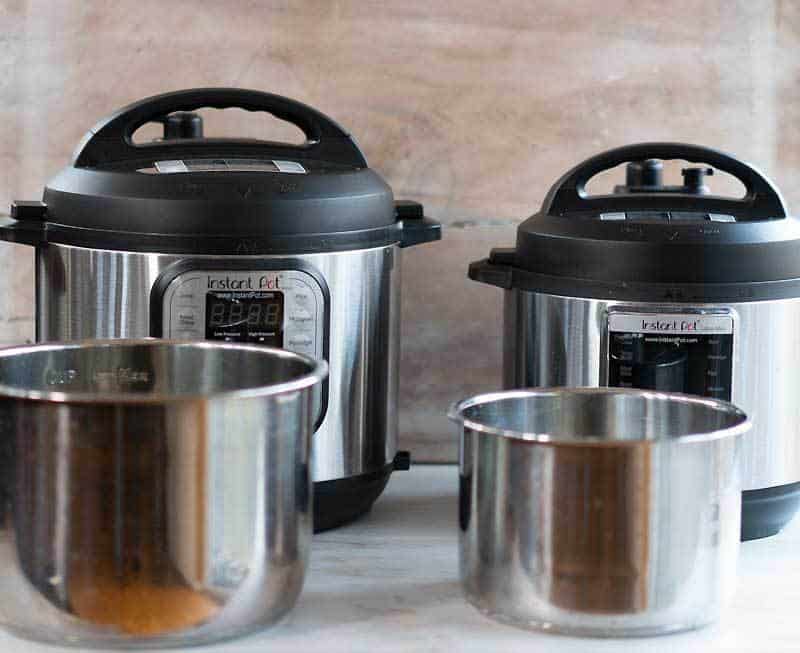 Should I Get an Extra Liner?
The Instant Pot brand comes with a stainless steel liner which I love and it cleans up great. I like having 2 liners so I can make a second dish while I'm cleaning up or soaking the first liner.
If you prefer a non-stick Instant Pot liner you can get one of those instead. It's really just a personal preference.
Where Can I Get Your Updated Recommendations?
I have an Amazon Influencer page here that is sectioned into categories of the things I like and recommend. Some Categories are appliance specific and others are tailored to some of the online classes I teach.
I keep this list updated all year long. Plus you can always ask me if you are looking to buy something and I'll give you my thoughts. You can get super-quick answers in my Facebook Group.
More Instant Pot Information