Now that you have an Instant Pot you want to squeeze all the use out of it that you can. Instant Pot Accessories can make it easier to slow cook in your Instant Pot, steam dumplings and tamales, and so much more!

I Love My Electric Pressure Cooker Accessories
I wanted to share some of my favorite Instant Pot Accessories that help me squeeze lots of use from my Instant Pot. If you have some favorites that I don't mention, please leave them in the comments.
I use accessories to extend what I can do in my Instant Pot or to make a few tasks easier for many recipes in my new book, The Ultimate Vegan Cookbook for Your Instant Pot. You'll also find them mentioned in many recipes here on Plant Based Instant Pot.
Don't Burn Your Hands!
The little pot holders, mini mitts, and pot grippers below will make it easier to remove pans and ramekins from your Instant Pot without burning those fingers!

Cooking Multiple Layers is the Best Thing Ever!
One thing I love to do is to cook multiple dishes at the same time. Think about cooking rice and a veggie curry all at the same time!
You can do this as simply as stacking Pyrex containers on top of the rack that comes with your Instant Pot. I use these 3-cup Pyrex rectangle dishes. Instead of using the lids, I covered the tops with foil and stacked them like plus signs. I was able to fit 3 in at a time.
I was able to get some stackable stainless steel containers that even had an insert rack. At first there was only one, but now Amazon has a few that are made with quality stainless steel.
These are some I like that fit in a 6-quart Instant Pot: InstaPot 6 Qt Steamer Basket 1 is the stack n' cook and my new favorite, InstaPot 6 Qt Steamer Basket 2, 6 Qt Steamer Basket 3, and 6 Qt Steamer Basket 4.
Here are a few that are specially for 3 -quart electric multi-cookers: 3 quart Ekovana, Swish Abode, or Stack and Cook are the ones I've tried so far.
Turn Your Instant Pot into an Air Fryer!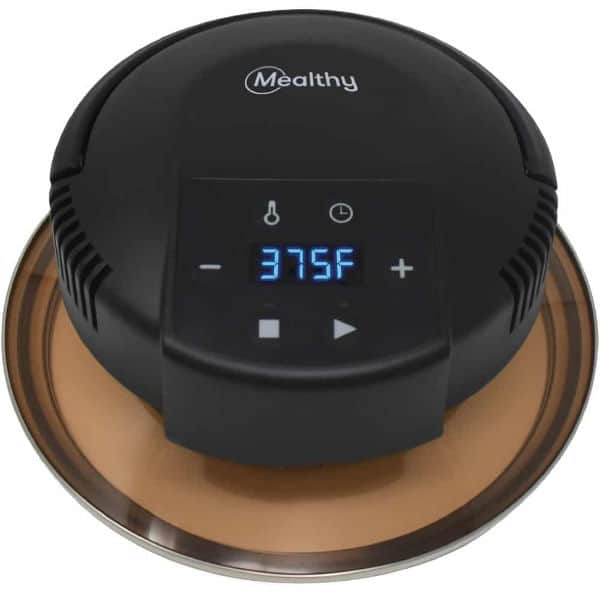 Click to Pre-Order the CrispLid Fits 6 and 8 quart IPs!