Now that you have an Instant Pot you want to squeeze all the use out of it that you can. Instant Pot Accessories can make it easier to slow cook in your Instant Pot, steam dumplings and tamales, and so much more!
I Love My Electric Pressure Cooker Accessories
I wanted to share some of my favorite Instant Pot Accessories that help me squeeze lots of use from my Instant Pot. If you have some favorites that I don't mention, please leave them in the comments.
I use accessories to extend what I can do in my Instant Pot or to make a few tasks easier for many recipes in my new book, The Ultimate Vegan Cookbook for Your Instant Pot. You'll also find them mentioned in many recipes here on Plant Based Instant Pot.
Don't Burn Your Hands!
The little pot holders, mini mitts, and pot grippers below will make it easier to remove pans and ramekins from your Instant Pot without burning those fingers!
Cooking Multiple Layers is the Best Thing Ever!
One thing I love to do is to cook multiple dishes at the same time. Think about cooking rice and a veggie curry all at the same time!
You can do this as simply as stacking Pyrex containers on top of the rack that comes with your Instant Pot. I use these 3-cup Pyrex rectangle dishes. Instead of using the lids, I covered the tops with foil and stacked them like plus signs. I was able to fit 3 in at a time.
I was able to get some stackable stainless steel containers that even had an insert rack. At first there was only one, but now Amazon has a few that are made with quality stainless steel.
These are some I like that fit in a 6-quart Instant Pot: InstaPot 6 Qt Steamer Basket 1 is the stack n' cook and my new favorite, InstaPot 6 Qt Steamer Basket 2, 6 Qt Steamer Basket 3, and 6 Qt Steamer Basket 4.
Here are a few that are specially for 3 -quart electric multi-cookers: 3 quart Ekovana, Swish Abode, or Stack and Cook are the ones I've tried so far.
Slow Cook in Your Instant Pot
If you plan on slow cooking in your Instant Pot take a look at my post How to Slow Cook in Your Instant Pot.
You don't have to have a tempered glass lid. Personally, I use one because I like to peek in and I know the evaporation will be a little closer to a traditional slow cooker.
One thing to note is that I do not recommend making slow cooker baking recipes or slow cooker recipes that call for dried beans. The baked goods just don't work the same in the extra moist environment and the cooking times on dry beans using the Instant Pot slow cooker setting is not consistent.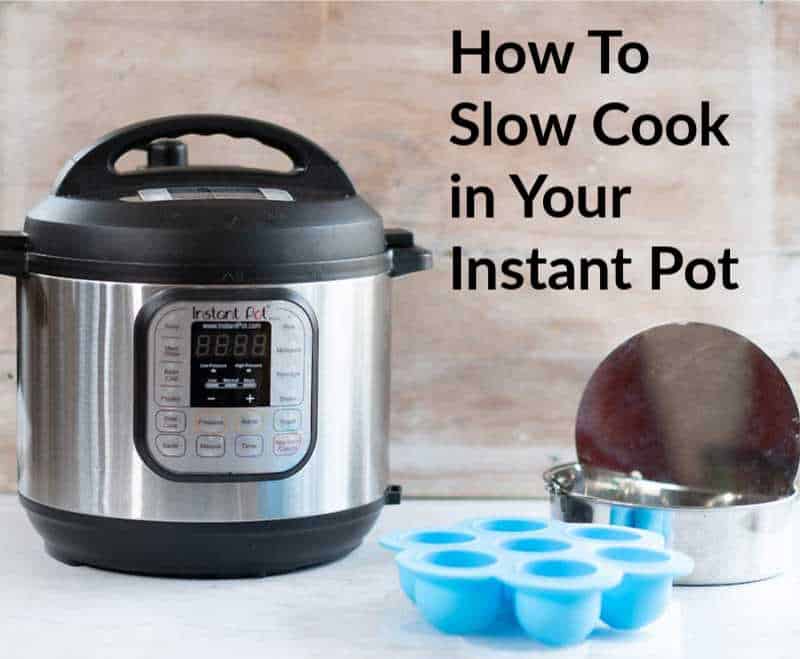 You Know You Want to Bake in Your Instant Pot
Everyone is excited about making a vegan cheesecake or baking something moist and delicious, like a Pear Cranberry Cake, in their IP. You will be placing a smaller pan on top of the rack that came with your Instant Pot, so you will need a smaller pan than one you would typically use in your oven.
If it's not a springform pan, you can go up to 8 inches to fit in your IP, but if it's a springform don't go past 7 inches to leave room for the closure.
You can use Pyrex or pottery dishes that fit as well. I love my 5 inch pottery bundt and you can get one similar here. Be sure to look at your local thrift store for cool pottery that you can use, too.
Ramekins Are Great in the Instant Pot!
Don't forget that you probably have some ramekins or mini baking dishes in your cabinet that you can use. Also tea cups work great too if they are oven-safe.
When you use odd shaped dishes you may need to use a plate retriever or use silicone bands or aluminum foil to be able to remove some of these dishes easily.
These Are the Steamers You're Looking For
Steamers are great to use in your IP. A topless bamboo steamer will cook up some great dumplings. A silicone steamer with handles is an easy way to remove hot veggies, and I like the deeper metal ones to steam tamales in. There's even one that's made especially for pressure cooking, the Instant Pot 6 Qt Steamer Basket.
My Favorite Instant Pot Steamer Baskets
Do Yourself a Favor and Get Extra Sealing Rings
You will probably want to have more than one Instant Pot Silicone Sealing Ring because they tend to hold smells. I've noticed that recently you can even buy them in different colors to make it easier to tell them apart.
Be sure to check the size to make sure they fit in the size IP that you have. Here's a link for 3-quart sealing rings, 6-quart sealing rings, and 8-quart sealing rings.
Other Extras You Might Want
You may want to grab an extra Inner Cooking Pot, Stainless Steel Rack, or even prefer to use a Ceramic Non-Stick Instant Pot Inner Pot instead of the stainless steel. With that said, I love the stainless and find that even burned on food wipes out easily if you let it soak overnight.
More Instant Pot Articles