Did you know that you can make extra moist cakes in Your Instant Pot?
My Instant Pot Carrot Cake is sweetened with dates instead of refined sugar and uses whole wheat pastry flour.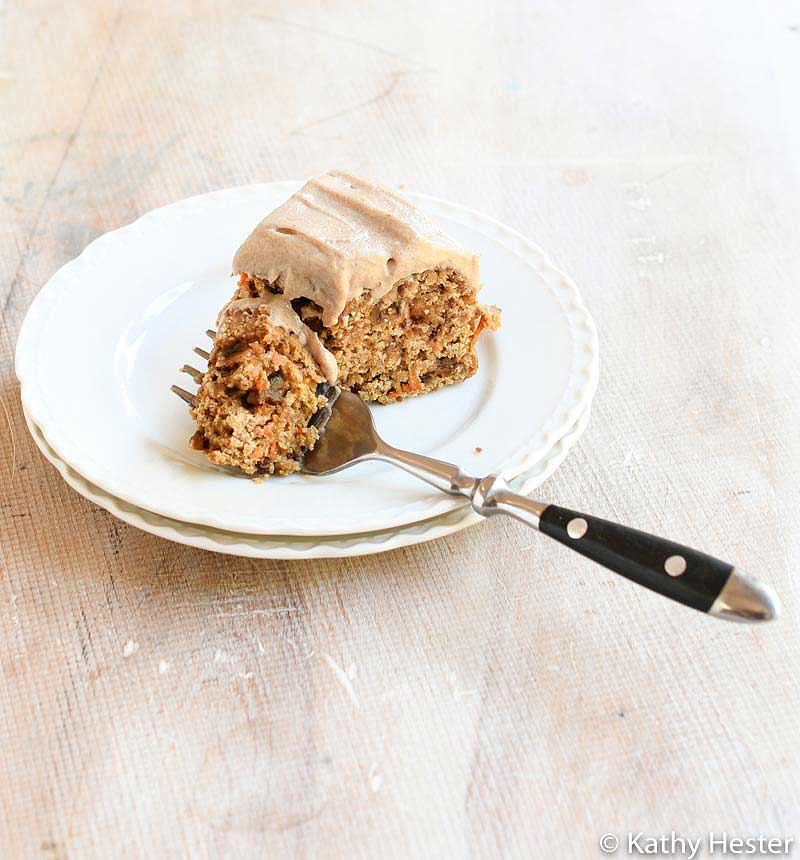 You Can Bake in Your Instant Pot?
You can indeed bake in your Instant Pot on the manual/pressure cooking setting or on the cake setting if you have one on your model of Instant Pot.
The wet heat of the electric pressure cooker creates an extremely moist cake. It's almost between a cake and a steamed English pudding.
My recipe for Instant Pot Carrot Cake makes a very thick batter which I think works best in your Instant Pot and slow cookers too.
More Instant Pot Recipes to Try
The Best Instant Pot Chai Tea Concentrate is my go to and I keep it in my fridge at all times. While it's still summer try making some Instant Pot Vanilla Peach Chia Jam.
If you are looking into buying an Instant Pot be sure to read Which Instant Pot Is Right For Me? Or check out the Instant Pot Accessories to get more ideas about the type of pans you can use to bake in your electric pressure cooker.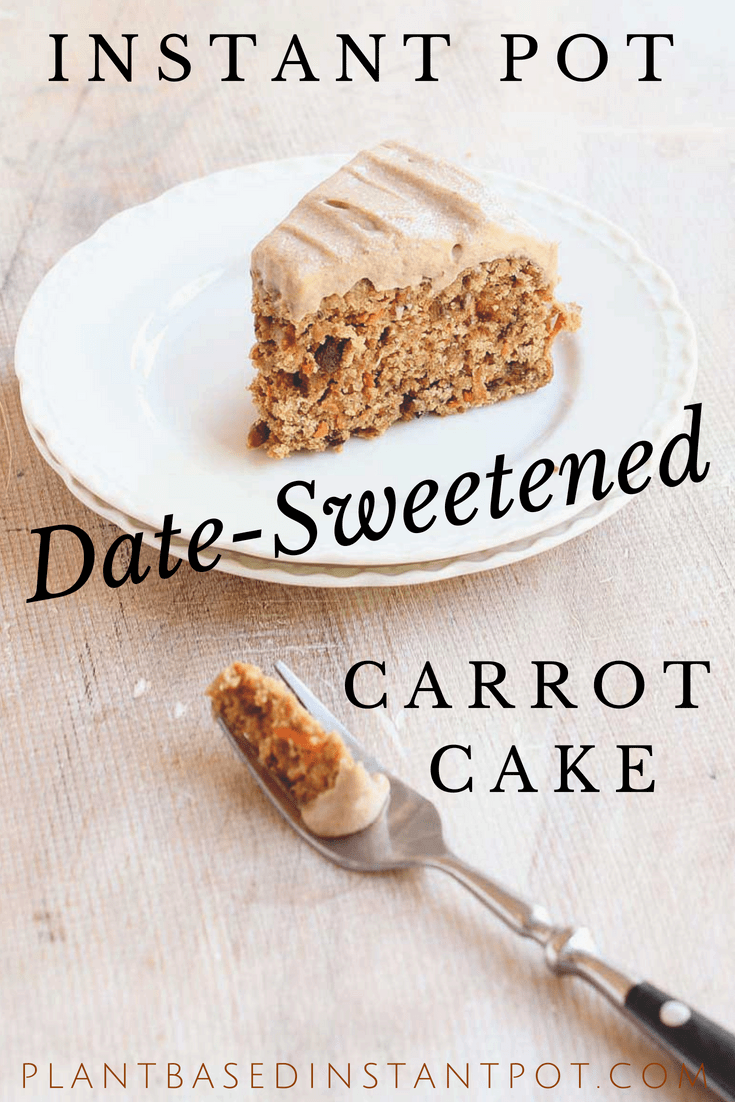 Things to Keep In Mind When Baking In Your Instant Pot
Cakes are not going to brown the same in your Instant Pot as they do in the oven. Usually I'm using whole wheat pastry flour, so that doesn't really matter because it's already brown.
Make sure to seal your baking pan with foil. If you don't the moisture that's making the pressure will just drip on your cake. Not only will it be mushy, it won't ever finish cooking,
Cooking a cake with pressure doesn't really speed up the process. So why do it? In the summer it won't heat up your house and you can use it on the holidays when your oven can't hold one more thing.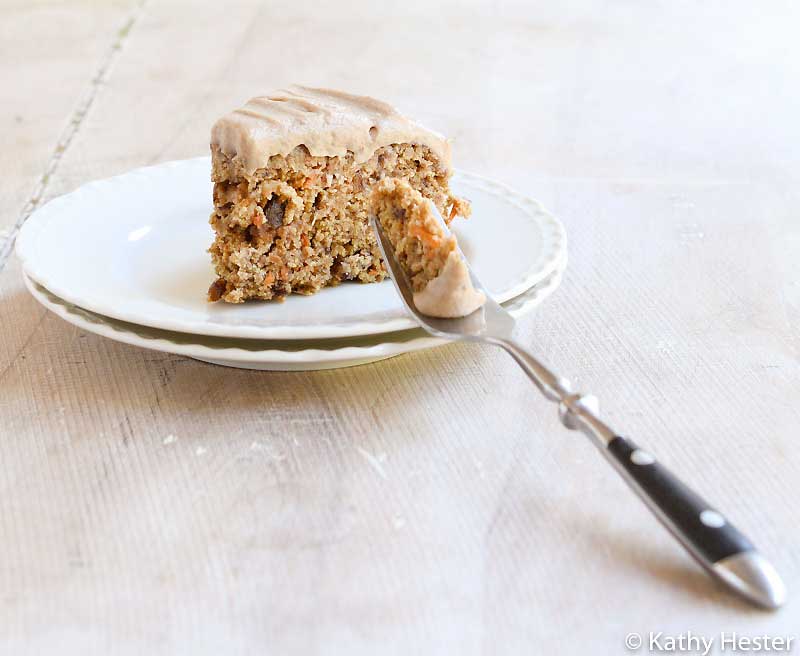 What Size Cake Pan Should I Use in my Instant Pot?
This recipe is for a 6-quart Instant Pot, so typically a 7 inch cake pan or springform works best. You can often squeeze in an 8 inch if it is not a springform pan. Be sure to try yours in your Instant Pot liner BEFORE you put the batter in.
I used the Ekovana pan. I also added in a 3-quart version because you could half this recipe and cook in it.
How Can I Get the Pan Out of My Instant Pot Without Getting Burned?
You will always be covering the top of your cake pan with foil, so these silicone bands give you something to hold on to lower and raise your pan from your electric pressure cooker.
Barbara, of PressureCookingToday.com, had a brilliant idea to cut a silicone pastry mat to use as a sling under bowls or pans you place inside the pressure cooker. You can also do this with aluminum foil, but with the silicone, you will make it once and use it forever! You can see her post about this at www.pressurecookingtoday.com/how-to-get-a-pan-out-of-the-pressure-cooker.
Oxo made a new Instant Pot Accessory sling that's even better than that and no work is involved! Note that this is too big for a 3 quart Instant Pot, but will fit in a 6 or 8-quart electric pressure cooker.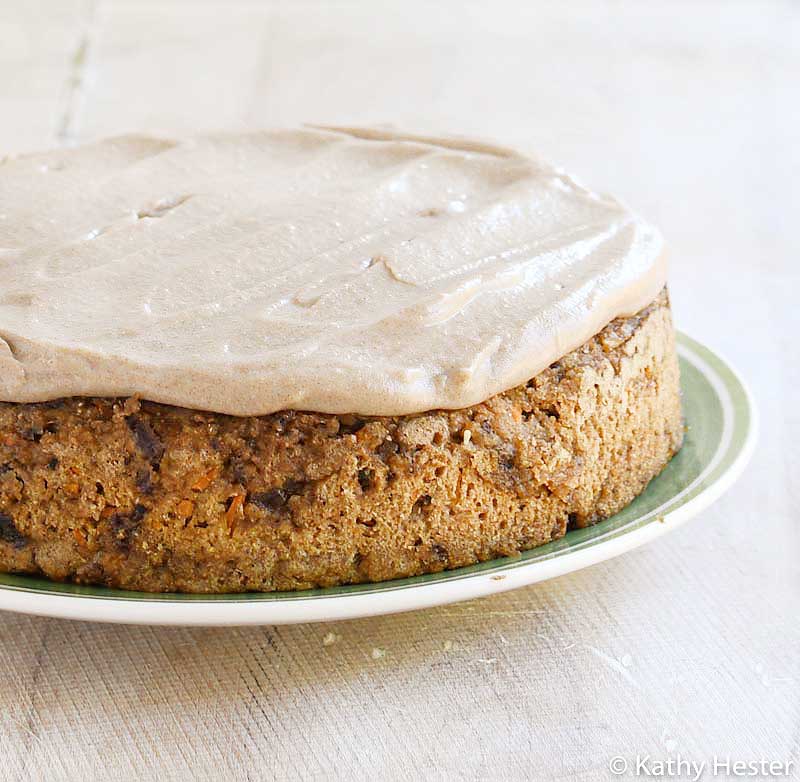 Instant Pot Carrot Cake Variations
You can add in about 1/2 cup of chopped walnuts, pecans or your favorite nuts.
Use raisins or figs to sweeten in place of the dates in the cake. You could even try other dried fruit, just make sure it's sweet enough.
I haven't tried this with a gluten-free baking blend yet, but theoretically, it should work.  The cooking time might be a little different. Please let me know in the comments if you try and it and what adjustments you make.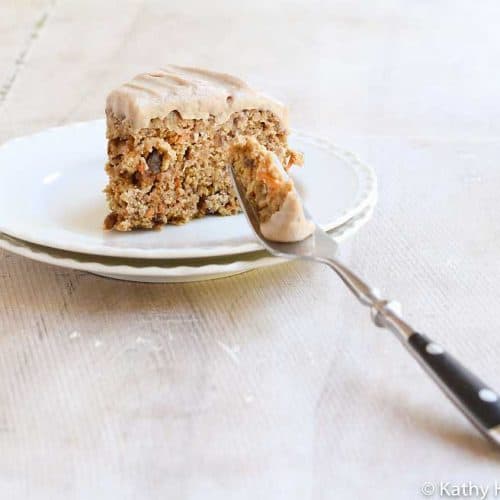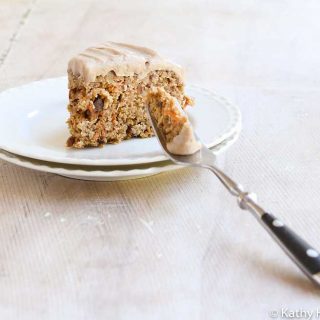 Instant Pot Date-Sweetened Carrot Cake
Did you know that you can make extra moist cakes in Your Instant Pot? You're going to have so much fun making this one!
Ingredients
Instructions
Get Your Instant Pot and Pan Ready
Add 1 1/2 cups of water to your Instant Pot insert and then put your rack in it. This will keep the pan above the water.

Prepare a pan that fits into your 6 quart Instant Pot. Spray the pan with oil and/or line with parchment paper.
Make the Batter
Mix all the dry ingredients in a large mixing bowl.

In a smaller bowl mix the wet ingredients and add the mix-ins. Mix well, then add the wet mixture to the dry mixture.

Spread the batter in the prepared pan. Cover with aluminum foil and seal well so water will not get in.

Place the covered pan on the rack in your Instant Pot.

Cook on high pressure for 50 minutes. Now is a good time to start the icing. Let the pressure release naturally.
Make the Icing
Place the cashews, chapped date and water into a sauce pan and bring to a boil. Take off the heat and let cool.

Take the cooled mixture and put in a small blender. Blend until smooth and and extra water if needed.

Ice the cooled cake and enjoy!
Nutrition
Serving:
1
g
Calories:
226
kcal
Carbohydrates:
42
g
Protein:
6
g
Fat:
6
g
Saturated Fat:
1
g
Polyunsaturated Fat:
2
g
Monounsaturated Fat:
3
g
Sodium:
211
mg
Potassium:
444
mg
Fiber:
6
g
Sugar:
19
g
Vitamin A:
2685
IU
Vitamin C:
2
mg
Calcium:
69
mg
Iron:
2
mg