If you don't have time to can some of summer's beautiful flavors, you still can make this quick and easy Instant Pot Vanilla Peach Chia Jam. Then you'll have some summer to spread on your toast, mix in your homemade yogurt, or to put on top of your vegan ice cream.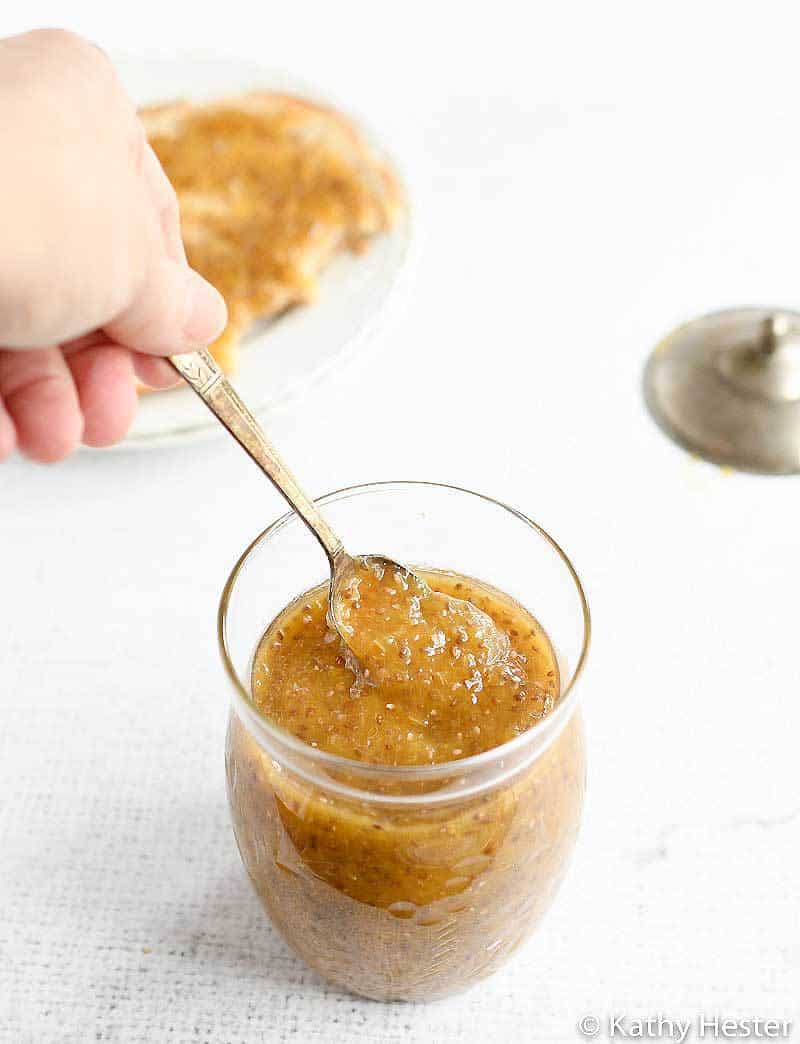 You Need this Instant Pot Vanilla Peach Chia Jam
We're so lucky to have such a wide variety of fresh fruit in the summer. Peaches, nectarines, apricots, berries, mangos, and more are the highlight of warm weather for me.
Sometimes I even manage to have too much fruit to eat. This chia jam is the perfect way to preserve it for a few weeks in the fridge or even longer in your freezer.
It's easy to make and doesn't take much time at all. Be sure to read to the bottom of this post to get ideas on variations you can make.
In this recipe we use a little maple syrup to sweeten it, but you can leave that out if your fruit is sweet enough without it. You could also you the sweetener of your choice, to taste.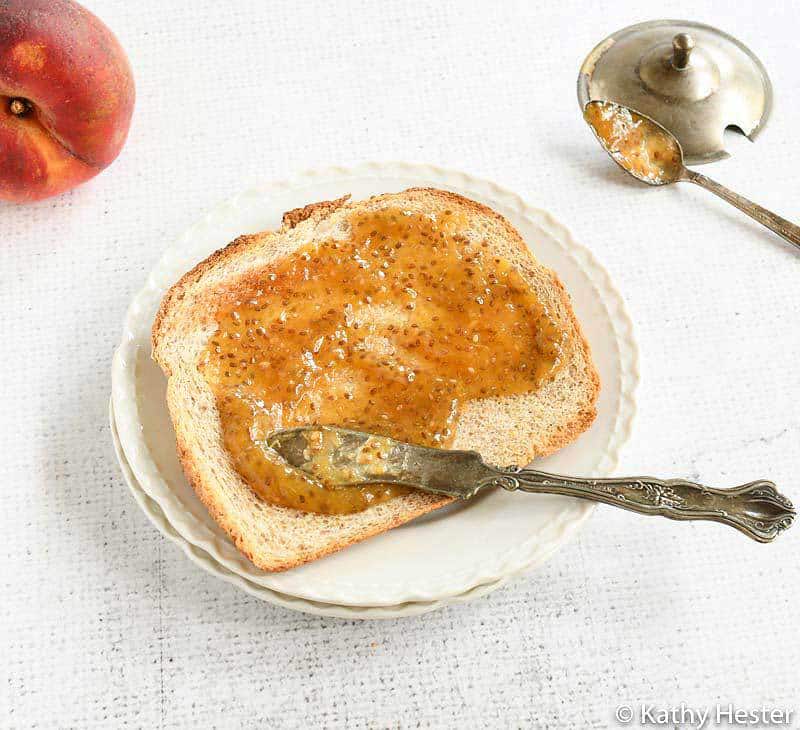 What Are Chia Seeds Anyhow?
My first introduction to chia seeds was seeing them in commercials for chia pets. Do any of you remember the jingle? Cha-cha-cha chia…
Besides being decorative chia seeds are full of omega-3, antioxidants, fiber, and protein. Yes, that does make them a superfood! Chia seeds have a little magic up their sleeves. They absorb many times their weight and because of that gel up great to make chia pudding and thickens this jam.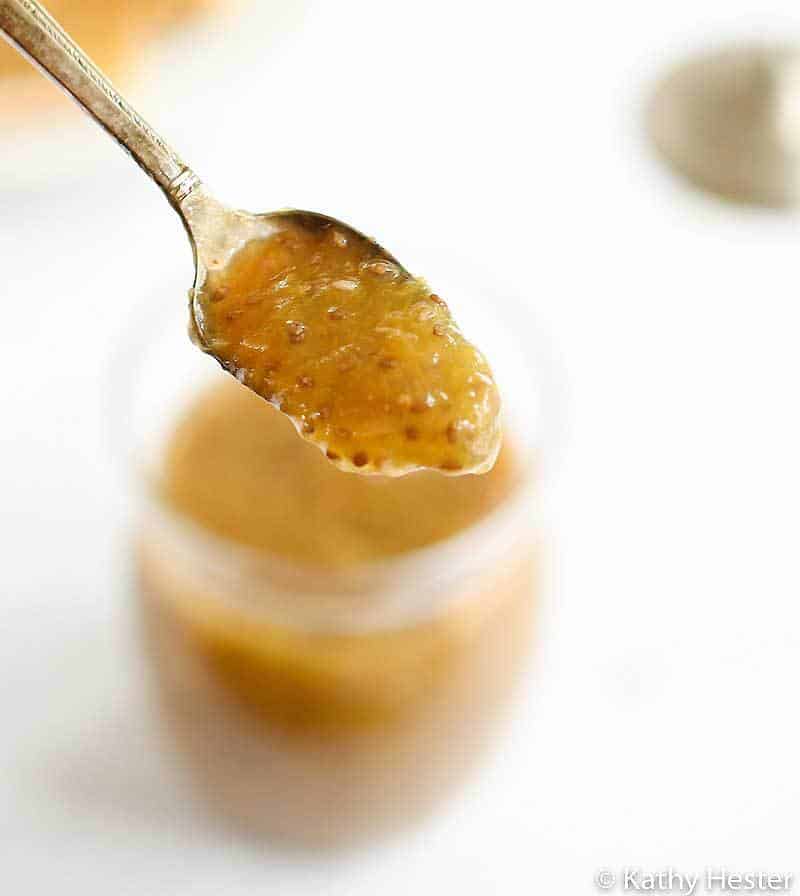 How Do You Store Instant Pot Vanilla Peach Chia Jam?
Chia jam is not for canning. Even though there's some sweetener and acid it is not formulated for safe canning.
How Long Will Chia Jam Keep?
This Instant Pot Vanilla Peach Chia Jam will keep for 1 to 2 weeks in the fridge. If you have more than you can eat in that time you should read on to get details on freezing it instead.
Do You Have Extra Peaches?
Make some Instant Pot Infused Peach Water with Basil, it's refreshing and will help you drink more water!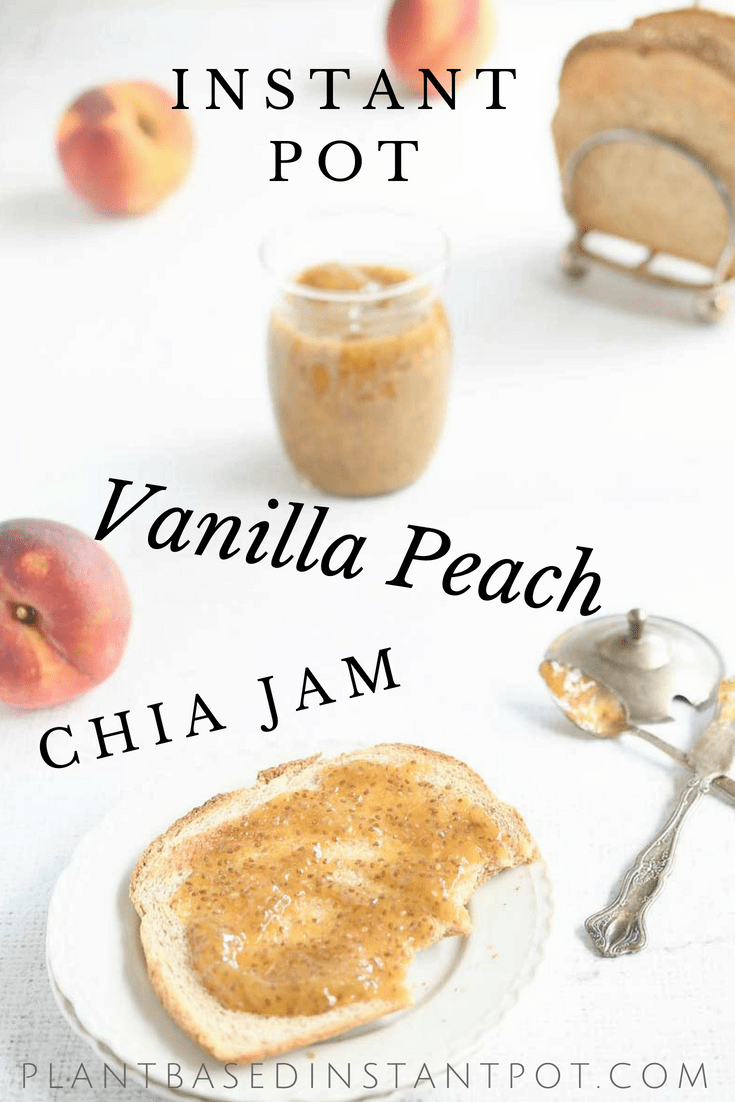 Can I Freeze Chia Jam?
Why yes you can! Think of what a treat it will be to pull out some peach jam out in the middle of winter.
I recommend freezing in small containers, maybe 1/4 or 1/2 cup each. That way you will have just the amount you'll use in a week.
Chia jam can be frozen for up to 6 months. Just take out a container the night before you want to use it and thaw in your refrigerator.
More Summer Instant Pot Recipes
I always keep a nice cold pitcher of The Best Instant Pot Chai Tea Concentrate on hand to keep cool and some lemon rosemary infused water to hydrate even more.
My Plant Based Instant Pot Potato Salad No Oil is nice to have on hand for a right-from-the-fridge summer lunch. Indian Pot Asian Beets add a splash of color to your green salads.
Or you make a summer veggie plate right in your Instant Pot!
Chia Jam Variations
blend with an immersion blender to make smooth
vary the fruit according to what's in season
or if it's not in season you can still make this with frozen fruit
change out the flavoring from vanilla to orange blossom water, bourbon, or almond extract
apricot + almond extract
blackberry + fresh mint + rum + lime
strawberry + balsamic vinegar
and so many more!