These Instant Pot Asian Pickled Beets are refreshing served straight from the fridge.
They are easy to make and infused with ginger and star anise to give them an extra burst of flavor.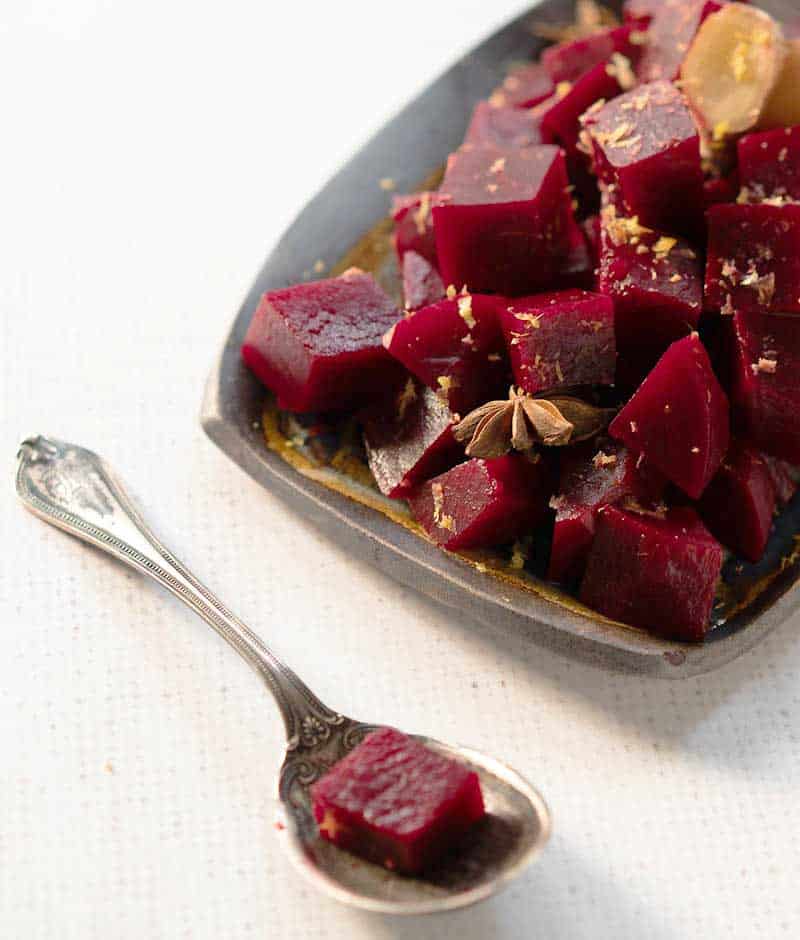 Beet Lover or Beet Hater?
I love beets in all their forms, but especially pickled. If you have beet haters in your house try introducing them to pickled beets first.
The vinegar, ginger, lemon peel and star anise will cover some of the "dirt" taste of the beets. They just taste earthy to me but Cheryl thinks they taste like dirt.
But even she eats my Instant Pot Quick Pickled Beets and these Instant Pot Asian Pickled Beets!
How Can I Make Pickled Beets Without Canning?
These Asian Pickled Beets Are Quick Pickled. What that means is that they are NOT shelf stable and need to be stored in the fridge.
It also means that you can eat them as soon as you make them! I like to eat them chilled the best, but use some fresh out of the Instant Pot for a side or on a salad.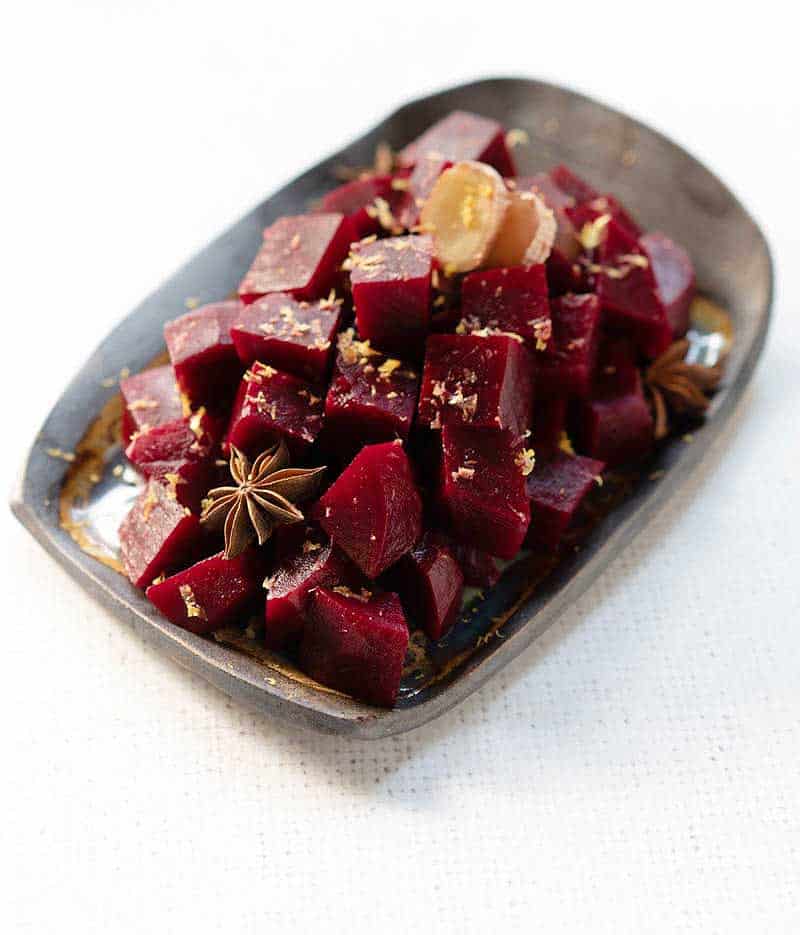 Hate Peeling Beets?
First you could try cooking beets whole in your Instant Pot. Then you can peel them, cut and add to the marinade instead of cooking in the marinade.
If you hate it because your hands get stained red, try coating your non-knife holding hand with cooking oil. That will help it not stain and be easier to wash off.
You can also cut a potato in half and rub it on your hands when washing after you cut up the beets.
Finally, you can use gloves and avoid getting the beet juice on your hands at all!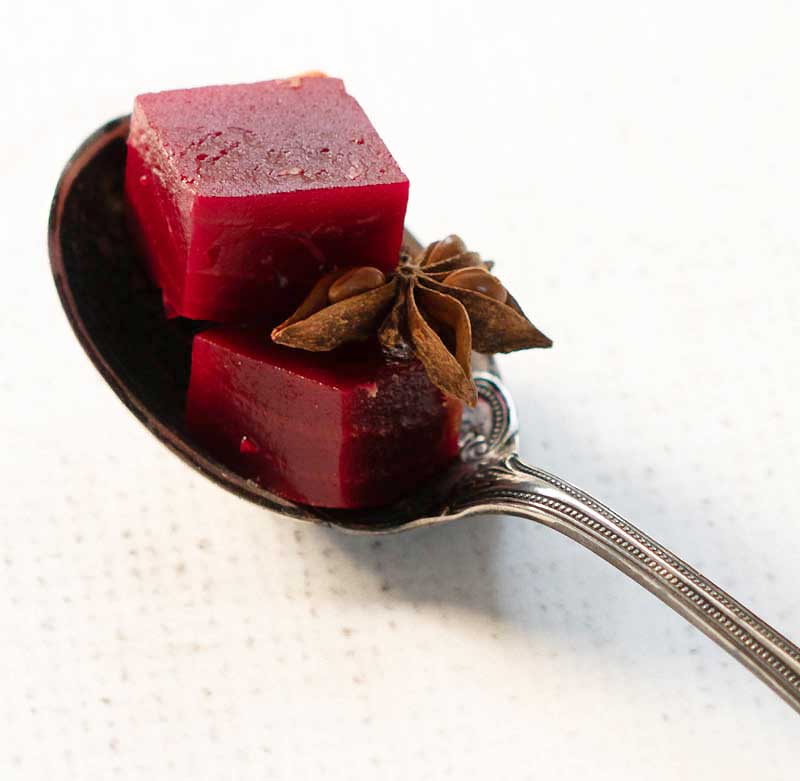 What Do Pickled Beets Taste Like?
I think they have an earthy sweet taste. In this recipe they are lightly flavored with lemon zest, ginger, and star anise.
They also have a tang from the combination of rice vinegar. I think they are refreshing and perfect on salads.
How Long Do Instant Pot Asian Pickled Beets Last?
These are quick pickled beets, so you have to store them in the fridge. They will last up to 2 weeks in your fridge, but chances are they won't last that long!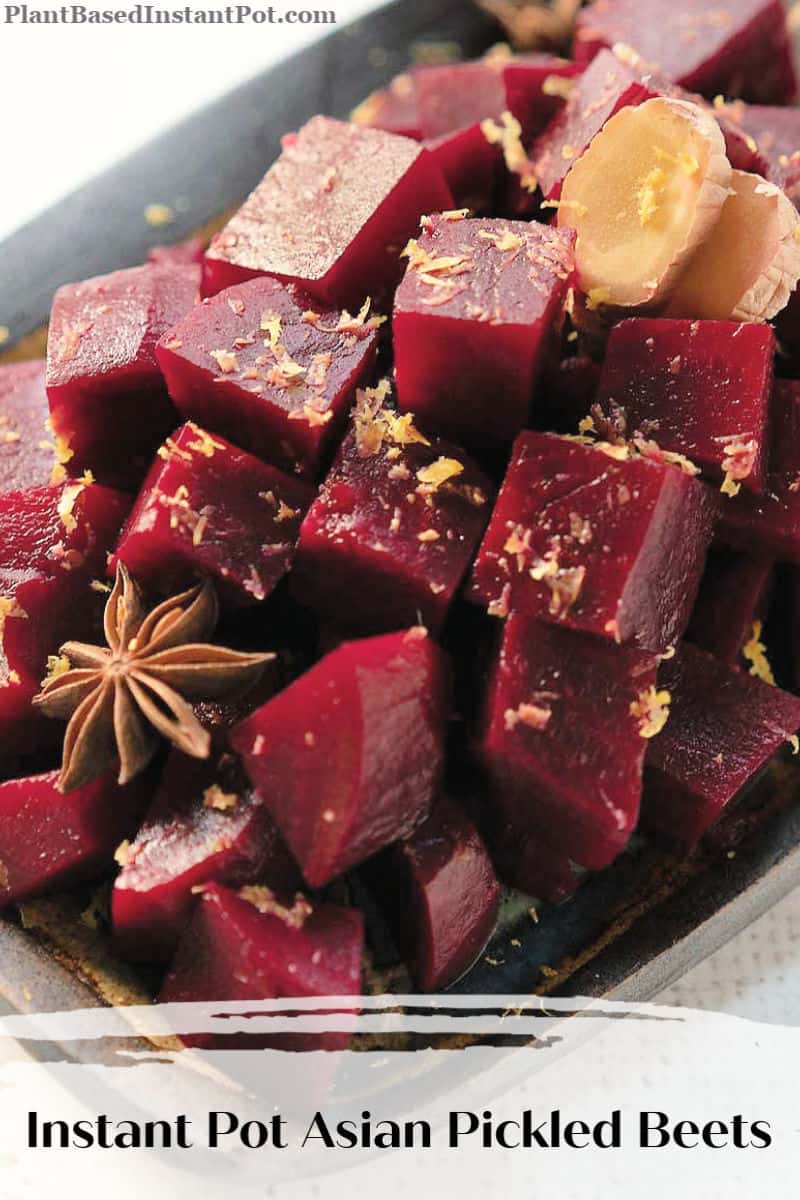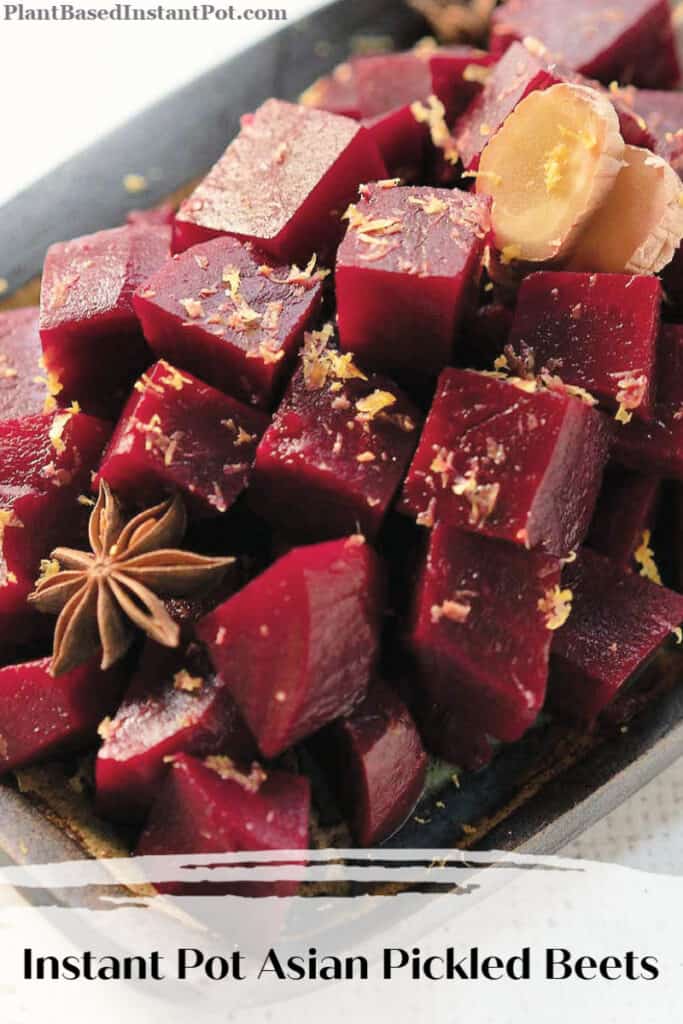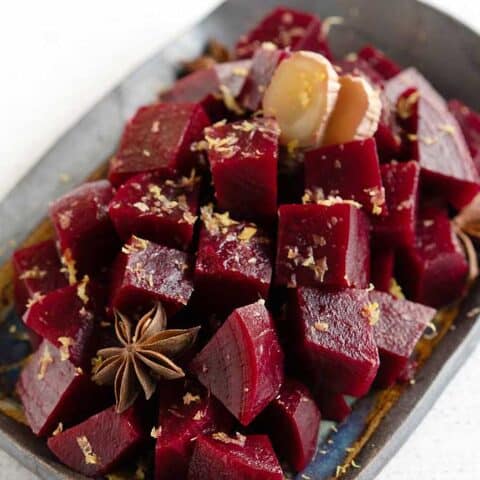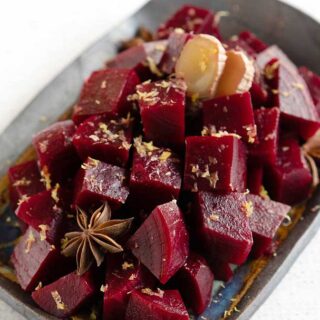 Instant Pot Asian Pickled Beets
These quick-pickled beets are flavored with ginger, lemon, and star anise. Try serving as an appetizer or on a salad. They are refreshing!
Ingredients
Pressure Cooker Ingredients
2

cups

water

2

medium beets

peeled and diced

2

strips lemon zest

1

whole star anise

1

1/2 inch piece fresh ginger, peeled and cut into 6 pieces
After Cooking Ingredients
1

cup

rice vinegar

3

tablespoons

sweetener

vegan sugar, maple syrup, etc.

2

strips lemon zest
Instructions
Add the water, beets, lemon zest, star anise, and fresh ginger to your Instant Pot.

Cook on high heat for 8 minutes. Let the pressure release naturally.

Add the vinegar, sweetener, and additional lemon zest to your Instant Pot and let cool.

Once cool, store in a glass container in the fridge. They will last up to 2 weeks.
Video
Nutrition
Calories:
37
kcal
Carbohydrates:
8
g
Protein:
1
g
Fat:
1
g
Saturated Fat:
1
g
Polyunsaturated Fat:
1
g
Monounsaturated Fat:
1
g
Sodium:
21
mg
Potassium:
94
mg
Fiber:
1
g
Sugar:
6
g
Vitamin A:
9
IU
Vitamin C:
5
mg
Calcium:
20
mg
Iron:
1
mg