While you do not need an Instant Pot to make plant-based milk, this Homemade Instant Pot Almond Milk Recipe uses one.
I created this recipe for times I forgot to soak my almonds and I needed to make some nut milk on the fly. My IP almond milk is quick, easy, and you can make it right this minute!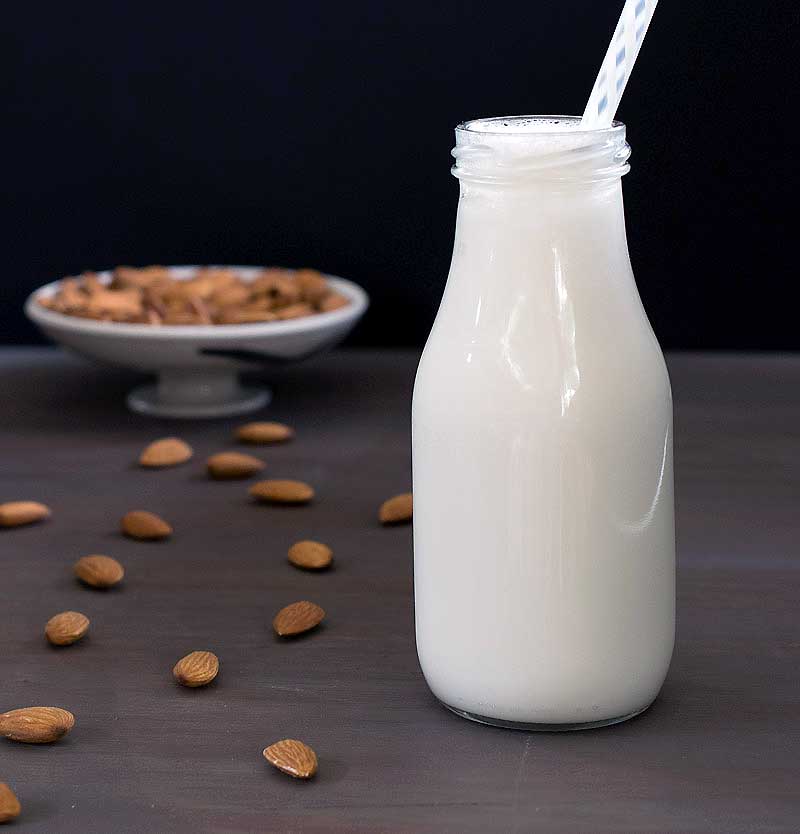 This Is Not Raw Almond Milk
While you do not need an Instant Pot to make plant-based milk, this recipe does use one. It's the last-minute plant-based milk recipe that you'll have when you need it.
How Can I Make Raw Almond Milk?
It's so easy to make it raw! All you have to do is plan ahead.
Cover your raw almonds with water and soak at least 12 hours
Drain the almonds
Place in the blender with filtered water
Blend until smooth
Strain through a fine mesh strainer
Store in the fridge for about 5 days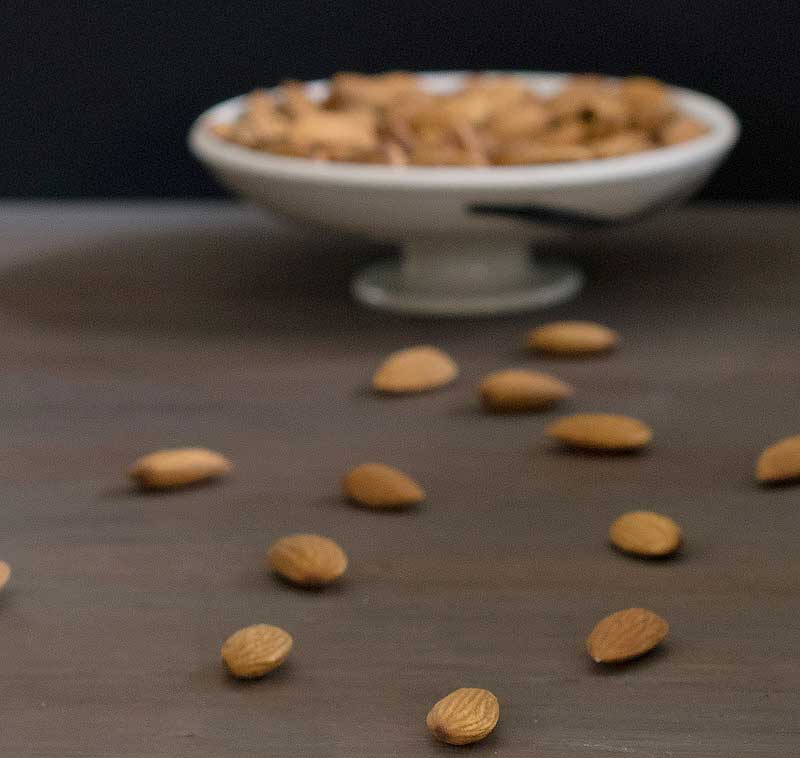 How Do You Make Almond Milk Fast?
Cooking the almonds instead of soaking them for 12 hours saves time no matter what method you use to cook them.
In this recipe, we cook the almond in an electric pressure cooker, but you could boil them on the stove, or even cook them in a slow cooker.
How Long Does Homemade Almond Milk Last?
It can vary, but 5 to 7 days. Please note that if you don't add some kind of thickener the milk will separate.
Just give it a good stir before you use it.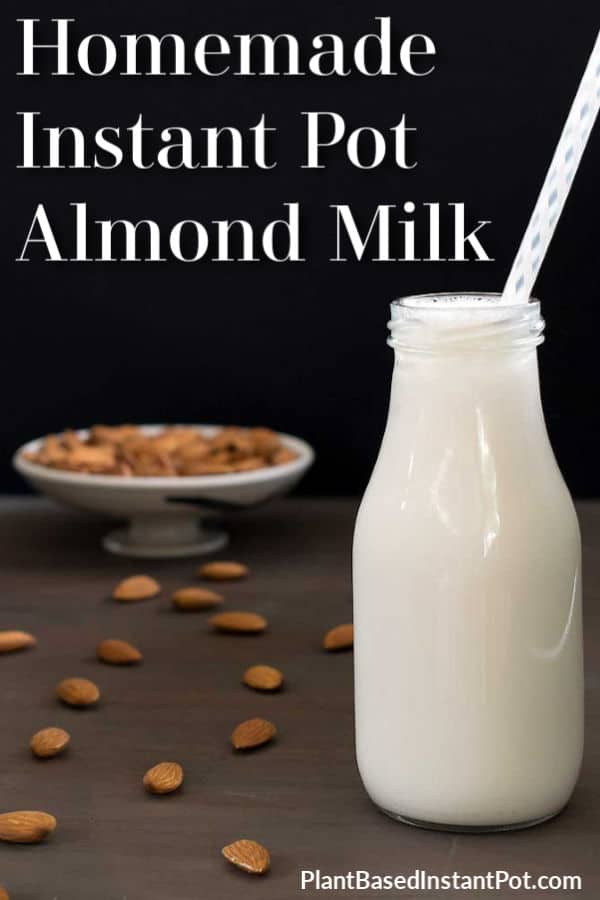 Why Would I Ever Peel My Almonds?
First off, know that you do NOT have to do this optional step in the recipe.
What it does is make filtering a little easier because you're removing some of the fiber beforehand.
The other plus is it makes the almond milk a whiter color, which is helpful when you're introducing it to someone used to regular milk.
Try These Nuts in Place of Almonds
Hazelnuts
Macadamia Nuts
Brazil Nuts
How Can I Sweeten this Almond Milk?
You could add a few dates in with the almonds and blend them in for a sweet version. You could really add your choice of sweetener to taste with things like maple syrup, stevia, etc.
What Recipes Can I Use Instant Pot Almond Milk In?
I use it all the time in my Instant Pot Chai Tea Concentrate. You can even add some vanilla to the milk if you want.
Earl Grey Steel-cut Oats are even better with fresh almond milk poured over the top. It works perfectly in my corn chowder recipe too.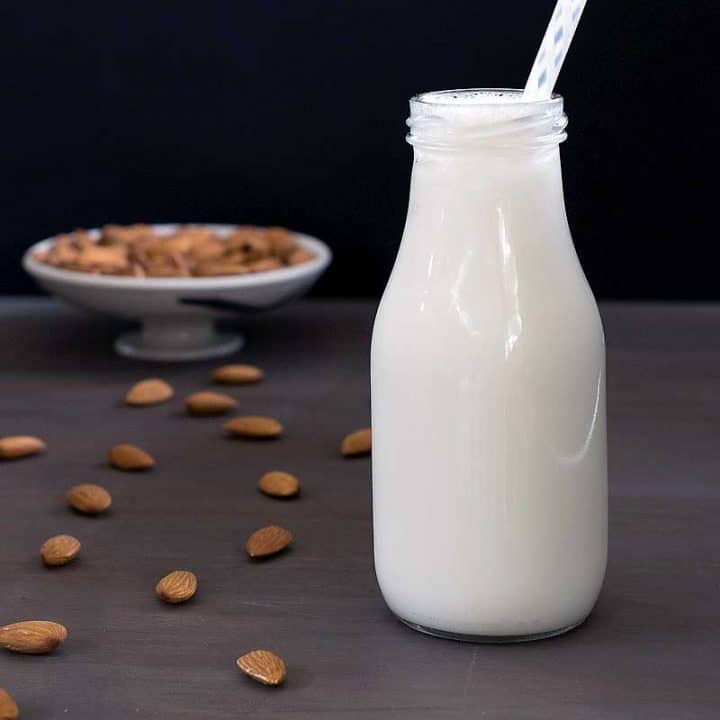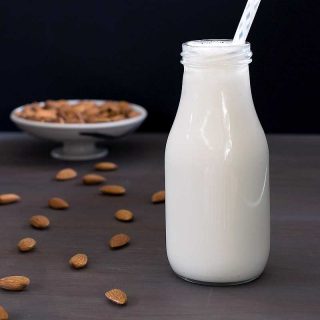 Instant Pot Almond Milk
Sometimes you need some nondairy milk and you don't have time to wait for your nuts to soak. This is a quick and easy way that will give you a quart of nondairy milk in less time than it takes to go to the store.
You can use it plain for cooking or flavor it up and drink it as dessert. Please note that there are no nutritionals for this recipe because it really depends on your blending and straining. If you use a nut milk bag it should be close in calories to store-bought almond milk.
Equipment
The Amazing Organic Cotton Nut Milk Bag W/Food Grade Cheesecloth by Things&Thoughts | Eco Friendly Reusable Strainer for Almond Milk, Oat Milk, Juicing, Yogurt, Cheese Making, Cold Brew Coffee & Tea
Ingredients
Pressure Cooker Ingredients
Instructions
For the Instant Pot
Add the water and almonds to your Instant Pot and cook on high pressure for 10 minutes.

Carefully manually release the pressure.

Drain the almonds.
Optional Extra Credit
I like to slip them out of their skins and discard for smoother milk, but you can leave them on if you prefer. If you take them off the milk will be whiter.
For the Blender
Add the almonds and the 4 cups (946 ml) water to your blender and blend well. Strain through a nut milk bag and store in the refrigerator.

The recipe makes an unsweetened plain nondairy milk
Video
Notes
Note: the calories will vary depending on how fine you blend the milk. The amount listed is if you do NOT discard any pulp.
Nutrition
Serving:
1
g
Calories:
137
kcal
Carbohydrates:
5
g
Protein:
5
g
Fat:
12
g
Saturated Fat:
1
g
Polyunsaturated Fat:
3
g
Monounsaturated Fat:
7
g
Trans Fat:
1
g
Sodium:
12
mg
Potassium:
168
mg
Fiber:
3
g
Sugar:
1
g
Vitamin A:
1
IU
Calcium:
70
mg
Iron:
1
mg