My favorite breakfast is Instant Pot Uttapams. It's a savory Indian pancake that's easy to make and actually is inexpensive too. My whole foods recipe uses healthy grains and lentils that ferment into a flavorful batter overnight.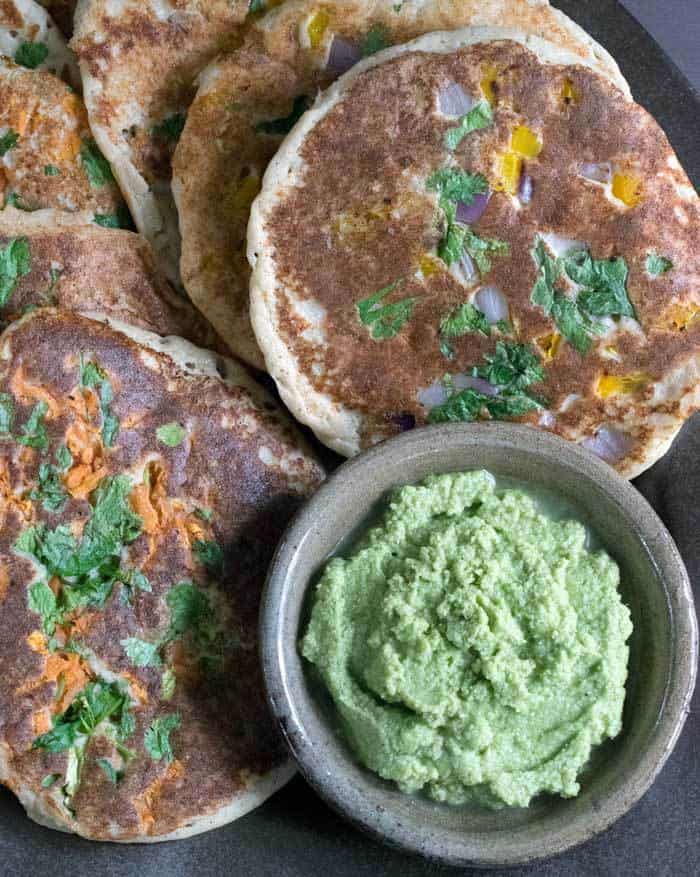 What Is an Uttapam?
It's a savory south Indian pancake that's traditionally made from a batter of urad dal (a type of skinned and split lentil) and rice that's fermented overnight.
You can make dosas, an Indian crepe, from the same batter. But it takes less time and skill to ladle out the batter like a pancake, so that's why it's my favorite method.
What's an Uttapam Made With?
In my recipe we change up the grain from plain white rice to brown rice, millet, and quinoa to make this a whole grain powerhouse.
Other than the batter, you can add shredded or minced raw veggies. Remember they will only be cooked once the pancake it flipped over, so the smaller the better.
You can also add chopped cilantro or vegan shredded cheese. Try Julie and Kitee's homemade vegan oil-free cheese recipe if you haven't – it's awesome.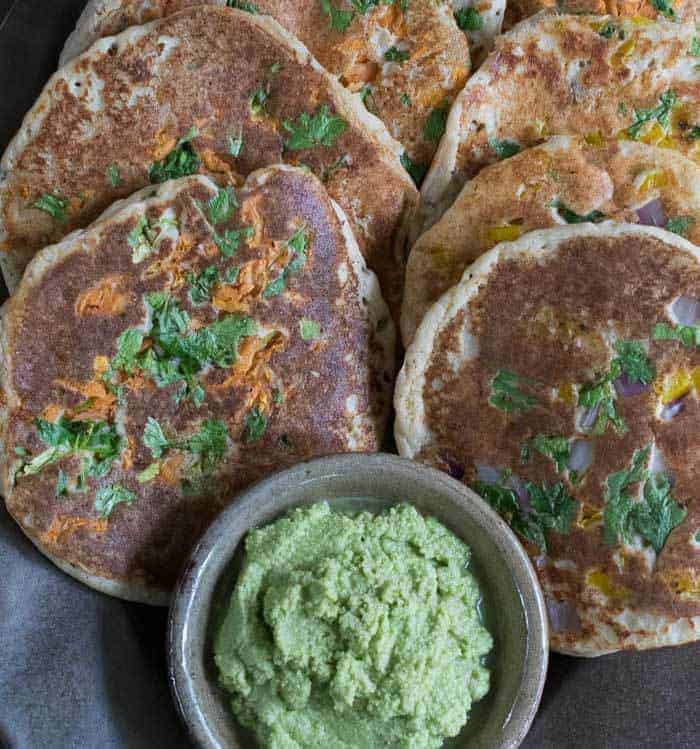 Where Can I Buy Urad Dal Lentils?
If you have an Indian market near you that's the best place to get them. Plus I love to support my local markets as much as I can.
No Indian market where you live? You can buy urad dal on Amazon. They even have organic urad dal!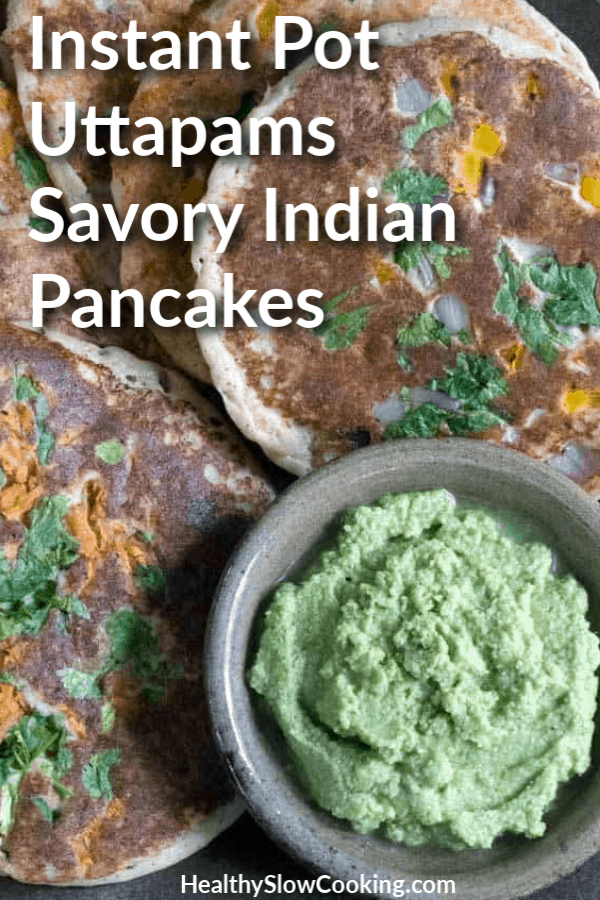 How Do You Make Uttapam Batter?
You will soak the urad dal with the grains in water for about 8 hours. Then you'll puree the mixture in your blender, in batches.
The next step is to naturally ferment the batter. We're going to use the yogurt function which is on most IP models except the LUX.
You actually don't have to have an Ip to ferment it, but why not use what we already have?
If you have a LUX or other model without a yogurt function, place the batter in your oven with the light turned on overnight.
What Should I Serve With My Instant Pot Uttapams?
While they are perfect just served with the Coconut Cilantro Chutney for breakfast, you should try Maniell's tomato chutney recipe too.
I like to serve with Instant Pot Yellow Split Peas with Tomatoes (Tarka Dal) or your favorite dal for a hearty dinner.
If you have an Instant Pot and a slow cooker try my Vegan Slow Cooker Creamy Indian Lentils and Kidney Beans. I don't recommend making it on the slow cooker setting on your electric pressure cooker though!
Since I can no longer have gluten, these Indian pancakes act like the bread in a few meal.
Instant Pot Chai Tea Concentrate is the perfect beverage to serve with an Indian meal. I make up a batch once a week and you can serve it iced or hot anytime you get a craving!