I love corn soup recipes anytime of the year, but corn chowder holds a special place in my heart once the weather gets cold. You can make my Easy Instant Pot Corn Chowder in a jiffy. It's healthy, filling, and comes together with just a little effort. Plus the cooking time is hands off, so you can enjoy a little down time before dinner!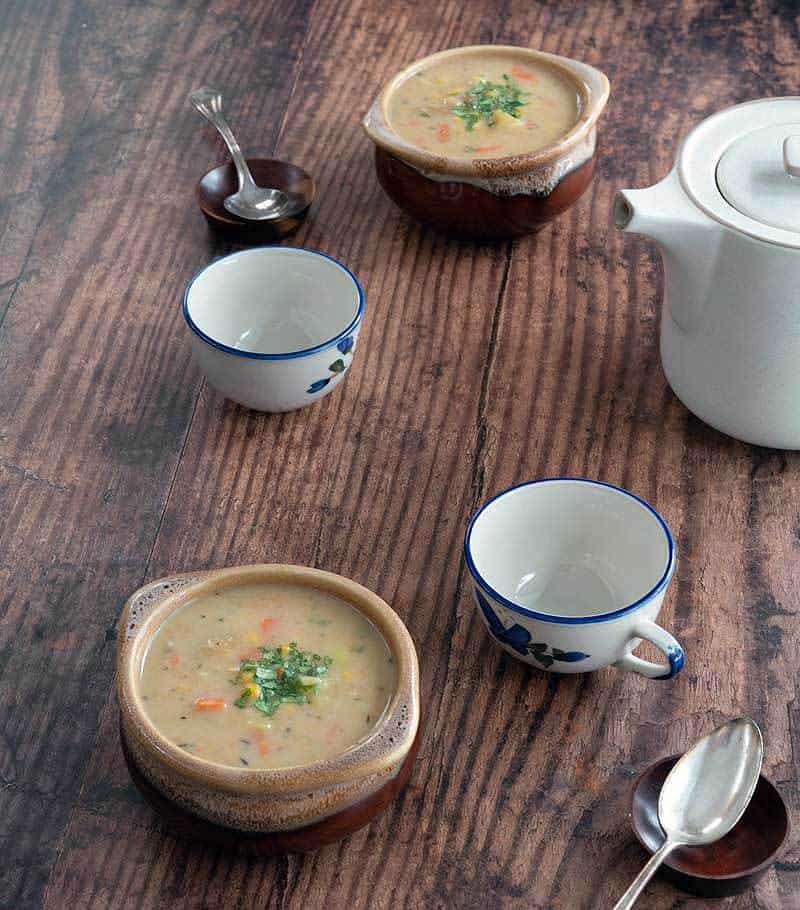 This Easy Instant Pot Corn Chowder is one of the many vegan soup recipes in my latest book.

You just need a few simple ingredients: corn, potatoes, carrots, and some unsweetened nondairy milk. This will be one of your new favorites!
You Don't Need to Be Gluten-Free to Enjoy My New Book, Gluten-Free Vegan Cooking in Your Instant Pot!
If you have read any of my previous books you know I've always had gluten-free options, so don't be scared off by the title.
The recipes are bean, grain, and veggie-centric so these recipes are perfect for any vegan or plant-based diet.
All the recipes are gluten-free and vegan, many are oil-free and soy-free, but all have oil-free and soy-free options. I want everyone to be able to eat around my table!
What Do We Want? Soup. When Do We Want It? All Winter!
As you can see I have strong feelings about soup. It's taken me a few years to get Cheryl to see soup as a whole meal, but I've finally won her over.
If you're having trouble getting your family on board for soup dinners, my Instant Pot Corn Chowder is a great place to start. The potatoes make it filling, the carrots dot it with orange, and the corn – well, everyone loves vegan corn soup, right?
Serve with a nice green salad and some leftover homemade bread that you lightly toast. Those both turn a simple soup into a nice sit down dinner.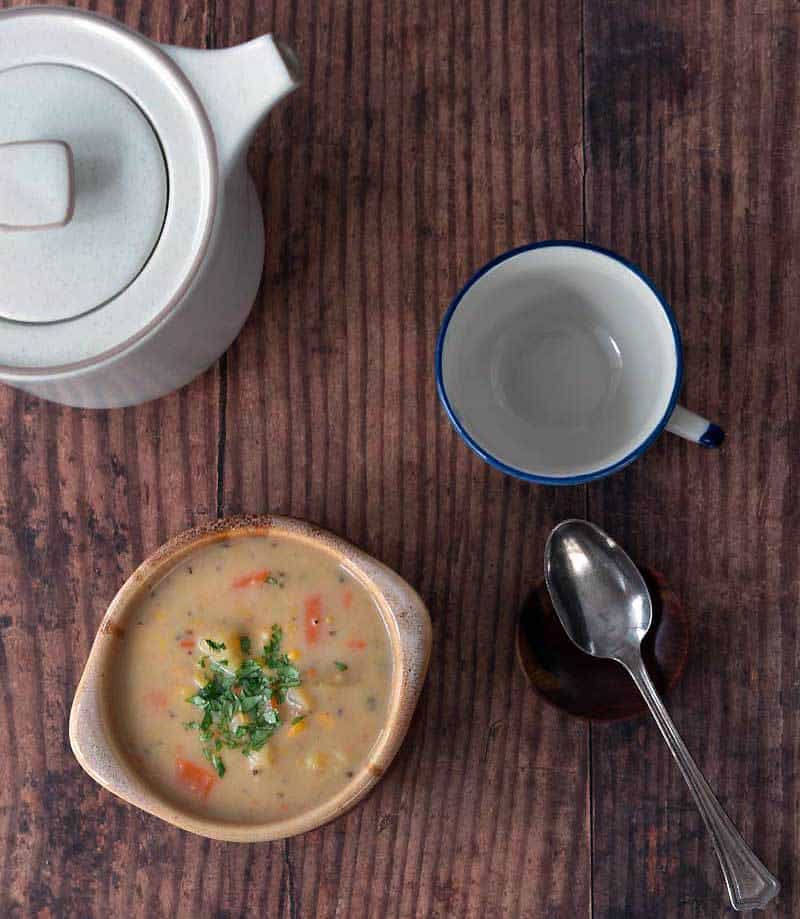 Can You Use Fresh Corn In Place of Frozen Corn in Corn Chowder?
You can indeed. In the early fall when you get fresh corn, just cut the kernels off the cob and substitute it for the frozen corn that's called for in the recipe.
In fact you can freeze any leftover fresh corn you have to use in the middle of winter. But there's no shame in using frozen corn either. I know I use it.
Can You Add Other Vegetables in Corn Chowder?
Of course you can – this is your soup after all! You could add in some chopped bell pepper or even some summer squash. This isn't exactly a vegetable, but it would also be heartier with some shredded jackfruit added in.
Try making a Mexican-spiced version by using chili powder instead of the thyme and cumin in place of the marjoram. Add in some chopped green chilies or minced jalepenos. Top with cashew cream, a small spoon of salsa, and chopped cilantro.
Vegan Corn Chowder Topping Options
More Vegan Instant Pot Recipes to Try
Pin it the photo below for later and share with your friends!