I use a lentil blend that's often called autumn blend for my Vegan Instant Pot Lentil Vegetable Soup. The yellow split peas and red lentils in the blend "melt" into the soup making it extra thick.
You can make it using all plain brown lentils, it just won't be as creamy.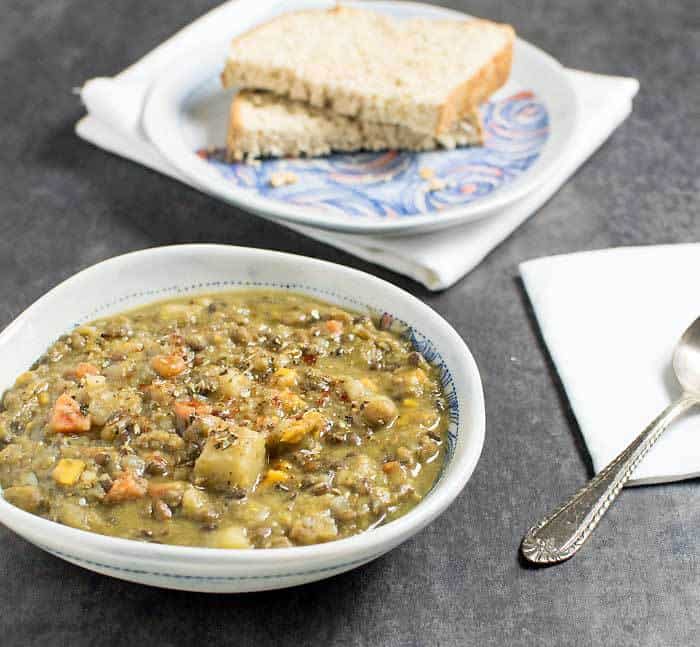 Instant Pots Make Great Soup!
If you're new to Instant Pots, soup is a great place to start. There's already extra liquid involved and that gives you a lot of wiggle room for a great first cooking experience.
Plus soup is very forgiving. Don't have carrots? Use parsnips or sweet potatoes. Don't have the lentil blend? Use plain ones or the varieties you have on hand!
What is an Instant Pot?
It's a brand of electric multi-cooker. It can pressure cook, slow cook, saute, cook rice, porridge and make homemade vegan yogurt too.
I love mine and use it for cooking staples like beans, rice, and oatmeal. It's great for soups and stews too and I keep stretching the boundaries as I experiment.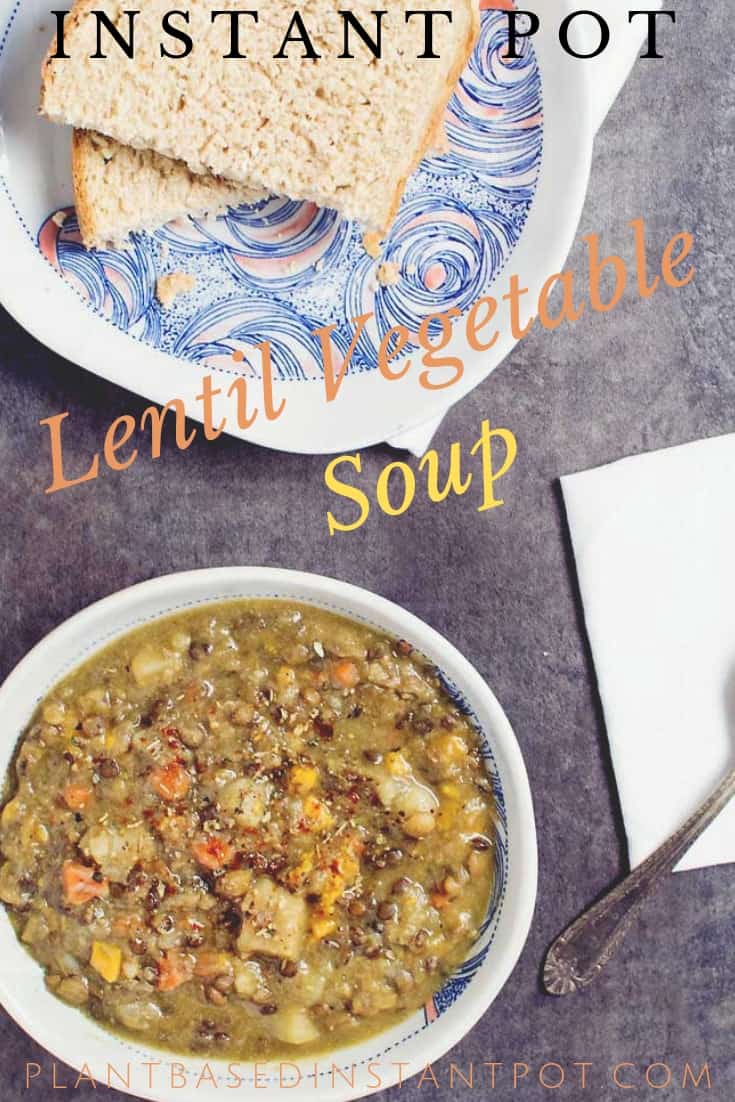 I got my first one about a year ago. Any newfangled slow cooker is a shiny object that I want. In fact, I just got the Instant Pot Pro and love it.
If you don't have an electric pressure cooker already, I'd recommend a DUO. You can get help to pick out the right size and model for you on Which Instant Pot is Right for You page.
I had been thinking about giving pressure cooking a go and this seemed like an easy way to try it out. Spoiler – it was!
If you are an IP newbie be sure to read Learn the Most Used Instant Pot Buttons, to get a better handle on what all that stuff on the front of your appliance means.
What is autumn lentil blend?
It's a blend of various lentils that create a wonderful texture. Some of the split lentils melt into the soup and make it creamy. Others stay solid and ass texture.
A long time ago I found this in the bulk section of Whole Foods, but like many good things, this came to an end.
But you can get it on Amazon, and I find an organic blend at my local Indian market.
Can I just use regular lentils?
You sure can. This is your soup and I'm all for you using what's in your pantry right now. Use plain brown lentils, French lentils, or black Beluga ones if you need to.
I would add some extra potato or some sweet potato to mash in the soup before serving to give it the creamy feeling it might be missing.
How to make lentil vegetable soup
It's so easy to make this soup. Just saute the onion and garlic, then add in the rest and cook on high pressure.
Want to make it even easier? Use onion powder and garlic powder and you can skip the saute all together.
More Recipes to Try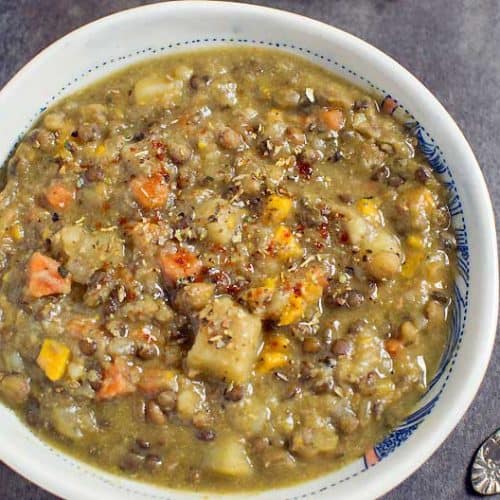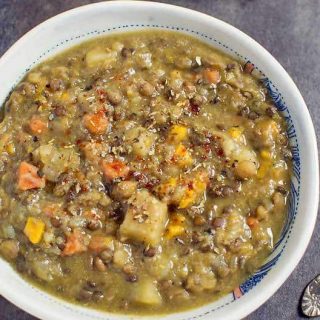 Vegan Instant Pot Lentil Vegetable Soup
Everyone needs an easy go-to soup for winter. It can be because you're like me and don't want to leave the house if it's less than 40 degrees or you could be snowed in. This is made with ingredients you'd have on hand already and you can tweak it if you don't have everything.
Ingredients
FOR THE SAUTE
1

small onion

minced

1

clove

garlic

minced
FOR THE SOUP
1

medium potato

peeled and cubed

1

small sweet potato

peeled and cubed

2

medium carrots

cubed

1

cup

lentil blend

autumn blend, pachraya massoor, or mix of yellow split peas, red lentils, Beluga lentils and brown lentil

5

cups

water

1

bay leaf

1

teaspoon

thyme

1

teaspoon

marjoram

1/2

teaspoon

smoked paprika

1/4

teaspoon

rosemary powder

or 1 teaspoon dried whole rosemary
Instructions
Turn on the Instant Pot and use the saute function. Add some water, then water saute the onion until translucent. Add the garlic and saute a minute or two more.

Turn off the saute function and add all the soup ingredients. Put the lid on and make sure the vent is closed. Press the manual button and set to cook for 10 minutes.

Once the cooking time is over, allow it to release the pressure naturally. You'll know when you can open the lid because the little silver dot will no longer be up.

Stir in the after cooking ingredients and serve yourself a big bowl. I like to have a big piece of crusty bread with it.
Nutrition
Serving:
1
g
Calories:
266
kcal
Carbohydrates:
48
g
Protein:
19
g
Fat:
1
g
Polyunsaturated Fat:
1
g
Sodium:
395
mg
Fiber:
17
g
Sugar:
6
g