It's so easy and inexpensive it is to make your own Vegan Instant Pot Bouillon! You just need a few veggies and herbs plus a little inspiration.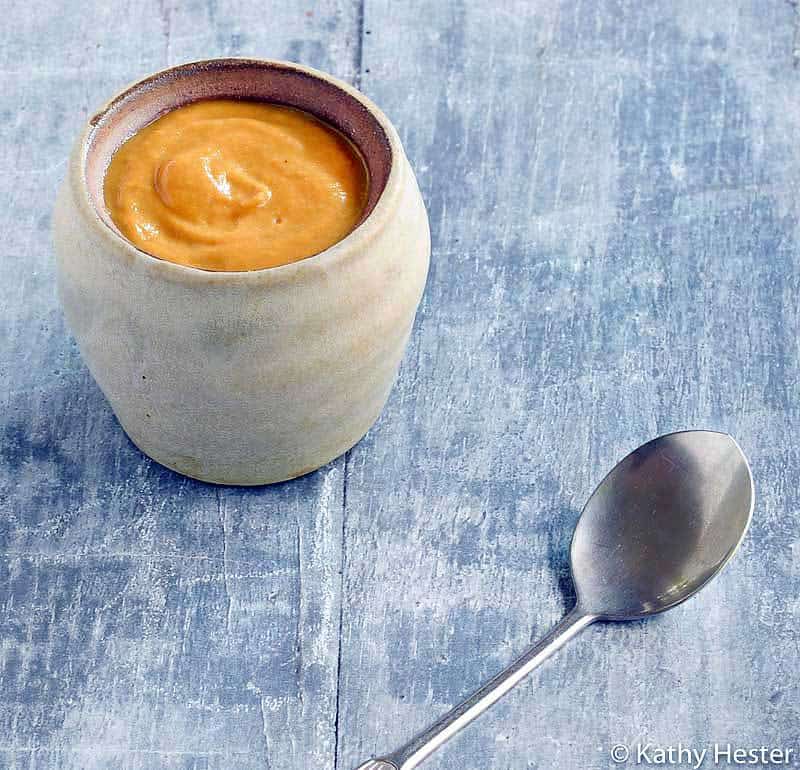 What is a vegetarian substitute for chicken bouillon?
Why this recipe is! It's based on cooked veggies, a few herbs, and some nutritional yeast.
It's the nutritional yeast that really brings the umami and makes it taste like vegan chicken.
Is Bouillon the Same As Veggie Broth Or Vegetable Stock?
To me, bouillon is broth's practical big sister. Both bring the depth of flavor that your soups, stews, and other recipes need. If you prefer broth by all means use it, but I like grabbing a cube out of the freezer as I need it.
Broth takes up a lot of space in your fridge and/or freezer because it's the strength that you will use it. Bouillon's concentrated flavor so you use less, which means it takes up less storage space. Broth can be made with leftover scraps while my vegan bouillon recipe uses whole veggies and herbs.
At its base, vegetable bouillon is just cooked and pureed veggies. The flavor becomes more complicated as you cook an onion, carrot, and celery along with some herbs. After that, you can add flavorings like nutritional yeast, mushroom powder, tomato powder, and many more to add a slant. Nutritional yeast makes the flavor chickeny and mushroom powder makes it beefier – all while being 100% vegan.
Are Bouillon Cubes Vegan? Gluten-Free? Oil-Free? Salt-Free?
One great reason to make your own bouillon is to know exactly what's in it so you're guaranteed that's it's vegan, gluten-free, and has no added salt or oil. In fact, you can change out any ingredient that you are allergic to or simply don't like.
Store-bought bouillon is another story altogether! There is vegan chicken bouillon that sometimes sits next to real chicken bouillon so always read the labels carefully.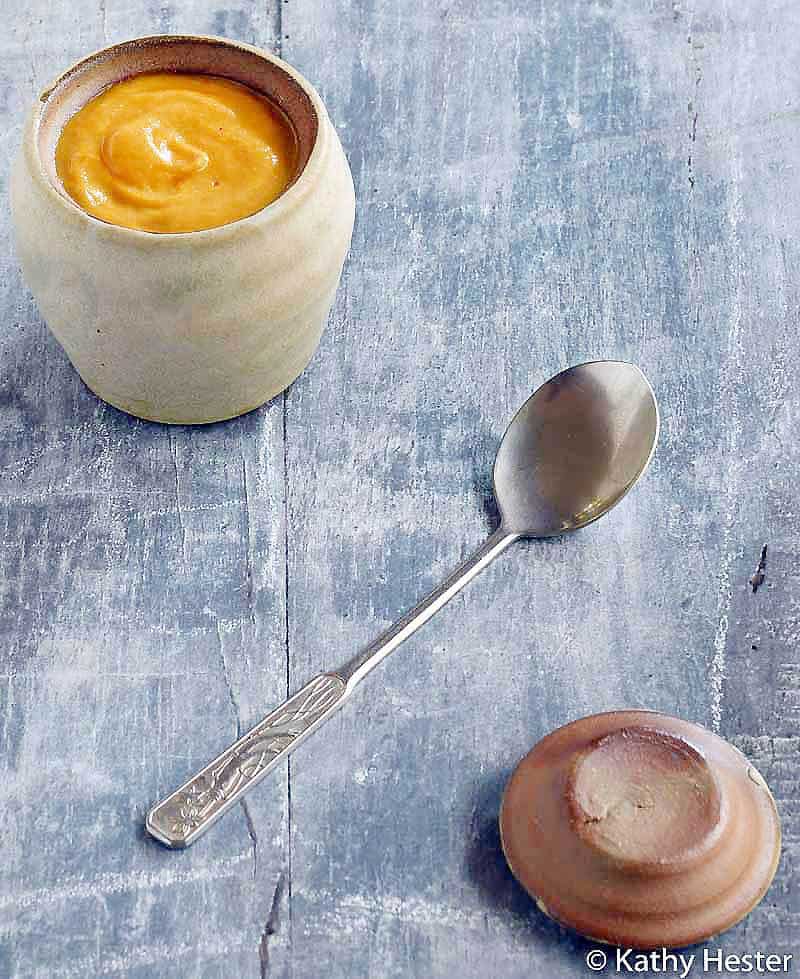 You can get bouillon powder and some of those are oil and/or salt-free, but you always want to read the labels. Same thing for any bouillon cubes you can get at the store.
They tend to sneak in oil, salt, and even preservatives into them. Honestly, once you make your own bouillon, you'll never look back!
It's Easy to Make Vegetarian Bouillon Cubes
All you're going to cut up a few veggies, through in some herbs, and cook them in your Instant Pot in a strainer.
Then you'll puree them with some extra flavoring like nutritional yeast. Easy peasy!
Can I Freeze Bouillon Cubes?
Yes, you can, and it's the best thing ever! Once you puree the veggies and add your flavorings, portion the bouillon into ice cube trays. Most regular-sized ice cube trays hold 2 tablespoons. Once frozen, pop out into resealable bags or a freezer-safe container.
Both the ice cube trays and your Instant Pot Lid can go in the dishwasher!
How Much of this Homemade Bouillon Do I Use in Place of Store-bought?
I use 1 of my frozen bouillon cubes, where it calls for 1 store-bought cube. If I want more flavor, I may sneak in a second one, but since there's no salt, it doesn't throw off your recipe.
If you add salt to yours or use Better than Bouillon, that's very salt heavy, you should do it by taste. It can get too salty fast so don't let it sneak up on you.
How Do I Use Bouillon in Place of Broth?
Basically use the same amount of water that the recipe calls for in broth. Then add a bouillon cube for every 2 to 4 cups of water depending on how strong you want the flavor to be and how much salt is in the vegetable bouillon cubes you are using.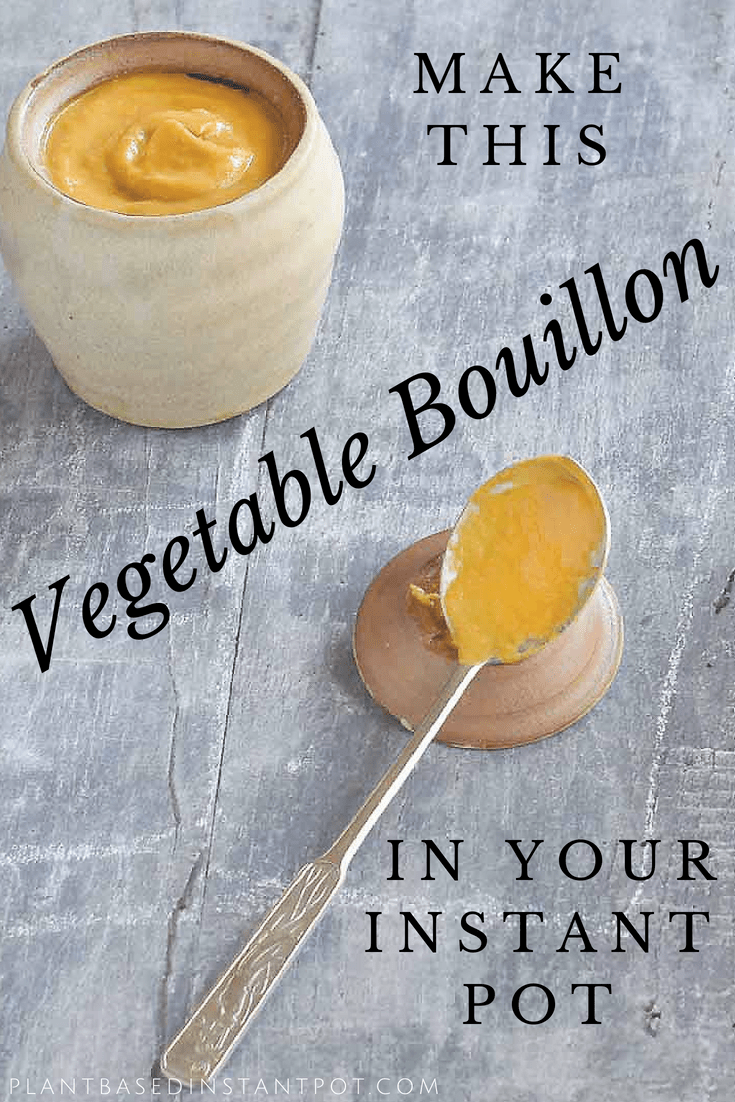 More Recipes to Try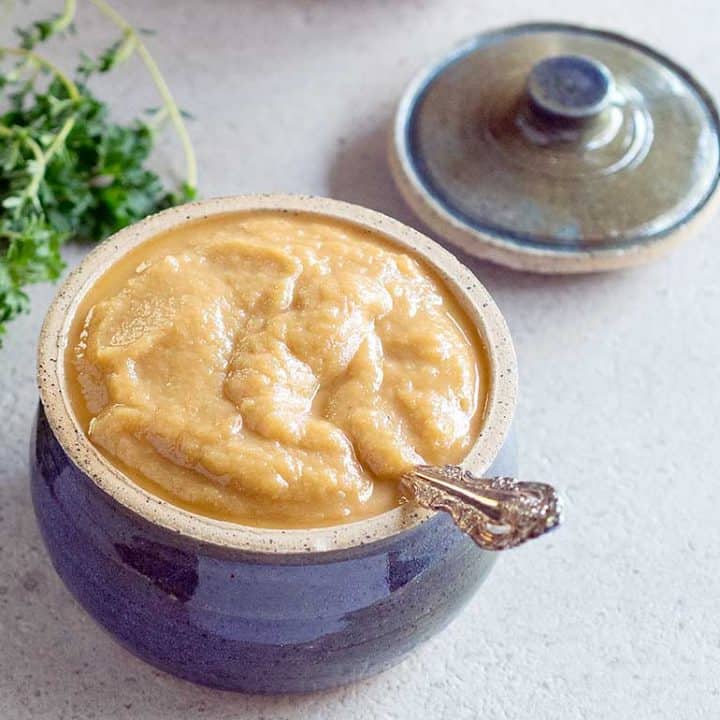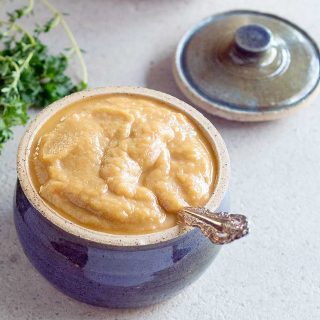 Salt-free Instant Pot Vegan Bouillon
I always like to have homemade bouillon on hand. I freeze mine in ice-cube trays. Once frozen, pop out and store in a resealable bag in the freezer. Use as you would a normal bouillon cube in recipes. You can use two ice cubes in place of 1 store-bought cube to add extra flavor.
Ingredients
Instant Pot Ingredients
½

cup

water

2

large onions

quartered

6

medium carrots

cut into 2 to 3 inch pieces

4

celery stalks

,cut into 2 to 3 inch pieces

3

tsp

dried thyme

1

tsp

dried rosemary

optional
Instructions
For your pressure cooker
Add the water, onions, carrots, celery and herbs to your Instant Pot liner.

Put the lid on and cook with manual/pressure cook on high pressure for 10 minutes.

Let the pressure release naturally.
For the blender
Carefully scoop the cooked veggies and broth into your blender.

Add the nutritional yeast. Blend until smooth.
How to store
Store what you can use in a week in the refrigerator. Freeze the rest in ice-cube trays and put into resealable contianers.

Use 1 to 2 cubes in place of 1 commercial bouillon cube.
Notes
gluten-free, soy-free, no added oil
Nutrition
Serving:
2
tablespoons
Calories:
22
kcal
Carbohydrates:
3
g
Protein:
2
g
Sodium:
12
mg
Fiber:
2
g
Sugar:
1
g