It's so easy and inexpensive it is to make your own Vegan Instant Pot Bouillon! You just need a few veggies and herbs plus a little inspiration.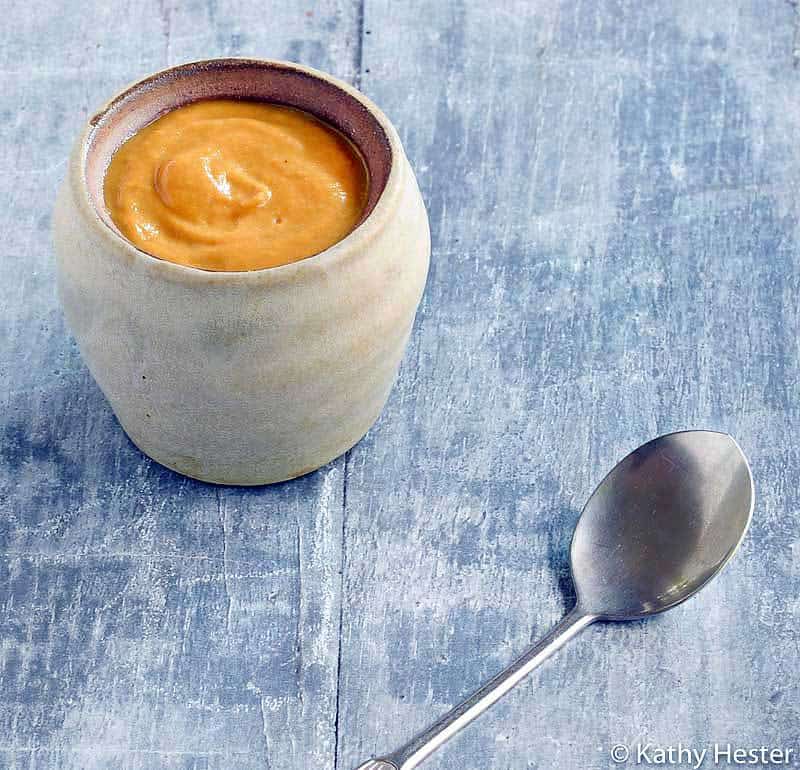 Is Bouillon the Same As Veggie Broth Or Vegetable Stock?
To me, bouillon is broth's practical big sister. Both bring the depth of flavor that your soups, stews, and other recipes need. If you prefer broth by all means use it, but I like grabbing a cube out of the freezer as I need it.
Broth takes up a lot of space in your fridge and/or freezer because it's the strength that you will use it. Bouillon is concentrated flavor so you use less, which means it takes up less storage space. Broth can be made with leftover scraps while my vegan bouillon recipe uses whole veggies and herbs.
What Is Vegetable Bouillon?
At it's base vegetable bouillon is just cooked and pureed veggies. The flavor becomes more complicated as you cook an onion, carrot, and celery along with some herbs. After that you can add flavorings like nutritional yeast, mushroom powder, tomato powder, and many more to add a slant. Nutritional yeast makes the flavor chickeny and mushroom powder makes it more beefy – all while being 100% vegan.
Are Bouillon Cubes Vegan? Gluten-Free? Oil-Free? Salt-Free?
One great reason to make your own bouillon is to know exactly what's in it so you're guaranteed that's it's vegan, gluten-free, and has no added salt or oil. In fact you can change out any ingredient that you are allergic to or simply don't like.
Store-bought bouillon is another story altogether! There are vegan chicken bouillon that sometimes sit next to real chicken bouillon so always read the labels carefully.
You can get bouillon powder and some of those are oil and/or salt free, but you always want to read the labels. Same thing for any bouillon cubes you can get at the store. They tend to sneak in oil, salt, and even preservatives into them. Honestly, once you make your own bouillon you'll never look back!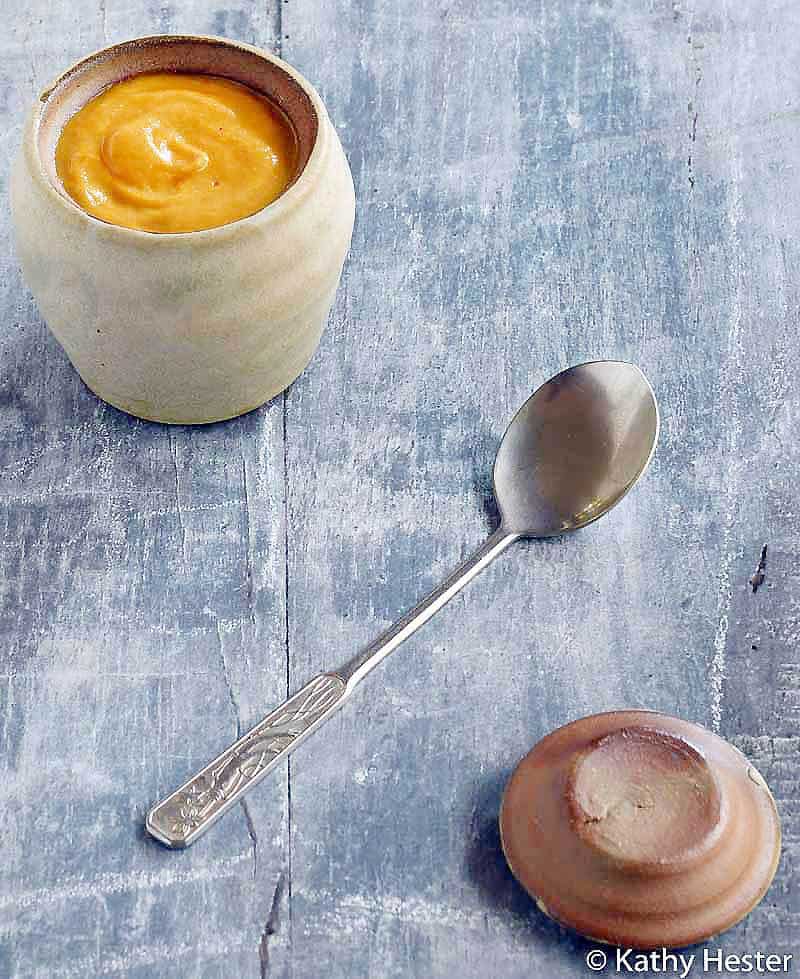 Is It Hard to Make Bouillon?
Absolutely not! You're going to cut up a few veggies, through in some herbs and cook them in your Instant Pot in a strainer. Then you'll puree them with some extra flavoring like nutritional yeast. Easy peasy!
Can I Freeze Bouillon Cubes?
Yes, you can and it's the best thing ever! Once you puree the veggies and add your flavorings, portion the bouillon into ice cube trays. Most regular sized ice cube trays hold 2 tablespoons. Once frozen, pop out into a resealable bags or a freezer safe container.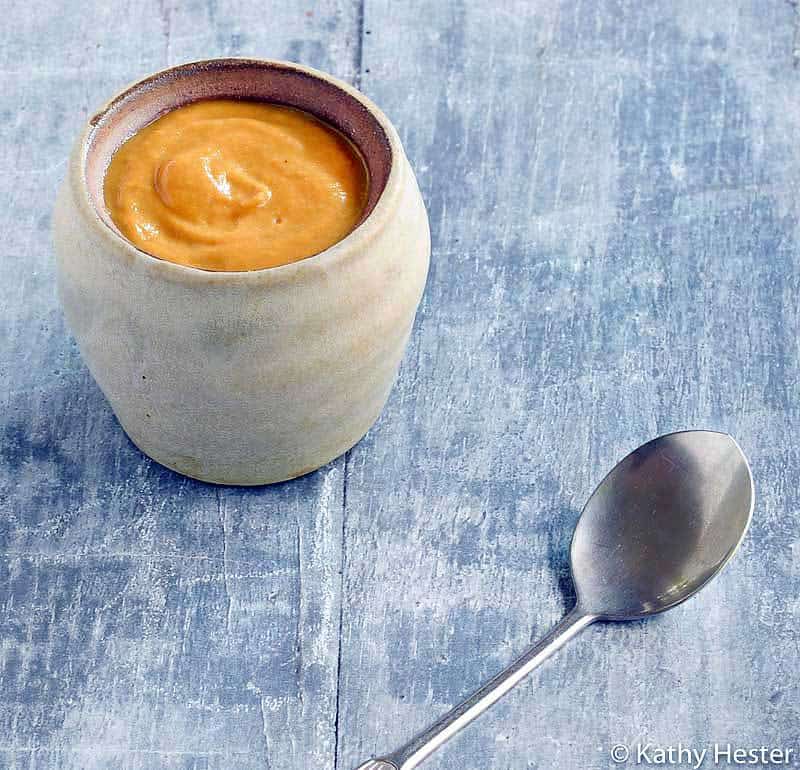 Ingredients
1/2

cup

water

1

large

onion

cut into quarters

3

medium

carrots

chopped large

3

medium

stalks celery

chopped large

5

sprigs

thyme
Options to add after cooking:
1/2

cup

nutritional yeast
Instructions
Add the water to the bottom of your Instant Pot and place a silicone or metal steamer on top of that.

Add the veggies and herbs. Cook on high pressure for 10 minutes. Let the pressure release naturally or carefully manually release it if you are in a hurry.

Once the veggies are cooked, remove any tough thyme stems. Add all the veggies in your steamer along with the nutritional yeast to your food processor or a strong blender. Puree well.

Store what you think you will use in a week in the fridge in a covered jar.

Put the rest in ice-cube trays and freeze. Once the cubes are solid remove them from the trays and put in a freezer bag.

Use twice as much as you would for store-bought bouillon. I use 2 to 3 ice cubes for a large pot of soup.
Nutrition
Calories:
10
kcal
|
Carbohydrates:
1
g
|
Sodium:
9
mg
|
Potassium:
64
mg
|
Vitamin A:
26.1
%
|
Vitamin C:
1.7
%
|
Calcium:
0.7
%
|
Iron:
0.8
%
How Much Vegan Instant Pot Bouillon Do I Use in Place of Store-bought Bouillon Cubes?
I use 1 of my frozen bouillon cubes where it calls for 1 store-bought cube. If I want more flavor I may sneak in a second one, but since there's no salt it doesn't throw off your recipe.
How Do I Use Bouillon in Place of Broth?
Basically use the same amount of water that the recipe calls for in broth. Then add a bouillon cube for every 3 to 4 cups of water depending on how strong you want the flavor to be.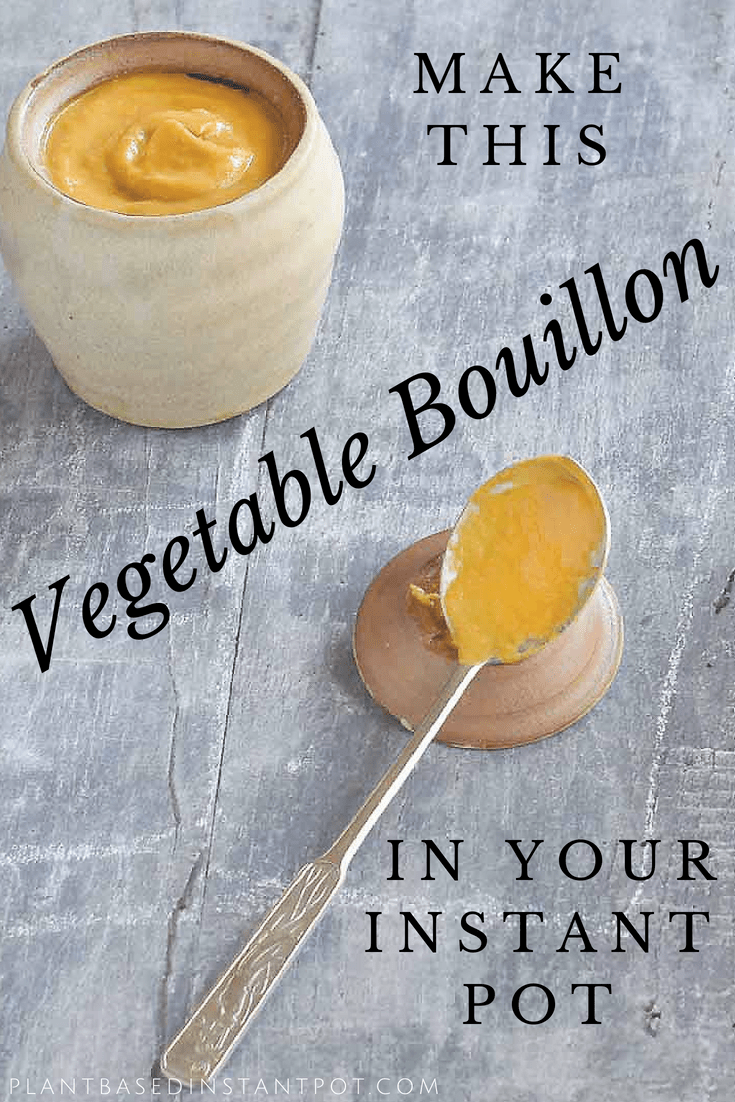 More Recipes to Try