This Instant Pot turmeric ginger tea concentrate contains antioxidants, helps reduce inflammation, supports your immune system, and can even help your mood – all while tasting delicious!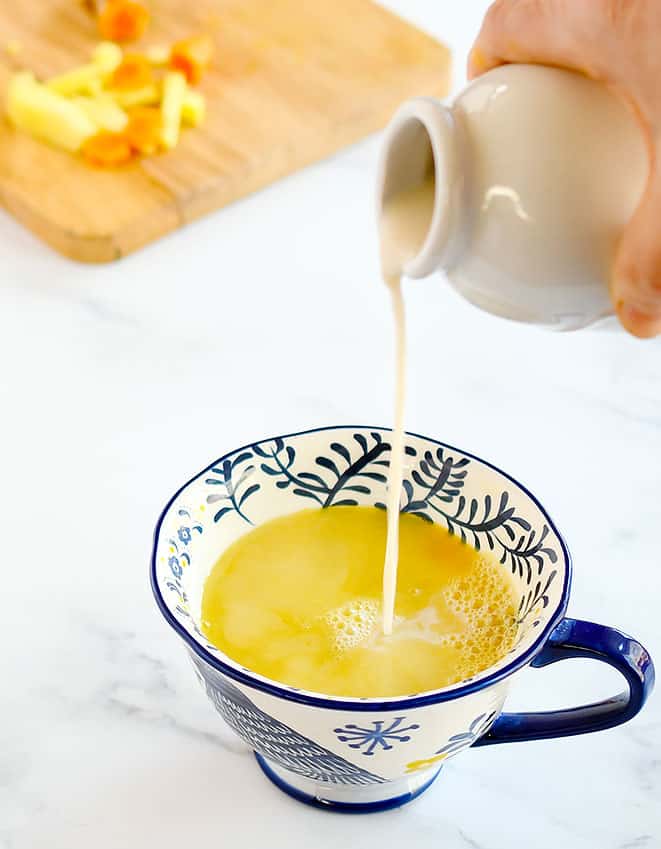 Where can I find fresh turmeric and/or ginger?
You can order fresh turmeric from Amazon or even Etsy. You can find fresh ginger in most larger grocery stores.
Fresh turmeric can be a little harder to come by but I have found it in Whole Foods and Sprouts though it's a little pricey.
My favorite place to get fresh turmeric, and ginger, is the Asian market. It's usually fresher and much cheaper than the other sources.
Why drink turmeric ginger tea?
In my mind, the main reason to drink this golden tea is that it tastes great. It's the right amount of ginger mixed with cardamom and cinnamon.
Mix in a little nondairy milk and you have the perfect way to start your day or a great afternoon treat.
I like to switch it up between this golden tea and my Instant Pot Chai.
What is Instant Pot turmeric and ginger tea good for?
Turmeric contains curcumin which helps to reduce inflammation. Ginger is also anti-inflammatory and is good for upset stomachs.
I find that a warm cup of tea is nice in the morning, but is especially relaxing when I've had a stressful day. With all the craziness going on it's always tea time!
What does turmeric ginger tea taste like?
It takes slightly like a spiced chai because they both have cinnamon and cardamom in them. But this blend doesn't have any black tea.
The ginger can have a little bite, but that's easily tamed when you add a little nondairy milk.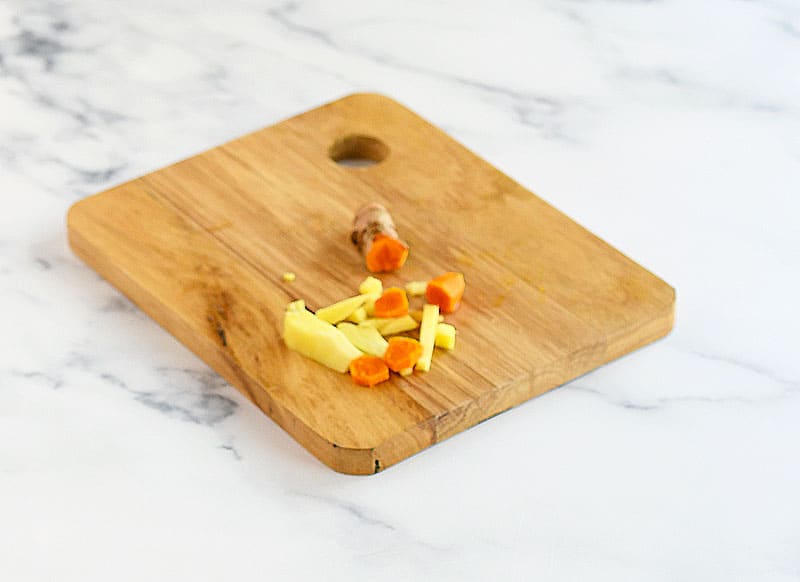 How do I drink turmeric tea?
It's traditional to drink this hot, but honestly, it's great over ice too.
I usually use about 1/2 concentrate with 1/2 unsweetened non-dairy milk, but you should make yours to your liking. You can even make it unsweetened if that's what you prefer.
Can I drink this tea before bed?
You sure can! Since it's there's no black tea in it or caffeine it should not affect your sleep in a negative way.
I love having a warm cup of tea an hour or two before retiring for the night. It sets me up for a good night's sleep and I'd like to hear how it works for you.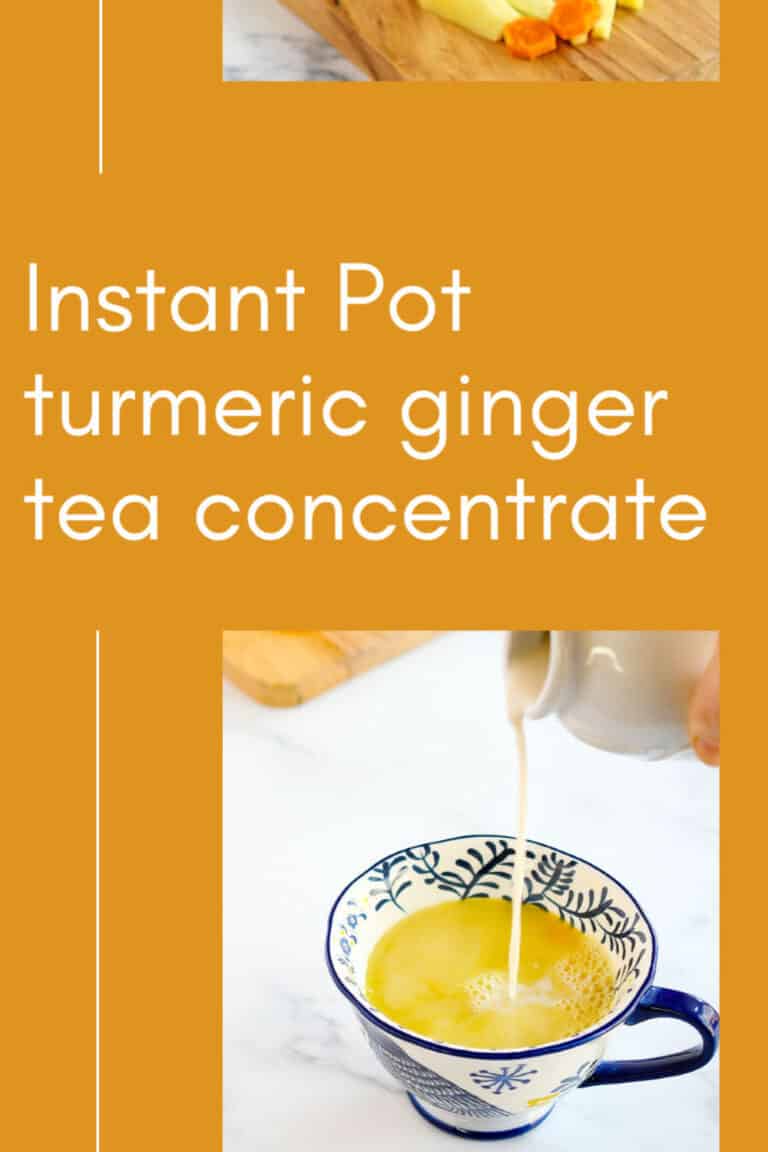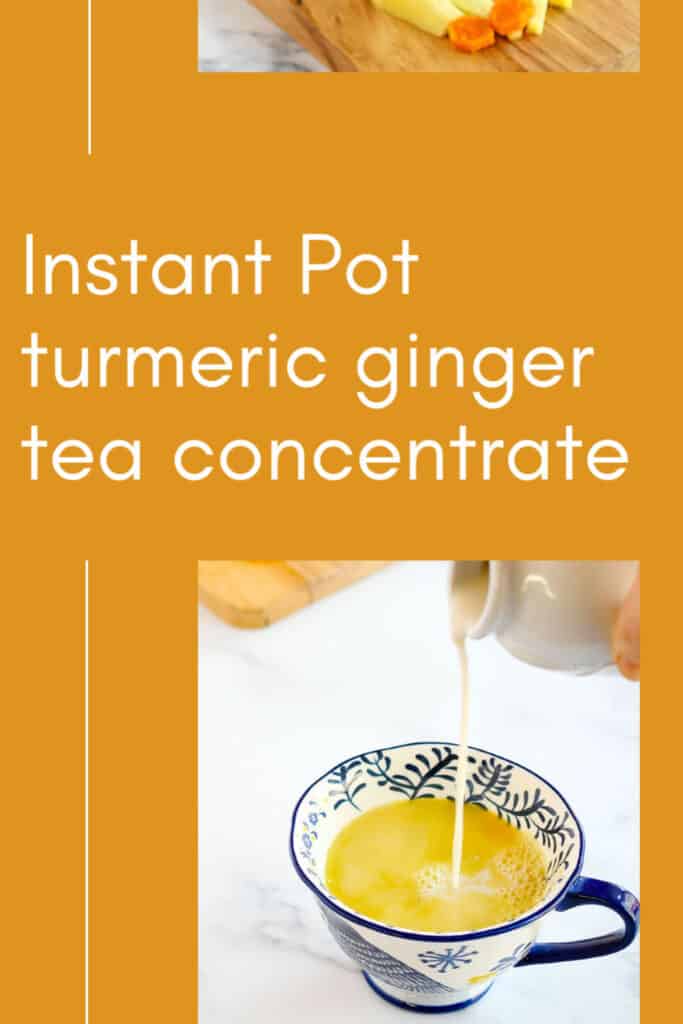 What is it sweetened with?
That's the beautiful thing about making your own. People are super picky about the kind of sweeteners they use and so am I.
My first choice is maple syrup, but if that's too processed for you try date paste or date syrup instead.
Can I make turmeric ginger tea from the ground spice instead of fresh?
If that's what you have on hand, then that's what you will use!
I would not make this recipe with the ground spices, but you can make a cup at a time.
Mix 1 tablespoon nondairy milk with 1/4 to 1/2 teaspoon ground ginger (to taste) and 1/4 to 1/2 teaspoon ground turmeric (to taste) until it's a nice smooth paste.
Add a pinch of ground black pepper and mix with 1 cup of non-dairy milk. Heat or serve over ice!