I love to start my day with a chai tea, iced in the summer and hot in the winter. It's cheaper to make your own Instant Pot chai tea concentrate than it is to buy just one serving at your local coffee shop. Plus you can make yours with black tea, green tea, decaf tea, or roobios. Oh yeah, you get to decide if you sweeten your concentrate or not and what you sweeten it with!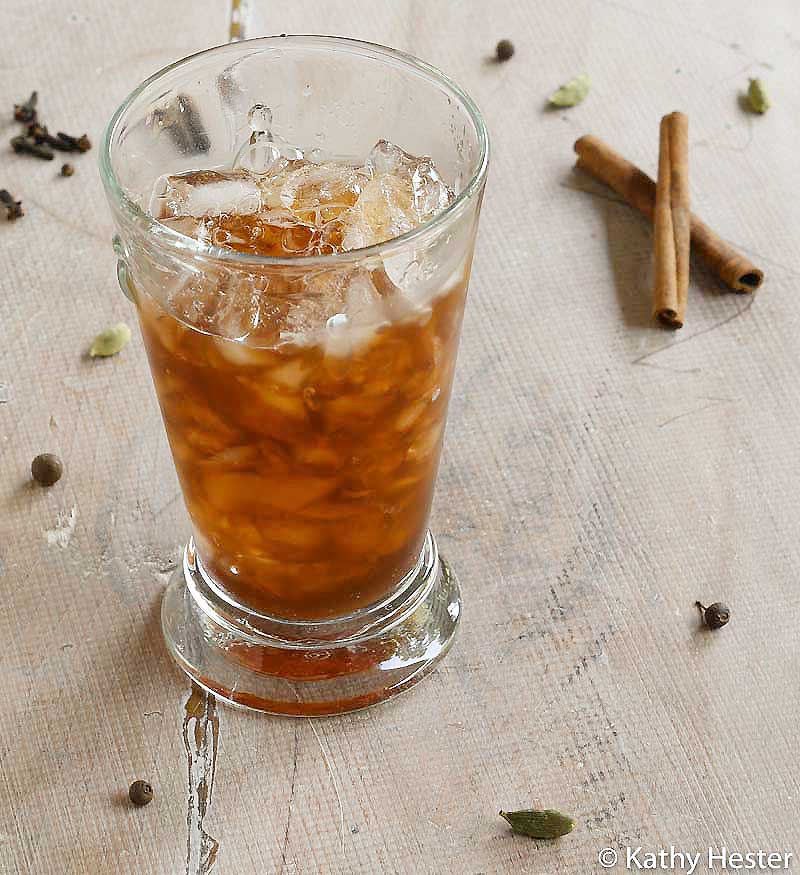 Why Make Homemade Chai in Your Electric Pressure Cooker?
It's cheap, easy, and you can make some in about 20 minutes start to finish. The time includes the Instant Pot coming up to pressure and coking for 10 minutes.
Why not just make it on your stovetop? Well, in the summer it heats your house up to cook on the stove, so that's enough reason for me. And in the winter you still get to have hands off time while your tea is brewing. If you want stove top or slow cooker instructions you can get them on my other blog, HealthySlowCooking.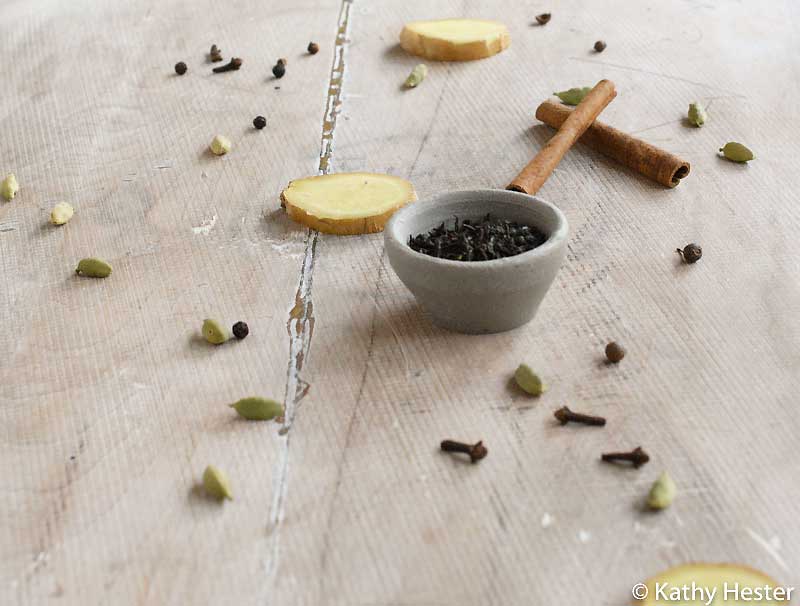 Customize Your Own Chai Blend
If that's not enough reasons for you to try making chai at home, then think about all the little tweaks you can make. You can use decaf black tea, green tea, or even leave the tea out altogether if you want.
I've found the exact balance of spices I like and you can adjust my recipe to fit your tastes. Add more cinnamon sticks or fresh ginger, leave out the peppercorns, or even add in some star anise.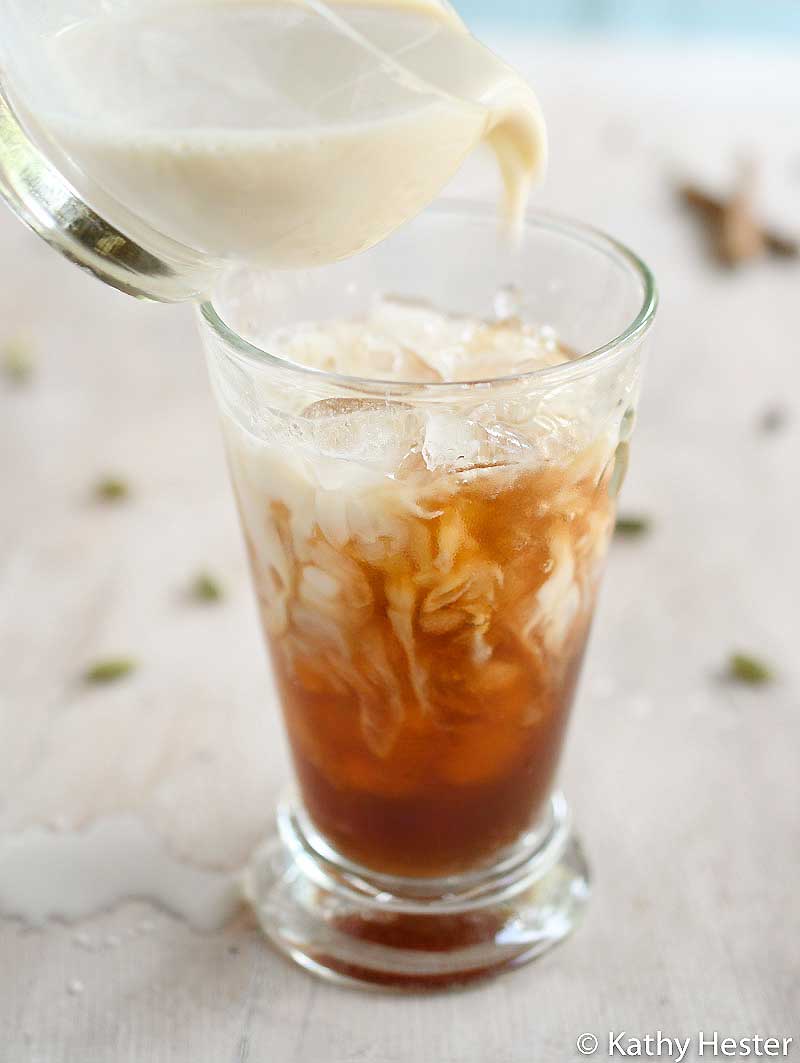 What is Chai Tea Concentrate?
Chai is the word tea, so the way we Americans call it is actually tea tea. It's actually known as masala chai, which is a spiced tea with milk.
Concentrate just means that we're making the tea double-strength. This works to our advantage in two ways. First, it takes up less room in your refrigerator and second it's just right once you add nondairy milk to it.
Doesn't Cooking my Tea Bags Make the Tea Bitter?
Boiling tea bags is a no no for sure. But when you cook on high pressure in the Instant Pot even though the temperature gets high, it actually doesn't boil.
Of course if you are super picky about your tea, you can add your tea bags after you release the pressure and let them steep for 5 minutes.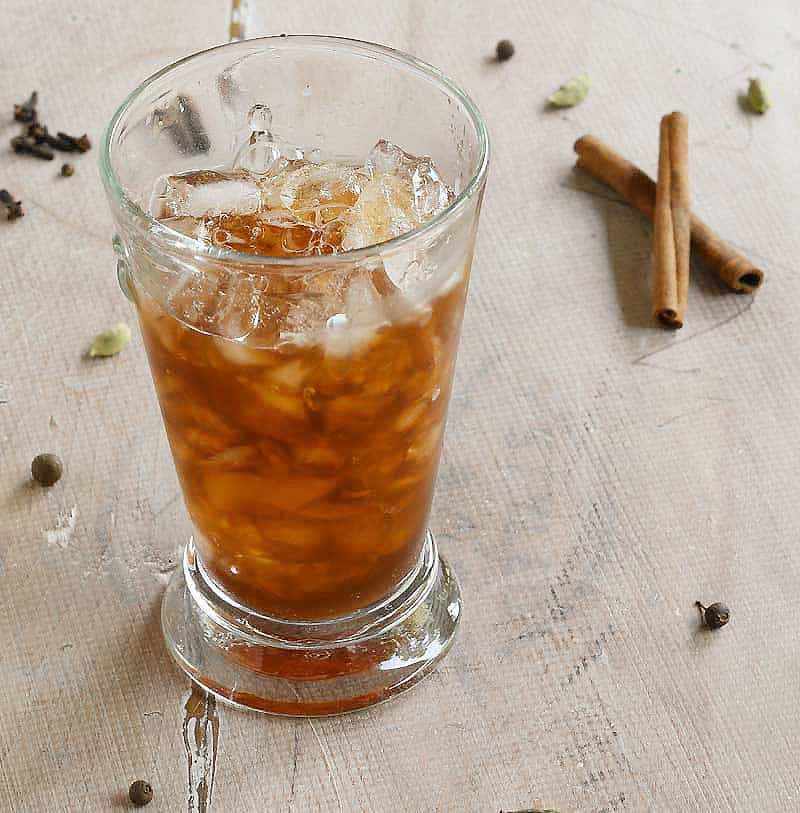 estimated time to come up to pressure:
15
minutes
Ingredients
6

cups

water

5

slices

fresh ginger - about a 1/2 inch knob

4

whole cinnamon sticks

6

whole cloves

6

whole peppercorns

10

whole allspice berries

8

cardamom pods

10

regular teabags

black, green, or roobios or 5 pitcher sized tea bags

sweetener of your choice

to taste - optional
Instructions
Add the water, ginger, spices, and teabags with tags removed to your Instant Pot.


Cook on high pressure for 5 minutes.

Let the pressure release naturally for 10 minutes, then carefully manually release the pressure. Remove tea bags and add sweetener to taste, if using.

I like to leave the spices in until it cools to infuse more. Then strain and refrigerate.

I add half concentrate and half nondairy milk to make my iced or hot chai. You can adjust that to suit your taste.
Notes
The nutritionals DO NOT include sweetener, so if you use one be sure to note those extra calories if you're counting.
Nutrition
Calories:
16
kcal
|
Carbohydrates:
4
g
|
Sodium:
14
mg
|
Potassium:
46
mg
|
Fiber:
2
g
|
Vitamin C:
0.7
%
|
Calcium:
4.1
%
|
Iron:
3.1
%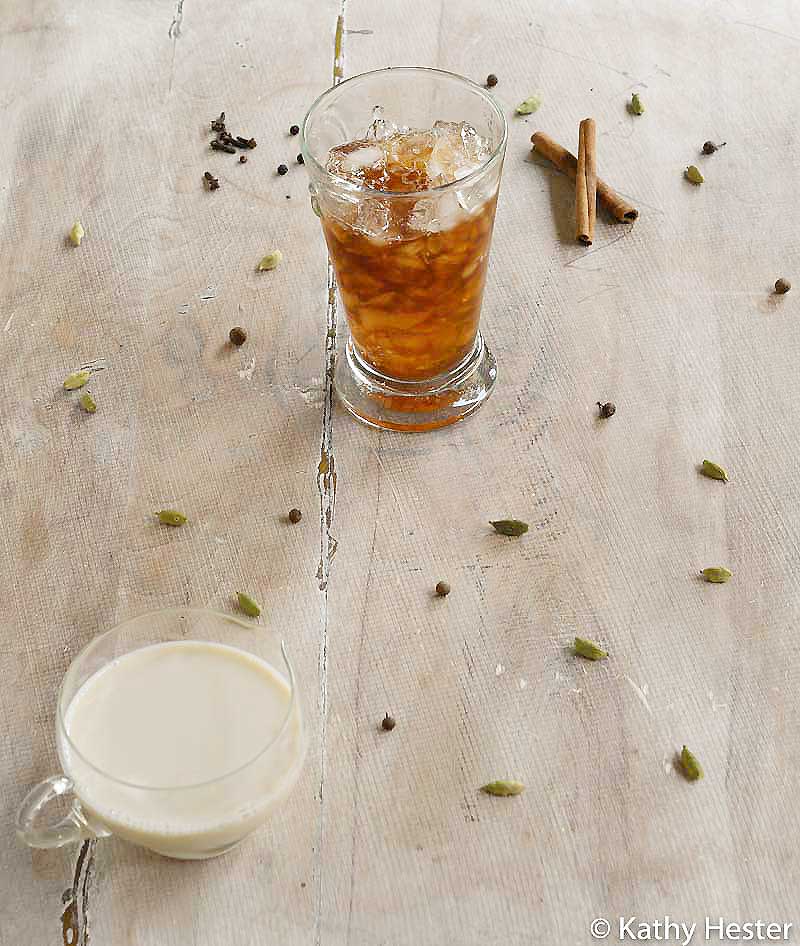 Instant Pot Chai Recipe Variations
Go plain and just brew a tea with cardamom only or just make a ginger tea
Add in one or more of these: nutmeg, star anise, or mace
Double the fresh ginger for a spicier brew
Make it unsweet, lightly sweet, or as sweet as you want
You can sweeten with date syrup, maple syrup, agave nectar, stevia, or your favorite sweetener
More Recipes to Try