This delicious Instant Pot Lentil Soup is so easy and you can get dinner on the table in under 30 minutes any day of the week.
This vegan IP soup uses winter squash and black beluga lentils to make a flavorful and nutritious dish. Plus I have substitutes listed so if you are out of an ingredient or two called for, you can use one of your pantry staples.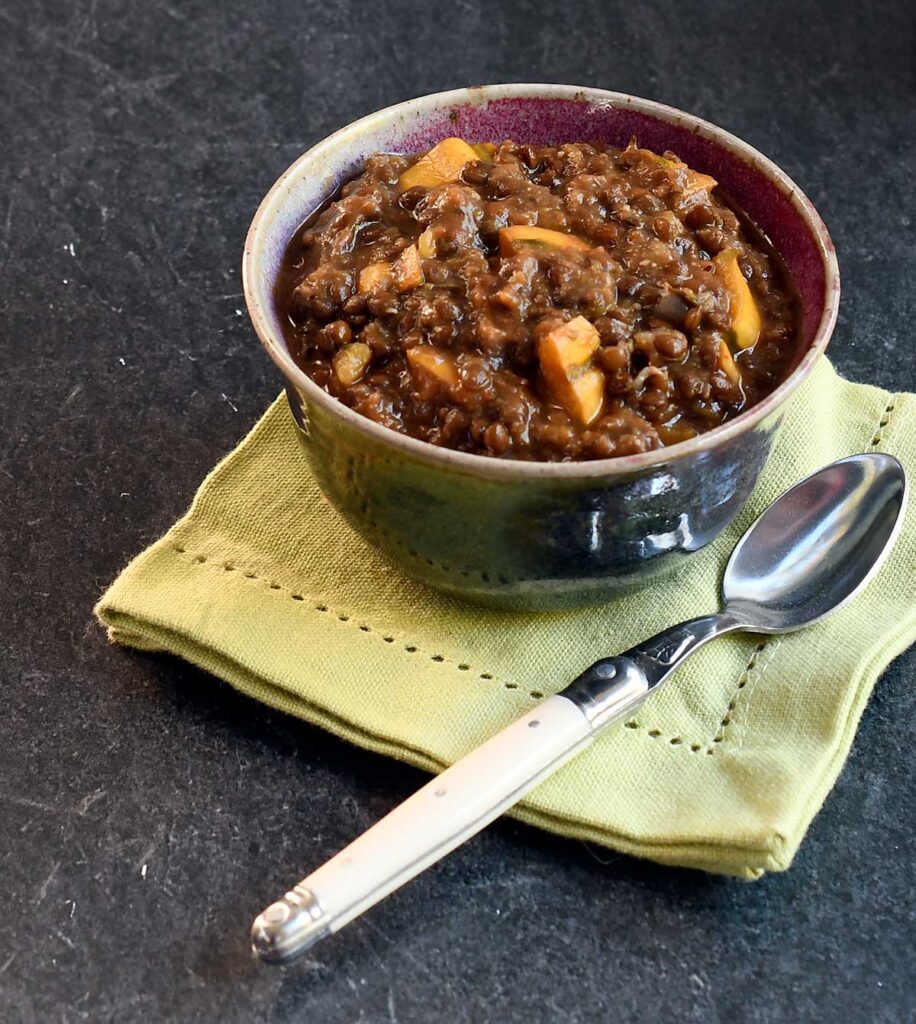 This vegan and oil-free soup is perfect for chilly days. It's hearty, delicious, and pressure cooking makes this fast.
Which type of lentils do I use in this vegan soup?
In this recipe, I used black Beluga lentils. They are tiny black lentils that are the same size as French lentils. I like them because they cook quicker than brown lentils.
My first choice is the Beluga lentils, but you can sub French or even brown in a pinch.

What can I use in place of the Beluga lentils?
My first choice is French green lentils sometimes called puy lentils, but you can use common brown lentils, and in a pinch, you can use red lentils.
Just know that they will melt and disappear in your soup. It's still great, but the texture will be different.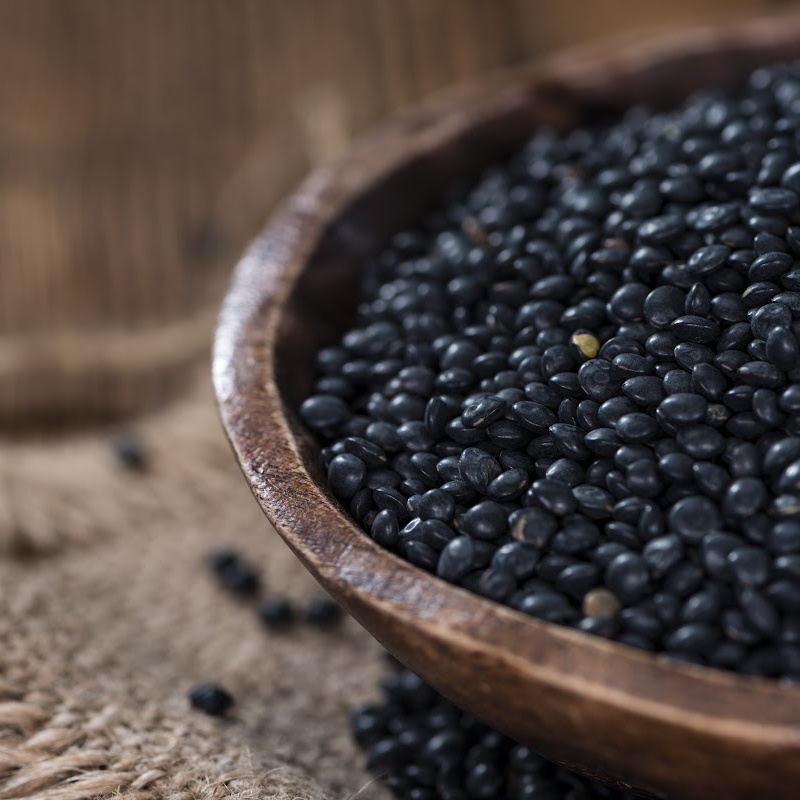 What kinds of winter squash can I use?
This recipe uses winter squash which adds a delightful color and texture to the soup.
In the photos, you can see that I used delicata squash, but you could use acorn, butternut, or even pie pumpkin.
With the delicata and acorn squash, you can leave on the peel and just scoop out the seeds. With other winter squash, you may have to peel first.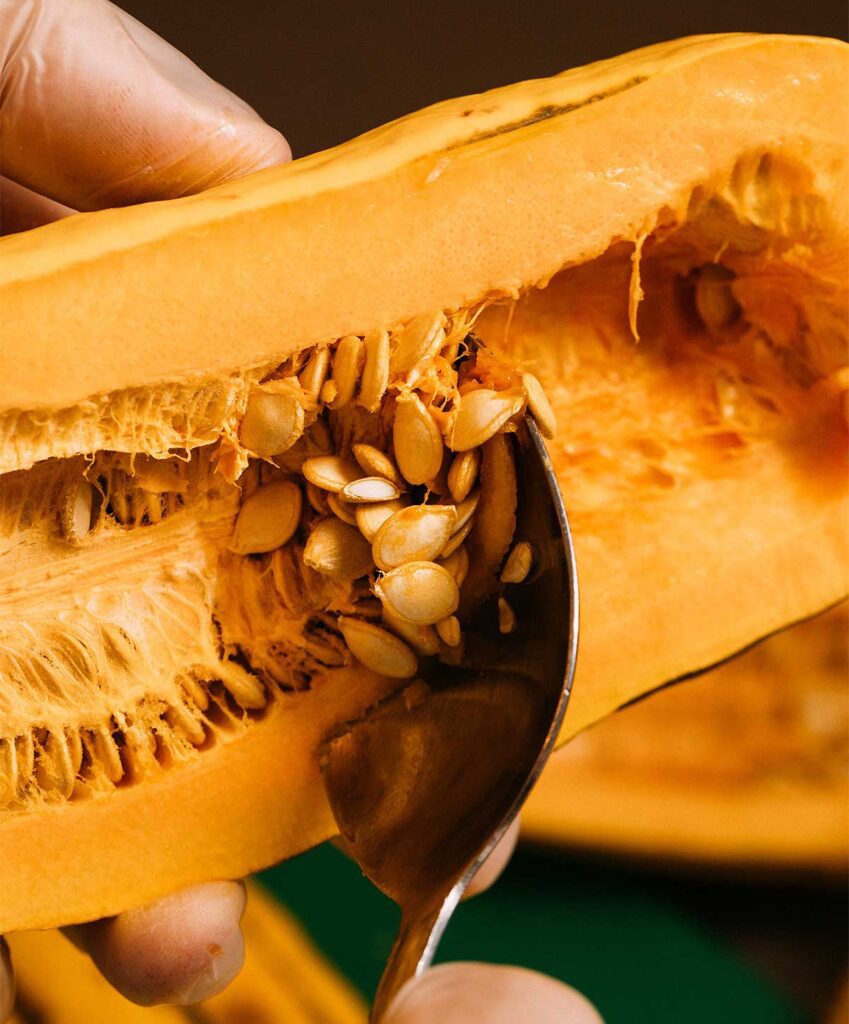 What do I need to make this lentil soup?
You need some water, onion, black lentils, chopped winter squash which can be fresh or frozen for the main ingredients.
I seasoned mine with Mexican oregano, smoked paprika, ground rosemary, and ancho chili powder.
In the end, I added some tomato paste and nutritional yeast to add flavor since I was out of homemade bouillon cubes, but you could use salt-free bouillon at the beginning of cooking.
We also add salt or salt substitute and black pepper, to suit your taste.
Can I use vegetable broth instead of water?
You can use broth, but I suggest that you use salt-free vegetable stock if you want to add it with the lentils. Salt can increase cooking time and if the lentils are a little old that could make them never get soft enough. My favorite is a salt-free vegan chicken broth.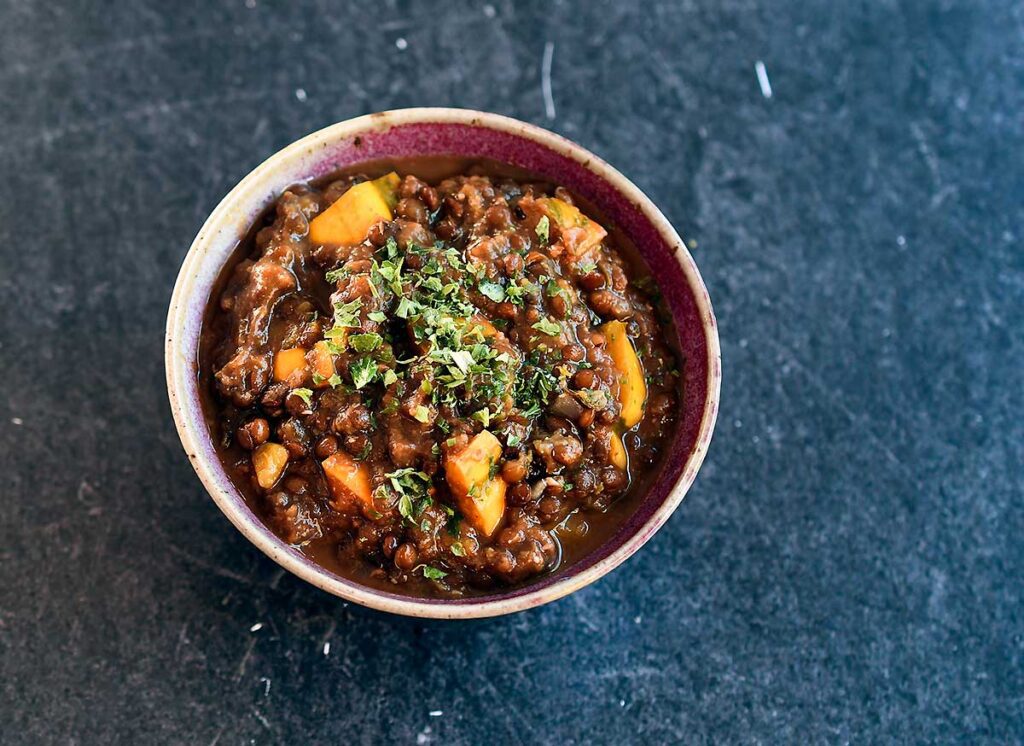 How to make lentil soup in an Instant Pot
Just select the sauté setting then cook the onion. Next add in the water, lentils, delicata squash, herbs, and spices, then cook on high pressure for 15 minutes.
Before serving stir in the tomato paste, nooch, then add salt and pepper to taste.
How to Store and Reheat
Store the soup in an airtight container in the fridge for 5 to 6 days. If you need it to last longer than that freeze instead.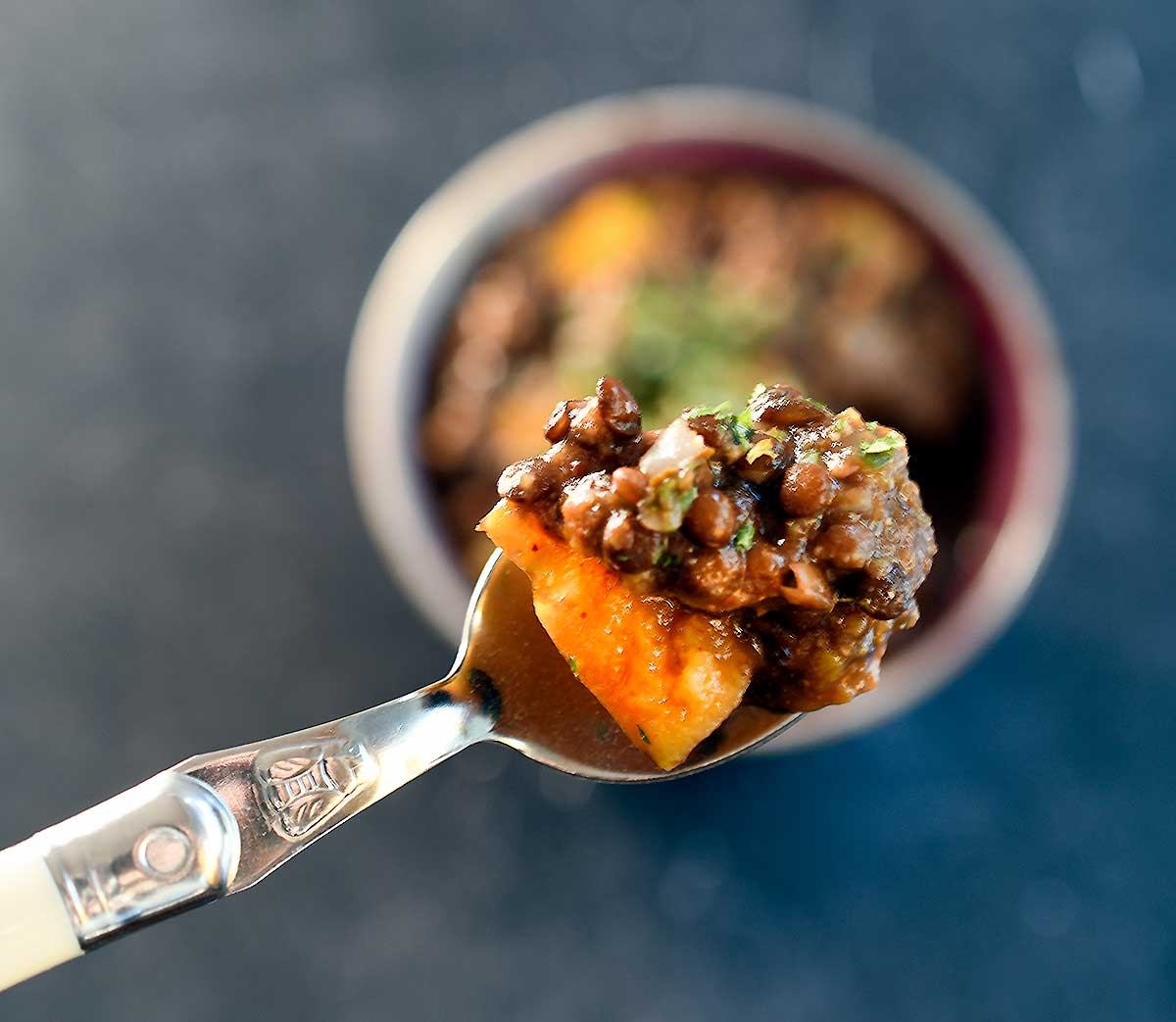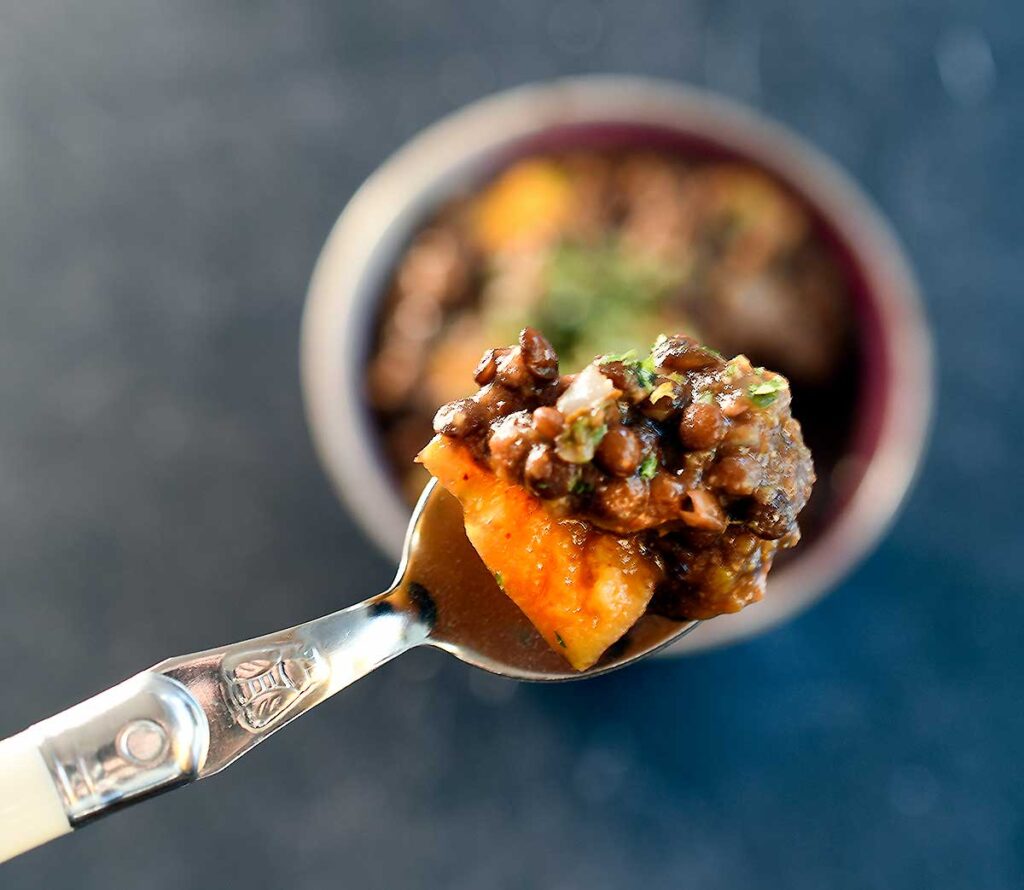 Making the soup thinner
If the soup is thicker than you like when you open the lid of your electric pressure cooker, you can add some more water or broth.
Also, the soup will thicken up as it cools, so add a little water before you heat it up again.
Can I freeze lentil soup?
You sure can. This black lentil soup freezes like a dream.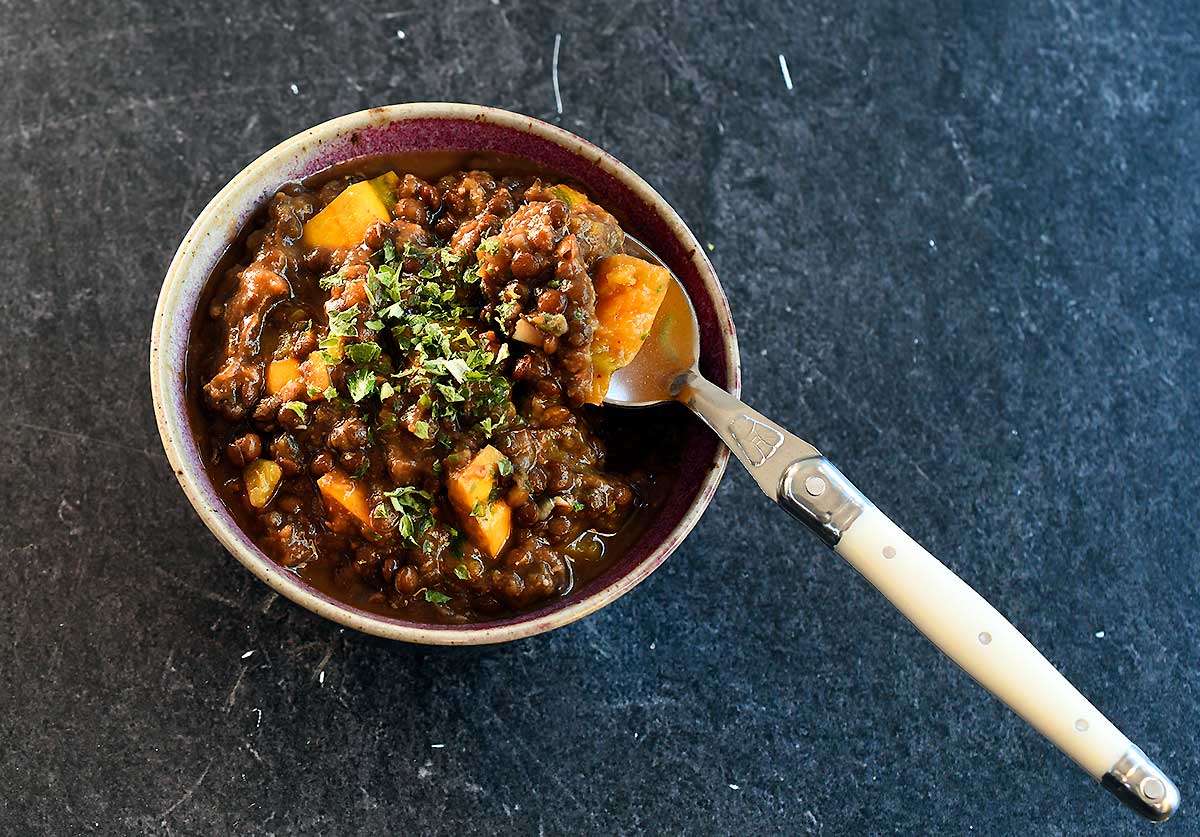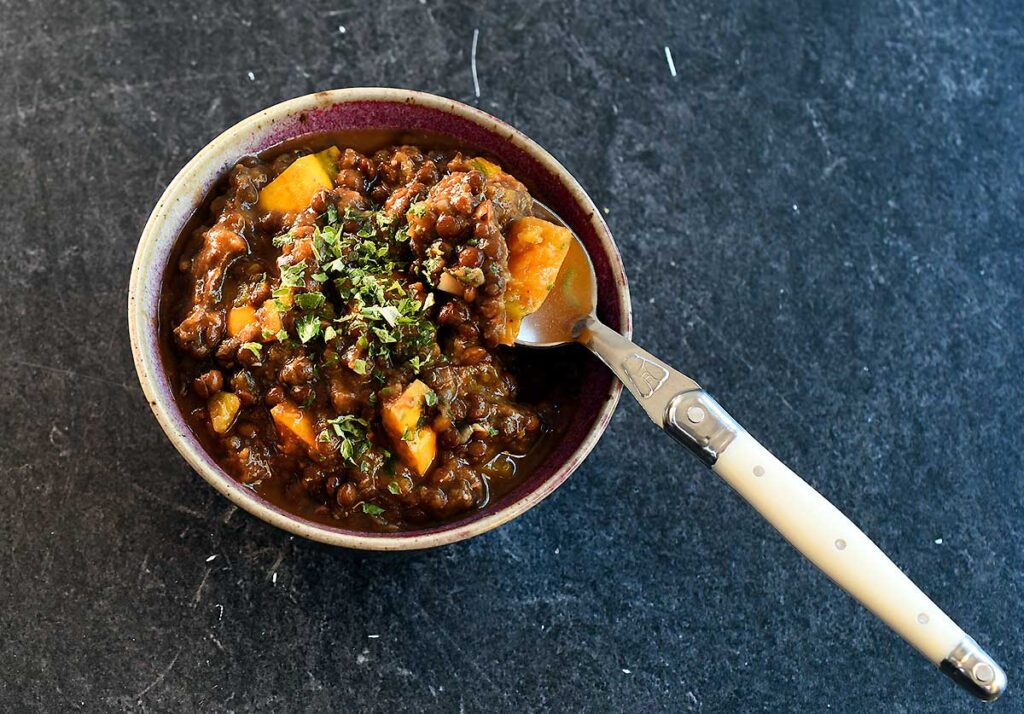 Great additions, garnishes, and swirls
If you love vegetarian soup recipes as much as I do, you've collected lots of flavors of balsamic vinegar which not only look dramatic as a garnish add a little sweetness and acid to your soup.
You can also add a squeeze of fresh lemon juice or even cook it with a thick slice of lemons zest with the white pith removed.
Feel free to add other veggies like bell peppers to the saute or sweet potatoes during cooking. Add in minced greens before serving adds in some flavor and extra nutrition.
Top with shredded vegan parmesan cheese, an extra sprinkle of nutritional yeast, fresh thyme, or some red pepper flakes.
What should I serve with vegetarian lentil soup?
Well, my first choice is a big piece of crusty bread and a simple green salad. But if you make this thick it's great over mashed potatoes or steamed brown rice.
Soak or not to soak the lentils
While you should always pay attention to the recipe to see if they call for soaked or not, in general, you do not soak lentils before you cook them.
Lentils cook quickly so we don't need to soak them to speed up cooking time.
Many Indian recipes do call for soaking lentils and it can make them more digestible if you have issues eating beans and lentils.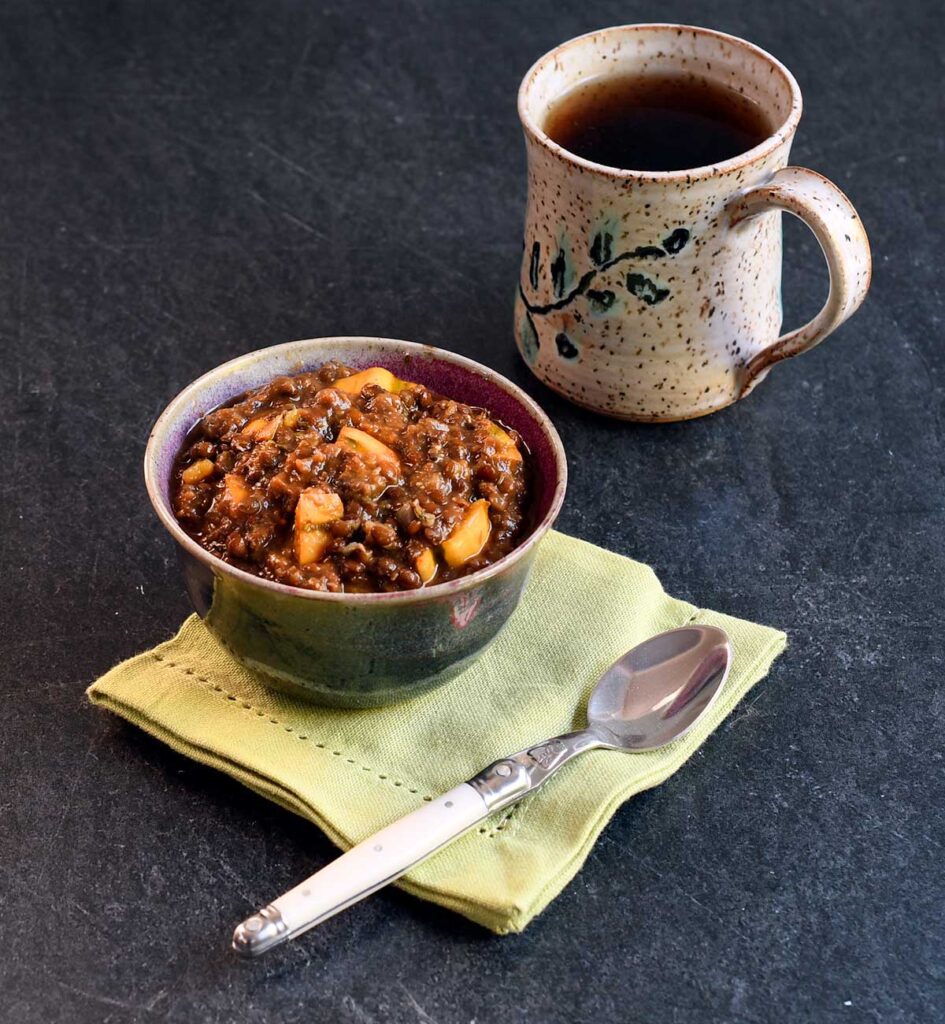 Can you make this on the stovetop or in a slow cooker?
You can, but I would not use the slow cooker setting on your Instant Pot. It doesn't do well on dishes with beans and lentils. But you can use a regular slow cooker to make this.
If you use a slow cooker, add the IP ingredients to your crockpot and cook on low for 8 hours, then add in the rest.
To cook it on stove top add the onions to a hot Dutch oven over medium heat, cook until translucent, then add the rest of the first cooking ingredients. Bring to a boil, then cover, lower to a simmer, and cook until the lentils are just cooked. Tender lentils are soft but not mushy.

More vegan Instant Pot recipes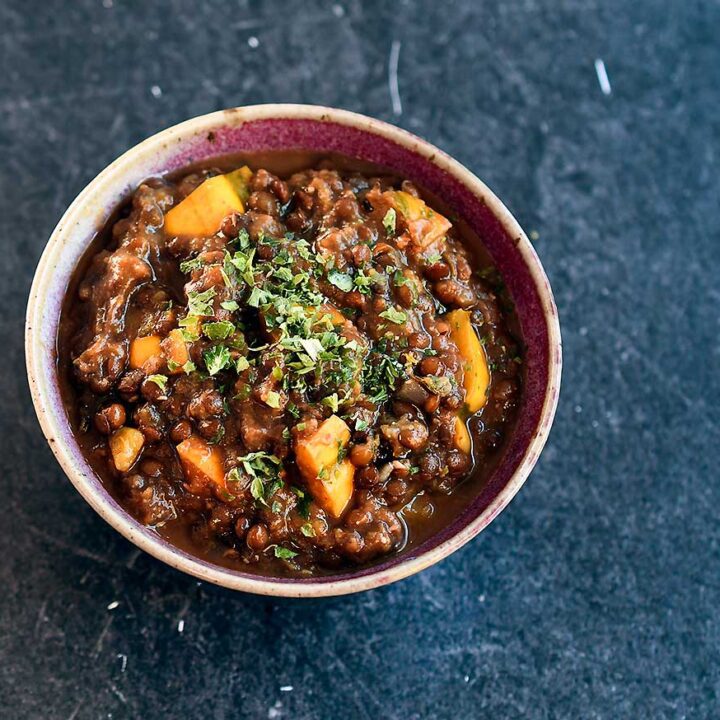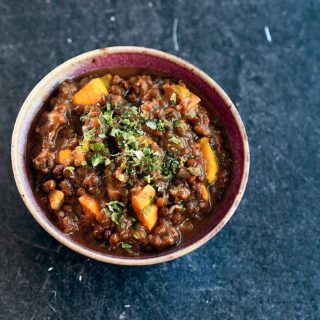 The Best Vegan Instant Pot Lentil Soup with Winter Squash and Beluga Lentils
I made up this recipe on a live for Halloween 2021. I used black Beluga lentils, delicata squash, and a few spices to turn pantry staples into an effortless meal.
Ingredients
Saute Ingredients
1

small onion

minced

water for sauting

1

teaspoon

minced garlic
Instant Pot Ingredients
4

cups

water or unsalted vegetable broth

3

cups

chopped winter squash

delicata and acorn squash do not need to be peeled

1

cup

black Beluga lentils

can sub French or brown

2

teaspoons

Mexican oregano or marjoram

1

teaspoon

ancho chili powder

sub tomato powder or mushroom powder

1/2

teaspoon

ground rosemary

or twice as much regular
Before Serving Ingredients
1/4

cup

nutritional yeast

1

tablespoons

tomato paste

salt or salt substitute

to taste

ground black pepper

to taste
Instructions
Saute the onion in water until translucent.

Add garlic and saute a minute more.

Add all the IP ingredients and cook on high pressure for 15 minutes.

Carefully release the pressure in spirts, because since it's a soup it's more likely to spray some liquid.

Stir in the nutritional yeast and tomato paste.

Add salt and pepper to taste and adjust any seasonings as needed before serving.

Enjoy!
Nutrition
Serving:
1
g
Calories:
227
kcal
Carbohydrates:
42
g
Protein:
15
g
Fat:
1
g
Sodium:
60
mg
Potassium:
519
mg
Fiber:
14
g
Sugar:
4
g
Vitamin A:
11378
IU
Vitamin C:
27
mg
Calcium:
99
mg
Iron:
5
mg