Instant pot black rice is my new go-to rice variety. It's also called forbidden rice and is whole-grain too. Cooking black rice is easy, beautiful on your plate, and is my favorite way to add extra antioxidants to meals.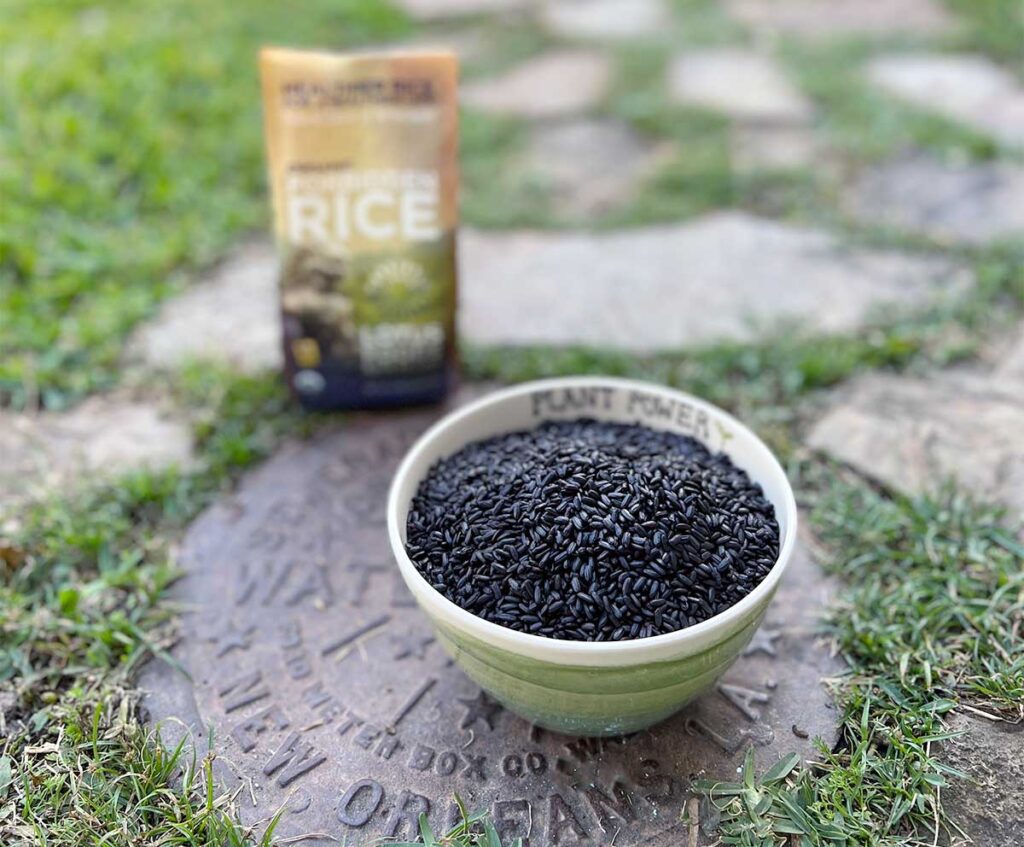 What is Chinese black rice?
The kind of black rice we are cooking today is not wild rice, black sticky rice, black sweet rice, or black glutinous rice – they are different rice varieties altogether.
There are so many types of black rice, and Forbidden rice is short-grain rice, but it has more of the mouth-feel of medium-grain rice than the short grain type used in sushi.
Black rice is an ancient type of whole food that was reserved for royalty in ancient China because it has extra health benefits and was rare. That's why it's sometimes called forbidden or emperor's rice.
Its non-sticky texture makes it easy to not overcook cook or get mushy. So if that's been an issue for you in the past, this is your answer!
Its healthy nutrition profile makes it a popular choice among people looking to avoid gluten or who have celiac disease.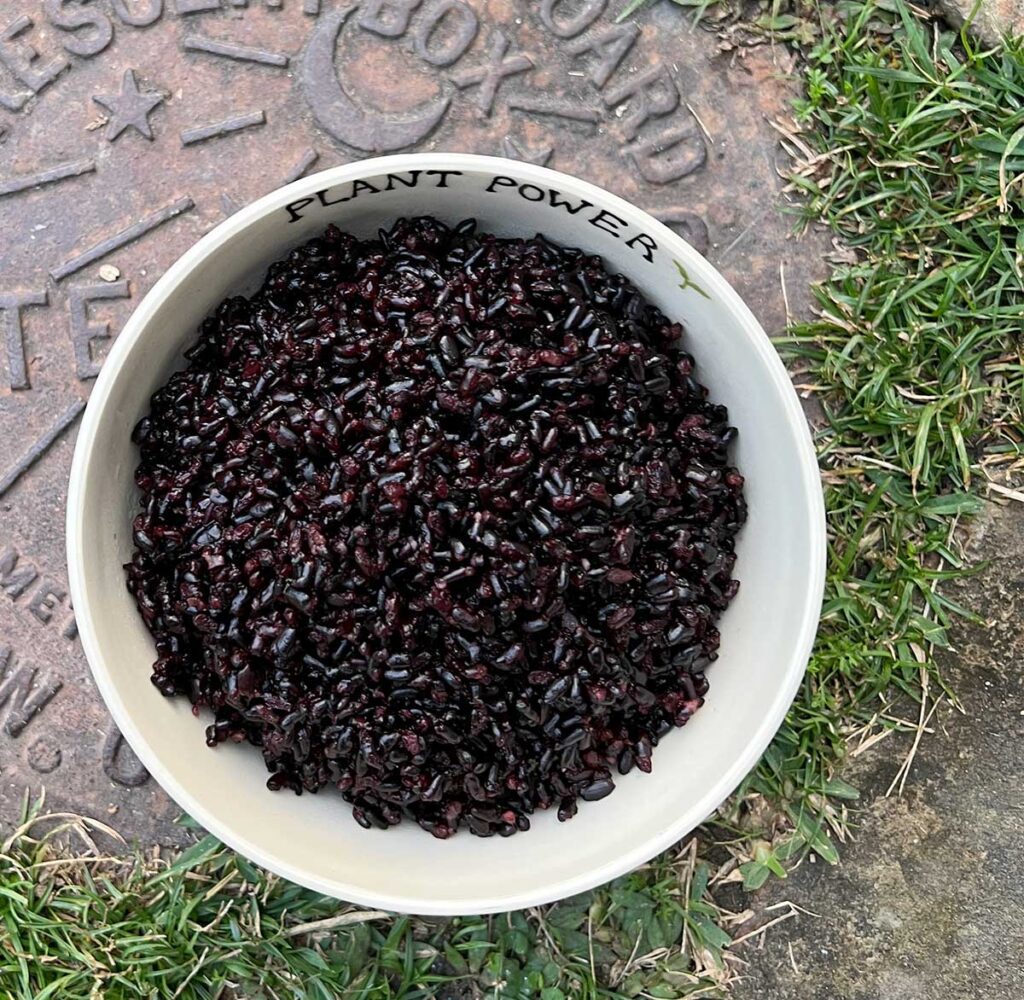 Where can I buy forbidden rice?
You can find it in high-end grocery stores, Asian markets, health food stores like Whole Foods or Sprouts, and your local coop.
And, of course, you can find them on Amazon. I usually go for the Lotus brand.
What does black rice taste like?
Black rice is a healthy alternative to white rice and a great change of pace from brown rice.
It has a mild nutty flavor, a little bit of an earthy taste, and is much more nutritious because of the color.
Black rice gets that dark color from anthocyanin and that's where it gets its powerful antioxidant properties.
Why cook Instant Pot rice?
The electric pressure cooker locks all the flavors inside your dish while reducing its cooking time by half from conventional stovetop methods.
Instant pot black rice is easy to make and full of fiber and you get to do something else while your rice is cooking.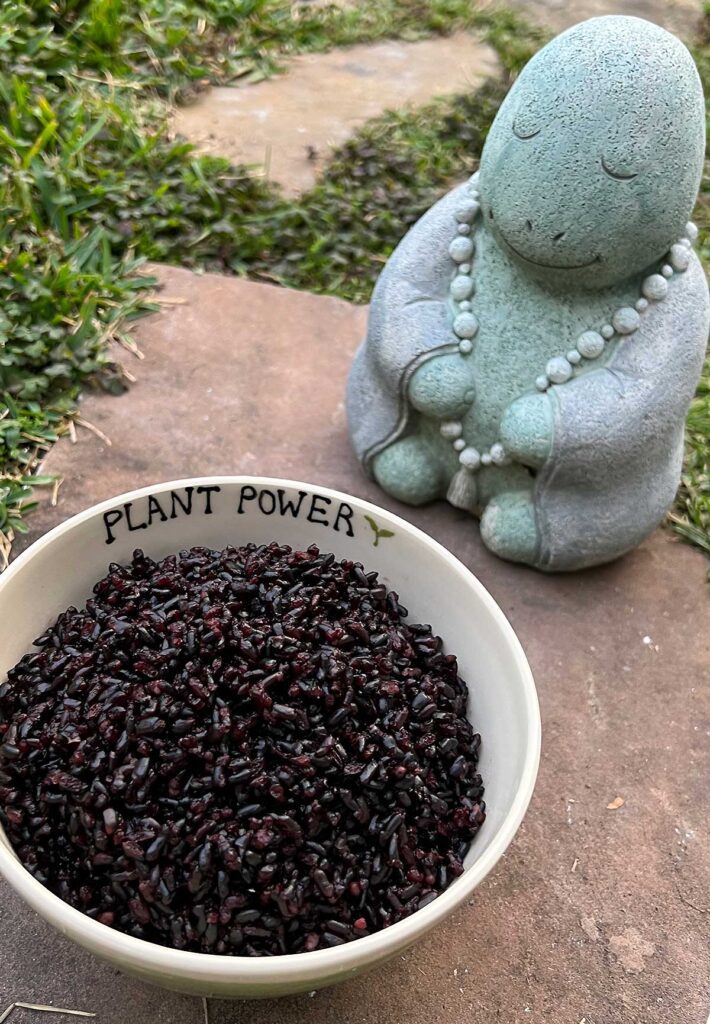 How to cook black rice in Instant Pot
All you need is black rice and water to get started. If the rice looks dirty you can rinse it in cold water, but that will lower the antioxidants.
Add the rice, water, and a pinch of salt if you want to use it, to the inner pot, and cook for 25 minutes on high pressure. Be sure that the steam release is in the sealing position.
Then do a natural release for 10 minutes, then use quick pressure release for the remaining pressure if the pin hasn't dropped, fluff rice, and serve!
What ratio of rice to water do I use?
To cook the black rice in the Instant Pot, you need to use 1 1/2 cups of water or stock/broth for every 1 cup of rice.
The ratio is one cup of black rice to 1 1/2 cups water. I use a little more liquid than some people, but black rice can stand up to it.
I usually make 2 cups of dry black rice and use 3 cups of filtered water. But you can use broth if you'd rather.
Also, the extra liquid is great if you are going to keep it on warm for a while. It keeps it from drying out.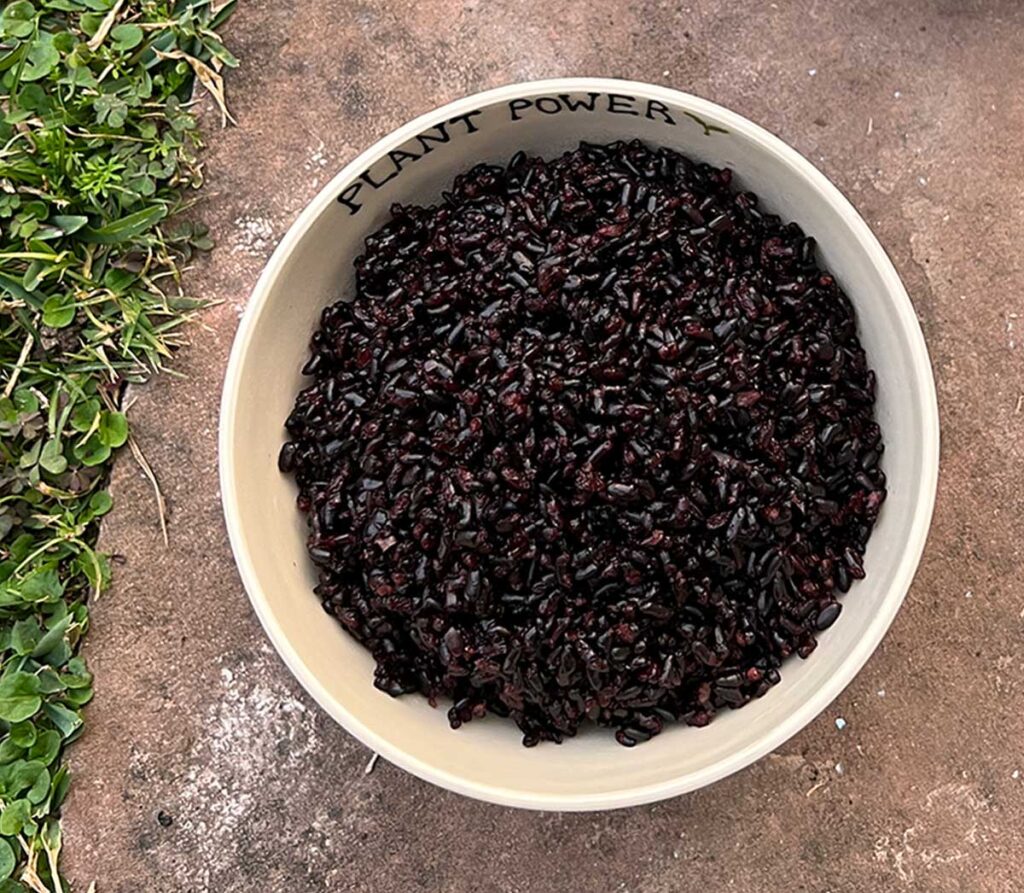 How do I use it?
Black Rice can be added to soups or stews for both nutrition and color, and it's great to use in place of brown rice.
I like to make a big pot of it and use it as a side, under chili or curries.
How do I store cooked rice?
It's very important that you don't let the rice sit at room temperature. In fact, cooked rice needs to be stored in the fridge as soon as possible.
Store in an airtight container.
Can I freeze cooked black rice?
You sure can and this is one of my favorite ways to do easy meal prep.
If I have leftover rice of any kind I freeze it either in single servings for a quick and easy lunch or in a family-sized portion.
How do I reheat it?
We often microwave leftover rice and I add a few tablespoons of water so that it takes away any dryness being stored in the fridge or freezer caused.
I do the same thing if I'm heating it up on the stovetop.
More Instant pot rice recipes and more: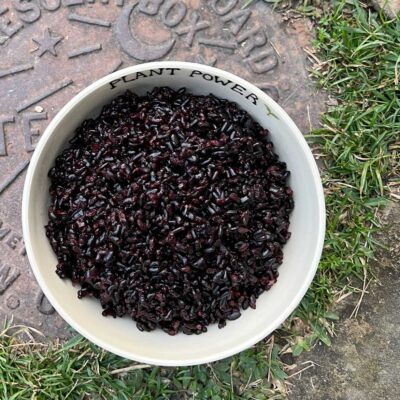 Instant Pot Black Rice
It's so easy to cook black rice in your Instant Pot. You can even put it together before work and set the timer to come home to cooked rice!
Ingredients
3

cups

water

2

cups

black rice
Instructions
Add the water and rice to your Instant Pot liner.

Cook for 25 minutes on high pressure.

Let the pressure release naturally for 10 minutes.

Release the pressure the rest of the way.

Fluff and serve.
Nutrition
Calories:
196
kcal
Carbohydrates:
41
g
Protein:
4
g
Fat:
2
g
Saturated Fat:
1
g
Polyunsaturated Fat:
1
g
Monounsaturated Fat:
1
g
Sodium:
9
mg
Potassium:
118
mg
Fiber:
2
g
Sugar:
1
g
Calcium:
15
mg
Iron:
1
mg