This Instant Pot beluga lentils and black rice recipe make the perfect healthy dinner for 2 and could stretch to 3 if you have a little one to feed. It's a mix of lentils, rice, butternut squash, and cauliflower. You cook this electric pressure cooker Black Lentils & Rice recipe by cooking each mini recipe in its own pot but at the same time!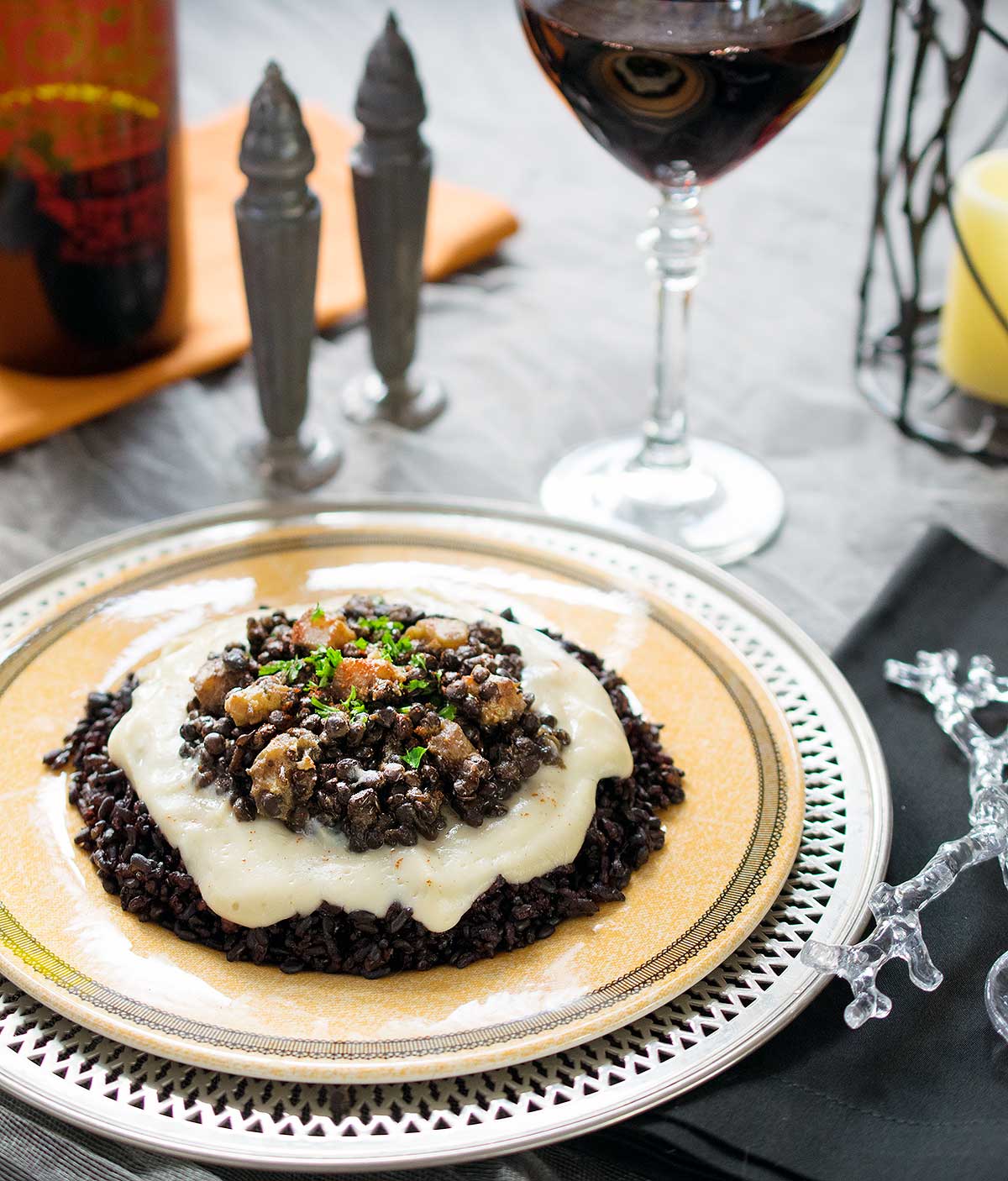 This forbidden rice and black lentil recipe incorporates healthy ingredients, including black rice, lentils, cauliflower, butternut squash. It is easy to make by following the recipe. The rice and lentil taste great together in this meal that can be eaten for a Halloween dinner or have it anytime.
You know I love a fancy dinner party and this is perfect for a gothic dinner. But don't save this delicious and healthy meal for just Halloween dinner – it's perfect all year long.
Fall is one of my favorite seasons and Halloween is by far my favorite holiday. I even wrote a whole ebook of vegan Halloween recipes!
More Vegan Halloween Dinner Recipes
What is the pot in pot cooking method?
I love cooking one-pot meals in my Instant Pot. You cook these black lentils with butternut squash, and the forbidden rice using the pot in pot method using layers inside your electric pressure cooker. We also make a cauliflower puree to round this out into a perfect layered meal.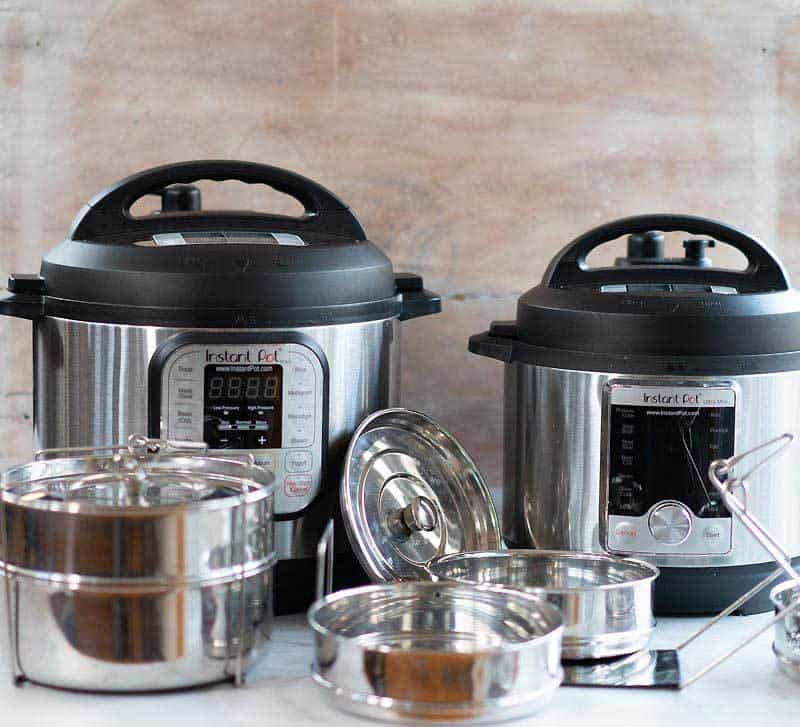 The pot in pot cooking method is a way to cook multiple recipes simultaneously by using smaller pots inside of your Instant Pot. The rack that comes with the IP makes it easy to put on additional pans and remove them later for cleaning.
I like to use my favorite OXO bakeware sling instead of the metal rack because it is easier to clean. Be sure that any pot in pot pans you buy are for the size electric pressure cooker you have!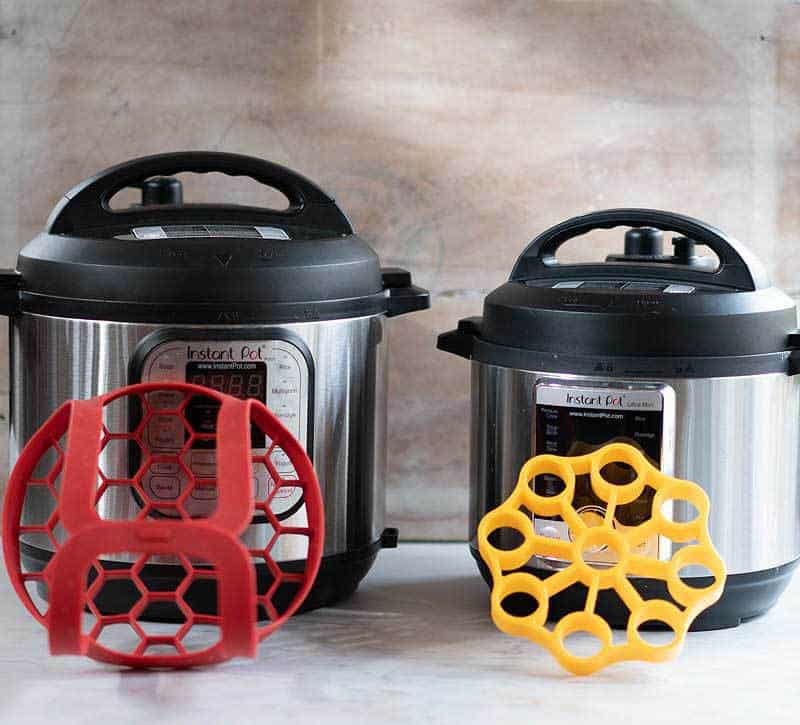 What is forbidden black rice?
Black rice is a type of whole grain and contains more anthocyanin than any other grain. It's also low in calories, lower in carbohydrates, and higher in protein and fiber than white or brown rice. Anthocyanin is the pigment that gives black rice its deep color which helps fight heart disease by lowering cholesterol levels.
As well as being vegan-friendly, black rice promotes healthy weight management, it has fewer calories and carbohydrates while significantly increasing your intake of protein and fiber.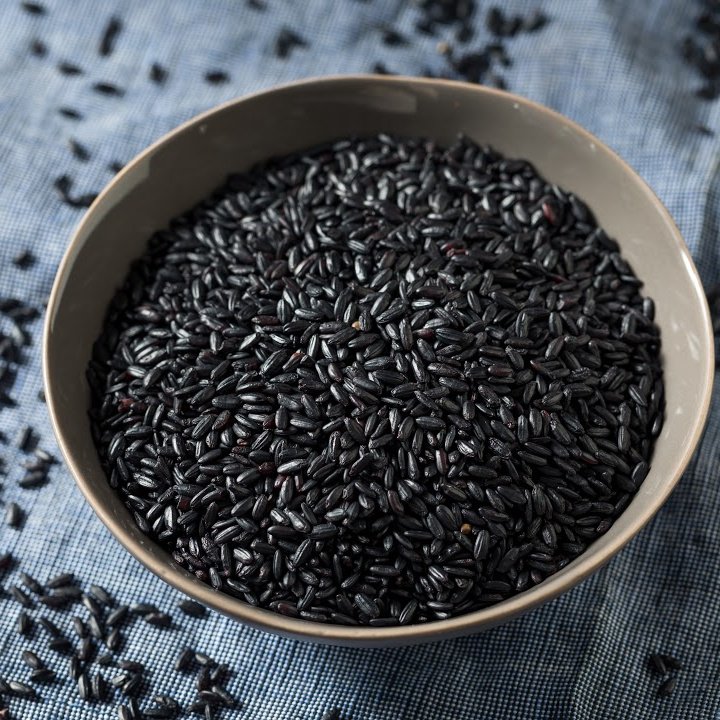 The term "forbidden rice" is a name for a black rice variety that has been around since ancient times. This type of rice has a subtle, nutty flavor and chewy texture, as well as antioxidants. It is a healthy whole grain that's both vegan and gluten-free.
The secret to a spooky dinner is a creative use of color while still making sure you have some great flavors. Black rice is actually great for you and is a whole grain, beluga lentils cook quickly and butternut squash paints on some bright colors. The cauliflower puree is the base for the sauce that ties it all together.
What are Beluga black lentils?
Beluga lentils are a type of tiny black lentils that are named for their similar appearance to caviar. Black lentils are tiny and dark-colored with a delicate texture. They're also considered to be one of the healthiest foods on the planet because they contain high levels of protein, fiber, iron, folate, and other nutrients.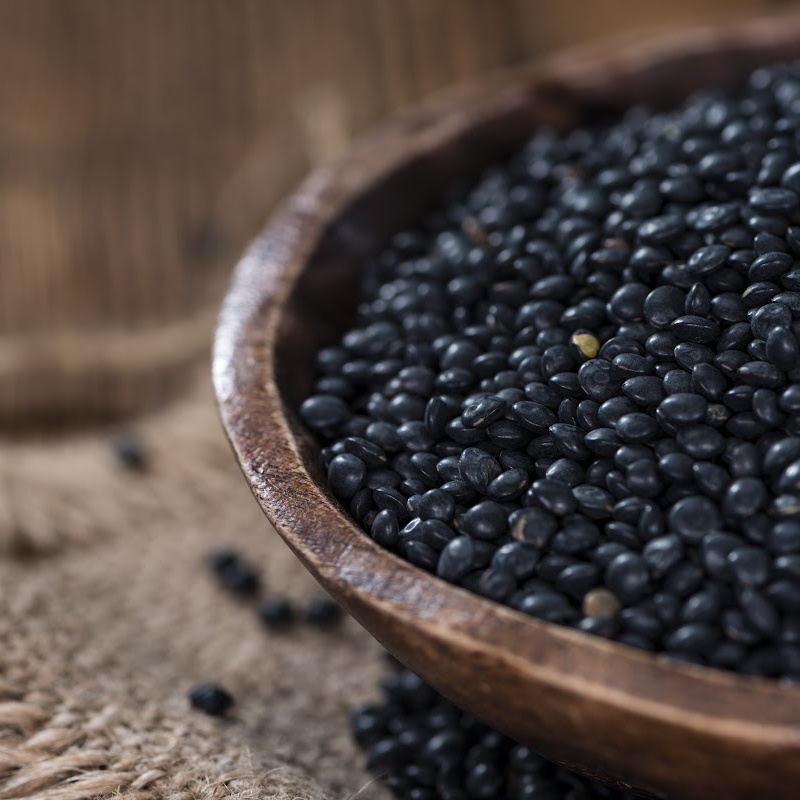 Ingredients you need to make this pot in pot layered electric pressure cooker meal
FORBIDDEN RICE LAYER
You just need water, a vegan bouillon cube, and black forbidden rice
LENTIL LAYER
For the lentil layer, you need water, black beluga lentils, diced butternut squash, bay leaf, smoked paprika, and ground rosemary.
CAULIFLOWER LAYER
2 cups small cauliflower florets
BLENDER INGREDIENTS
To make the sauce you'll need, nondairy milk, nutritional yeast, a little salt or salt substitute, and you can add some spinach to make it green for Halloween dinner if you want.
How to make this black lentils and rice layered meal in the Instant Pot
It's easy to make this vegan dinner and it uses fewer dishes than a traditional recipe because it all cooks together in the Instant Pot. Another recipe like this is my Instant Pot Creamy Mushroom Curry and Pilaf – Pot in Pot Method.
The flavors are deep and complex as you can taste them all at once as opposed to tasting one component at a time. It really is a whole dinner – 3 separate components in one pot. You cook the rice layer in the bottom of the Instant Pot.
Then you can put in a rack or a Pyrex or steel container right on top of the rice. It will have the lentil layer ingredients mixed together. Cover with foil.
Then either wrap the cauliflower ingredients in foil or in another container if it will fit.
Cook on high pressure for 23 minutes. Let the pressure release naturally. Once the pressure indicator goes down, remove the lid and carefully lift out the pans.

Then blend the blender ingredients with the cooked cauliflower to make the sauce.
Scoop a base of the black rice into bowls, spoon some of the creamy white sauce on top, then add the lentils, leaving a ring of sauce visible.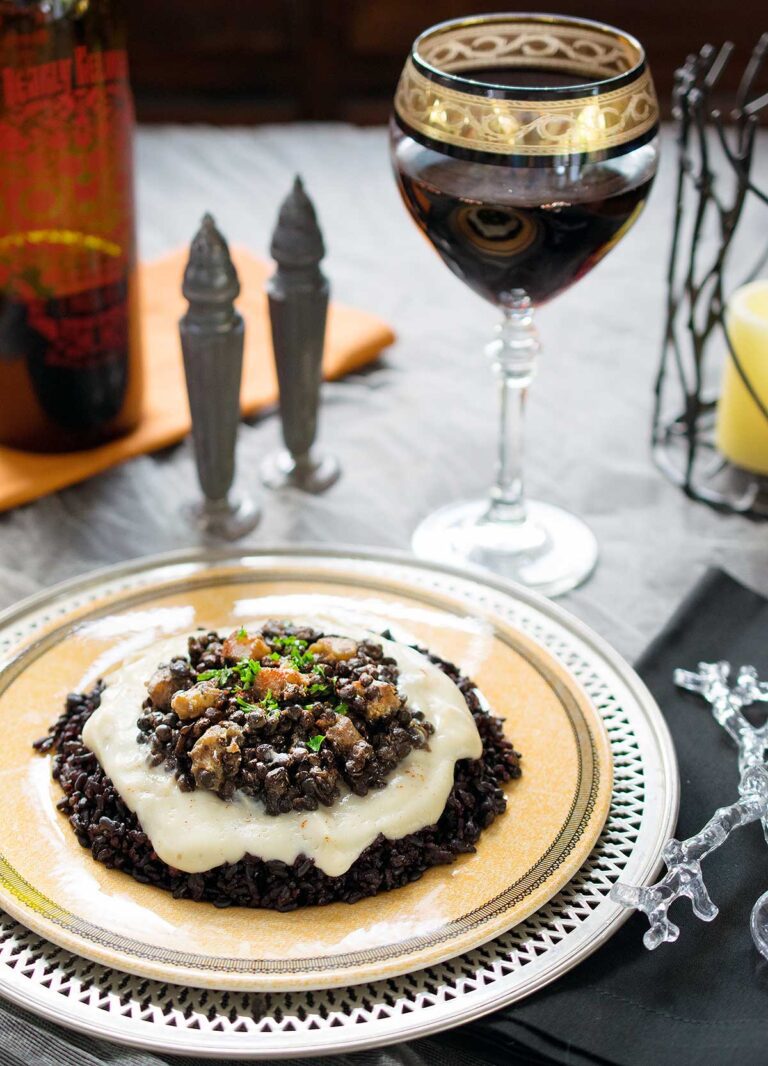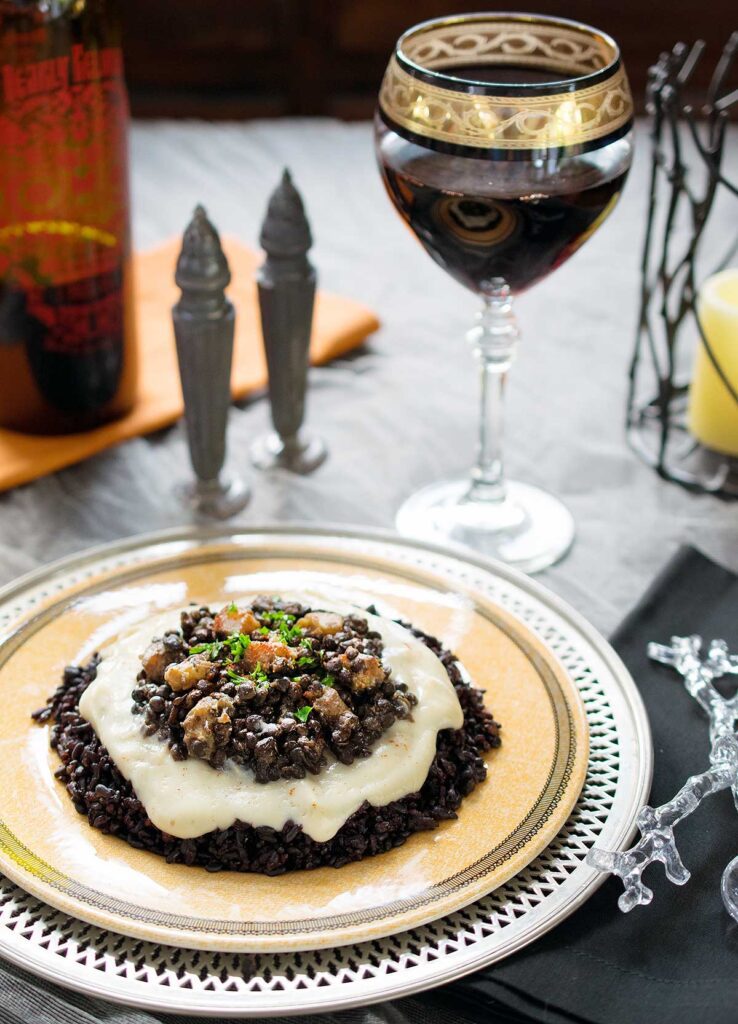 Do lentils need to be soaked before cooking?
Lentils do not need to be soaked before cooking, and the cooking time for them in the Instant Pot is faster than regular dried beans. Lentils are cheap, nutritious, and tasty – plus they cook fast.
You can cook a large batch of lentils at once and store them for an entire week if you want to save time during meal preparation. Both cooked lentils and rice store great in the freezer too!
More Vegan Instant Pot Bean Recipes