Tangy, smoky and with just the right balance of flavors, these vegan instant pot baked beans with molasses will have your family asking for more!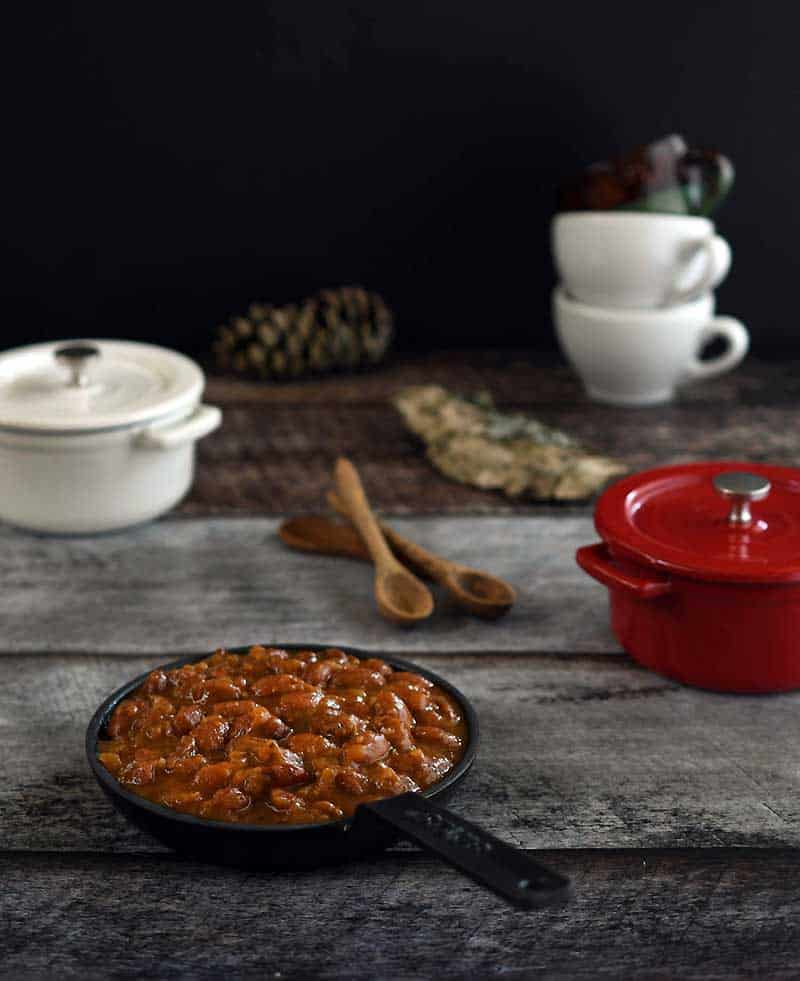 What kind of beans are used in baked beans?
While you can use some of your best Rancho Gordo heirloom beans for this recipe or any other, there are regions of the US that use specific beans for theirs.
In the north US navy beans or great northern beans are used for baked beans, but pinto or yellow-eyed beans can be used to. I've even used cranberry beans before and they were awesome in this recipe too.
Are all baked beans vegan?
Most canned baked beans are NOT vegan or vegetarian. However if the can say vegetarian, chances are that they are vegan also.
But that doesn't mean that you can skip reading the label. It's always possible that a brand added dairy or meat ingredients since you last bought them.

Of course, if they clearly state vegan on the can you are in the clear!
Do I Need to Sauté the Onions?
Sauteeing the onions really helps bring out the flavors, and takes the baked beans to a whole new level. However, if you're on a time crunch, you can actually skip this step, or just use onion powder as an alternative.
Another cool trick you can try out is to chop a big batch of onions and sauté it on a weekend or cook for 8 – 10 hours on low in a slow cooker. Then allow it to cool down and store it in individual containers or freezer friendly bags.
That way, all you need to do is get a bag out, defrost the whole bag or just break off the sized piece you need for the recipe.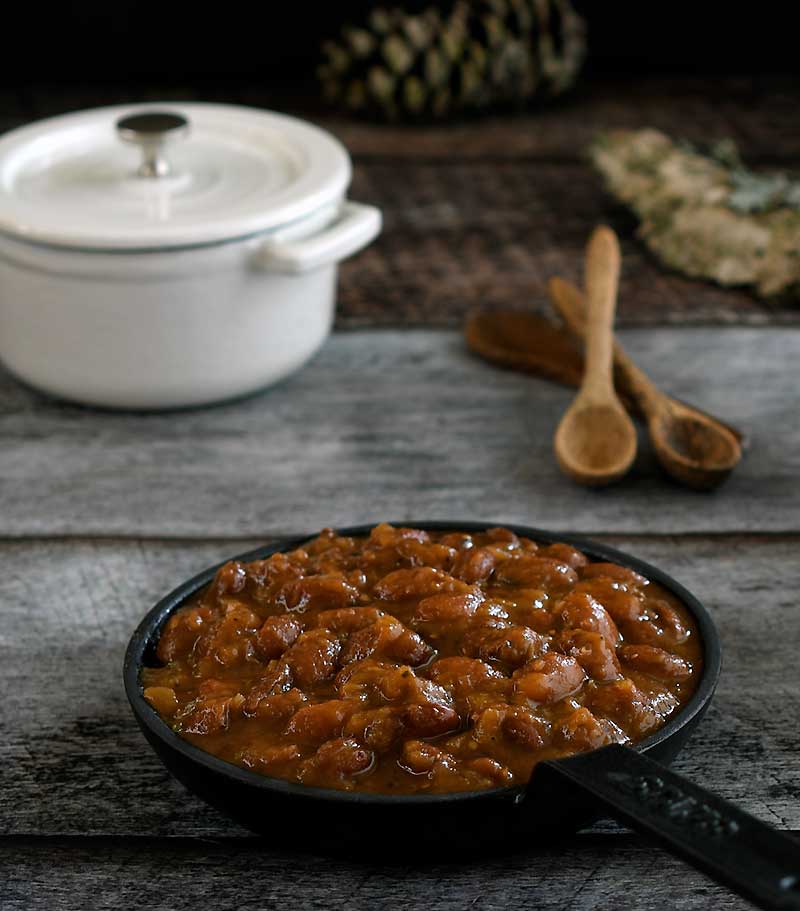 How can I tell if my beans are undercooked?
I test for doneness by squishing a single bean between 2 spoons. If it only splits in half it needs to cook longer. It's the easiest way to tell for sure if you beans are cooked enough.
If my beans are undercooked what should I do?
If your beans are undercooked when you open up your electric pressure cooker you may be able to just put the lid back on and cook another 5 to 10 minutes depending on how undercooked they are.

If the pot is very dry, go ahead and add an additional cup of water to help the pot get back up to pressure.
What happens if I eat undercooked beans?
Beans, if left undercooked, can upset your stomach. That's exactly why soaking them beforehand, or quickly cooking them as in this recipe, is ideal. 

But even if you are cooking from dry without any soaking in other recipes make sure your beans are cooked thoroughly.
Why add vinegar to Vegan Instant Pot Baked Beans?
If you're surprised at why vinegar made it to the list of ingredients, don't be. Vinegar is first and foremost a flavor enhancer and gives a touch of tangy brightness to any dish,
Vinegar also helps break down the indigestible sugars in the beans, so that makes them a little easier on your stomach if you have issues tolerating beans.

The vinegar brings out a nice tangy flavor to your instant pot baked beans. It keeps you from needing as much salt too! But if you are salt-free just leave it out or use your favorite salt substitute.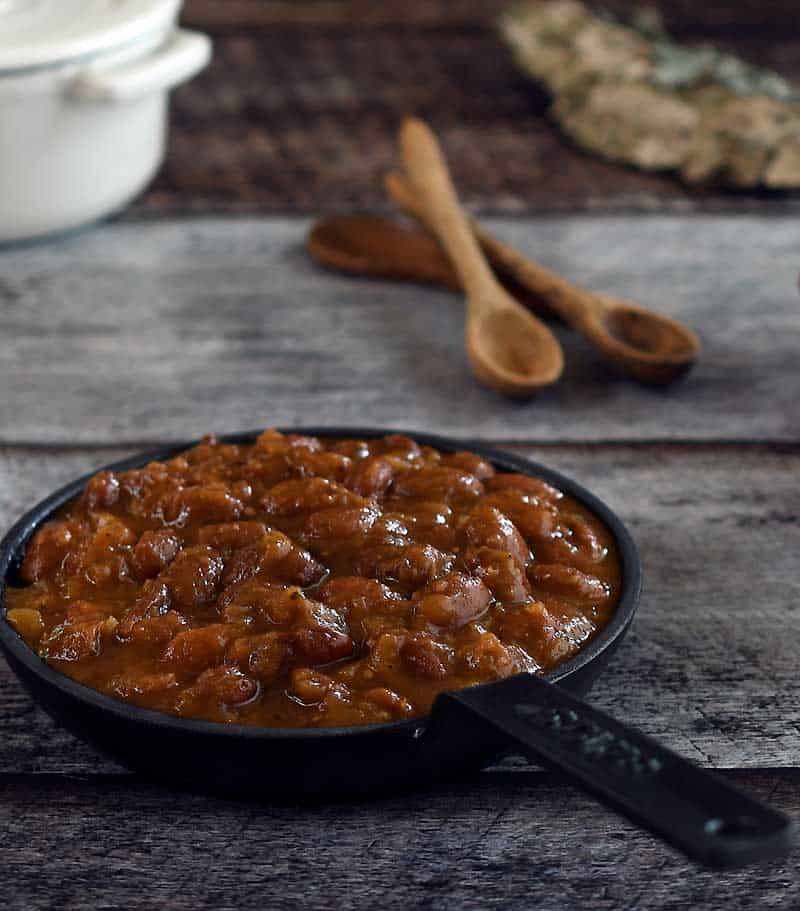 Make a meal of out these vegan baked beans
While baked beans are the backbone of picnics and potlucks, they make a winter night cozier. In a pinch these beans can make a meal with a nice crusty piece of bread.

Cheryl loves having them for dinner with some chopped up homemade veggie dogs. She relives her childhood. This would work with veggie sausages too.

You could use these beans as a part of a British breakfast with a tofu scramble or just have beans on toast – yum!

Sometimes I make a veggies plate with baked beans and Instant Pot Sweet and Sour Cabbage. You could add in a side salad or some steamed veggies to make it even better.
More vegan bean recipes
On the hunt for some other cool recipes that call for beans? Here are a few of my favorites!
Instant Pot White Bean Tomatillos are great over rice, in tacos, or even in grilled quesadillas.
Bean & Veggie Instant Pot Mexican Quinoa is the perfect quick and easy weeknight dinner. Plus leftovers can be eaten hot or cold. It's a great summer salad.
Instant Pot Refried Beans with Ancho Chilies are my favorite oil-free refried bean recipe. The added ancho chilies really give them an amazing flavor.
No time to make beans? Vegan Instant Pot Split Pea Soup cooks fast!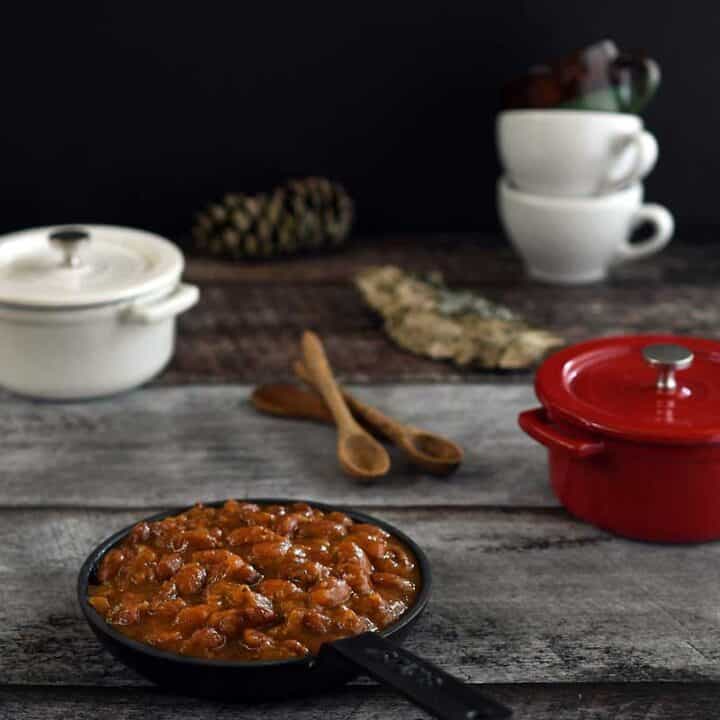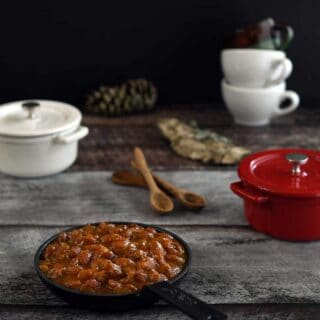 Vegan Instant Pot Molasses Baked Beans
You can take these vegan baked beans to a cookout or enjoy a bowl in front of a fire in the winter. For a fun dinner, add some cut homemade veggie dogs. That's the way Cheryl likes them the best.
Ingredients
Quick-Soak Ingredients
1

lb

454 g dry cranberry beans, pinto beans or navy beans

6

cups

1.4 L water
Sauté Ingredients
1

cup

150 g chopped onion
Pressure Cooker Ingredients
4

cups

944 ml water

2

cups

240 g minced peeled apple

3

tbsp

45 ml Dijon mustard

2

tbsp

30 ml molasses or date syrup

2

tsp

3 g dried thyme

2

tsp

10 ml liquid smoke
Before Serving
¼

cup

50 g brown sugar or maple syrup or date syrup

3

tbsp

45 ml tomato paste

2

tbsp

30 ml apple cider vinegar

Salt or salt substitute

to taste
Instructions
Put the dry beans and water into your electric pressure cooker. Cook on high pressure for 8 minutes. Manually release the pressure. Drain the quick-soaked beans and rinse them and the inner liner.

Alternatively, you can soak the beans overnight and strain then go straight to step 3.

Heat on the sauté setting. Once hot, add the onions with a bit of water and cook until translucent. Add the water, apples, mustard, molasses, thyme and liquid smoke to your Instant Pot along with the quick-soaked beans.

Cook on high pressure for 15 minutes. Carefully release the pressure manually. Try to mash one of the beans with a fork to see if it is soft. If not, put the lid back on and cook for 5 minutes.

Release the pressure manually. Stir in the brown sugar, tomato paste and vinegar. Taste and add salt.

If there's too much liquid left, you can always turn your Instant Pot to sauté and cook off any extra liquid.
Notes
You can make in a 3-quart, 6-quart or 8-quart (3-L, 6-L or 8-L) Instant Pot.
Nutrition
Serving:
1
g
Calories:
75
kcal
Carbohydrates:
15
g
Protein:
4
g
Sodium:
54
mg
Fiber:
4
g
Sugar:
4
g