Did you know that you can make scalloped potatoes in your Instant Pot? Plus this recipe is whole food plant-based and is vegan and oil-free too. But the best part is how satisfying it is to have a creamy potato recipe that your whole family will love!
This is another in my series of posts sponsored by the Idaho Potato Commission. I'm always amazed at how versatile and healthy potatoes are!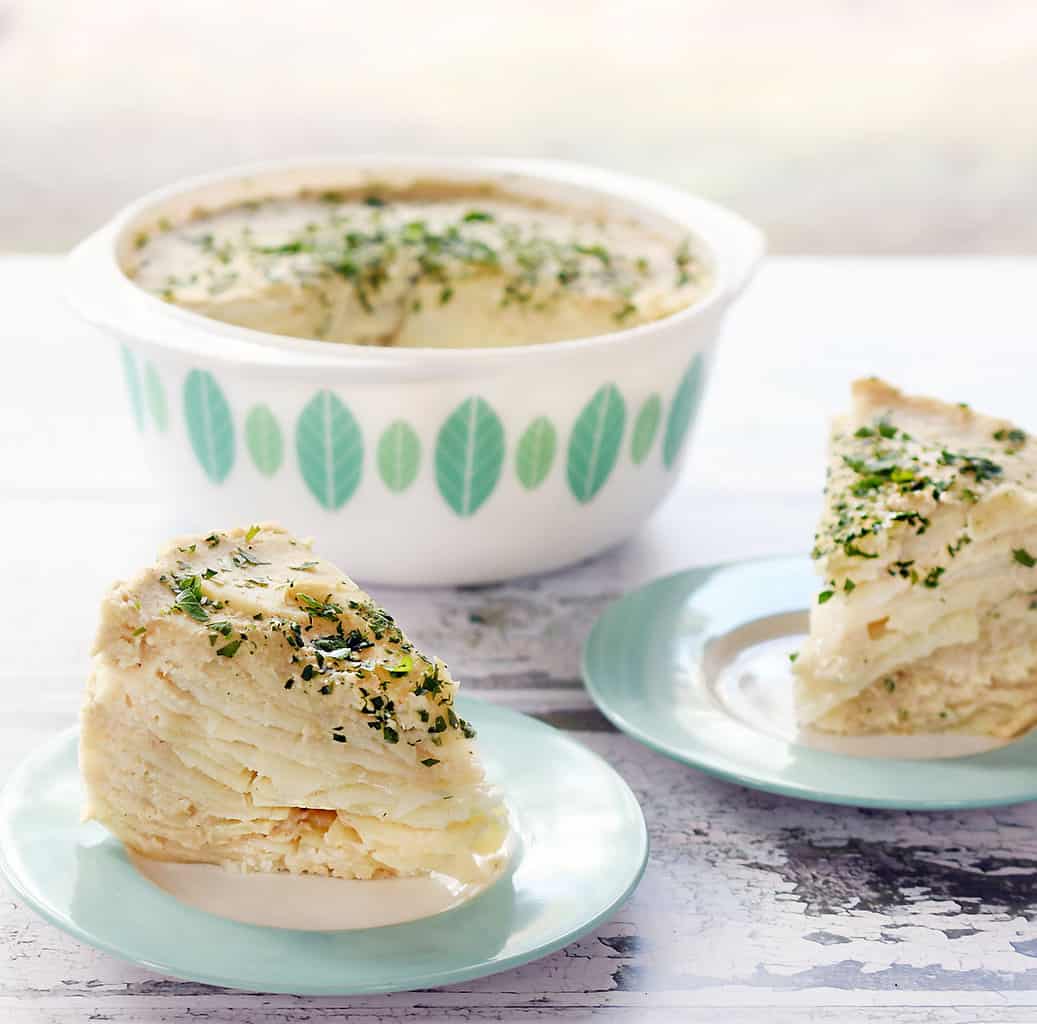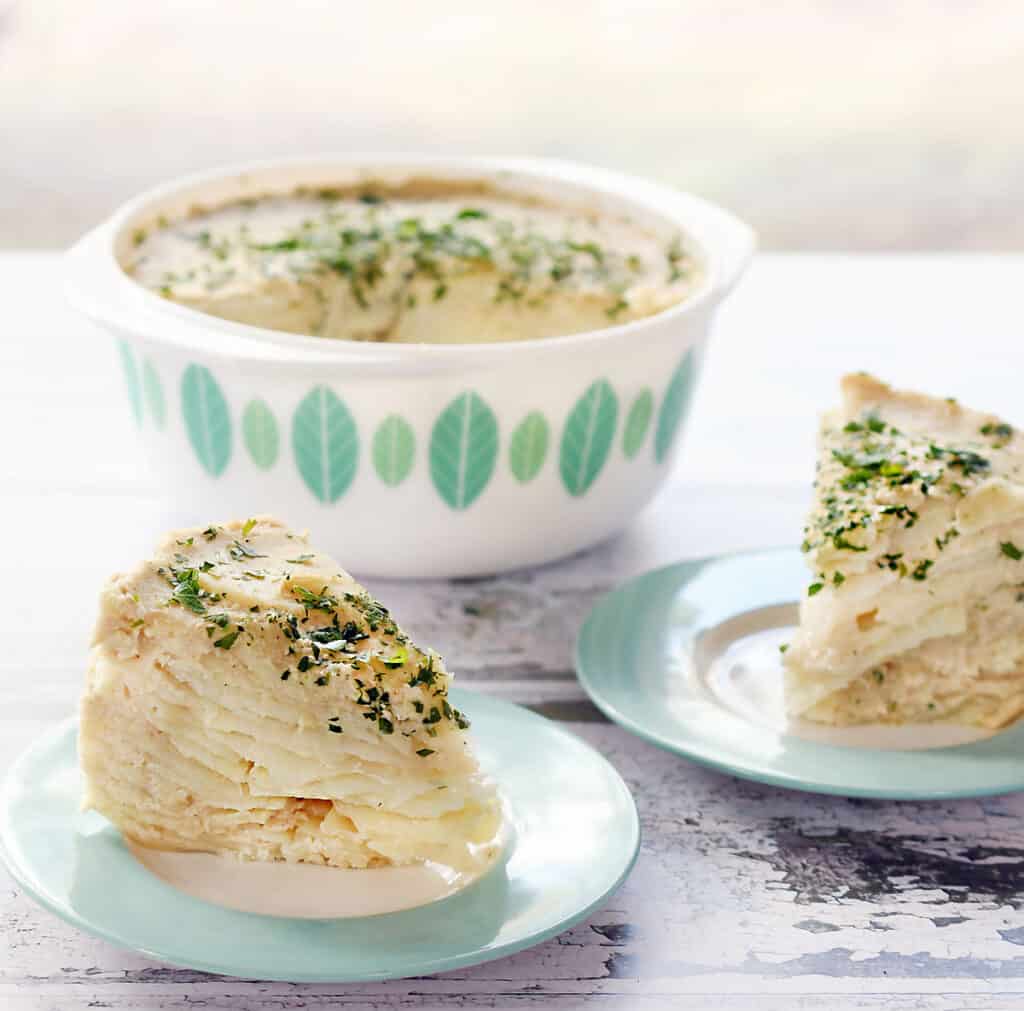 From the photo above you may think an Instant Pot isn't involved at all, but the cool thing about this recipe is that the potatoes are cooked in a pot or dish that fits into your electric pressure cooker.
This does make the cooking time longer, but it gives you a wow worthy table look. I used a fancy dish, but a 7 cup Pyrex dish and an OXO baking sling make this easy.
I highly recommend buying the OXO baking sling and I use it when I cook pot in pot or make a layered meal in my Instant Pot.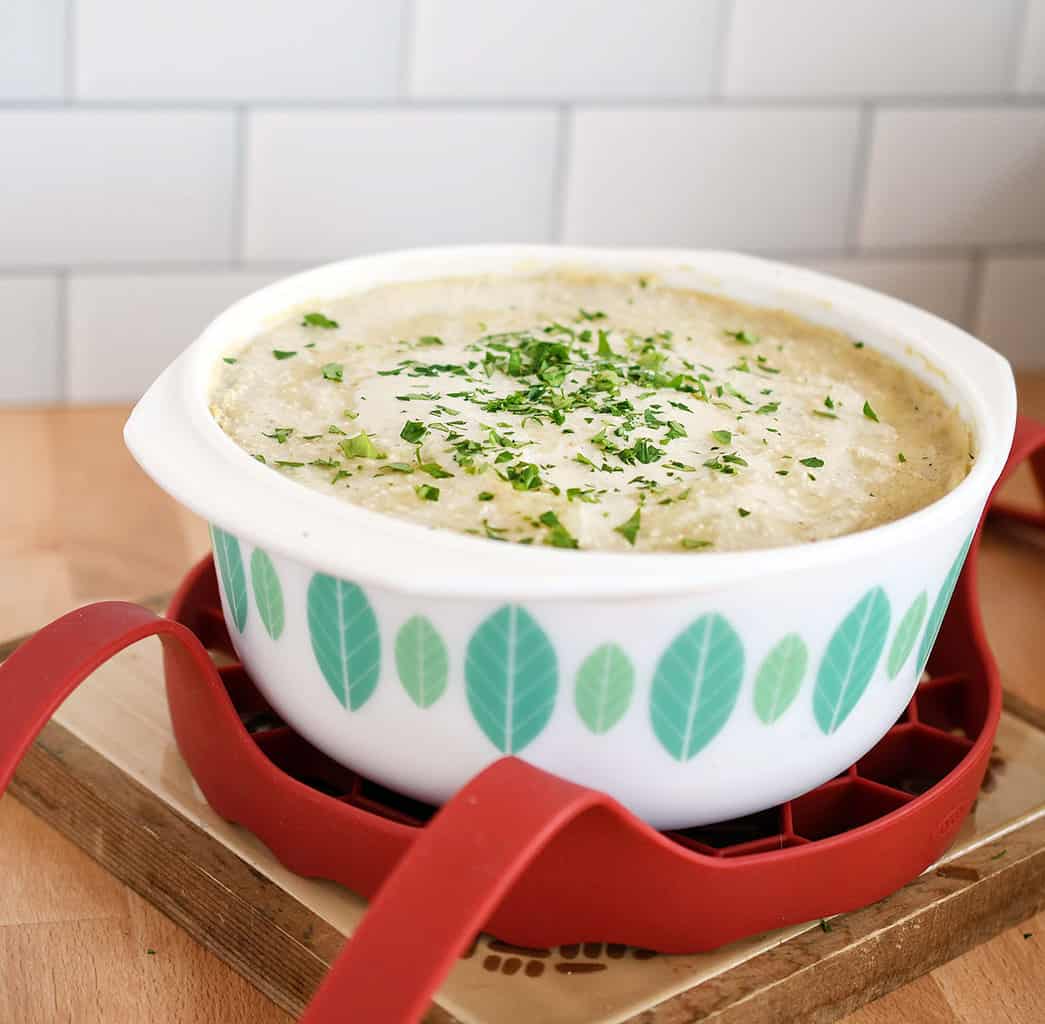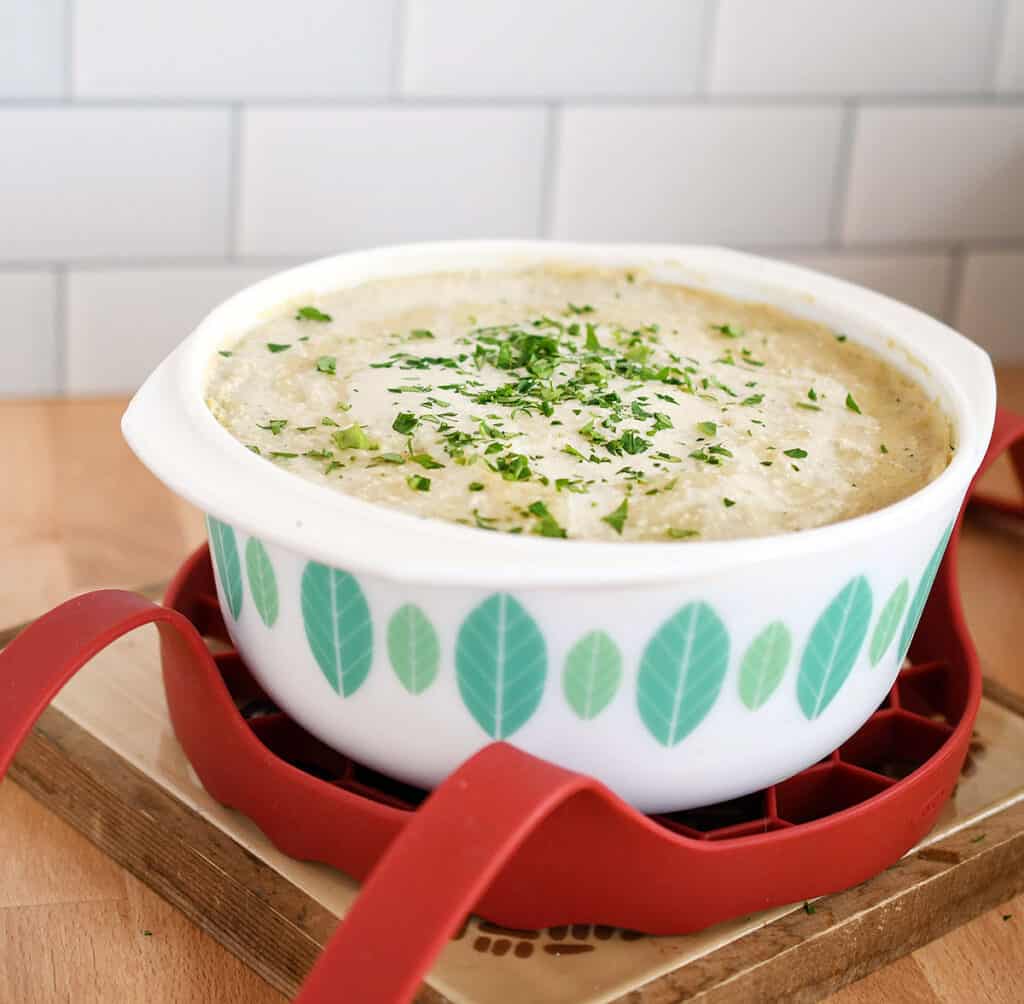 What if I don't have a 7 cup Pyrex?
You may already have an oven safe pan or dish that fits into your Instant Pot. You MUST test the dish before you begin. Because it's the worst to have all the potatoes covered in sauce and then discover the dish doesn't fit in!
I have some older Pyrex dishes that fit but don't count out using a cake pan or springform pan either.
How can I make this gluten-free?
As long as you buy rolled oats that are clearly marked gluten-free, this dish is gluten-free.

While oats are naturally gluten-free, they are often cross contaminated.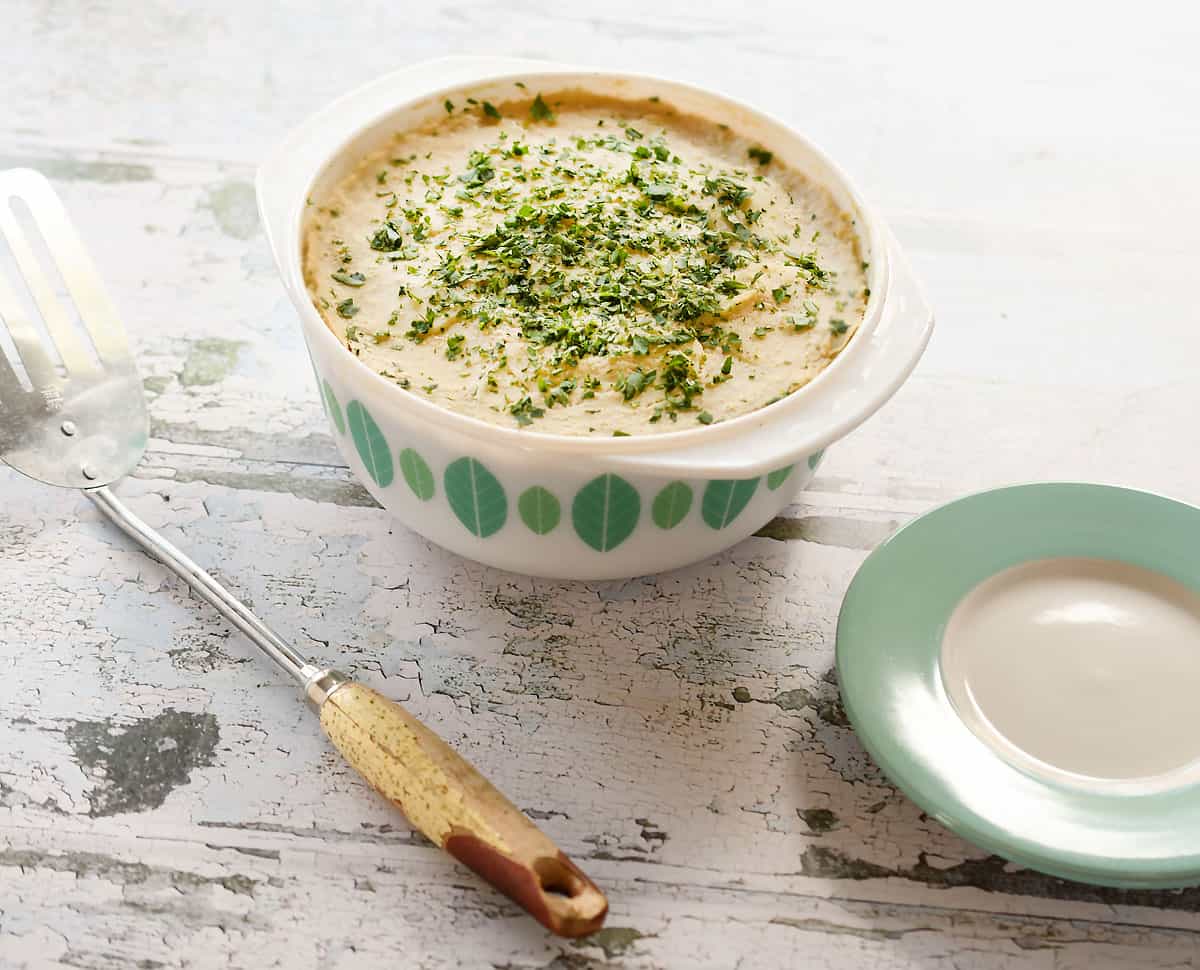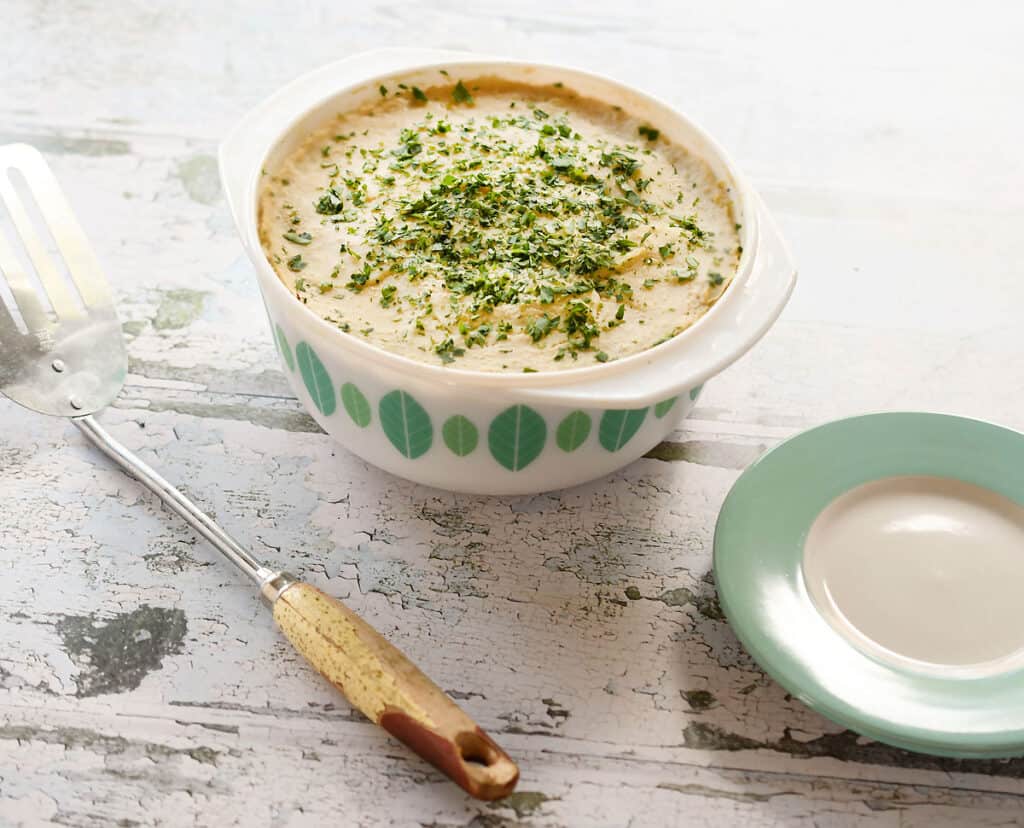 Can I make this nut-free?
To make this recipe nut-free just substitute and addition 1/4 cup oats in place of the cashews. Easy peasy!
How can I make Instant Pot scalloped potatoes without heavy cream?
In place of the traditional heavy cream, we make a sauce using rolled oats and cashews. It seems thin when you pour it over the thinly sliced potatoes, but it thickens up as it cooks to make a thick and luscious sauce that is completely dairy-free.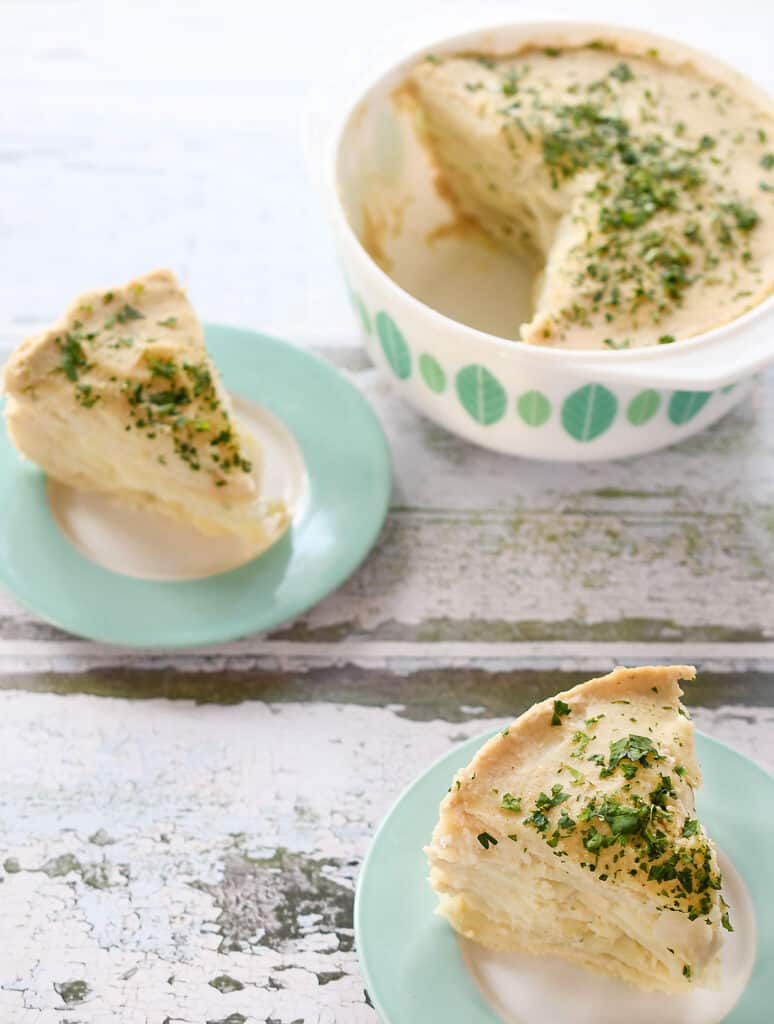 How do you make scalloped potatoes in an electric pressure cooker?
This recipe cooks the recipe in what is called pot in pot cooking. That means there is just water in the liner that you lower your dish filed with the potato mixture into.

There are other recipes that cook the potatoes in the liner, then you place them in a baking dish with the sauce and finish off in the oven. For me, that's way too much clean up.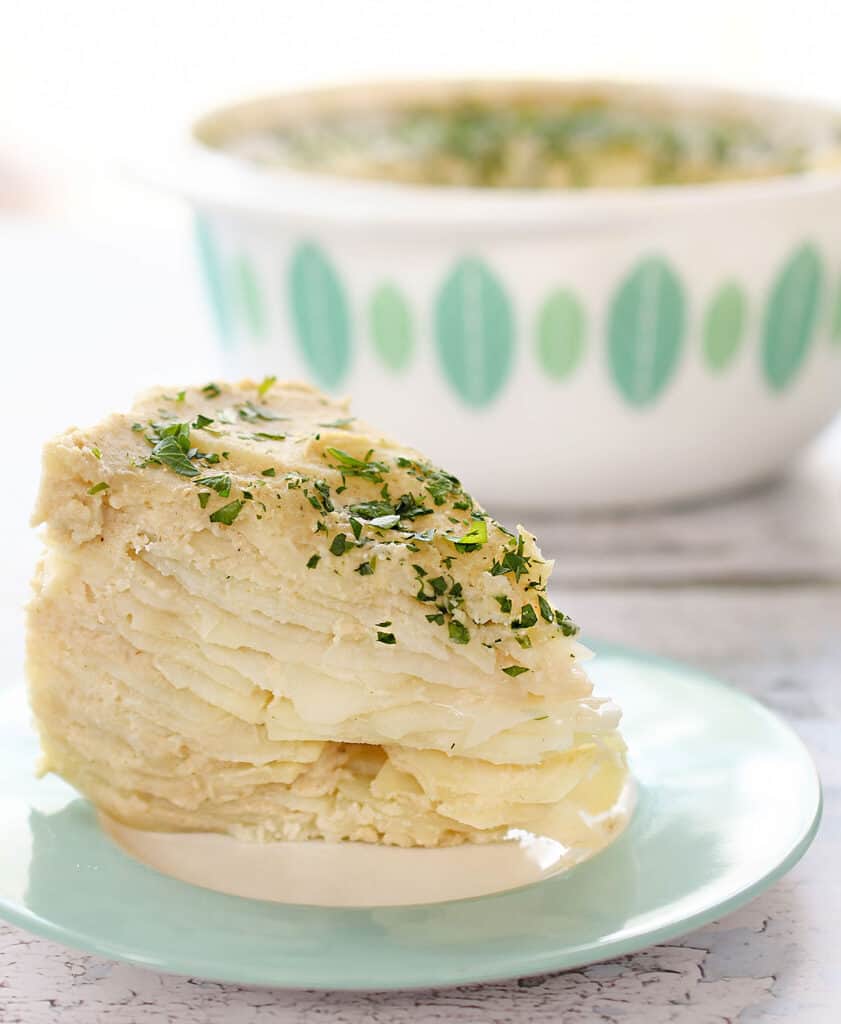 What do you serve with scalloped potatoes?
A few of my favorite mains to serve with vegan scalloped potatoes: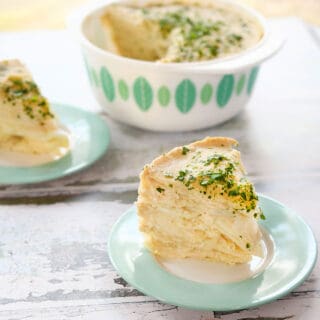 Instant Pot Scalloped Potatoes: Vegan & Oil-Free!
If you have an Instant Pot, I bet you are making almost everything in it. I'm sure you already use it to make the best mashed potatoes, but did you know that you can cook with another dish inside?This recipe pops out of the Instant Pot ready to look beautiful on your table because we cook it in a baking dish inside the Instant Pot. The oat sauce gets some extra creaminess from the cashews and bakes up into a thick sauce that potatoes love. Welcome to your new favorite potato side dish!
Ingredients
4

medium large Russet Idaho® potatoes
Sauce Ingredients
2

cups

water

1

cup

rolled oats

check for a gluten-free label if you eat gluten-free

1/8

cup

nutritional yeast

¼

cup

cashews

soaked and drained or sub ¼ cup extra rolled oats to make nut-free

½

teaspoon

organic cornstarch

1 ½

teaspoon

salt

or salt sub, or to taste

½

teaspoon

lemon juice

or apple cider vinegar

1

teaspoon

garlic powder

1/2

teaspoon

onion powder

⅛

tsp

ground black pepper
Instructions
First find a dish that fits into your pressure cooker. You can use a 1.75 quart round Pyrex dish or similar. Test it first. I also like to use a silicone baking sling to easily get the container in and out of the Instant Pot.Don't have a baking sling? Make one with 2 long pieces with aluminum foil folded a few times to make it stronger. Cross under the dish in an x format and bring the handles up.

Spray the baking dish with a little oil to make it easier to clean.

Peel and rinse the Idaho® Potatoes.

Slice ¼ inch thin with a mandoline, or as close as you can by hand if you don't have one.Remember to use the guard if you are using the mandoline!

Layer half the potatoes in your baking dish.

Make the sauce by adding the water, rolled oats, nutritional yeast, cashews, cornstarch, salt or salt substitute, lemon juice or apple cider vinegar, garlic powder, onion powder,  and black pepper to your blender.

Blend until smooth. The sauce will thicken during cooking.

Pour half the sauce over the potatoes.

Add the second half of the potatoes on top, then pour over the remainder of the sauce, and cover with foil.

Add 1 ½ cups water to your Instant Pot.

Then using the baking sling or foil handles, lower the covered baking dish in.

Close the lid and make sure the Instant Pot lid is set to sealing. 

Cook on high pressure for 50 minutes.

Let the pressure release naturally for 10 minutes, then manually release the pressure the rest of the way.

Have a trivet in front of your Instant Pot, then using the handles remove the baking dish from the pot and set on the trivel.

Remove the cover, test that the potatoes are done by sticking a knife through them.

If they are not yet done, cover with foil again and cook for 10 more minutes on high.
Video
Nutrition
Calories:
200
kcal
Carbohydrates:
38
g
Protein:
6
g
Fat:
3
g
Saturated Fat:
1
g
Polyunsaturated Fat:
1
g
Monounsaturated Fat:
2
g
Sodium:
594
mg
Potassium:
704
mg
Fiber:
4
g
Sugar:
1
g
Vitamin A:
2
IU
Vitamin C:
8
mg
Calcium:
31
mg
Iron:
2
mg