My Gluten-Free Vegan Hot Dogs are also soy-free, nut-free, and have no refined oil or refined sugar.
Imagine that, a veggie dog that has real veggies in it!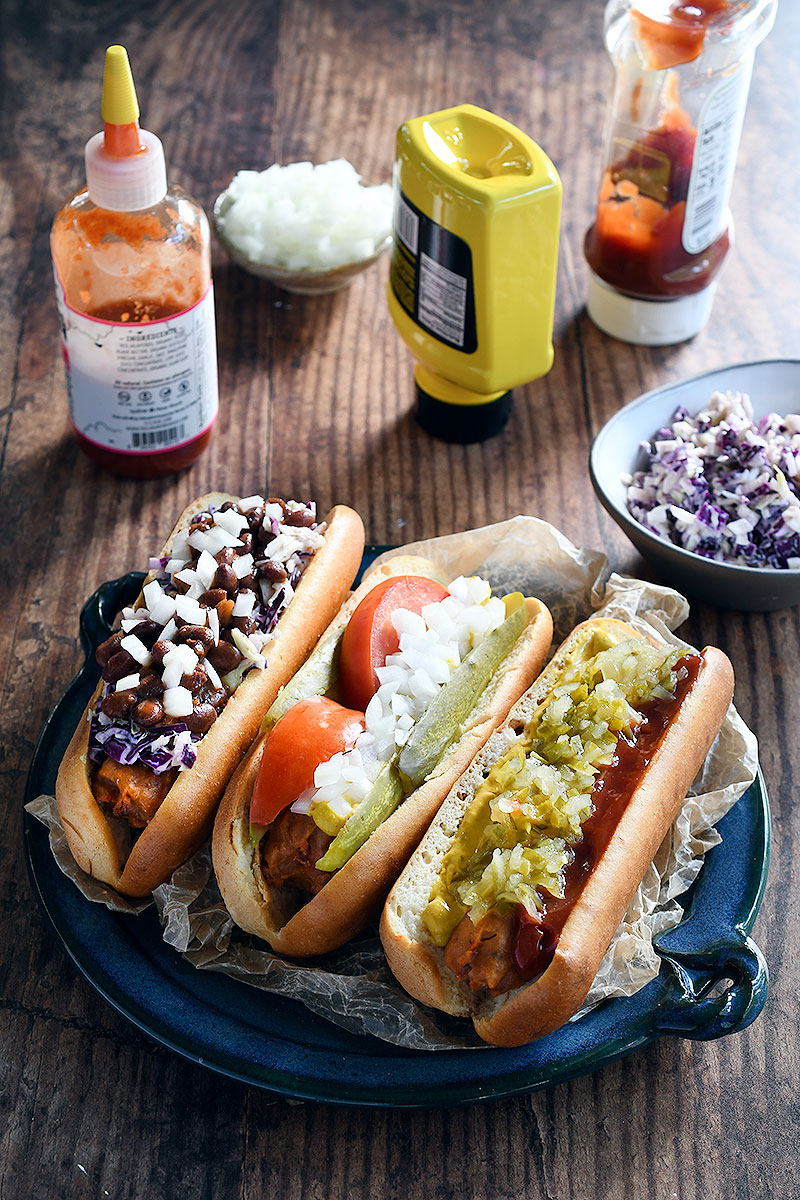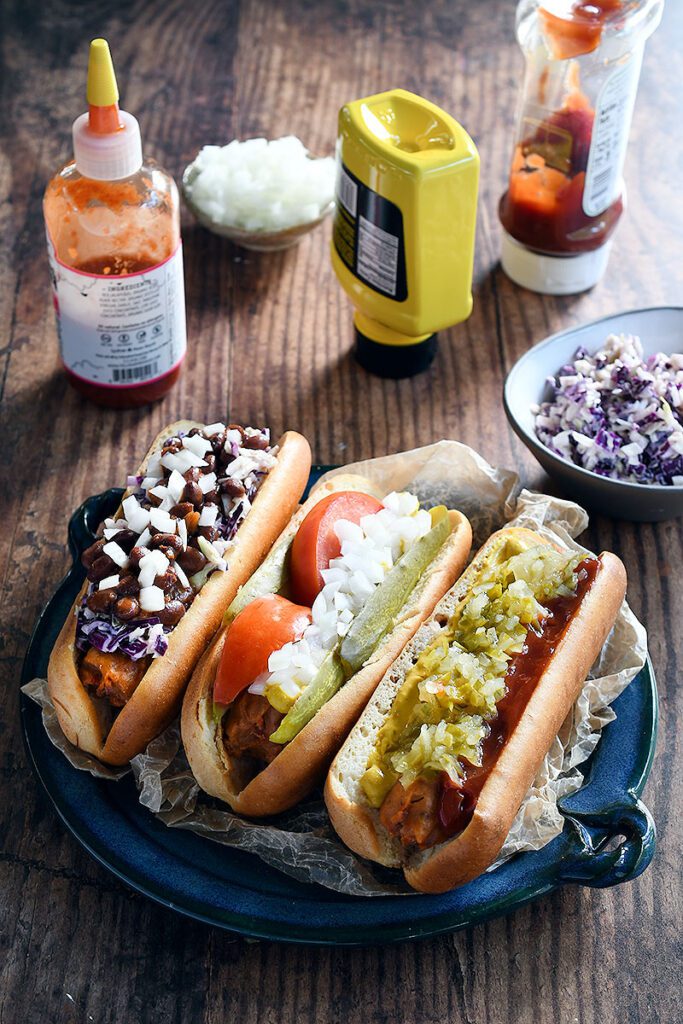 This post is sponsored by the Idaho Potato Commission. I'm always amazed at how versatile and healthy potatoes are!
Think of a world where your vegan hot dogs' main ingredients are potatoes, beets, carrots, and sweet potatoes with some plant-based flours and spices.
Yes, that's the one I'll pick, too! It does take some effort, but you could make a double or triple batch and be set for the whole summer.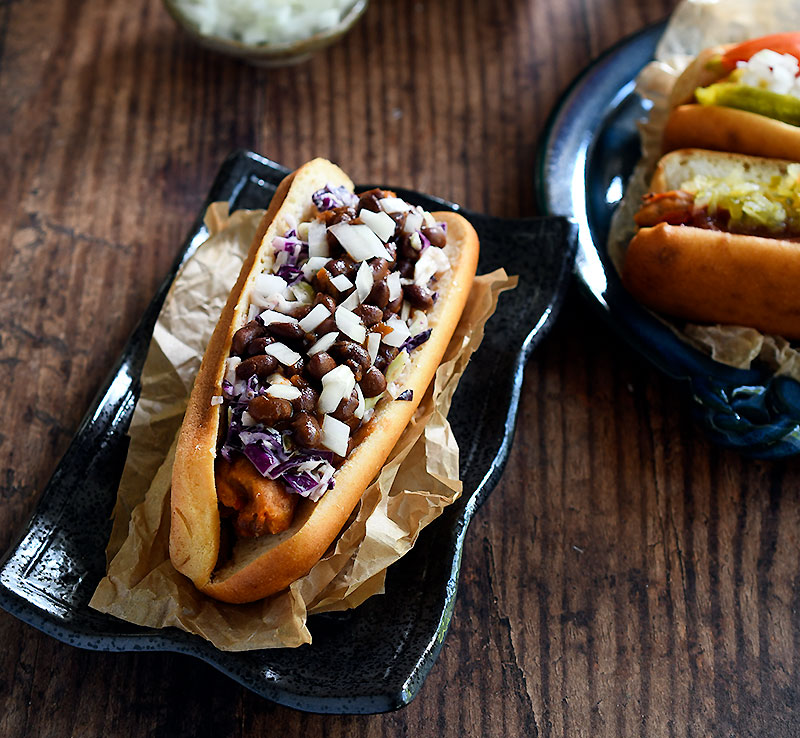 Looking for more potato recipes?
You have to try my Instant Pot Scalloped Potatoes that has an oil-free oat creamy sauce.
Or make my all-in-one Summer Instant Pot Vegetable Dinner that is perfect for garden-picked veggies and making in one batch layered in your electric pressure cooker.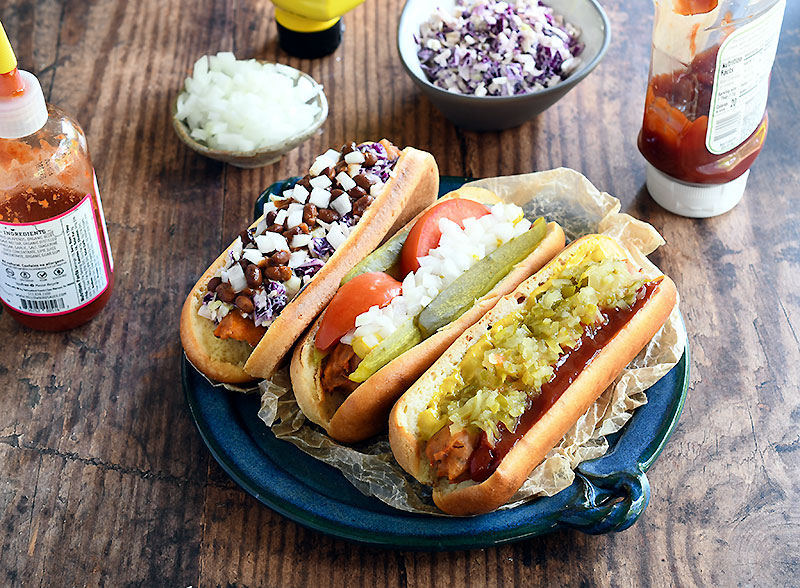 Are Lightlife smart dogs gluten-free?
Unfortunately, as of 2021, they have added gluten back into the Lightlife vegan dogs.
For a long time, they were gluten-free, but now they are not safe for celiac or gluten-sensitive people to eat.
Are veggie dogs gluten-free?
Most store-bought veggie dogs either contain egg or gluten. Either is used as a binder. One makes it not vegan and the other makes it not okay for people avoiding gluten.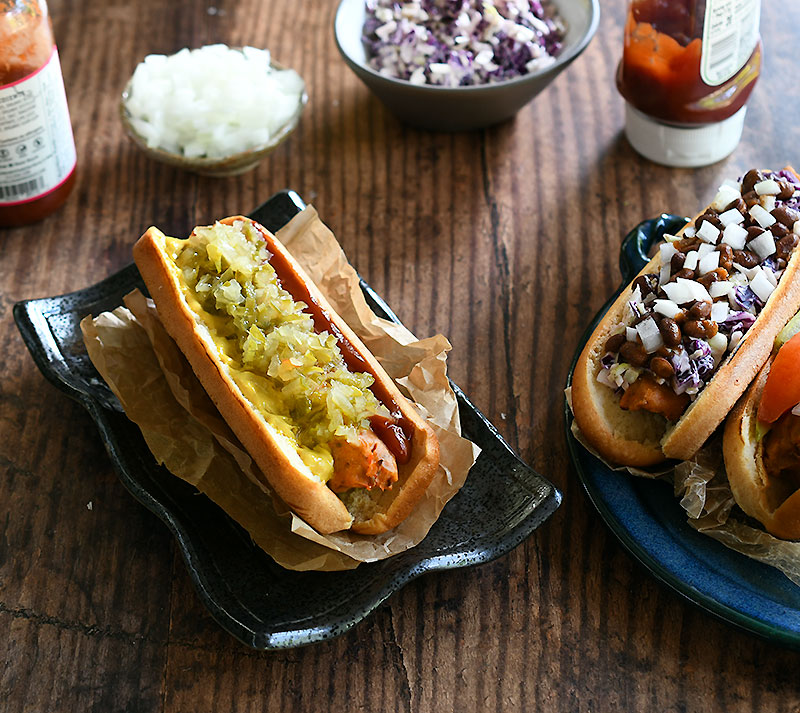 Are any vegan hot dogs gluten-free?
You can make my gluten-free vegan hot dog recipe or order some Yeah Dawgs which are expensive but will ship to your door.
Can I buy gluten-free vegan hot dog buns?
You can but they are not always easy to find. Little Northern Bakehouse is my favorite, but only available at Sprouts where I live, and then not all the time. There are some alternatives on Amazon here:
Which vegan meat is gluten-free?
There are a lot of vegan meat substitutes that are also gluten-free. Most are made of soy or pea protein and more are coming on the market every day.
What ingredients do I need to make homemade gluten-free veggie dogs?
You make a wet mixture with cooked veggies like Idaho potatoes, beets, sweet potatoes, and carrots.
You can fiddle with the amounts, but you can always add more dry ingredients if you need to.
If you are missing one ingredient you can double up on another. I like to keep with root veggies and ones of those that mash easily.
The beets are the exception because they don't mash smooth, but they add the perfect color!
The dry ingredients add the body and texture to the gluten-free hot dog, and the herbs and spices add the flavor.
1/2 cup brown rice flour
1/2 cup teff or quinoa flour – needs to be a high protein flour
1/2 cup oat flour
1/2 cup tapioca starch – can substitute potato starch or arrowroot
1/4 cup nutritional yeast – for that savory flavor
2 teaspoons salt or salt substitute
2 teaspoons marjoram or can use thyme
1 teaspoon granulated garlic
1 teaspoon onion powder
1 teaspoon ground coriander
1 teaspoon paprika
How do I make homemade vegan gluten-free hot dogs?
Steam the veggies in your Instant Pot for 15 minutes, so they are fairly firm when you mash them and don't dissolve in the cooking water – that will happen if you overcook them.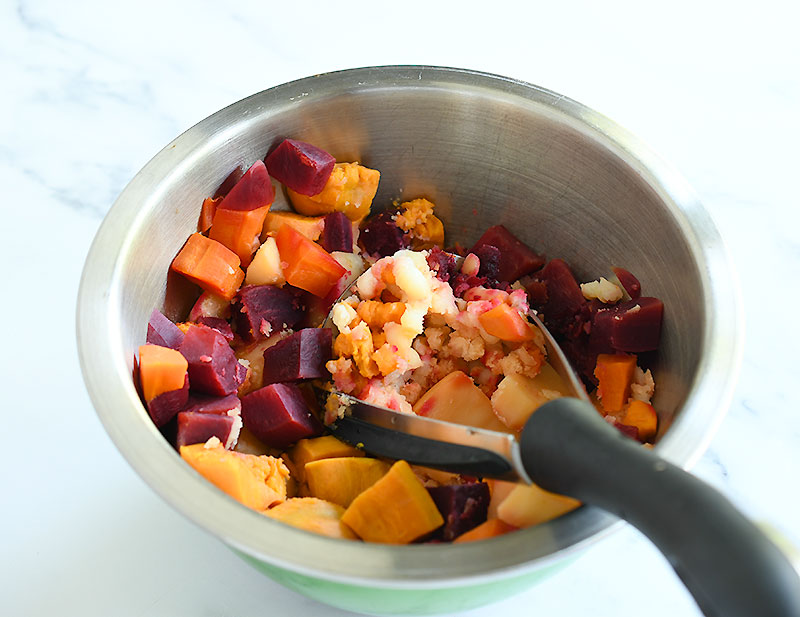 With that being the wet base, you drain the cooked veggies well, then mash.
I do it by hand instead of in my food processor because I like to see some of the veggie pieces in the dog.
Mix all the dry ingredients together well, then add to the wet and mix with your hands. It should be the consistency of clay or play dough.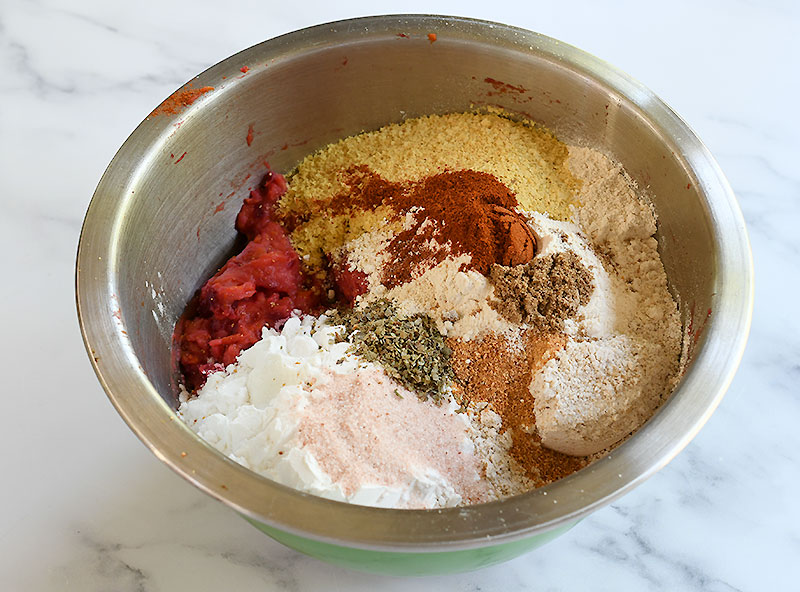 You may need to add extra dry ingredients if the mixture is too wet or try letting the dough rest for 20 minutes.
Prepare a large cutting board by sprinkling with extra brown rice flour. This will keep the dogs from sticking.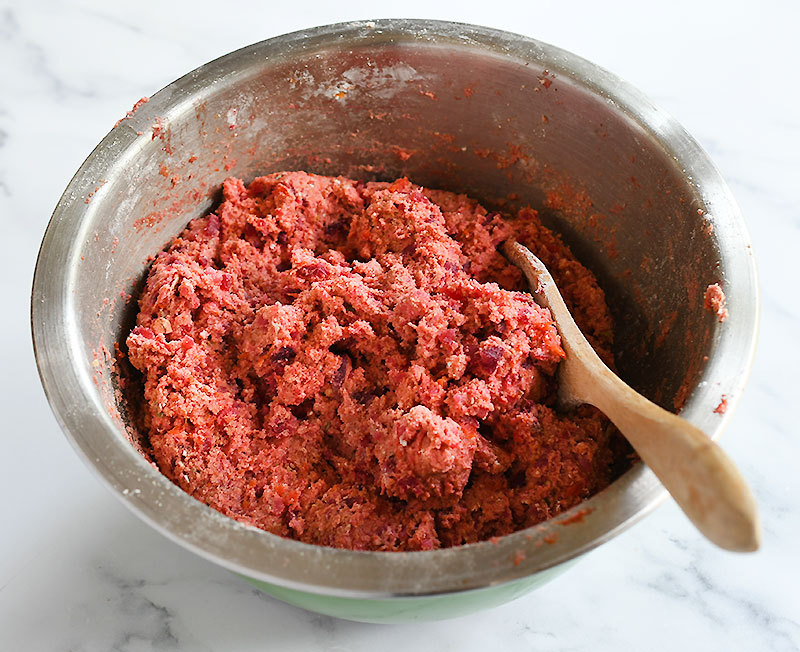 Cut 16 equal pieces each of parchment paper and foil for the dogs. Wrap in parchment paper, then in foil. Twist the ends.
Place the rolled hot dogs on a steamer or in a steamer basket.
Cook on high pressure for 35 minutes and release the pressure manually.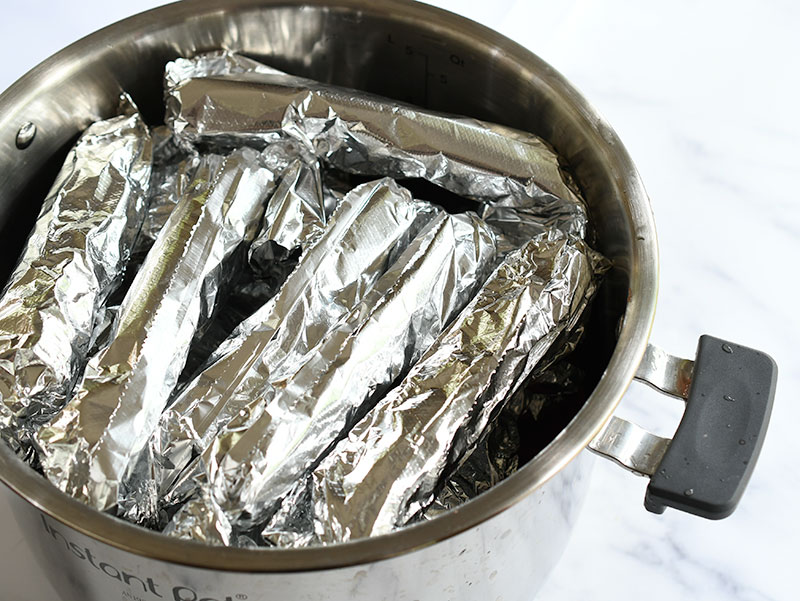 Unwrap the veggie dogs, place them on a cooling rack to dry. They may seem extra wet at this point.
If you are not in a hurry it's nice to let them cool all the way down before you do this!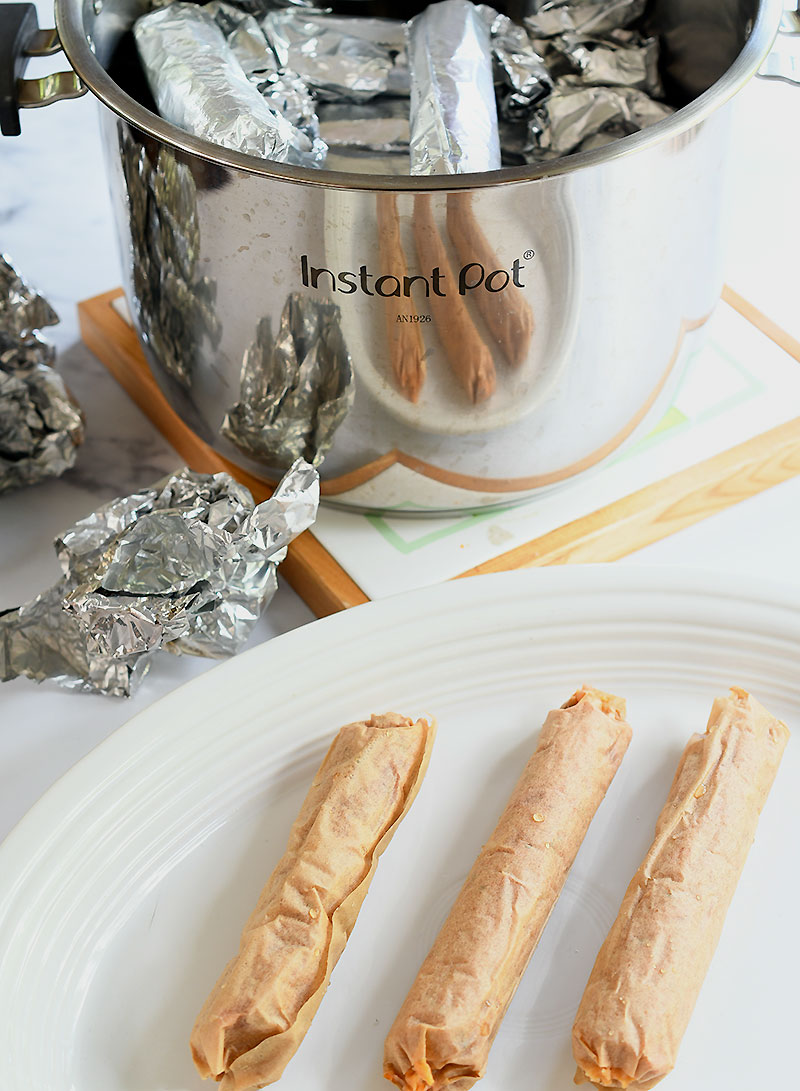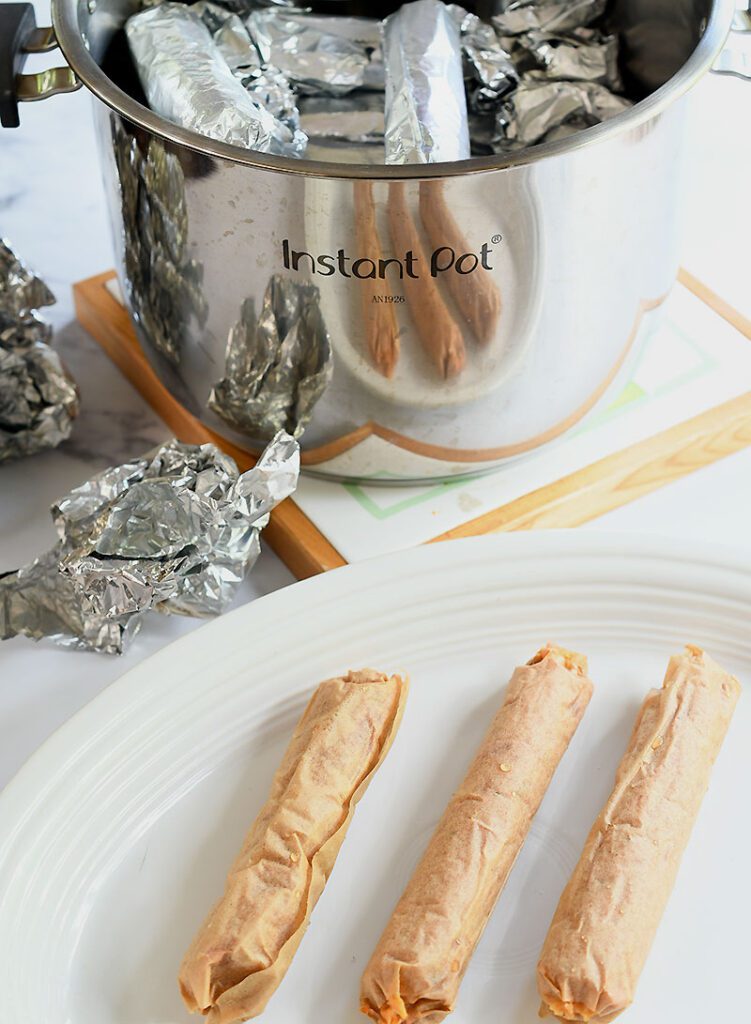 Freeze any you won't be using and cook the rest on your grill or in your air fryer.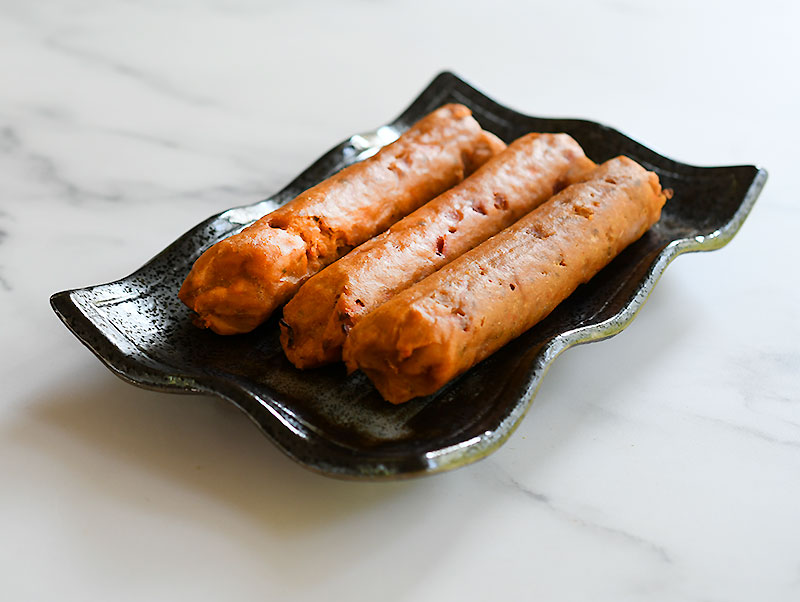 And make sure to plan your next cookout!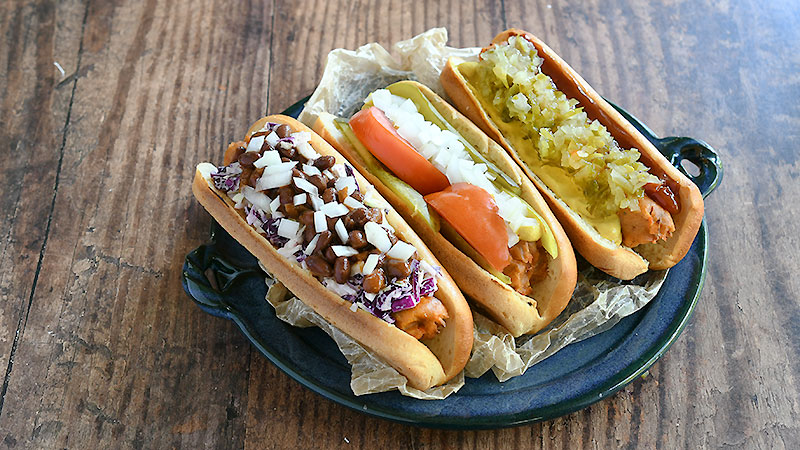 How do I cook vegan hot dogs?
When you make my vegan hot dog recipe you get them cooked to the same point as you would buy them at the store.
That means they are cooked through, but the texture is made so much better by heating them up on the grill, in the oven, or my favorite way in the air fryer!
More Cookout Recipes
Hot dogs go great with my Instant Pot Baked Beans that are made with molasses. Plus you can freeze any leftovers or make a second meal of vegan beanie weenies. Just cut up some of the veggie dogs and heat up with the baked beans.
Plant Based Instant Pot Potato Salad No Oil is a meal in itself but is my first choice in things to take to a cookout. It's healthy and filling in case the only things you can eat are the ones you bring.
If you are headed out to a cookout later today and don't have the time or energy to make these veggie dogs, try my carrot dogs. Speed up the process by cooking the carrots in the marinade in a pinch!