There's nothing better than fresh veggies straight from the garden to make a summer meal magical. This Instant Pot Vegetable Dinner uses a pot in pot method so you can cook a few at the same time and get different flavors.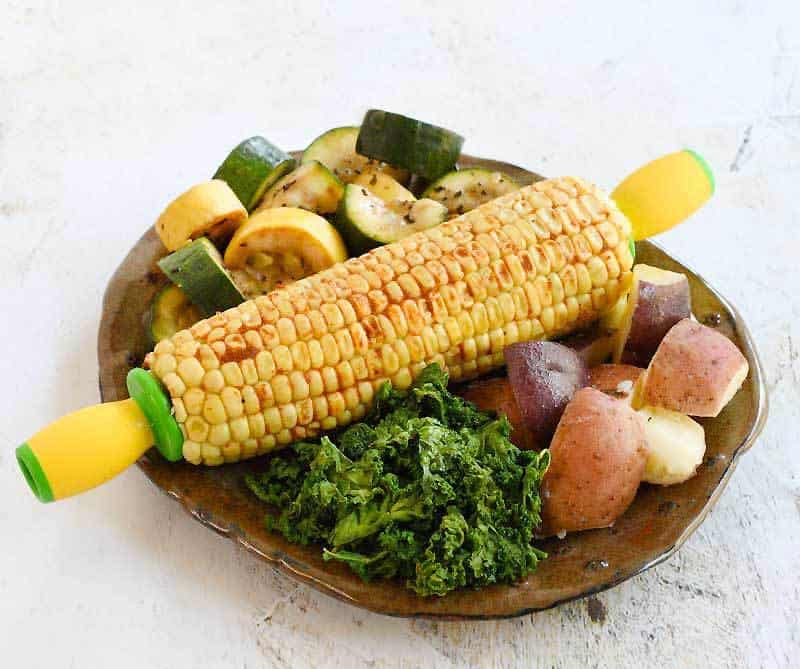 A Plant-Based Summer Vegetable Plate
Growing up in the south, you are bound to eat a vegetable plate. In fact, they are at almost every home-style restaurant. There's a catch, though – most of the choices are not vegetarian, much less plant-based!
There's hidden animal fat in beans, bacon in green beans and sometimes even potatoes. So don't be fooled by the term vegetable plate and ask if things are cooked with meat when you're eating out in the south.
What is the Pot in Pot Method?
You may have used a separate smaller pot in your Instant Pot liner already. You do this if you're steaming a cake or cooking a cheesecake. Both of those involve putting one pan on top of the rack that came with your IP.
Be sure that the pan will fit and below I have links to some that fit in a 6-quart Instant Pot.
Try Jill's Cashew Lemon Cheezecake from her book, Vegan Under Pressure, my Pear and Cranberry Instant Pot Cake or the Instant Pot Carrot Cake Sweetened with Dates right on this site to try out baking in your IP.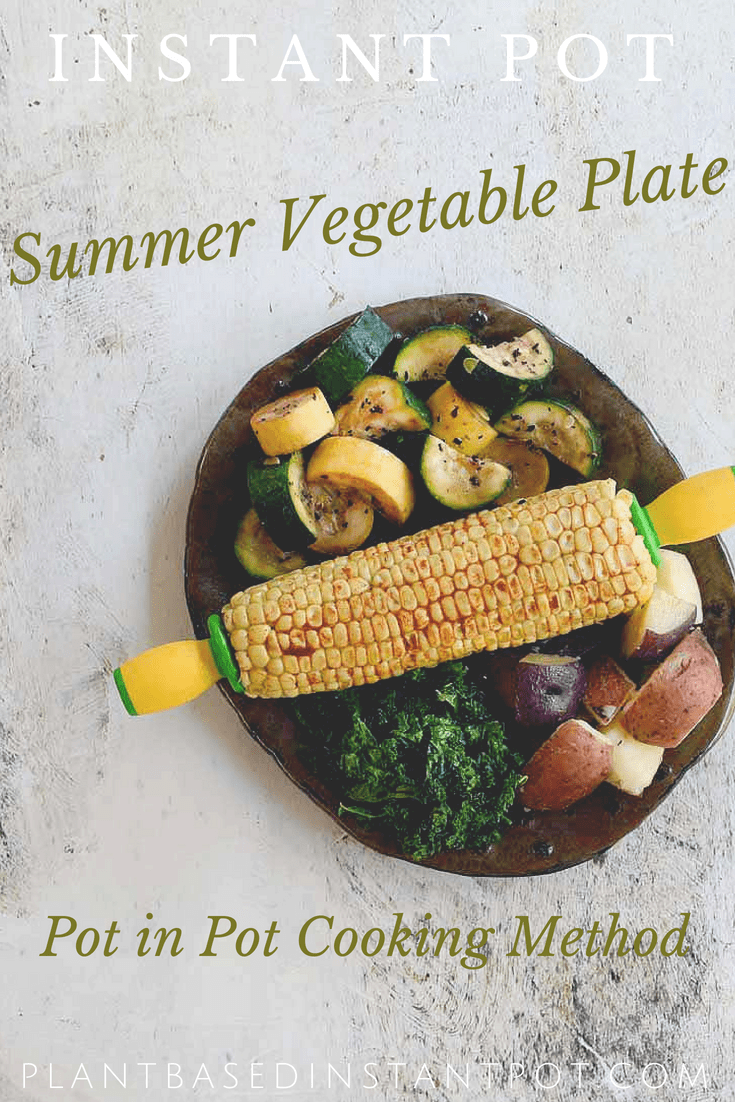 Cooking More than One Dish with a Pot in Pot Method
So unlike cooking cakes, we going to cook up to 4 veggies at one time. There are several ways of doing this including using oven safe Pyrex pans as I show you in the video below.
Stackable Stainless Steel Instant Pot Pans
In the Summer Instant Pot Vegetable Dinner video I used a 3 qt Mini Stackable Stainless Steel Pressure Cooker Insert Pans with Sling Handle to stack on top of the corn and potatoes in my 6-quart Instant Pot.
The 6-quart stackables I have fill up the pot and are perfect if you want to cook dal in one and rice in the other or other 2 recipe meals.
You'll need to pay attention when you choose pans to make sure they will fit in the size electric pressure cooker that you have (3, 6, or 8 quart.)
Watch the video below to see all the different ways there are to layer this dish.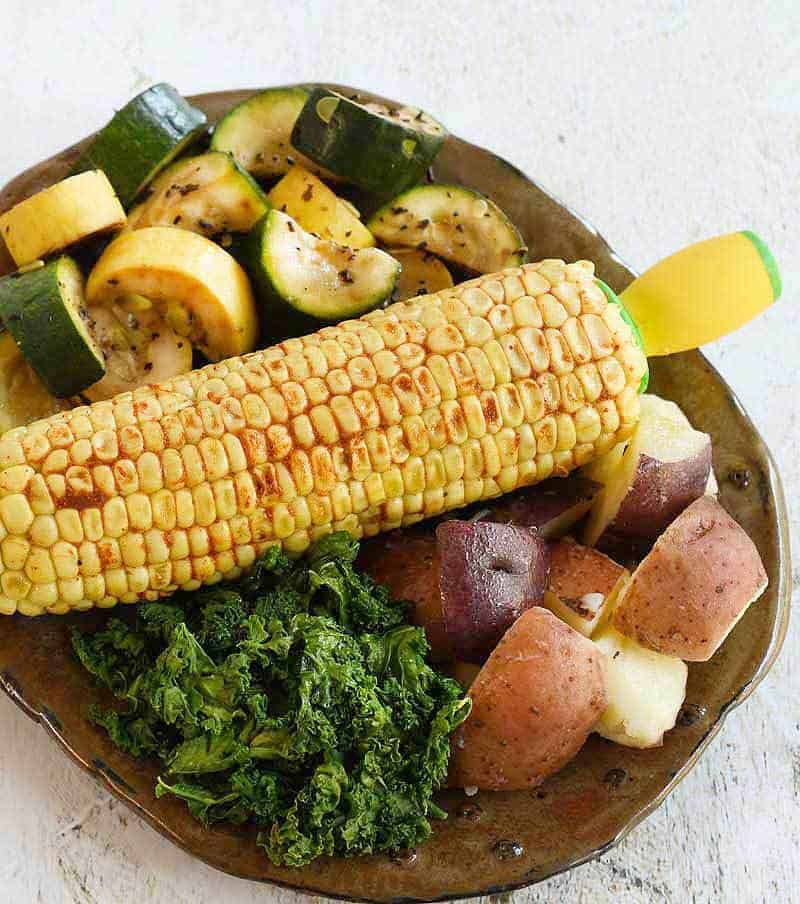 Important Pot in Pot Layering Tips
Always have the longest cooking item in the bottom.
If all your food is in a pot in pot you will need to increase the time.
Put the item that needs the least cooking at the top.
To slow cooking even more on an item you can wrap it with parchment paper, then with foil, and put it in a pot with a lid.
Try More Instant Pot Recipes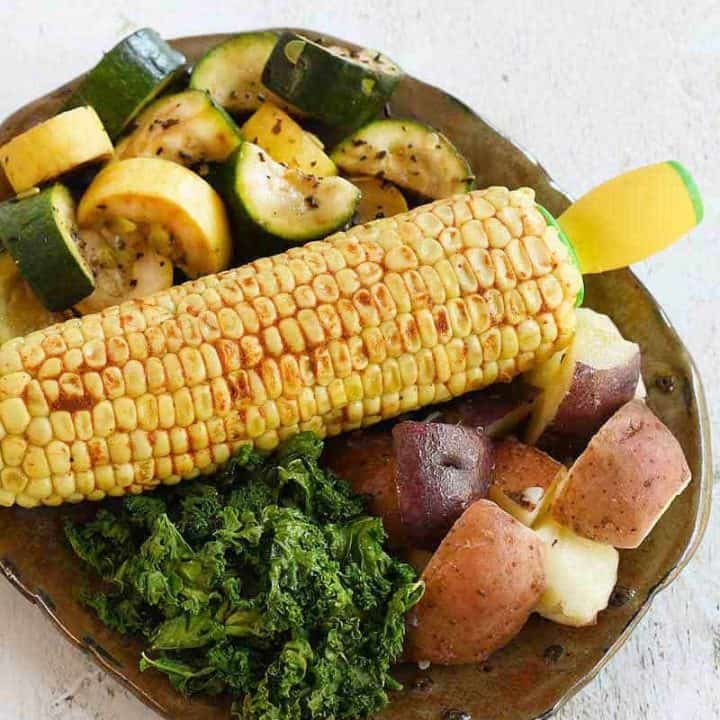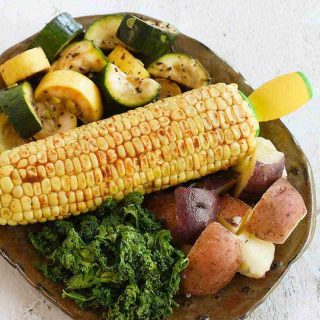 Fresh Summer Instant Pot Vegetable Dinner
There will be no sweating over the stove to make this Fresh Summer Instant Pot Vegetable Dinner. I recommend serving this with thick-sliced ripe tomatoes chopped and tossed in balsamic vinegar.
Ingredients
For the Botton Layer
1

cup

water

4

large ears corn

shucked and cleaned

3

cups

potatoes

cut into large chunks
For the Middle Layer
4

cups

summer squash

,sliced thick
Instructions
For the bottom layer, arrange the corn in the Instant Pot liner and pour in the water.

Arrange the potato pieces around and on the corn.

For the middle layer, toss the summer squash in your favorite seasoning blend. Then put in an oven safe container or seal in a foil packet and set on top of the corn.

For the top layer, add the kale to an oven safe container or seal in a foil packet and place on top of the squash layer.

Cook on high pressure for 10 minutes. Carefully release the pressure.

Remove the lid and carefully lift out the hot packets by using potholder.

Before serving, squeeze lime juice on the corn and sprinkle with salt, or serve with lime wedges and let your guests do it themselves.
Video
Notes
If you don't like foil touching your food, wrap it in parchment paper first, then seal in foil.
A 3-quart stackable insert will fit in a 6-quart Instant Pot on top of the corn and potatoes.
You could also use Pyrex pan covered with foil.
Nutrition
Serving:
1
g
Calories:
240
kcal
Carbohydrates:
51
g
Protein:
9
g
Fat:
3
g
Saturated Fat:
1
g
Polyunsaturated Fat:
1
g
Monounsaturated Fat:
1
g
Trans Fat:
1
g
Sodium:
64
mg
Potassium:
1435
mg
Fiber:
9
g
Sugar:
10
g
Vitamin A:
7091
IU
Vitamin C:
119
mg
Calcium:
210
mg
Iron:
3
mg