If you've never had horchata you are in for a treat! It's basically a homemade almond and rice drink that's flavored with cinnamon and sweetened.
My Instant Pot Brown Rice Horchata makes it a little healthier by using whole grain rice and you can sweeten it however you want.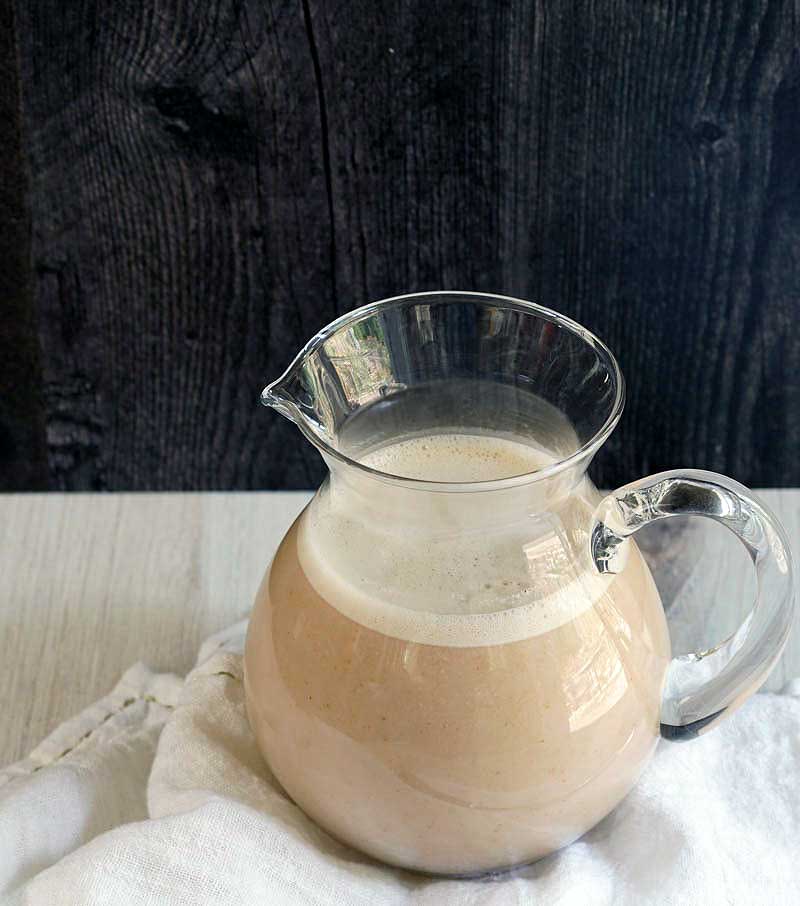 What Exactly is Horchata?
Horchata is a drink that originated in Mexico. It's a sweetened homemade rice almond drink that's full of cinnamon flavor.
Traditionally, it is soaked in the blender overnight. In this recipe, we cook it in the Instant Pot in place of soaking so we can drink it even sooner.
Can You Really Make Horchata with Brown Rice?
You can and it tastes great with brown rice.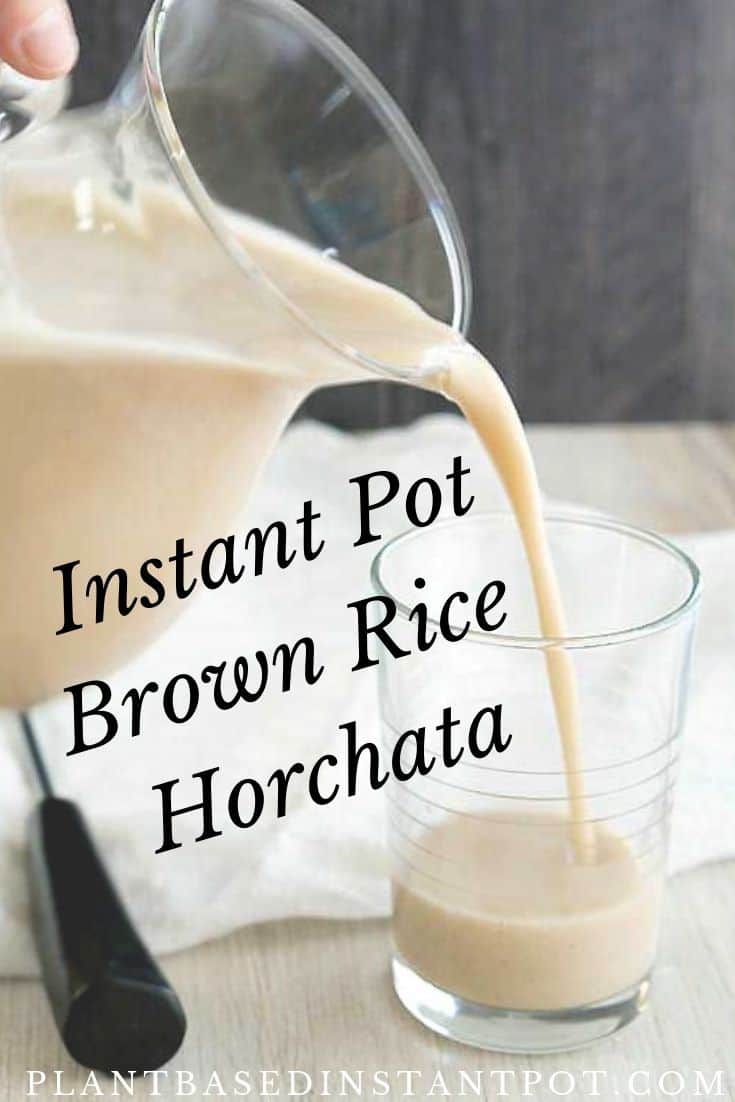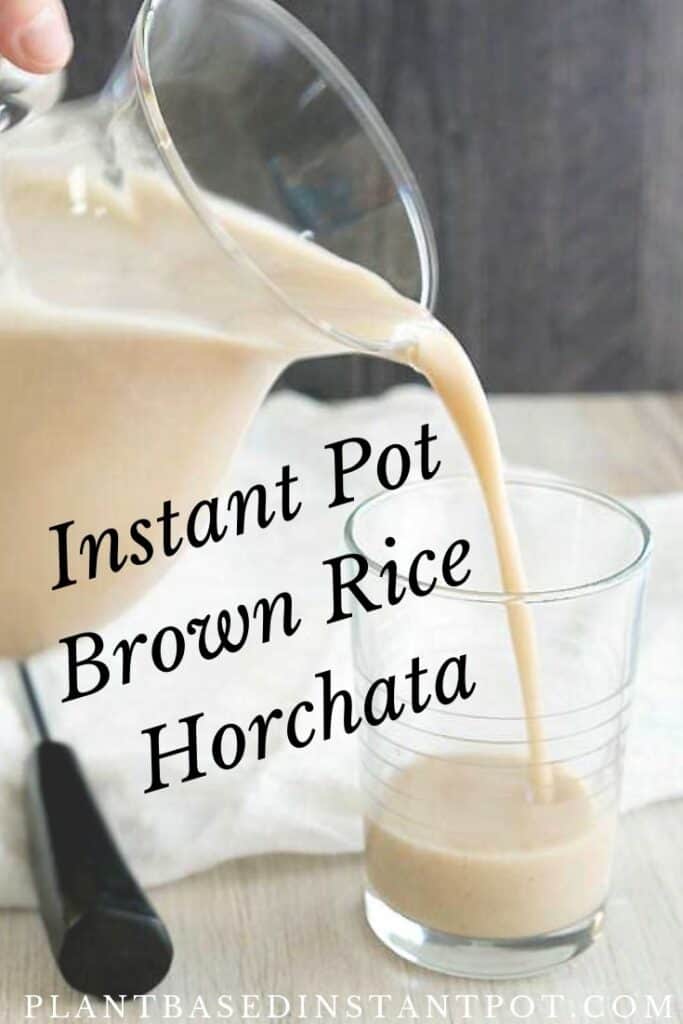 Do You Need an Instant Pot to Make Brown Rice Horchata?
Honestly, you don't. But we're using it to speed up the process. If you're reading this and you have a blender near by you can still make this.
Soak the rice, almonds, and cinnamon in your blender overnight. Remove the cinnamon stick in the morning, add the sweetener, and blend.
You'll still need to strain the pulp out with a nut milk bag or fine mesh strainer.
What Other Drinks Can I Make in My Electric Pressure Cooker?
You can make lots of yummy drinks in your Instant Pot. Try a few of these recipes: Strawberry rosemary infused water, Chai Concentrate, or make your own Almond Milk.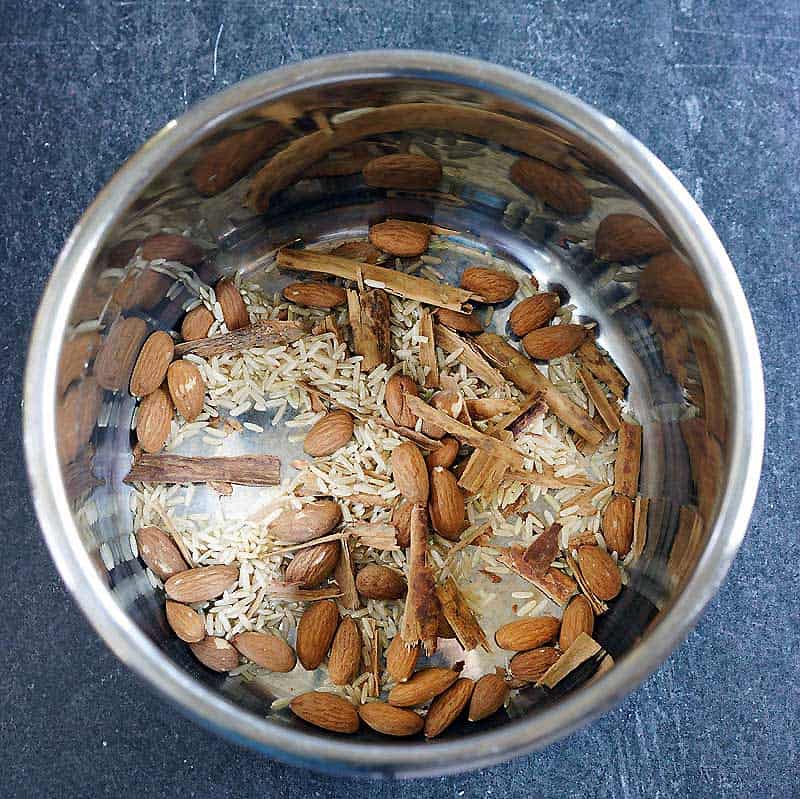 See the mixture above? I made a big mistake which made the photo look nicer, but I don't want you to do it. I broke up my cinnamon stick, but please keep yours whole.
I had to pick each sliver of cinnamon out after cooking, before I pureed the mixture. Do do better than I did!
I Can't Have Nuts, What Can I Substitute for the Almonds?
You could use all brown rice, but it won't be quite as thick. If you can have coconut you could use unsweetened shredded coconut in place of the almonds.
Basically, you just need to make a plant based milk that you will sweeten and flavor with cinnamon. So you can use your favorite ingredients.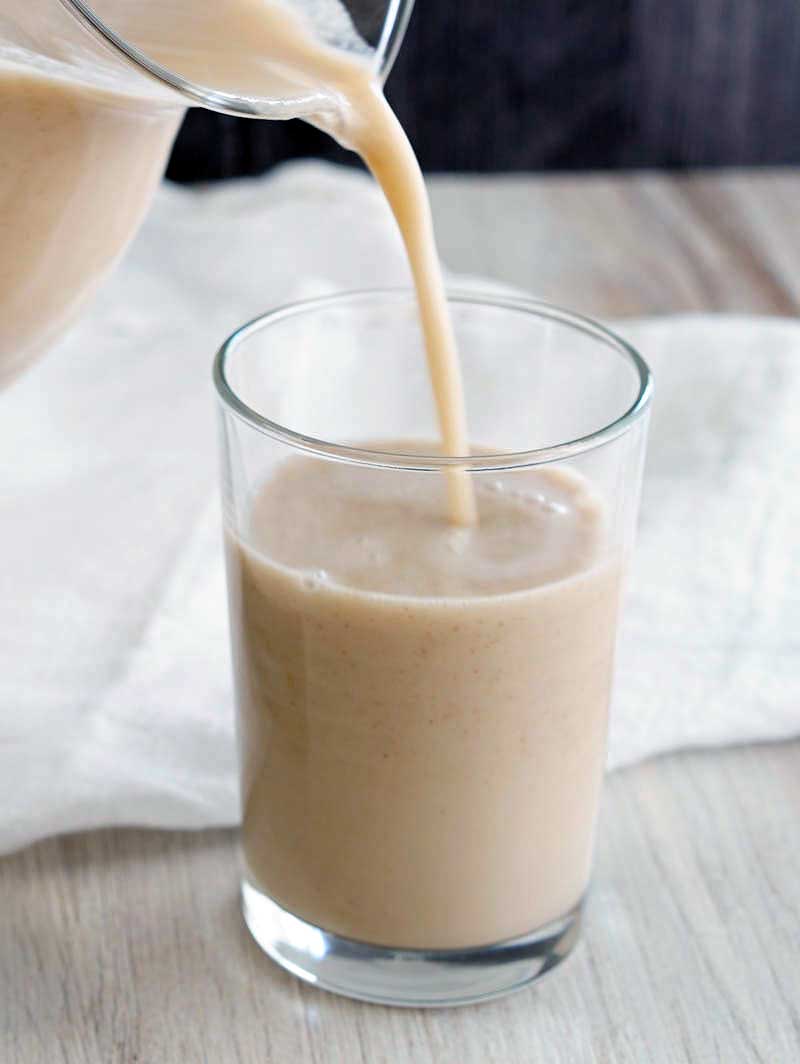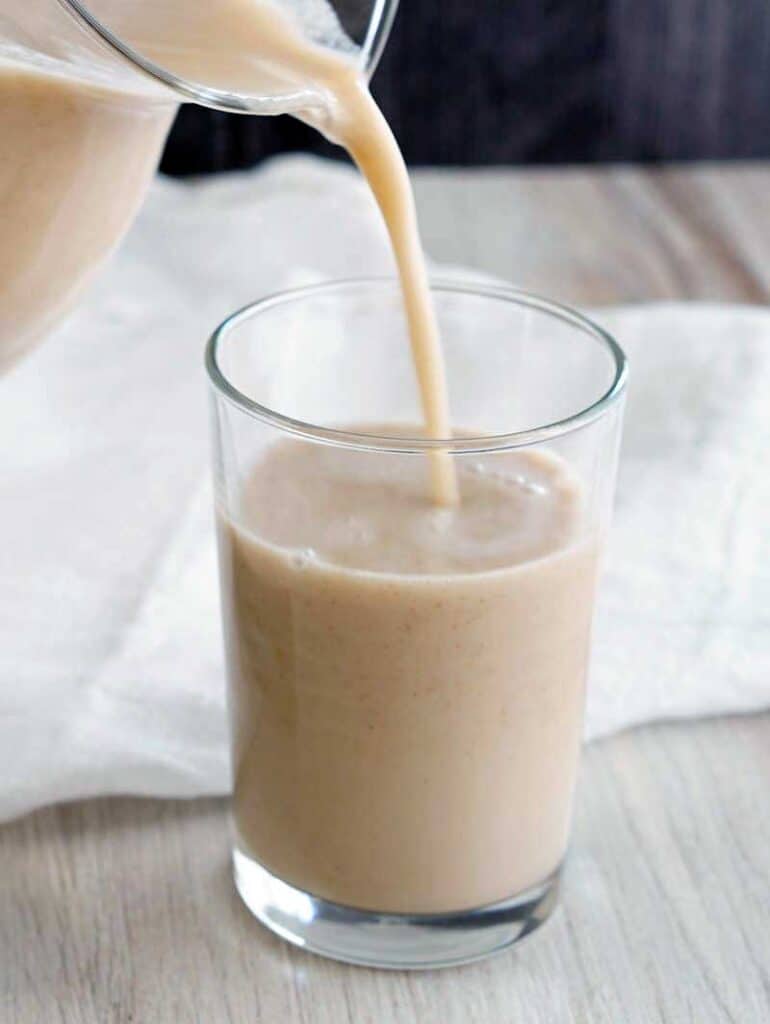 I Don't Use Refined Sugar, What Can I Use to Sweeten this Brown Rice Horchata?
To sweeten with dates, add 5 or 6 diced and pitted dates, then cook using the same directions in the recipe below.
You can really use any sweetener to taste. Agave nectar, maple syrup, regular vegan sugar, stevia, monk fruit, or whatever the newest sweetener is at the moment. The only thing you'd need to add into the cooking process is dates.
If it's a granular sweetener like sugar, add it to the mixture while it's still in your Instant Pot and hot. That way it will melt.
Is Horchata Served Hot or Cold?
I serve it cold in the summer and warm in the winter. I love how refreshing it is cold, so I guess if I only could pick one I would lean towards that.
Served hot, it's a great change of pace from coffee, tea, of cocoa. I even have a hot vegan horchata post on my other blog. But you you don't need another recipe, you can just warm this one up.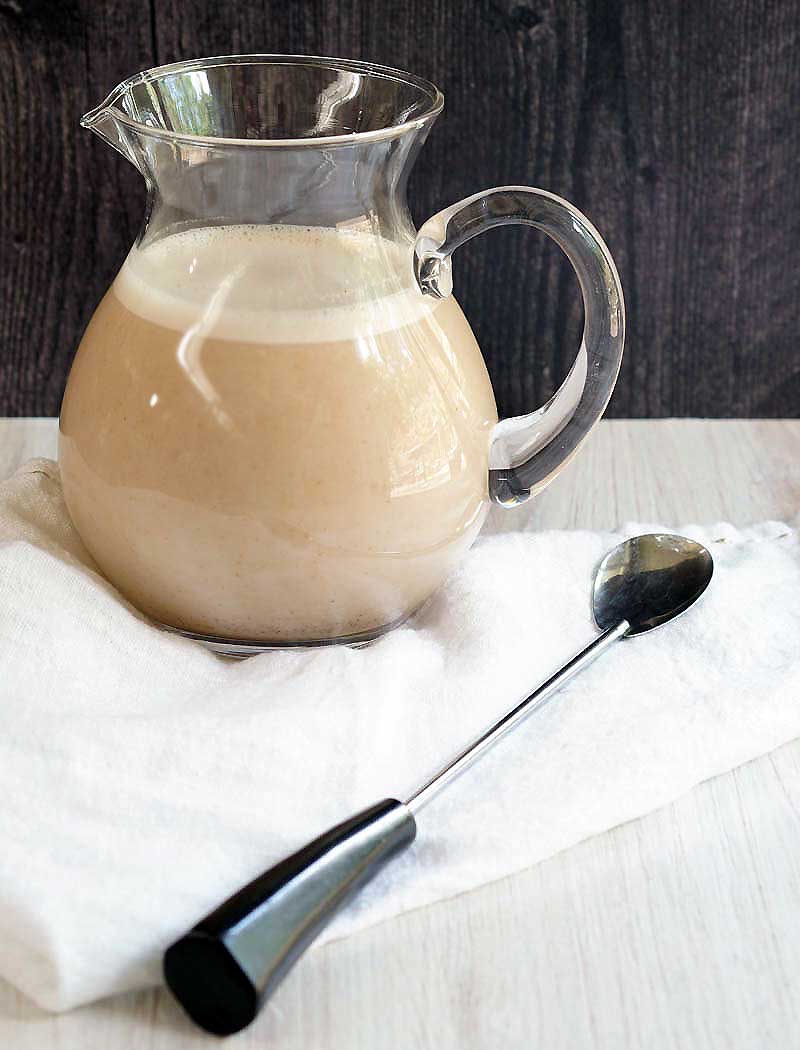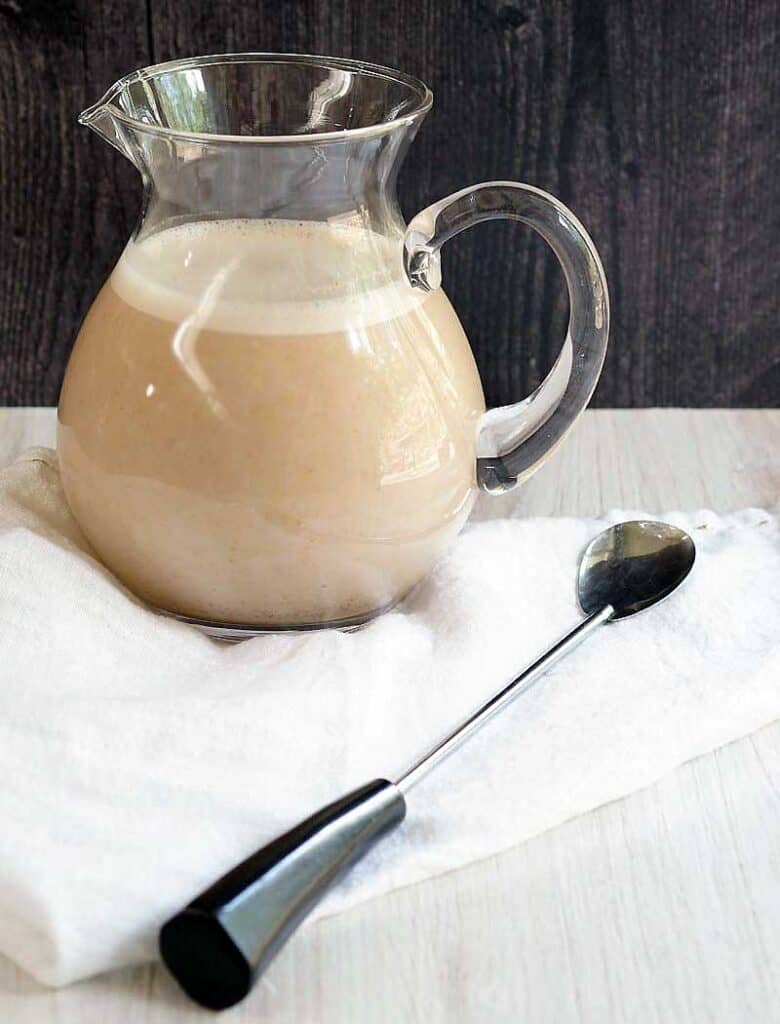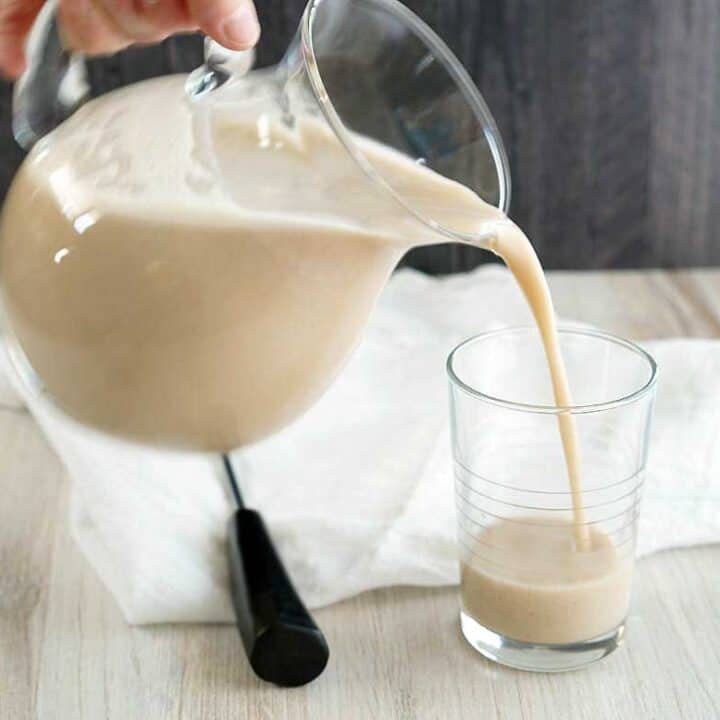 Instant Pot Brown Rice Horchata
This creamy drink is made of brown rice and almonds, infused with cinnamon and sweetened with the sweetener of your choice. Drink it cold in the summer and warm in the winter. Also try it in your coffee!
Ingredients
Pressure Cooker Ingredients
4

cups

944 ml water

1/4

cup

46 g brown rice

1/4

cup

35 g raw almonds

2

whole cinnamon sticks
Before Straining
1/2

cup

vegan sugar

(or sweetener of choice, to taste)
Instructions
Add the water, brown rice, almonds and cinnamon sticks to your Instant Pot and cook on high pressure for 10 minutes.

Release the pressure manually and remove the cinnamon sticks. If you are using a granulated sweetener add now so it will dissolve in the hot liquid.

Puree the mixture in a blender.

Strain through a nut milk bag or fine mesh strainer. Store in the refrigerator for up to 7 days.
Video
Notes
Make this nut free by using 1/2 cup of brown rice instead of half almond and half brown rice.
If you want this to be a whiter beverage, closer to the traditional version, use blanched almonds.
Nutrition
Serving:
1
g
Calories:
130
kcal
Carbohydrates:
25
g
Protein:
2
g
Fat:
3
g
Saturated Fat:
1
g
Polyunsaturated Fat:
1
g
Monounsaturated Fat:
2
g
Trans Fat:
1
g
Sodium:
9
mg
Potassium:
69
mg
Fiber:
2
g
Sugar:
17
g
Vitamin A:
4
IU
Vitamin C:
1
mg
Calcium:
35
mg
Iron:
1
mg