Instant Pot Sweet and Sour Cabbage is the dish that gets cabbage haters to try, and like, cabbage for the very first time.
You get a sweetness from the applesauce and the vinegar makes it tangy. Both turn plain cabbage into something you can't stop eating.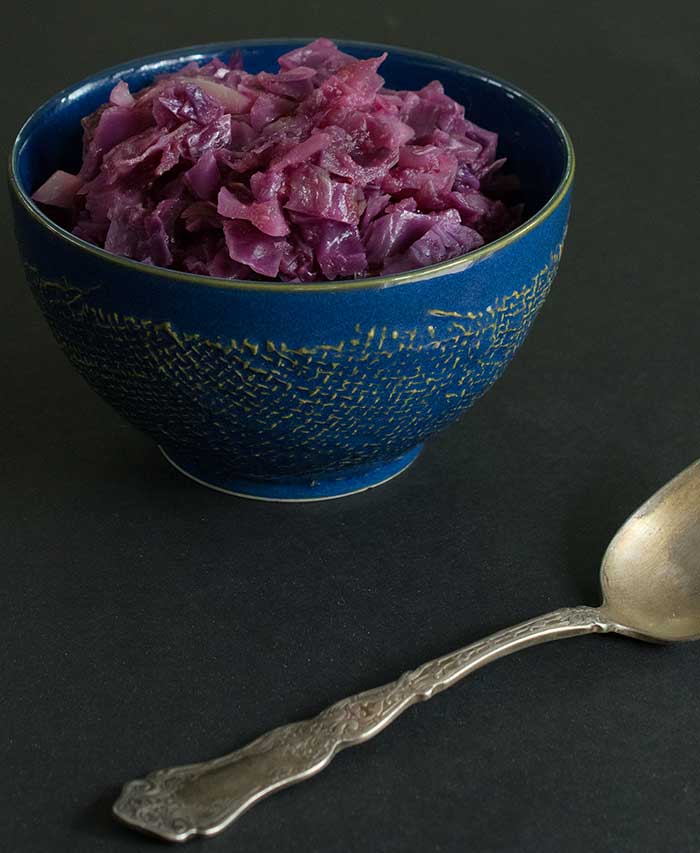 Cabbage Cooks Perfectly in Your Instant Pot
I love cabbage because it's inexpensive, easy to get your hands on, and is the perfect candidate for electric pressure cooking and slow cooking. And it's good for you too!
In the summer we eat a lot of coleslaw, but I like to change it up by mixing in some cooked cabbage too.
While cabbage softens when cooking, it keeps its delightful taste and texture. I learned to love that texture in Indian food and now I love it in most dishes.
Cabbage is a Beautiful Addition to Your Plate
There are so many different varieties and colors that you can choose from. But in my experience, all heads of cabbage taste good.
We're using red or purple cabbage for this recipe, but you could use green if that's all you have.
How Can I Make Those Vegan Pierogis?
In the book, this cabbage dish was served as a side to some potato-stuffed pierogies. 
I can't give the whole pierogi recipe, but for a hint, you can take a vegan dumpling wrapper, and add a heaping tablespoon of mashed potato or other veggies.
Then wet your finger and go around the edges to seal. Steam for about 5 minutes and enjoy!

You can use this Vegan Instant Pot Steamed Vegetable Dumplings recipe to get the folding details.
All you need to do is have some leftover mashed potatoes to use a a filling.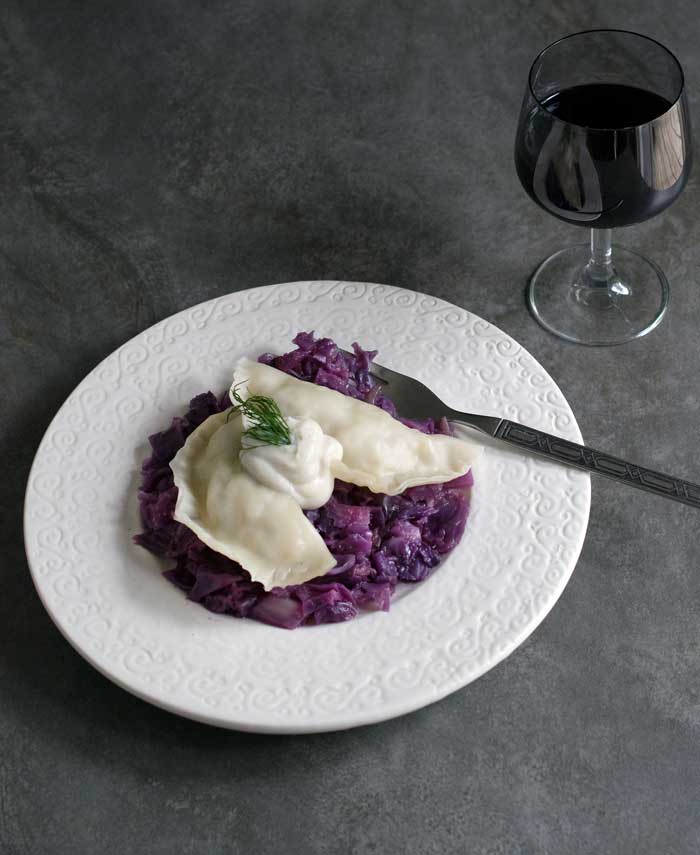 This red cabbage recipe got cut from The Ultimate Vegan Cookbook for Your Instant Pot. But the book's loss is your gain!
Make an Easy Full Meal All at Once
Cook some chopped potatoes either wrapped in foil , or a Pyrex dish or stainless dish covered in foil, on top of the cabbage.
From there you can make mashed potatoes. Or you could start off a little different and toss the potatoes with dill and paprika then cook them. Both will make this a filling meal.
Make cauliflower steaks by cutting 1/2 inch thick slices from the middle of a head of cabbage. Cook these over the cabbage wrapped in foil. Season with fresh dill and lemon juice.
Add in some vegan sausage sliced into rounds for a one-dish meal.
Cook 4 pieces of lightly steamed tempeh with the cabbage. The steaming makes it less bitter.
Why Do Cabbage Haters Love Instant Pot Sweet and Sour Cabbage?
My sweet ad sour cabbage uses flavors that hide some bitterness that cooked cabbage sometimes has.
Also when cabbage is overcooked it can have that unpleasant smell just like cauliflower.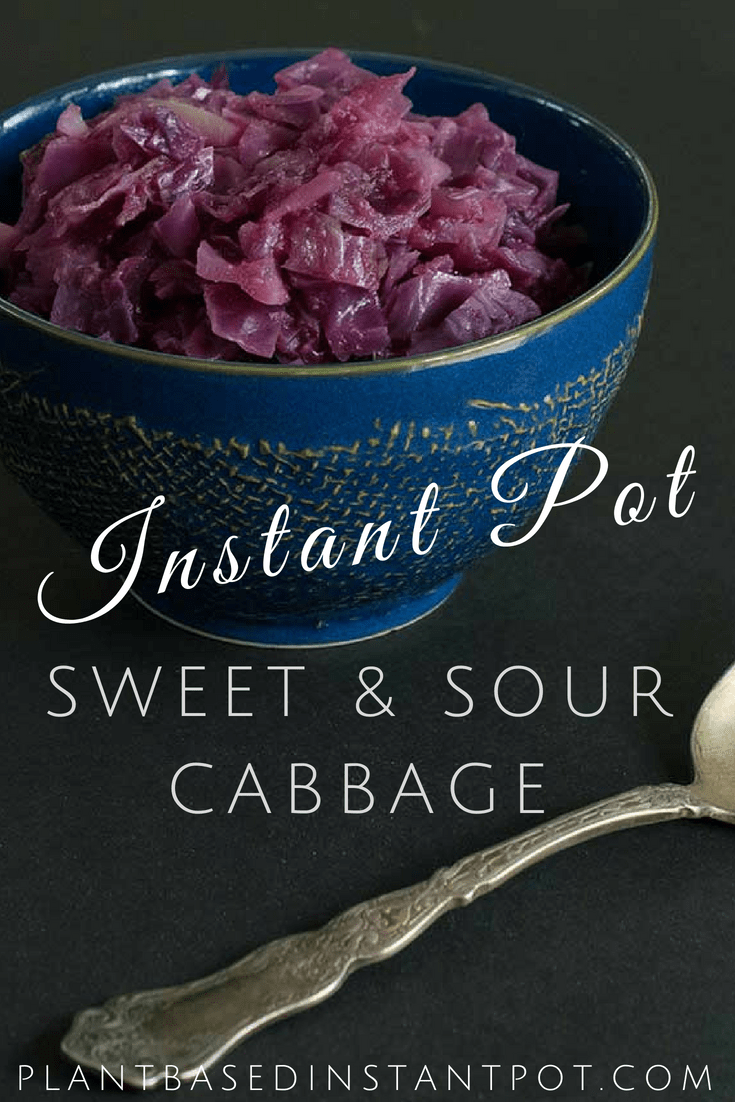 The trick is to not overcook the cabbage and to add some sweetness and a little bit of tartness from the apple cider vinegar.
Red cabbage and apples is a traditional dish that uses its ingredients to show off how wonderful cabbage is.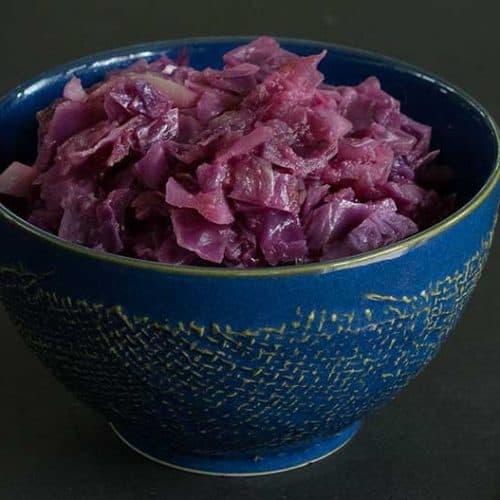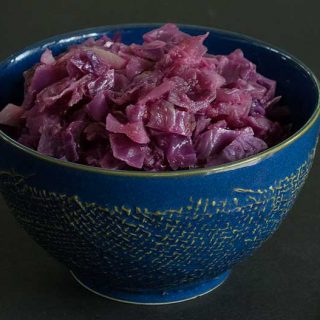 Instant Pot Sweet and Sour Cabbage
This is the dish that I've used to get cabbage haters to try – and like – cabbage for the very first time. The sweetness of the applesauce and the tang from the vinegar turns plain cabbage into something you can eat by the bowlful.
Ingredients
SAUTE INGREDIENTS
1

tablespoon

water

or broth

1/2

cup

minced onion

4

cloves

garlic

minced
PRESSURE COOKER INGREDIENTS
6

cups

chopped red cabbage

1

cup

water

1

cup

applesauce

or the same amount chopped fresh apple

1

tablespoon

apple cider vinegar

salt and pepper

to taste
Instructions
Use the sauté setting over normal, or medium heat, and warm up the water or broth.

Saute the onion until they become transparent. Then add the garlic and sauté a minute more.

Add the pressure cooker ingredients listed above and put the lid on and make sure that the vent is closed.

Cook on pressure cooker/manual setting on high pressure for 10 minutes.

Carefully move the pressure valve to release the pressure manually.
Video
Nutrition
Serving:
1
g
Calories:
54
kcal
Carbohydrates:
13
g
Protein:
2
g
Fat:
1
g
Saturated Fat:
1
g
Polyunsaturated Fat:
1
g
Monounsaturated Fat:
1
g
Sodium:
28
mg
Potassium:
276
mg
Fiber:
3
g
Sugar:
8
g
Vitamin A:
1005
IU
Vitamin C:
53
mg
Calcium:
50
mg
Iron:
1
mg