Have you used your Electric Pressure Cooker's steam function? You're going to love making your own Instant Pot Vegan Dumpling Recipe at home!
You can find vegan wrappers at grocery stores and at Asian markets. Be sure to check the ingredients to verify they are vegan.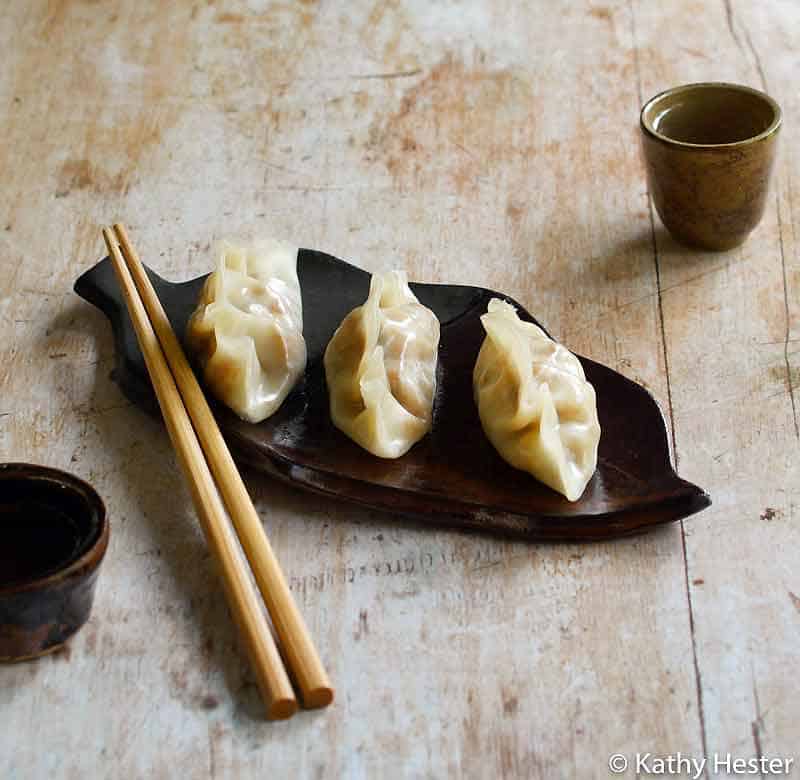 How to Cook Steamed Vegetable Dumplings in Your Electric Pressure Cooker
I used a bamboo steamer to cook my Instant Pot Vegetable Dumplings, but you can use a regular steamer. I recommend using perforated parchment to keep them from sticking.
You will add water to your Instant Pot first, then the rack, and place the bamboo steamer on top of that.
You will probably need to leave off the bamboo lid and that's fine – you don't really need it for this recipe.
What Should I Serve these Vegan Steamed Dumplings With?
Try a simple meal with them and one other dish like my Mushroom Congee Recipe or this Slow Cooker Jackfruit Tom Kha Gai Recipe.
You can make it in your Instant Pot on the Slow Cooker setting or in an actual slow cooker while you are at work!
If you are looking for a couple of stove-top dishes to make while your electric pressure cooker is full of dumplings try my Butternut Squash And Kale Lo Mein With Crispy Tofu or a Super Easy Tofu Stir-fry.
How to Steam Dumplings in an Instant Pot
Another way one tester steamed these little dumplings were with two Instant Pot racks. You can get a cheap extra rack on Amazon or at an Asian market.
She put 10 dumplings on a parchment-covered Instant Pot rack, flipped the other Instant Pot rack upside down, covered it with parchment, and placed another 10 dumplings on it.
Steaming In Your Instant Pot
Many times you may opt to use your manual or pressure cooker setting to cook. In fact, that will be your most-used setting.
One thing that the pressure cooking function and steam function have in common you have to have water in the pot when you use that setting.
The bottom of the pan is where the heat comes from on high when you use steam so in addition to having water in the bottom place the item to be steamed on the Instant Pot rack or in a silicone vegetable steamer.
Can You Use a Bamboo Steamer in Your Electric Pressure Cooker?
You can use a bamboo steamer in your instant pot, just make sure the steamer fits into the size Instant Pot you have. I used an 8-inch 2 layered bamboo steamer in a 6-quart Instant Pot.
You will place the bamboo steamers on top of the rack that came with your electric pressure cooker. If the rack handles make the space too narrow, turn it over and place the steamer on it.
If the rack handles makes the space too narrow, turn it over and place the steamer on it.
You can get round perforated parchment paper that fits in a regular or bamboo steamer. It lets the steam through but keeps the Instant Pot Vegetable Dumplings from sticking and breaking open.
You can also steam dumplings in a metal steamer or my favorite silicone steamer.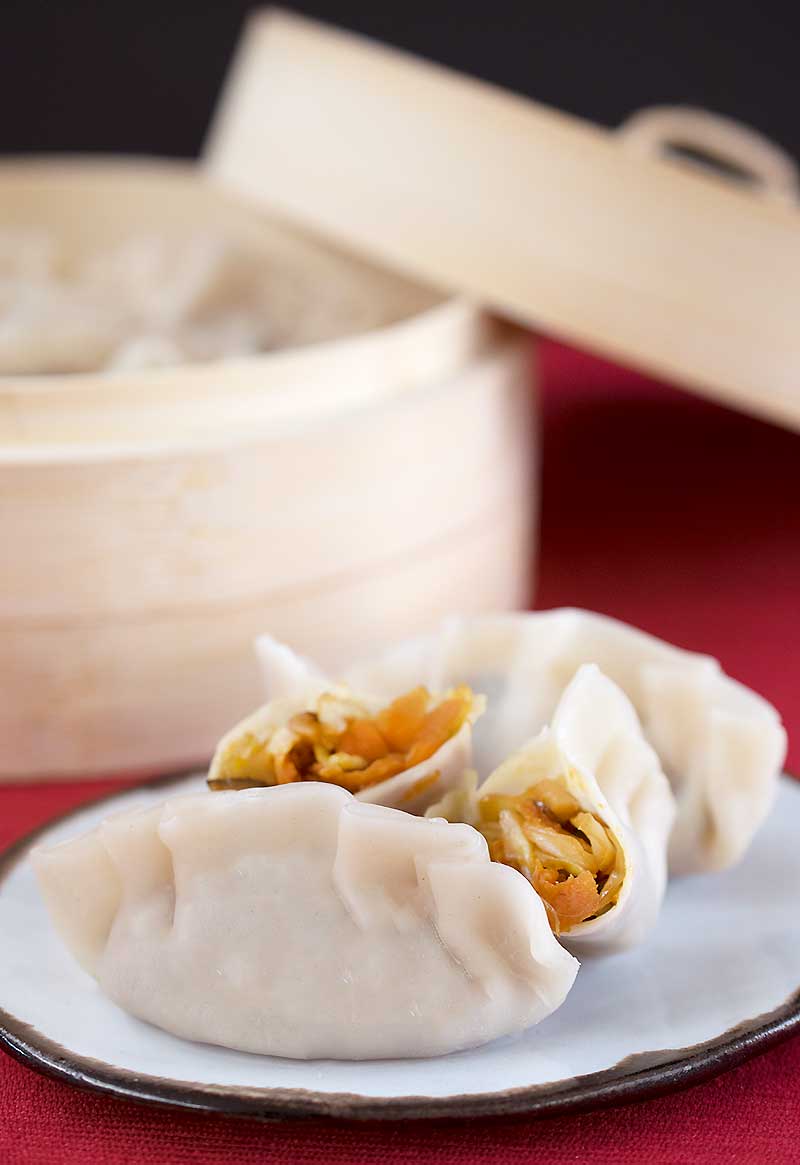 Instant Pot Vegan Dumpling Recipe Facts
You can buy pre-made vegan dumpling wrappers. Try your local Asian market and look for vegan ones at Walmart of all places! Always read the labels just in case a recipe changes.
Can't find any vegan wrappers? You can make your own with Cilantro and Citronella's recipe here.
Gluten-free? Try Feasting on Fruit's gluten-free dumpling wrapper recipe and see her video here.
Make a double or triple batch. Freeze in a single layer on a cookie sheet.
After they are solid put them in a resealable freezer bag. Just grab a few when you're in the mood for a treat.
Can You Steam Frozen Dumplings In the Electric Pressure Cooker?
Great question! I get this one a ton. You can cook frozen vegetarian dumplings in your Instant Pot.
I usually use a bamboo steamer lined with perforated parchment paper. I cook on high pressure for 7 minutes.
Filling Ideas for Vegan Instant Pot Vegetable Dumplings
Of course, the easy mushroom, carrot, cabbage recipe below is the easiest way to start !
Mash some pressed tofu with some bbq sauce. Whole Foods used to have a frozen version that's no more.
Take that little bit of leftover stir fry, pulse in the food processor or chop finely.
Finely chop some seitan or tempeh and mix with your favorite teriyaki sauce.
Be sure to share your favorite filling in the comments!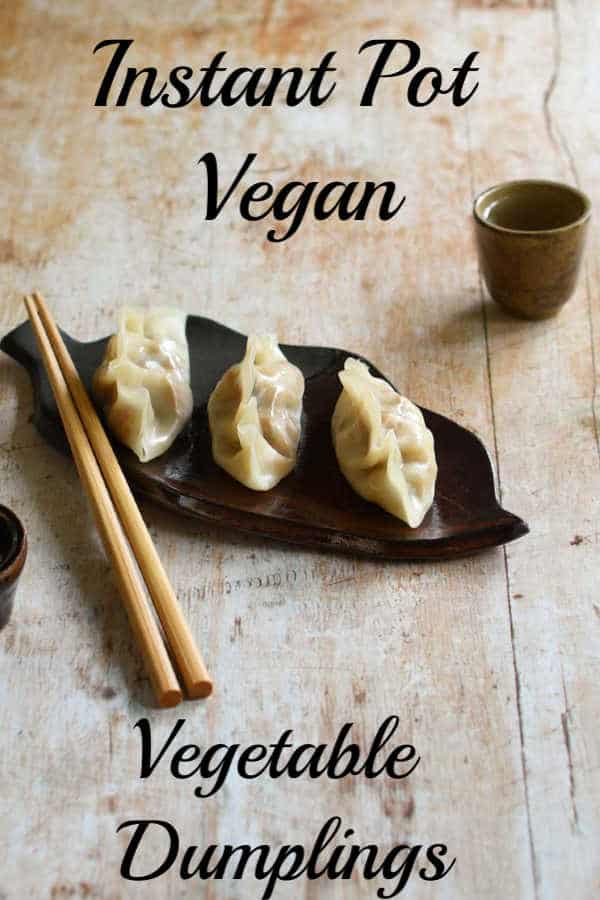 More Instant Pot Posts & Recipes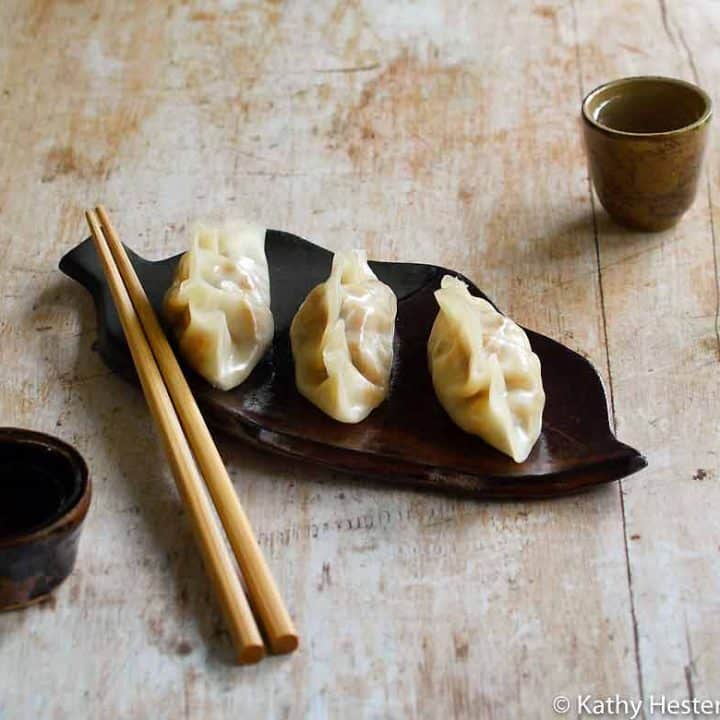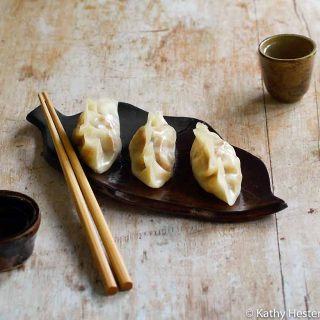 Vegan Instant Pot Steamed Vegan Dumplings
Dim sum can be hard to find once you go vegan, but not if you make your own. With store-bought wrappers these are amazingly easy and cheap to make. Be aware that some brands contain egg, but you can always find vegan ones at Asian markets. Believe it or not, this filling is so flavorful you won't even need a dipping sauce.
Instructions
For the sauté, use the sauté setting over normal, or do the sauté in a pan on the stove over medium heat. Heat the oil or broth and add the mushrooms once hot.

Sauté until the mushrooms release their juices, then add the cabbage, carrot, soy sauce and rice wine vinegar and sauté until the mixture is dry.

Remove the liner from the Instant Pot and set on the stove or a pot holder. Mix in the ginger and sesame oil (if using).

Cut out a round piece of parchment paper to fit inside a 6- or 8-inch (15-or 20-cm) bamboo steamer. You will be able to fit all 12 dumplings in one level of the 8-inch (20-cm) one.

No bamboo steamer? Just use your vegetable steamer lightly coated with oil inside your Instant Pot instead.

Get a small bowl of water and set it up next to a cutting board to work on. Place a wrapper on the cutting board and spread water around the edge with your fingertip.

Add 1 tablespoon (15 g) filling to the middle of the wrapper and fold in half, matching the edges. Press together.

You can stop here or you can grab it by the middle of the sealed part and fold the dough in two places on either side. Then place in the steamer with the pleated side up.

Put the top on your bamboo steamer (if using) and add 1½ cups (355 ml) water and your rack to your Instant Pot. Then lower the steamer into the pot.

Put the lid on and make sure that the steam release handle is sealed. Select the steam setting and lower the time to 7 minutes.

Open the steam release valve manually
Video
Nutrition
Serving:
1
dumpling
Calories:
38
kcal
Carbohydrates:
7
g
Protein:
2
g
Fat:
1
g
Saturated Fat:
1
g
Polyunsaturated Fat:
1
g
Monounsaturated Fat:
1
g
Cholesterol:
1
mg
Sodium:
218
mg
Potassium:
102
mg
Fiber:
1
g
Sugar:
1
g
Vitamin A:
901
IU
Vitamin C:
4
mg
Calcium:
10
mg
Iron:
1
mg