It's almost a whole new year! I'm looking forward to the new year and ringing it in with some Instant Pot Black Eyed Peas with a side of cooked collard greens and some homemade corn bread. Yum!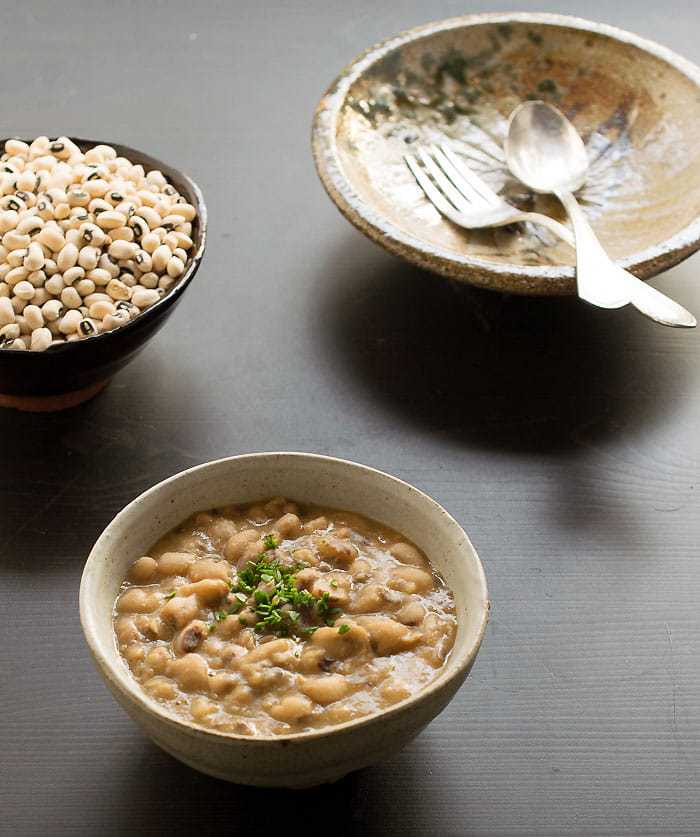 Us Southerners believe that eating these creamy beans and dark leafy greens will bring us good luck and good fortune in the coming year. But even if you're not superstitious, you will love this vegan black-eyed peas recipe.
It's rich and creamy, super filling, and feels nourishing. It's the kind of food that feeds the soul, like a warm hug in a bowl.
Why I Love This Recipe
As if the pure joy of eating a bowl of comfort food weren't enough to entice you, this delectable Insta Pot black eyed peas recipe is also:
Quick & Easy – You only need 5 minutes of prep to get this main dish ready for New Year's Day. Now, that's my kinda holiday cooking!
Made With Only 8 Ingredients, one of which is water.
Oil-Free – It's the perfect dish to start you off on the right foot for all your healthy New Year's resolutions 😉
Ingredients & Substitutions
As promised, you only need a handful of simple ingredients to make this vegetarian black-eyed peas recipe. Here's your list:
Water – You're also welcome to use veggie broth, in which case you won't need the vegan bouillon.
Onion – Any color will do just fine!
Garlic – Fresh tastes best, but feel free to use jarred minced garlic in a pinch. You're also welcome to use half as much garlic powder if needed.
Smoked Paprika – For a touch of warmth and a lovely bit of smoky flavor. You are welcome to swap in ground chipotle peppers for a slightly spicier (but still smoky) flavor. Regular paprika can also be used.
Liquid Smoke – Making delicious black eyed peas vegan means adding some smoke. This ingredient is the easiest way to add that craveable smoky taste you'd normally get from a ham hock but without any animal products.
Dried Black-Eyed Peas – Using the Instant Pot pressure cooker makes short work of cooking dry beans.
Vegan Bouillon Cube – I love making homemade bouillon, but feel free to swap in store-bought. You're also welcome to use vegetable broth in place of the water, in which case the bouillon wouldn't be necessary.
Nutritional Yeast – Often lovingly referred to as "nooch" in the vegan community, these bright yellow flakes of yeasty goodness add a delicious pop of umami, almost-cheesy flavor to anything they touch.
Salt & Black Pepper – For seasoning, to taste. If you're avoiding salt, try adding a dash of vinegary hot sauce (or a squeeze of fresh lemon juice) instead!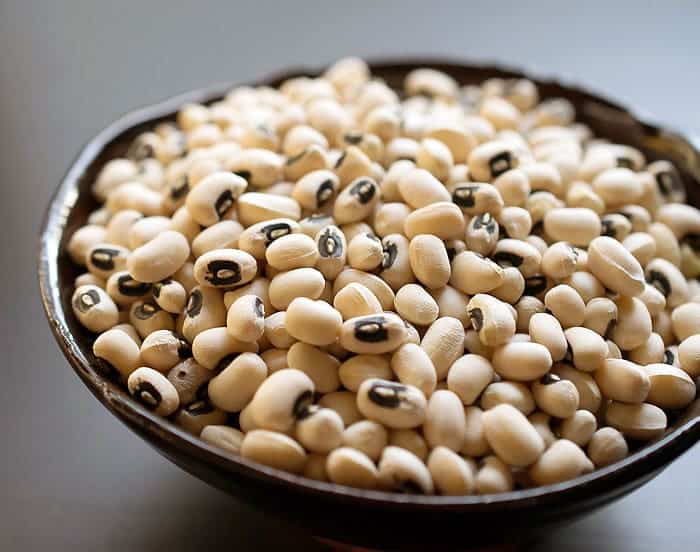 Equipment
These vegan black-eyed peas require very little by way of equipment. Here's what you'll need:
Chef's Knife & Cutting Board – You only need to chop one onion and a clove of garlic. That said, feel free to swap in frozen onions and jarred minced garlic to cut back on the prep — it's a holiday (or busy weeknight), after all!
Instant Pot – You're also welcome to try my recipe for crock pot black-eyed peas using your slow cooker!
Silicone Spatula – For sautéing at first, and then for getting every last yummy bite of tender beans out when you're done.
Ladle – For serving.
How To Make Instant Pot Black-Eyed Peas
This vegan black-eyed peas recipe is quick and simple. Here's how it's made:
Step 1: Heat the water using the sauté setting over normal, or medium, heat.
Step 2: Sauté the onion until transparent, adding more water as needed. Then add the garlic, smoked paprika, and liquid smoke. Sauté a minute more.
Step 3: Add the black-eyed peas, water, and bouillon, then put the lid on and make sure that the vent is sealed.
Step 4: Cook on manual setting at high pressure and set for 25 minutes.
Step 5: Natural pressure release. Stir in the nutritional yeast, season with salt and pepper to taste, then serve. Happy New Year!
Optional Variations
While I think this is the best black-eyed peas recipe around, there's always room for you to play. Here are a few other variations to consider:
Creole Style – Add about a teaspoon of Cajun Seasoning and a chopped bell pepper to the sauté mix.
Spicy – Try using Garam Masala in place of the smoked paprika, or add a pinch of Cayenne Pepper to the existing recipe.
Add A Bay Leaf – For a subtle hint of flavor.
Trade in Black Beans or Pinto Beans – Don't have dried black-eyed peas at the ready? Feel free to swap in another type. Just note that cooking times may vary, and you may want to soak other varieties first for faster cook times.
Expert Tips
Don't soak the beans. They cook beautifully without it, plus you don't have to plan as far in advance!
Leftovers can be stored in an airtight container in the fridge for up to a week. If I'm being honest, they're even better the second day, after the flavors have had more time to marry. You can also turn them into a gorgeous vegan patè.
Leftovers can also be frozen for up to 3 months. To use, allow to defrost overnight in the fridge, then warm on the stovetop (over low-medium heat) or in the microwave (45 seconds with stirring between) until heated through.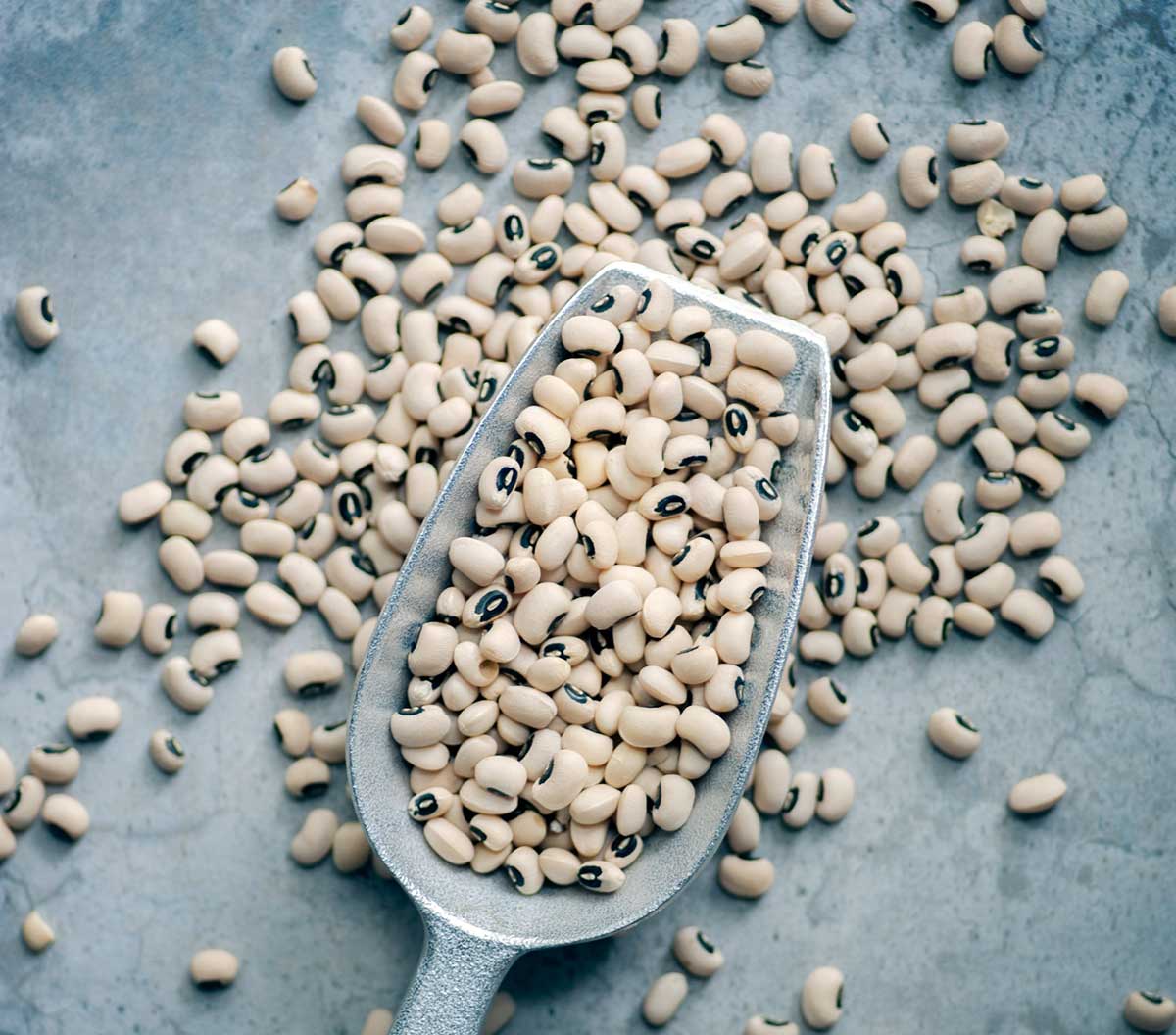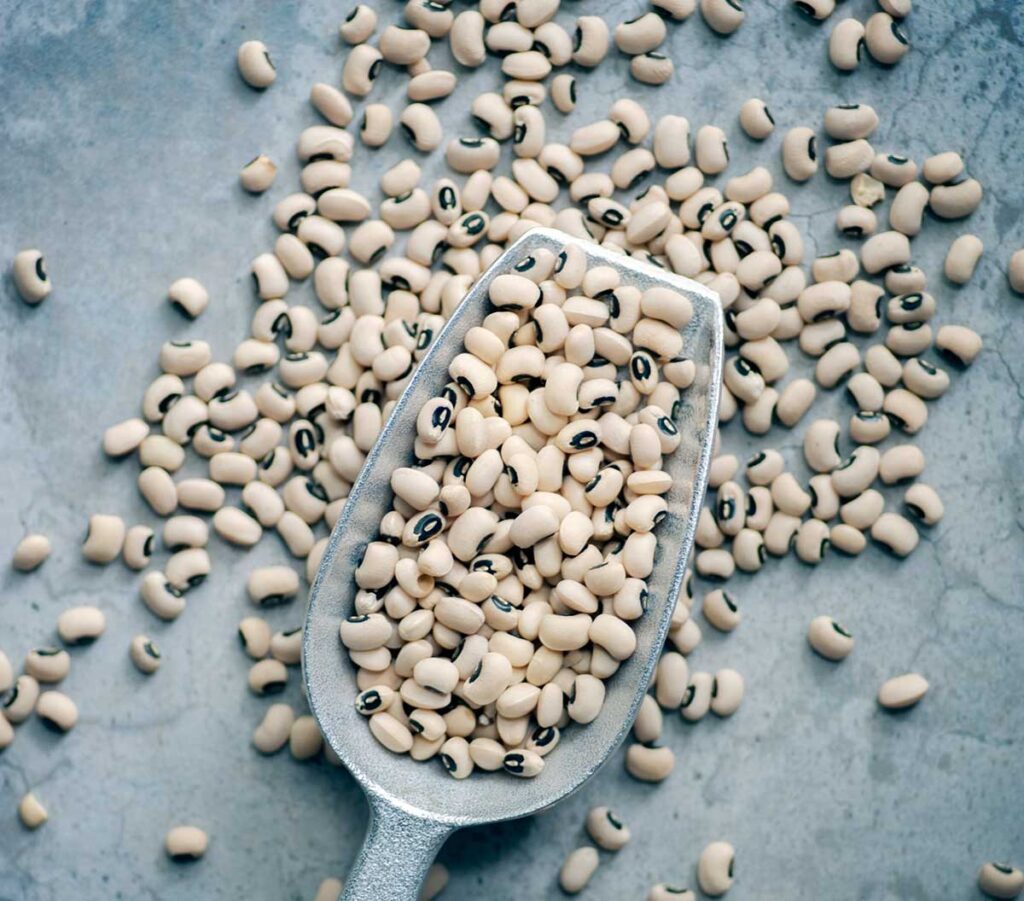 Frequently Asked Questions
Are black-eyed peas beans? They sure are! While they're called "peas" (and while both beans and peas are part of the legume family), black-eyed peas are a subspecies of the cowpea, which is grown around the world for it's edible bean.
What's the difference between field peas vs. black-eyed peas? Black-eyed peas are the most widely known variety of the large set of legumes known as field peas, cowpeas, or Southern peas. There are a whopping 21 other varieties of field peas like Rattlesnakes, Polecats and Turkey Craws.
What's the Deal with Eating Black-Eyed Peas on New Year's Day?
Here in the South, we think that eating black-eyed peas brings luck into the coming year. People in the southern US also like to eat collard greens on the first of the year because the deep green color is thought to attract money.
Oftentimes you'll see Hoppin' John as an option on menus around these parts, which has both black-eyed peas and rice. Whenever I make it, I also add some chopped-up collard greens to hit that good luck trifecta. 🤓
Don't You Have to Soak Black-Eyed Peas?
Because black-eyed peas are in the quick-cooking bean category, soaking isn't necessary. That said, soaking can help to remove some of the phytic acid, which is the compound responsible for some of the *indelicate sounds* that are associated with beans of all sorts.
If you are among the many who experience these digestive issues, by all means: soak them. Just note that you'll need to reduce the amount of cooking liquid you add and the cooking time if you do.
How long do I need to cook Black-Eyed Peas in the Instant Pot?
Some people cook black-eyed peas in as little as 15 minutes on high, but I always shoot for a full 25 minutes for this recipe. Why? The extra cooking time breaks them down to give them their tender, creamy consistency.
Note: This is NOT the time to cook black-eyed peas for them to be used in salads or other dishes. We're aiming for a stew-like texture with softer beans.
How Can You Add a Smoke Flavor to Vegan and Plant-Based Food?
Liquid smoke is my favorite way to add that old-fashioned smoky flavor. While you might think it's made from chemicals or artificially flavors, that's actually not the case. It's made from condensation from a fire, so it's all-natural.
Smoked paprika is another smoky addition that adds a great flavor to beans, stews, and more.
I often use both together, like in this recipe, but you can always just use one or the other, to suit your taste.
More Recipes to Try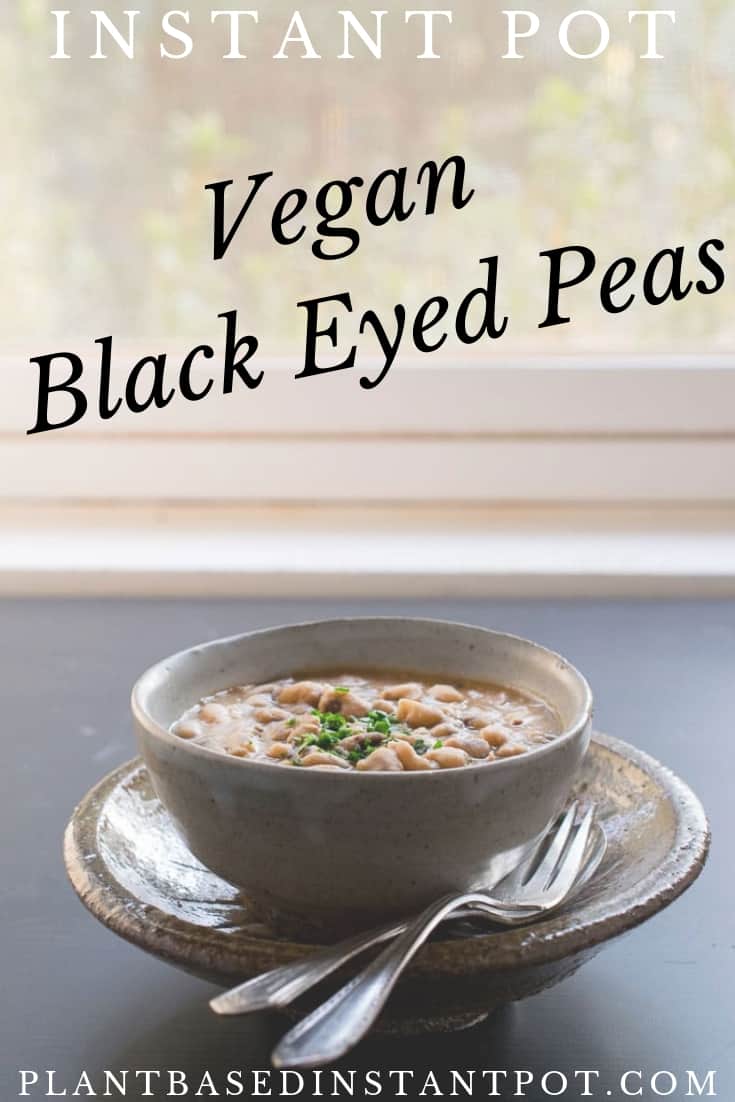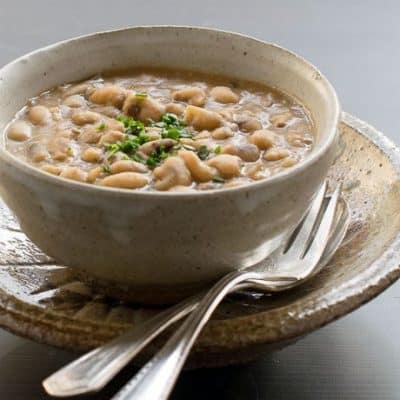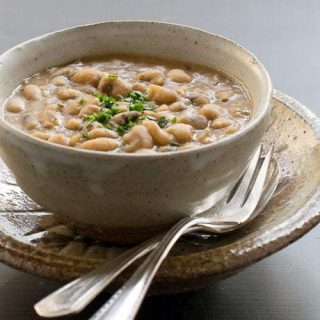 Plant Based Instant Pot Black-Eyed Peas
Celebrate New Year's Day with these healthy black-eyed peas. Southerners eat them for luck, but you can eat them just because they are healthy and delicious!
Ingredients
Saute Ingredients
2

tablespoons

water

1/2

cup

minced onion

1

teaspoon

minced garlic

1/2

teaspoon

smoked paprika

1/4

teaspoon

liquid smoke
Before Serving Ingredients
Instructions
Use the sauté setting over normal, or medium heat, and heat the water.

Saute the onion until they become transparent, and add more water as needed. Then add the garlic, smoked paprika and liquid smoke. Sauté a minute more.

Add the black-eyed peas, water, and bouillon, then put the lid on and make sure that the vent is sealed.

Cook on manual setting at high pressure and set for 25 minutes.

Allow the pressure to release naturally. Stir in the nutritional yeast, salt, and pepper, then serve.
Video
Nutrition
Serving:
1
g
Calories:
238
kcal
Carbohydrates:
42
g
Protein:
17
g
Fat:
1
g
Saturated Fat:
1
g
Polyunsaturated Fat:
1
g
Monounsaturated Fat:
1
g
Sodium:
191
mg
Potassium:
809
mg
Fiber:
8
g
Sugar:
5
g
Vitamin A:
155
IU
Vitamin C:
3
mg
Calcium:
81
mg
Iron:
6
mg