They always say eat the rainbow, but I bet you never thought of rice as being part of that. Rice comes in so many varieties and colors: pink, red, black, purple, and green jade, in addition to the popular brown or white you see everywhere.
Pink rice is a great way to start introducing your family to whole grains and a plant-strong diet. It retains 66% of the wholesome bran layer after milling but is softer than cooked red rice.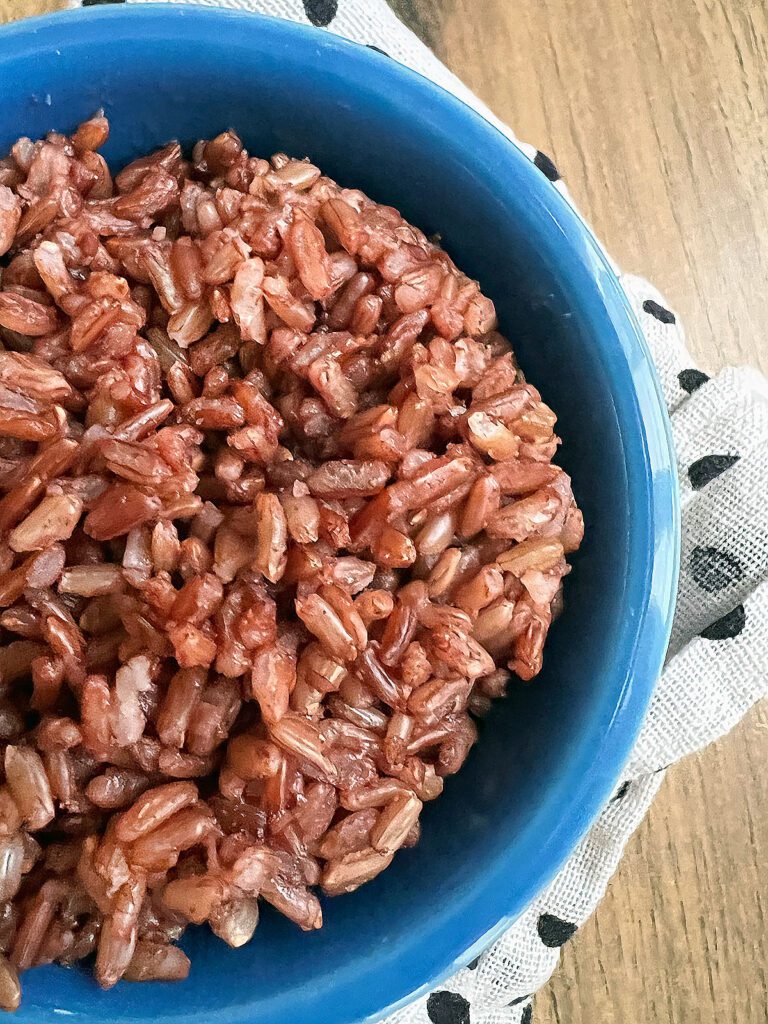 What is pink rice?
It's a long-grain that's lightly milled to retain more than half of its bran. Grown by farmers in Amparafaravola using growing methods that use less water, and produce more 'crop per drop' of water.
Organic Madagascar pink rice has subtle aromas of cinnamon, cloves, and nutmeg, which make it a special treat.
Pink rice retains about 66% of its bran layer, so it has more fiber than white rice, but less than red or brown. Use it steamed plain as a side dish, in a pilaf, or anywhere you'd add rice.
Its pink color makes beautiful sushi rice. Just toss with a little rice vinegar and vegan sugar. Then stir with a wooden spoon until it cools. Make a few colors like jade, black, and pink to create rice rolls your dinner guests will never forget.
You'll need to cook pink rice longer than white rice, but less than brown or red. So if you are using a recipe that cooks the rice with other ingredients you'll need to modify the main cooking time.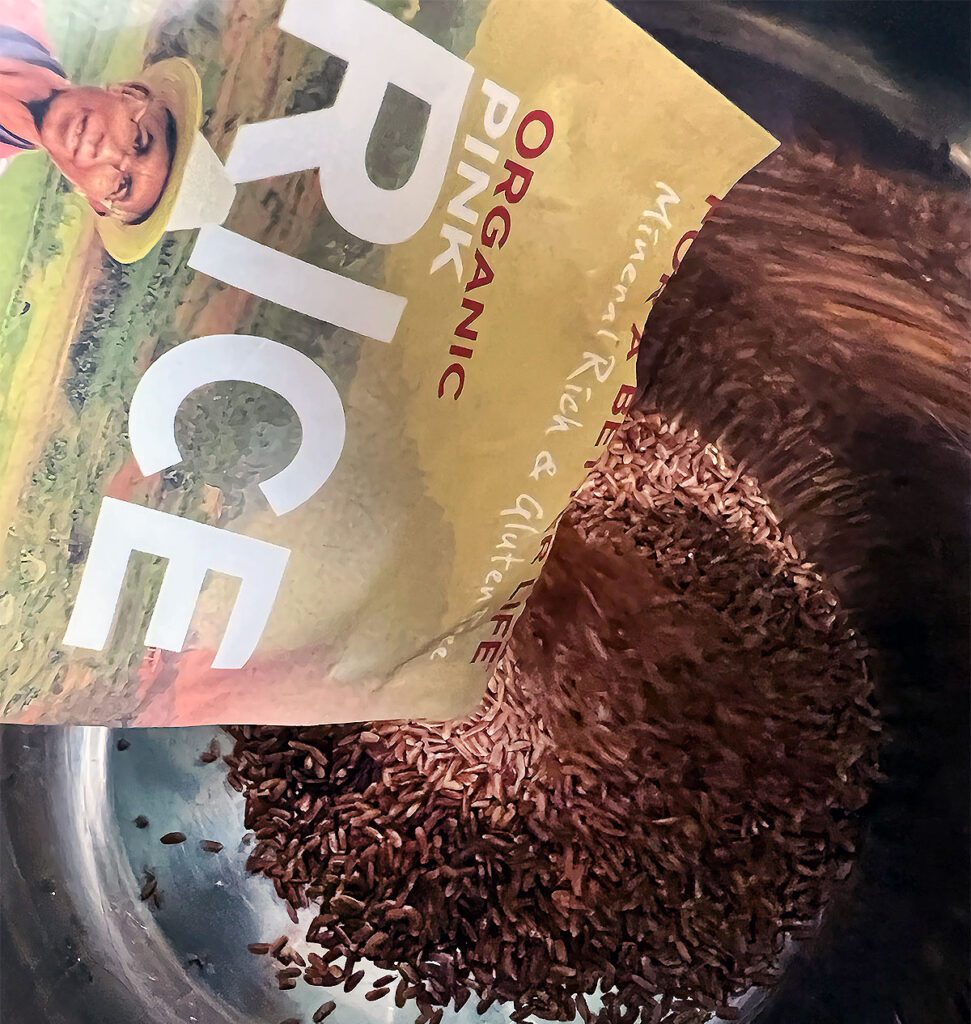 Why cook rice in your electric pressure cooker?
Your Instant Pot locks all the flavors inside your dish and usually reduces cooking time by half over stovetop methods.
One thing I love to do is use the timer on my Instant Pot. That way I can put together the rice and water, but have it set to start cooking later. That way when I'm ready for dinner the rice is perfectly cooked and fresh.
Which rice is best?
That depends on the dish you're making as well as your family's personal tastes. I think we can all agree that eating more rice is a good thing and pink Madagascar rice is a way to switch things up a little.
If I'm in a hurry I usually cook up some long-grain white jasmine rice to save time, but I also like to make nutritionally dense rice like brown or forbidden rice.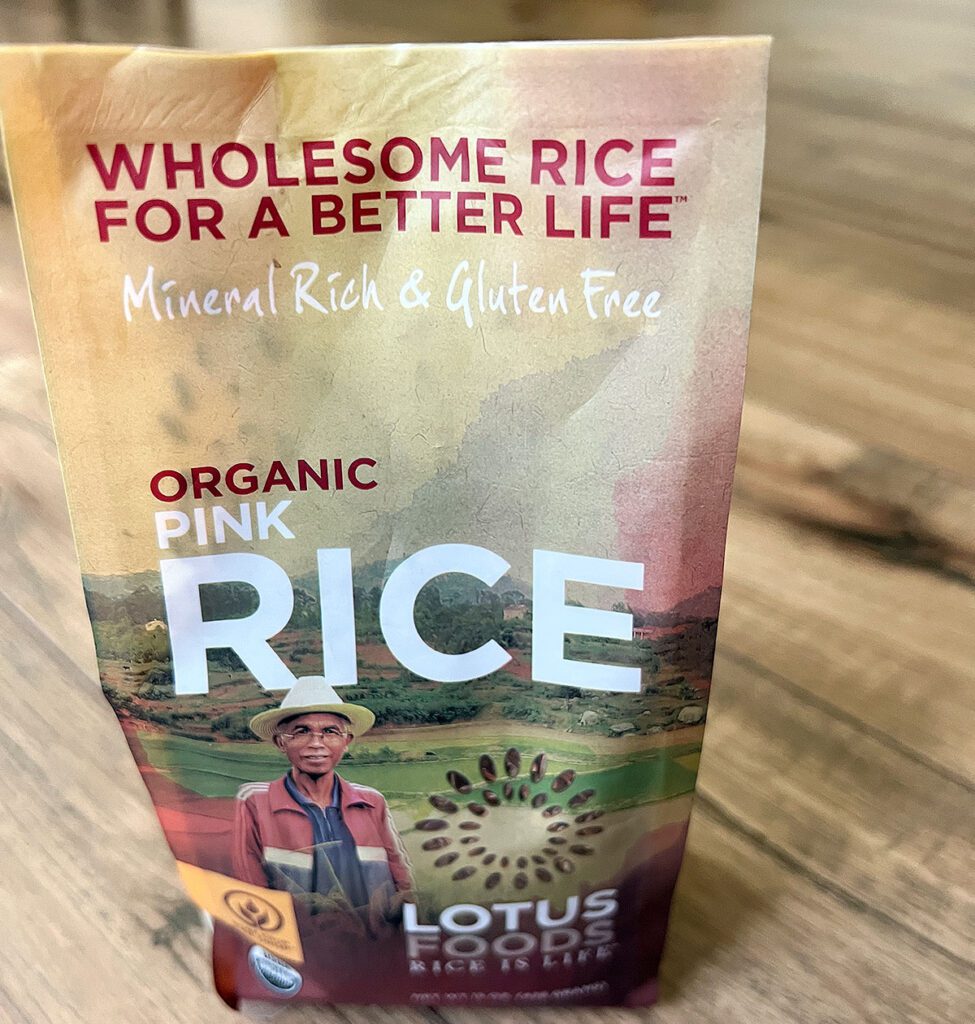 What does Madagascar pink rice taste like?
Honestly, to me, it tastes pretty close to red or brown rice but has a slight sweet flavor. It has a lighter mouth-feel though and cooks up fluffier like white rice does.
Where can I buy organic Madagascar Pink Rice?
I love the rice from the Lotus Foods website and you can find that brans in your local co-op, Whole Foods, on Amazon, or in some of the fancier grocery stores.
There are other brands and they taste just as good, so you might take a peek in your local Asian market too.
How do I use the rice button on the Instant Pot?
First and foremost, never use the rice button for any rice other than white. It's programmed just for that shorter cooking time.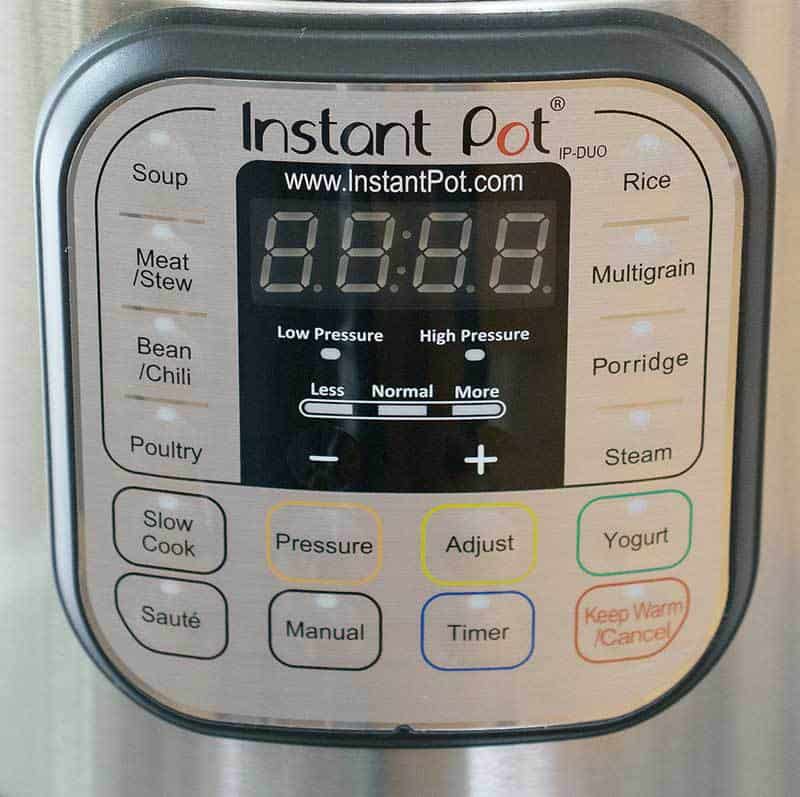 But even with white rice, you can use the manual or pressure cooker button. The only difference in the pre-programmed buttons is you don't need to add in a time.
Is pink rice the same as red rice?
The flavor, texture, and even color are close between both red and pink rice. Red rices are different varieties and have more bran, so it's it has more fiber.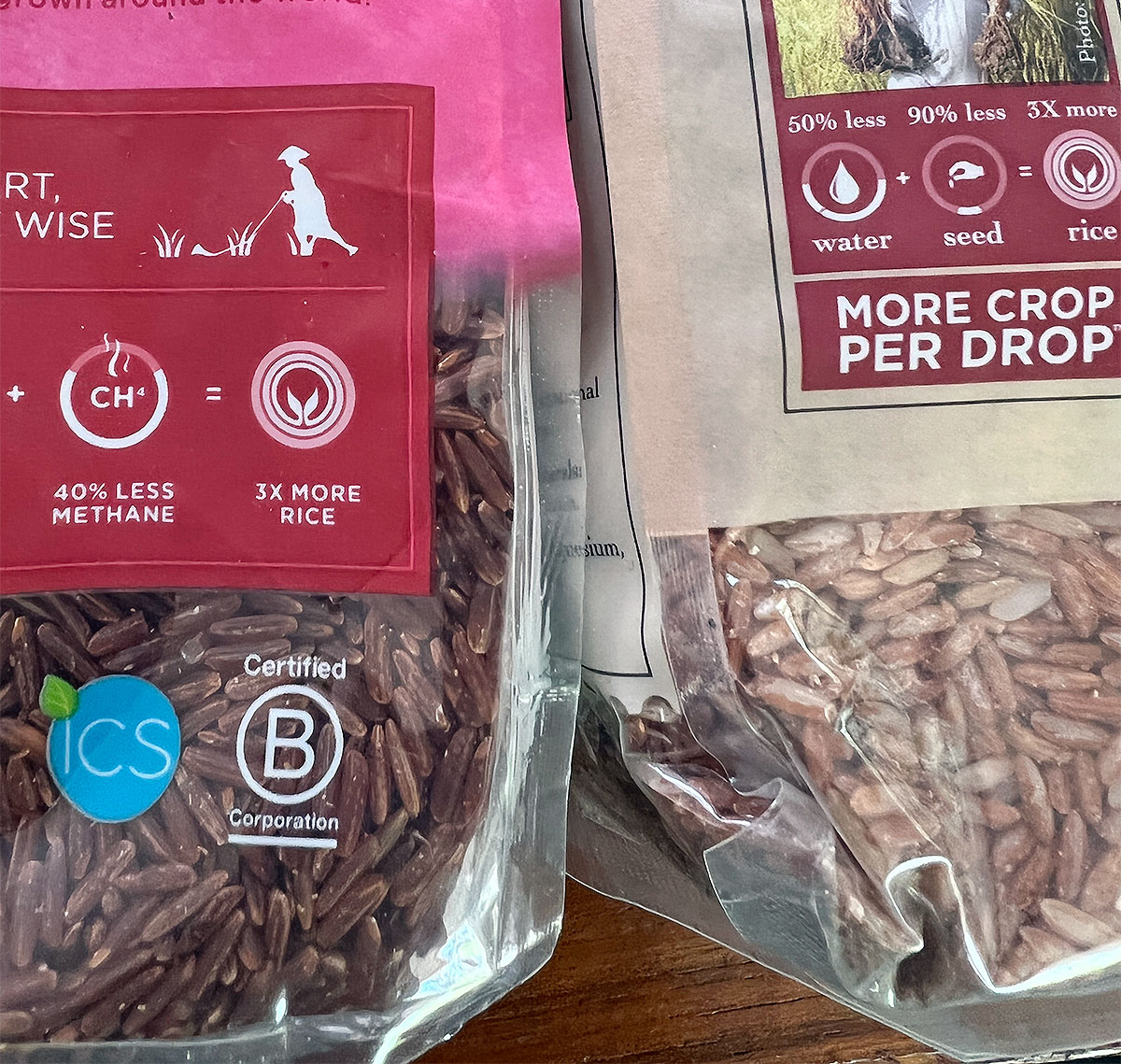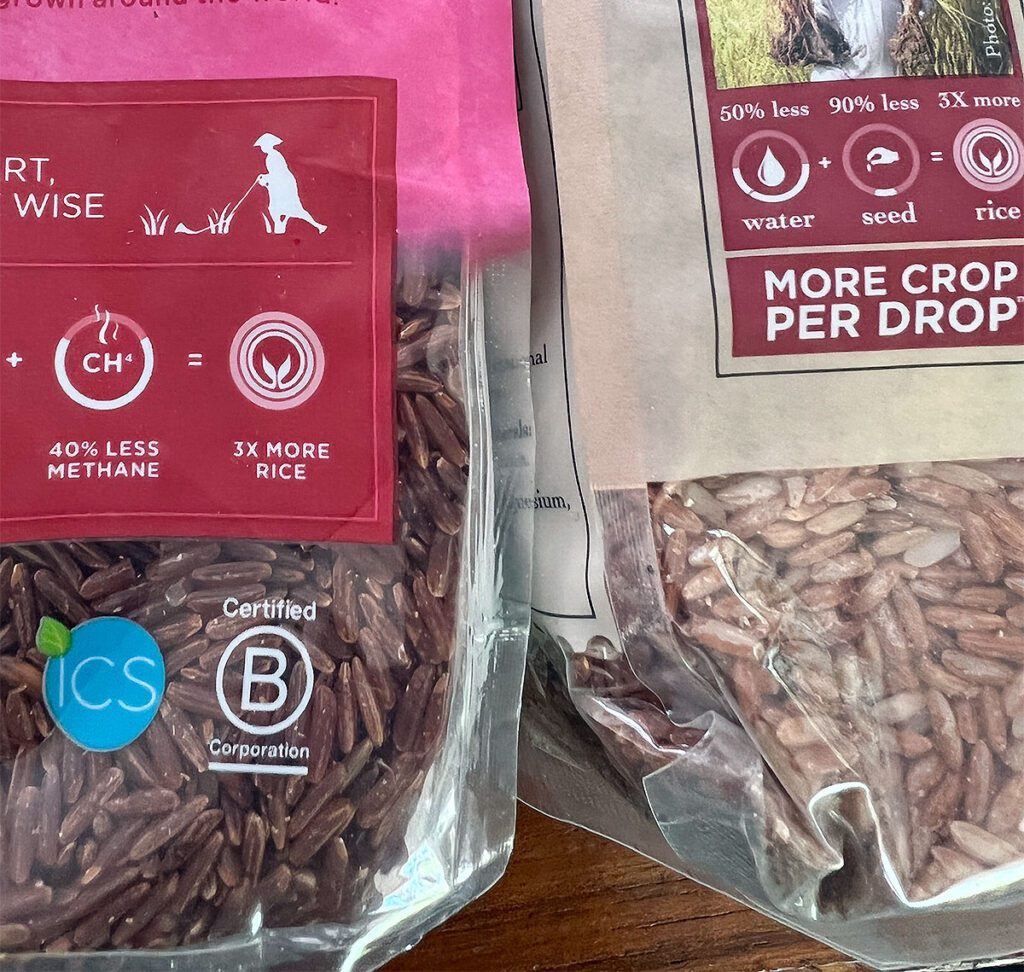 How do you cook organic pink rice?
It's really quite simple, add 1 1/4 cup of water for each cup of rice you want to cook. Just know that if you bought it in a 15-ounce package that is 2 cups of rice.
Why did my Instant Pot rice turn out mushy?
You may have overcooked the rice. Next time try to cook it a minute or two less, or let it stay on warm for less time.
Another reason could be that you rinsed your rice, which actually adds more water to the cooking process. If you choose to rinse, add about 1/4 cup less water.
Can I cook pink rice in a rice cooker?
You sure can! In my rice cooker, I still use 1 1/4 cup water to 1 cup pink rice ratio.
More rice recipes: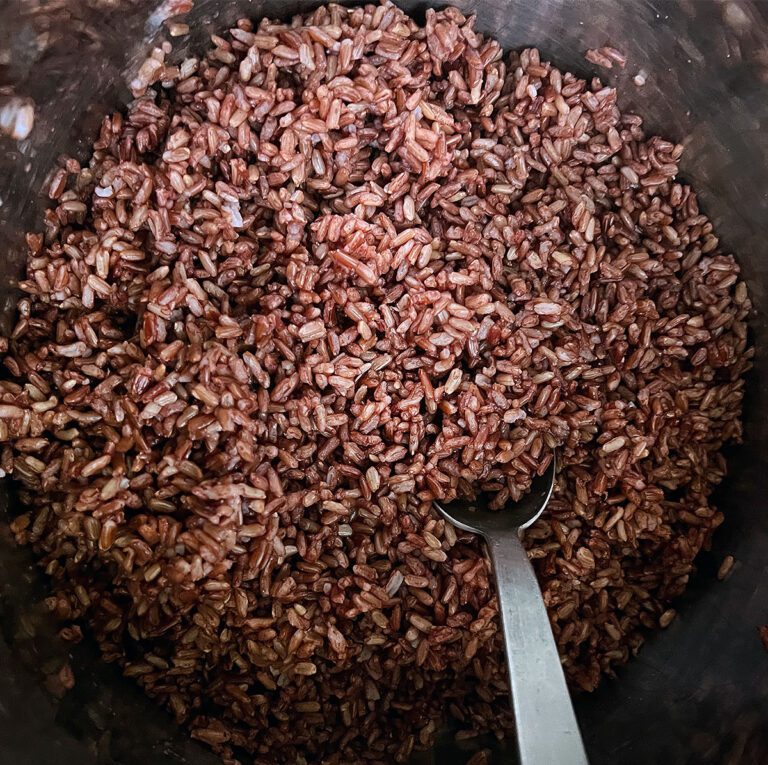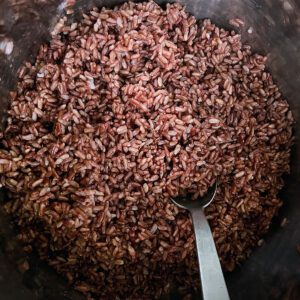 Instant Pot Madagascar Pink Rice
Change up your rice and add more color to dinner!
Ingredients
2 1/2

cups

water or broth

2

cups

pink rice

1/2

teaspoon

salt

, optional
Instructions
Add all the ingredients to your Instant Pot.

Close the lid and cool on manual/pressure cook for 4 minutes.

After the cooking time is up, let the pressure release naturally for 10 minutes.

Manually release the rest of the pressure and fluff the rice with a fork.
Nutrition
Serving:
0.5
cup
Calories:
200
kcal
Carbohydrates:
44
g
Protein:
4
g
Fiber:
4
g