If you're looking for a delicious and hearty vegan Reuben sandwich recipe, you'll love this meat-free Reuben. Made with Instant Pot corned beets, this sandwich is perfect if you are not a vegan meat fan.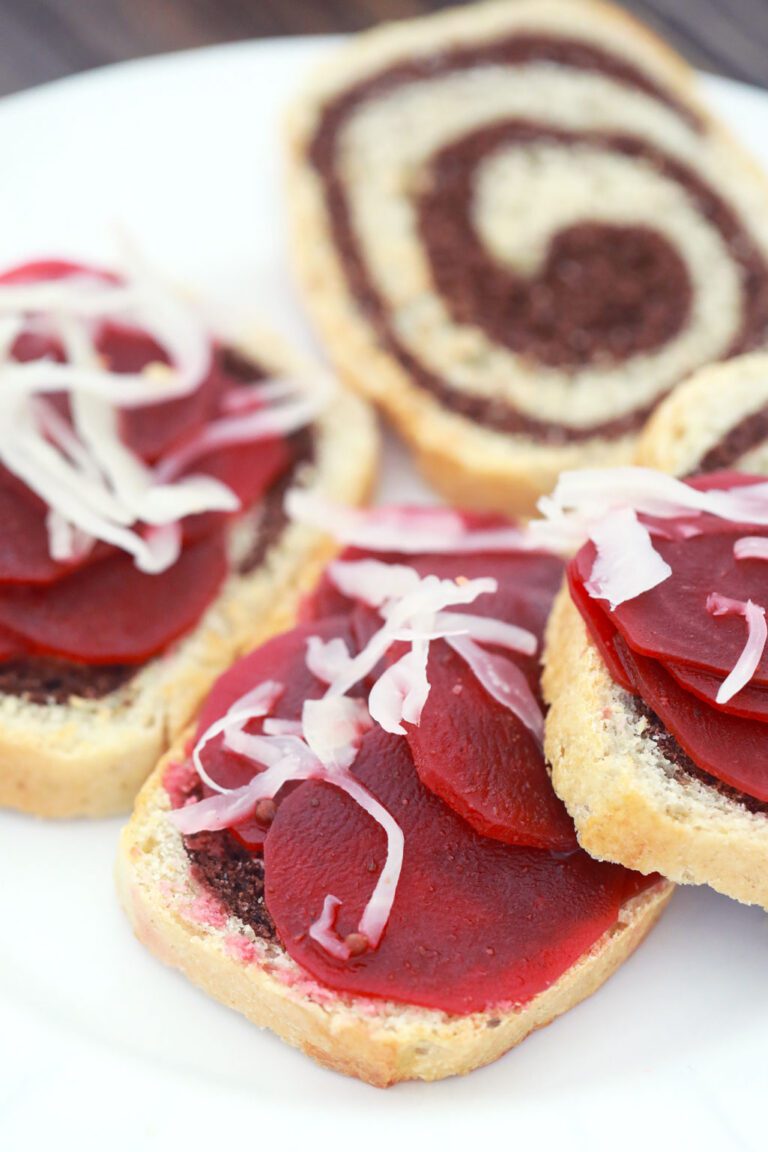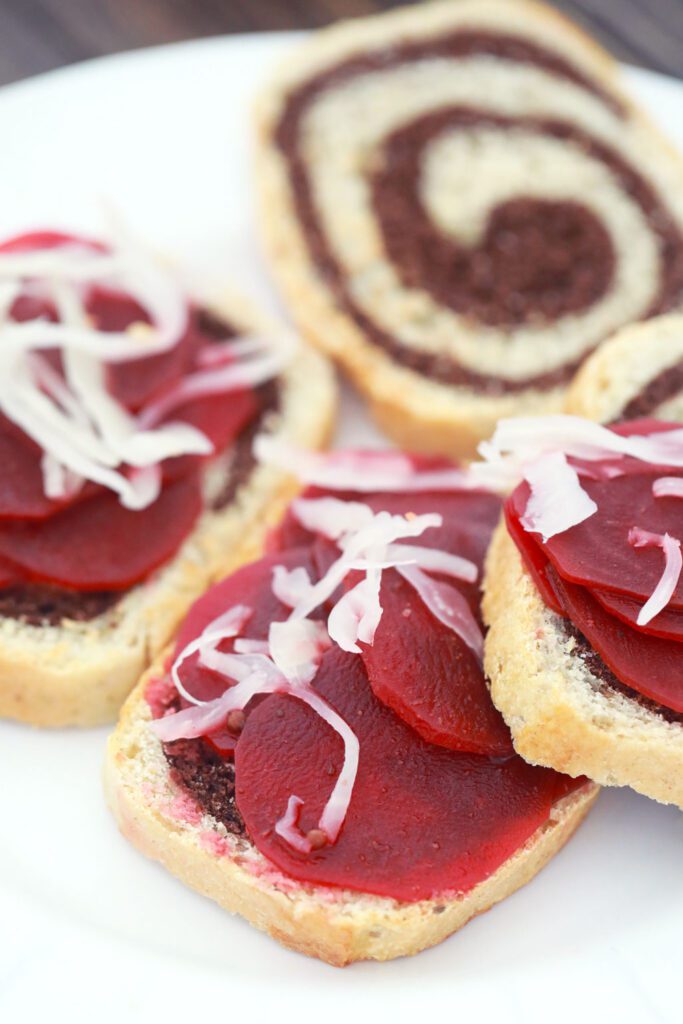 This recipe will blow your mind, and it's healthy too! The red beets are sliced thin on a mandolin, and I recommend that you pile them up high like a NYC deli does.
Corned beets are so easy to make in your electric pressure cooker. Just slice, cook in a marinade, and you are set. Plus, you can freeze any extra beets for later.
What is a Meat-free Reuben, Anyhow?
It's just a plant-based variation of the classic Reuben with a few simple vegan instedient swaps. It's made with sauerkraut, vegan Swiss cheese, and Russian or Thousand Island dressing.
We take the dairy out of those ingredients with non-dairy cheese and vegan dressing.
The traditional corned beef is replaced with corned beets, but other versions include tofu, tempeh, seitan, or even sweet potatoes!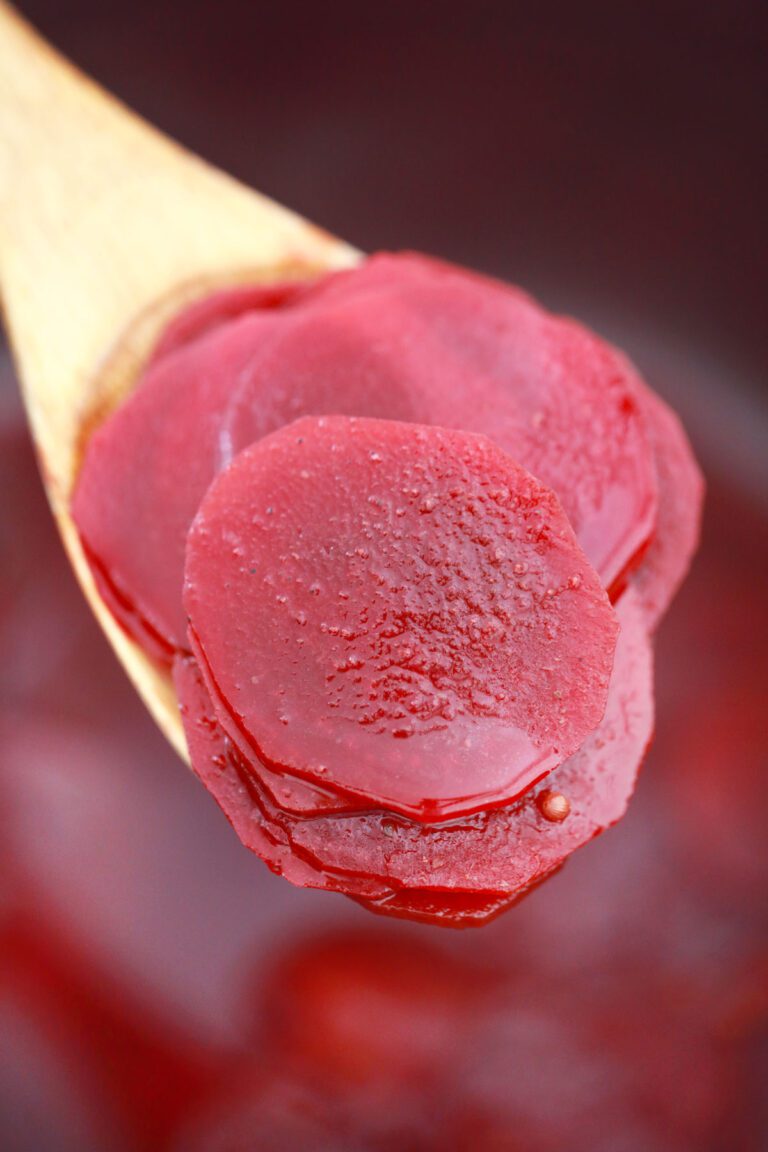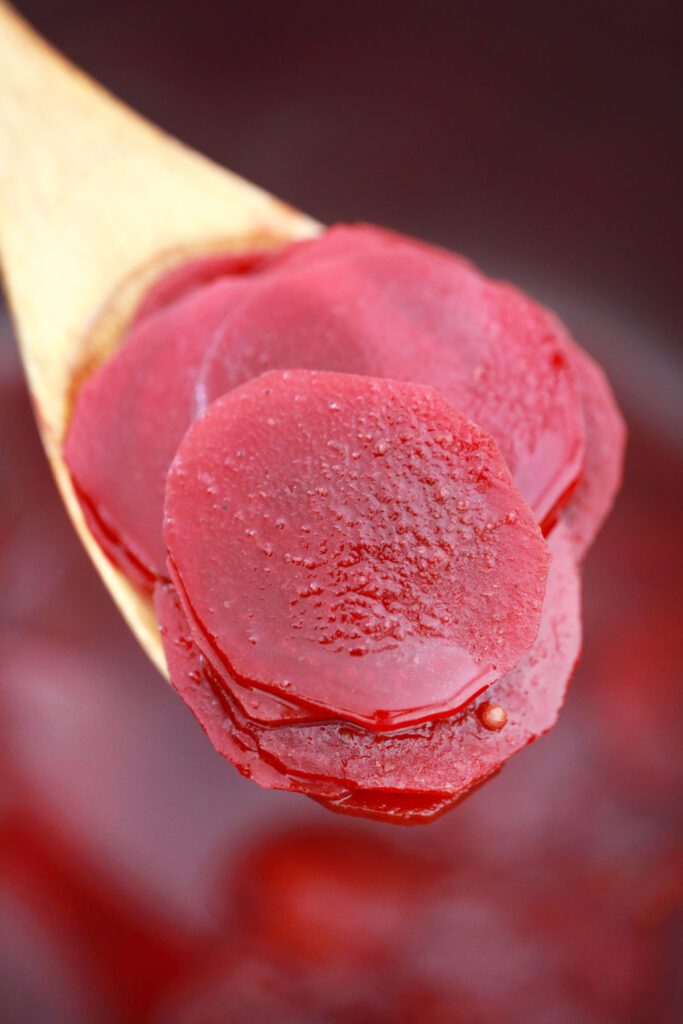 What does a Reuben Taste Like?
It's been decades since I had corned beef, but the star of the sandwich was never the meat for me. It's the tanginess of the sauerkraut, the gooiness of the melted (vegan) cheese, and the melange of flavors from the Russian dressing.
If you make this on rye bread, you get that yummy flavor in every bite too.
What ingredients do I need to make corned beets?
In addition to the most important ingredient, thin slices of beet, you'll need:
Vegan beefy bouillon powder recipe – or a mushroom bouillon or mushroom powder. This adds a beefy flavor
Pickle juice – use some from an open jar
Worchestershire sauce – make sure it's vegan! Many contain anchovies.
Ground ginger
Mustard powder
Allspice
Cinnamon
Salt or salt substitute
Ground black pepper
Onion powder
Garlic powder
Ground coriander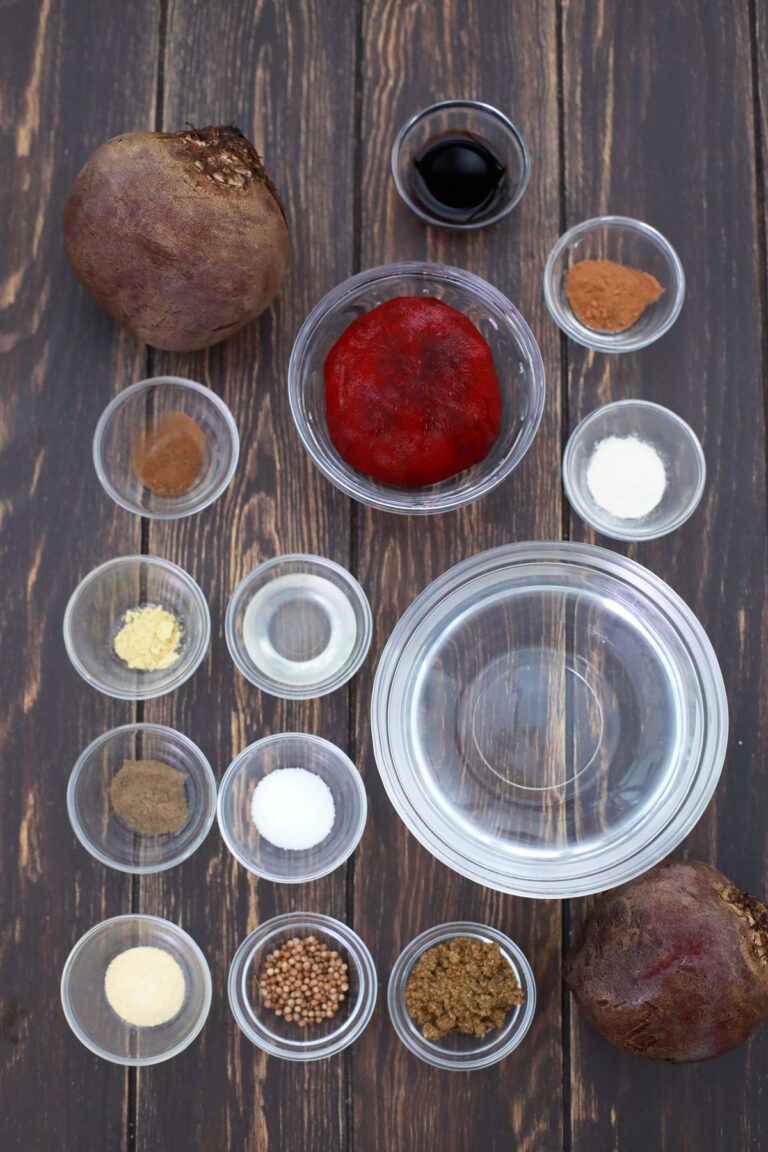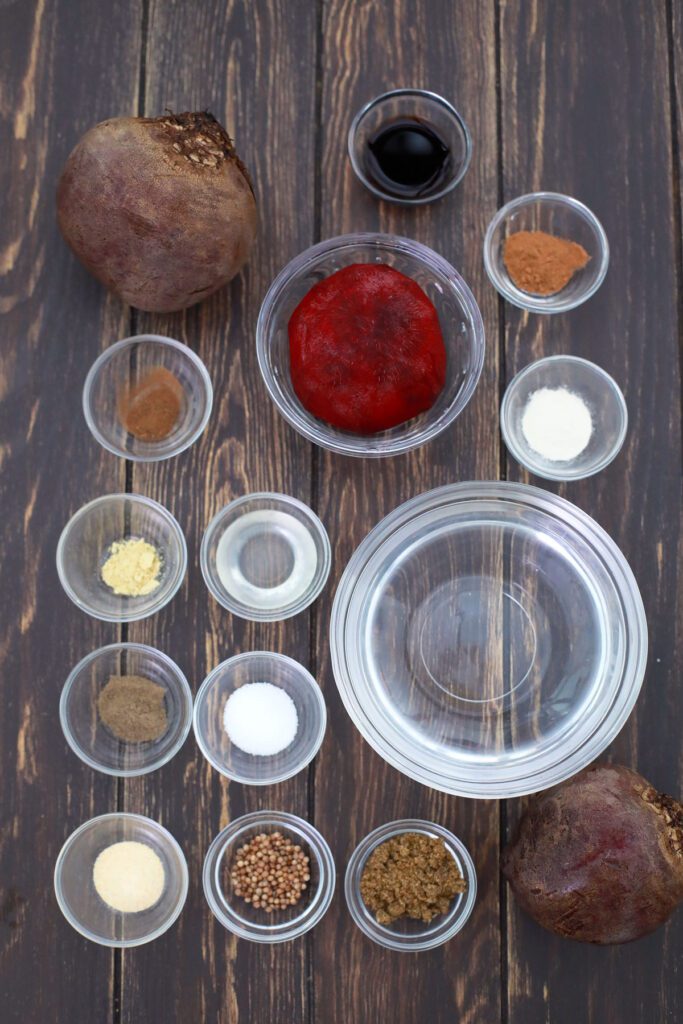 How do I make corned beets?
Use a mandoline to get consistently thin slices of the beet. Add these to your Instant Pot with the marinade.
Cook on high pressure for 15 minutes, then manually release the pressure.
If you aren't using the beets now, store them in the marinade in the fridge.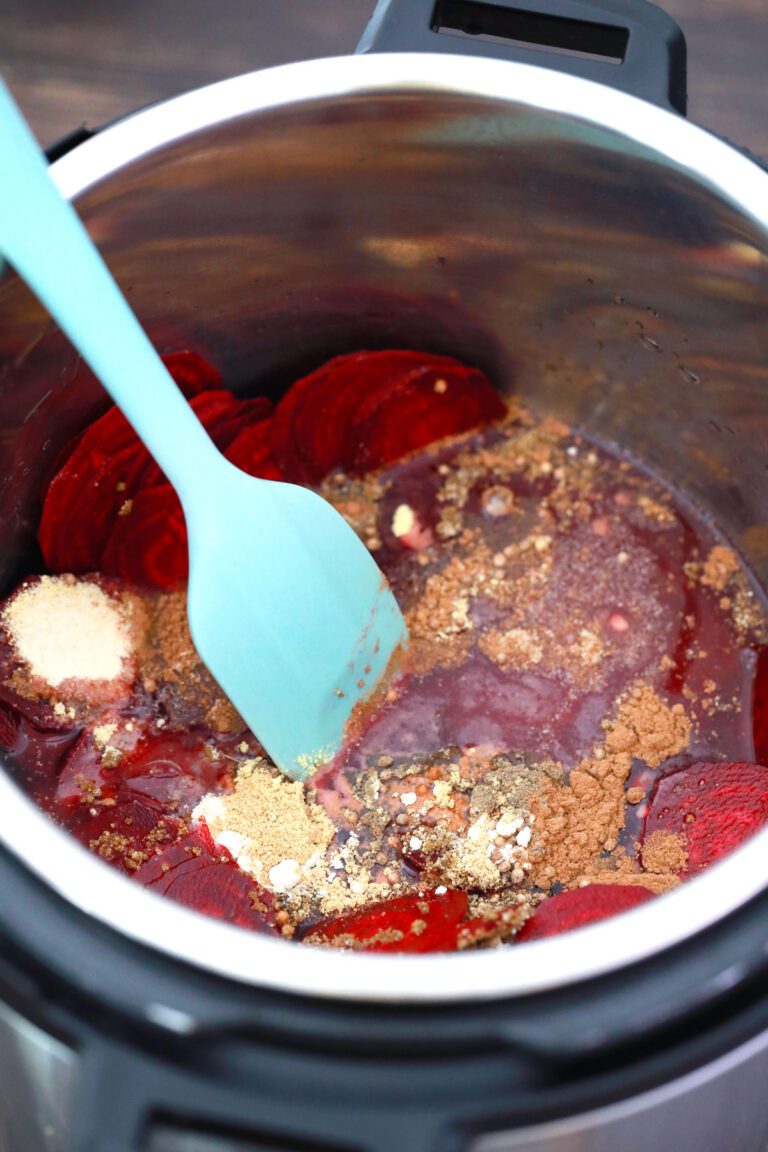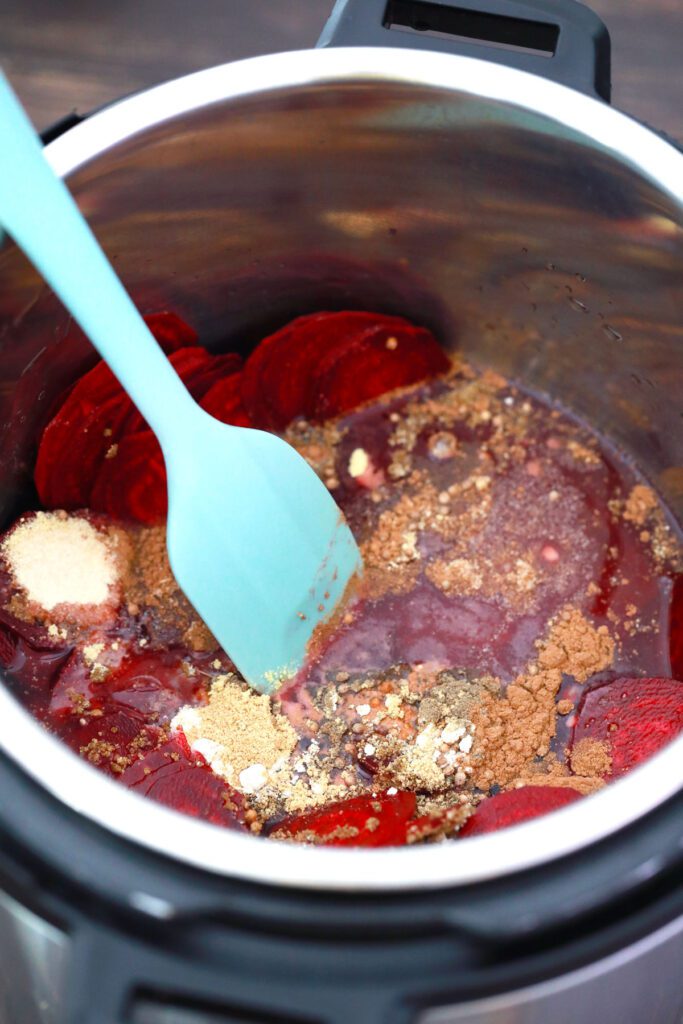 Not a beet fan? Alternatives and Substitutions
I love beets, but I know not everyone is a fan. You don't have to give up this sandwich, just cook one of these in the marinade, sliced thin where you can,.
tofu
seitan
mushrooms
sweet potatoes
tempeh
soy curls
jackfruit
What ingredients do I need to make a plant-based Reuben?
Once your beets are ready to go, you'll need a few other ingredients to make the whole sandwich.
bread – preferably marble rye for the prettiest sandwich possible or your favorite gluten-free bread
sauerkraut – homemade or store-bought
vegan cheese slices – my fav is Violife smoked Gouda slices
Russian or 1000 island dressing – make sure to find a vegan version or in a pinch, try the hack below to make a quick and easy version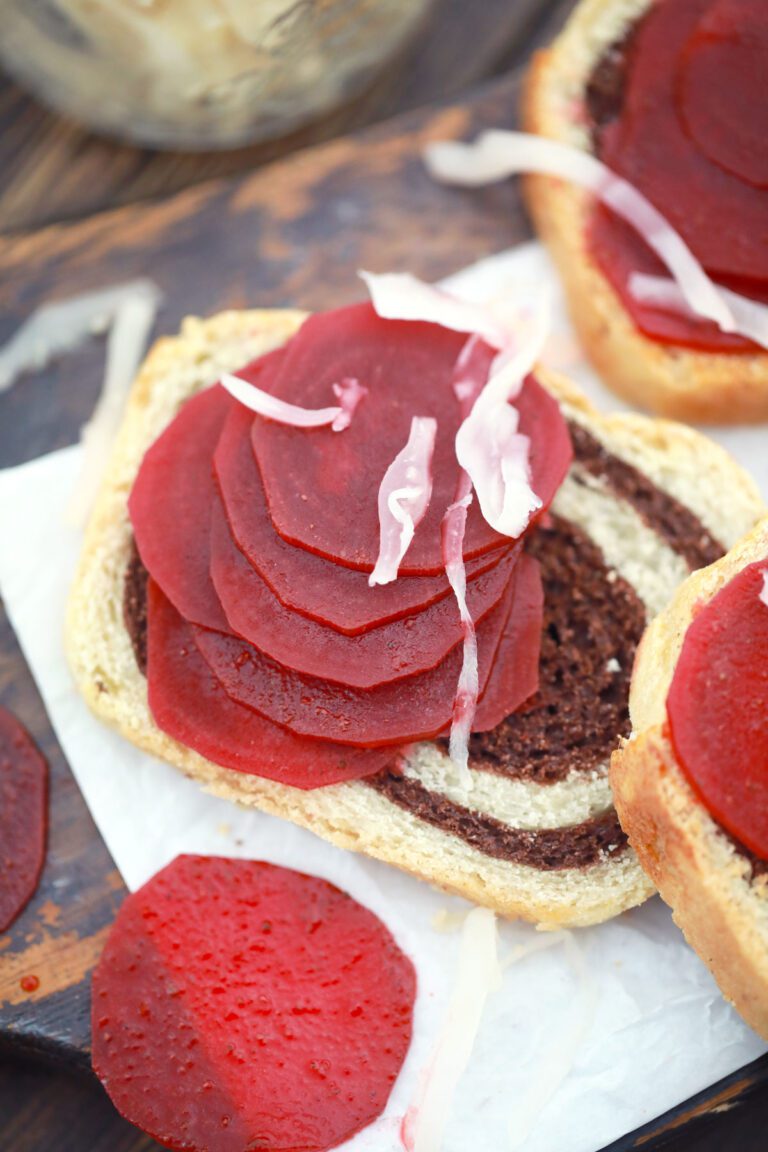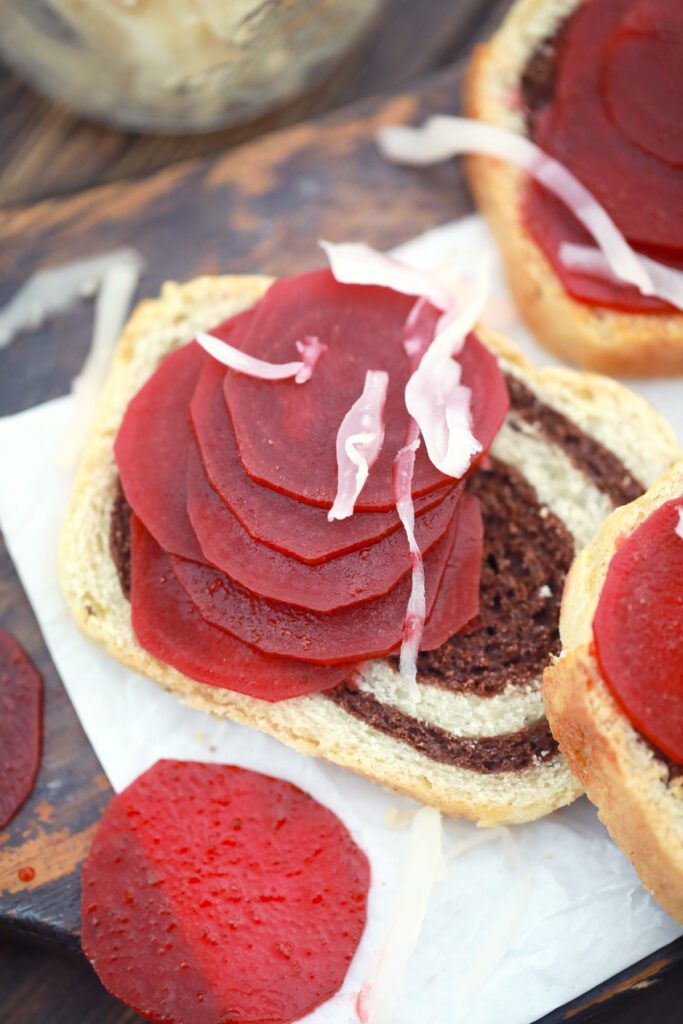 What's the difference between Russian and 1000 island dressing?
The classic Reuben sandwich is usually made with Russian dressing, a combination of mayonnaise, ketchup, vegan Worcestershire sauce, and various spices like mustard and paprika, plus a punch from horseradish.
However, some recipes opt for 1000 island dressing instead, which is made from a mix of vegan mayonnaise, relish or chopped pickles, and ketchup.
While both dressings add a delicious flavor to the sandwich, the 100 Island offers a slightly sweeter taste, while the Russian is more spicy and savory.
Ultimately, it's up to you to decide which dressing to use on your Reuben.
What can I substitute for sauerkraut?
If you are looking to make a Reuben but don't have any sauerkraut, there are a few options, though it's best with it if you have time to grab some at the store.
Plant based Reuben sandwich lovers need not worry if sauerkraut is not available. Substituting vegan coleslaw for sauerkraut is an easy way to enjoy a vegan sandwich.
You can also just use this easy boiled cabbage recipe and leave out the butter or use vegan butter.
For a similar effect, pickle relish or diced red onions with apple cider vinegar may be added. With these simple substitutions, a delicious vegan Reuben sandwich can be enjoyed in no time.
Ack – I don't have dressing! What can I do?
Mix up vegan mayo and ketchup until it's the perfect dark pink color, then add in some pickle relish or chopped pickles. Enjoy!
Missing the traditional Swiss cheese?
I prefer a nice smoky vegan cheese, but you can get Daiya Swiss and keep an eye out for local brands that might make that flavor.
Equipment
While I do recommend a mandoline, you can use a sharp knife and cut as thin as you can in a pinch.
This recipe is for an Instant Pot, but you can cook it on the stove, and simmer until the beets are done.
Pro Tip: Search the Amazon Warehouse for amazing deals on kitchen equipment!
Assembling the sandwiches
The preparation process for making the sandwich is easy. Assemble the ingredients around a cutting board.
Your first decision is will you grill them or not. If you are, heat a non-stick pan over medium high heat or get out that panni press you never use – now is its big moment!
I pan fry mine dry, but you can add some vegan butter or even plant-based mayo on the outside of the bread to crisp it up more.
Then layer a slice of vegan cheese, the sauerkraut, the corned beets, some of the dressing. Put on the top piece of bread.
If you grill or not you'll enjoy this sandwich with a few napkins – it can be messy!
Grilled sandwich tip
It helps to have 2 pieces of cheese – one on the top piece of the bread, and the other on the bottom.
When it gets hot and melts, the cheese helps keep your sandwich from falling apart.
What vegan sides should I serve with this vegan recipe?
The vegan Reuben sandwich is great served with air-fried chips, veggie sticks, or some slaw.
Looking for more vegan sandwich recipes?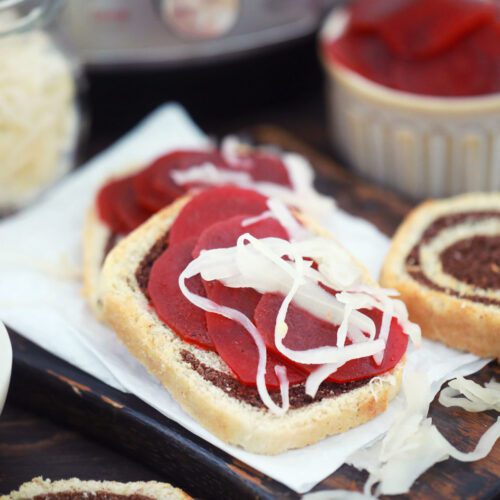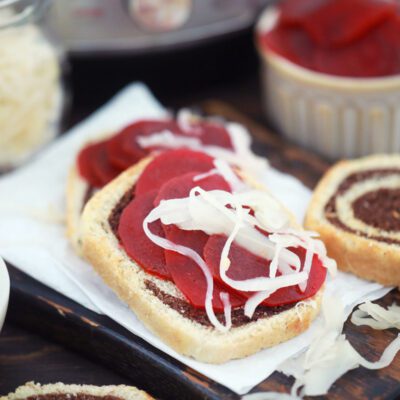 Instant Pot Corned Beets (or Jackfruit)
Use this in the perfect vegan version of a Reuben. Toast some rye, or better yet – marble rye, bread, slater on some thousand island dressing, sauerkraut, and a slice of vegan cheese. These red beets taste like the real thing and look like it too!
Ingredients
1

large red beet

peeled and sliced thin using a mandoline (or 1 can young jackfruit in water or brine)
Broth Ingredients
2

cups

water

2

tablespoons

Vegan Beefy Bouillon Powder

, recipe at https://healthyslowcooking.com/vegan-beef-broth/

1

tablespoon

pickle juice

I used some from a dill pickle jar

1

teaspoon

Worcestershire sauce

1

teaspoon

garlic powder

1

teaspoon

salt

or salt substitute

½

teaspoon

ground coriander

¼

teaspoon

onion powder

⅛

teaspoon

allspice

⅛

teaspoon

cinnamon

⅛

teaspoon

ground black pepper

Pinch

ground ginger

Pinch

mustard powder
Instructions
Add all the broth ingredients to your instant pot and cook on high pressure for 10 minutes.

Serve on toasted rye (rye swirl if possible) with Russian dressing and sauerkraut
Notes
Gluten-free, soy-free, oil-free, refined sugar-free, salt-free option
Nutrition
Calories:
27
kcal
Carbohydrates:
3
g
Protein:
1
g
Fat:
1
g
Saturated Fat:
0.01
g
Polyunsaturated Fat:
0.01
g
Monounsaturated Fat:
0.03
g
Sodium:
1291
mg
Potassium:
63
mg
Fiber:
1
g
Sugar:
1
g
Vitamin A:
6
IU
Vitamin C:
1
mg
Calcium:
9
mg
Iron:
0.2
mg