This Instant Pot Wild Rice Pilaf is going to change up dinner. It's a great base for a bowl or for air fried soy curls and gravy.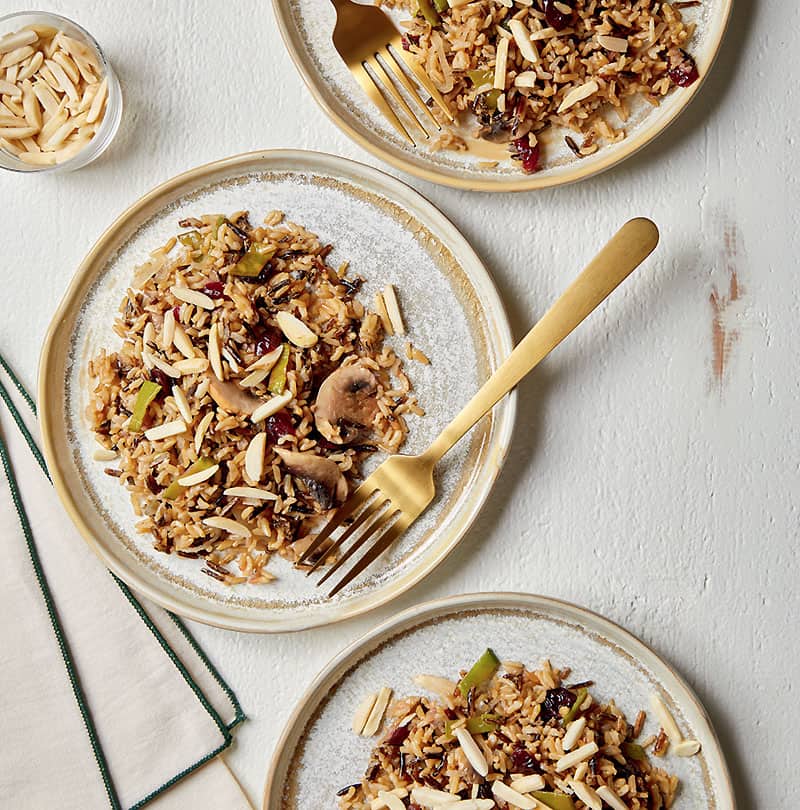 Instant Pot Wild Rice Pilaf is What's For Dinner Tonight!
Today's recipe is from The Gluten-Free Instant Pot Cookbook by Jane Bonacci and Sara De Leeuw.
I'm always looking for new inspiration for dinner and beyond. I'm not sure if you already know, but my Doctor took gluten out of my diet last year, so I'm searching for new gluten-free ideas.
While the book is not all vegan they do have some naturally vegan and easily veganizable recipes. Check it out if you can.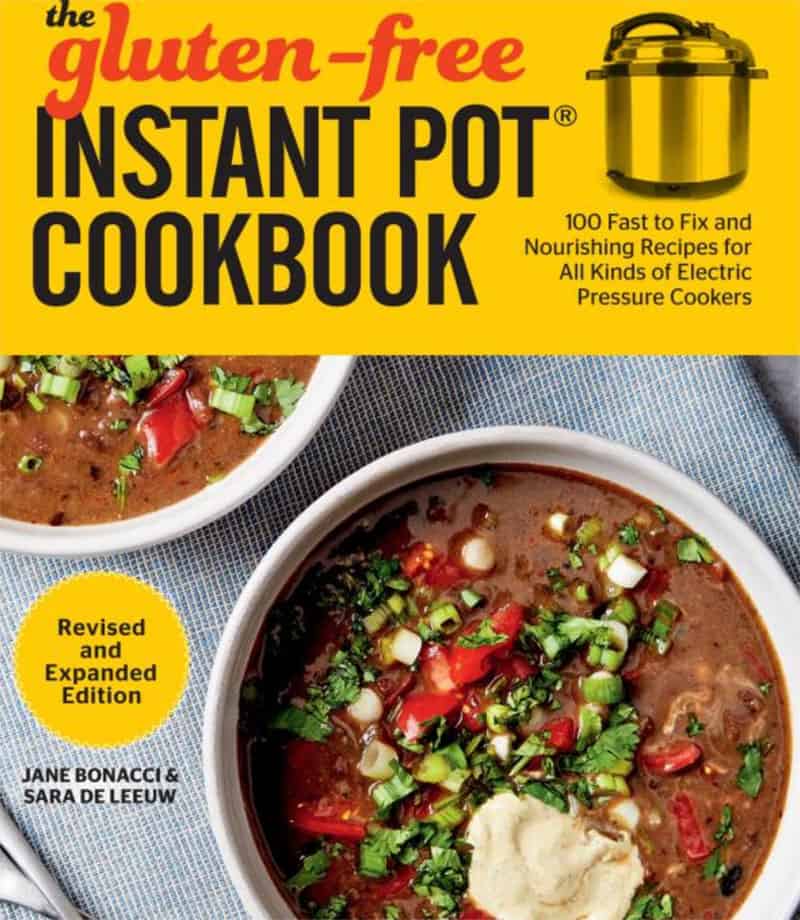 What Is Wild Rice?
Wild rice is different from "regular rice" because it's aquatic grass rather than real rice. It does grow in water like basmati and brown rice.
Brown rice has 30% more calories than wild rice and 40% less protein. That makes me think we should be eating more Instant Pot Wild Rice Pilaf.
Did you know that corn and wild rice are the only commonly-eaten grains native to North America? You can use that one at your next cocktail party.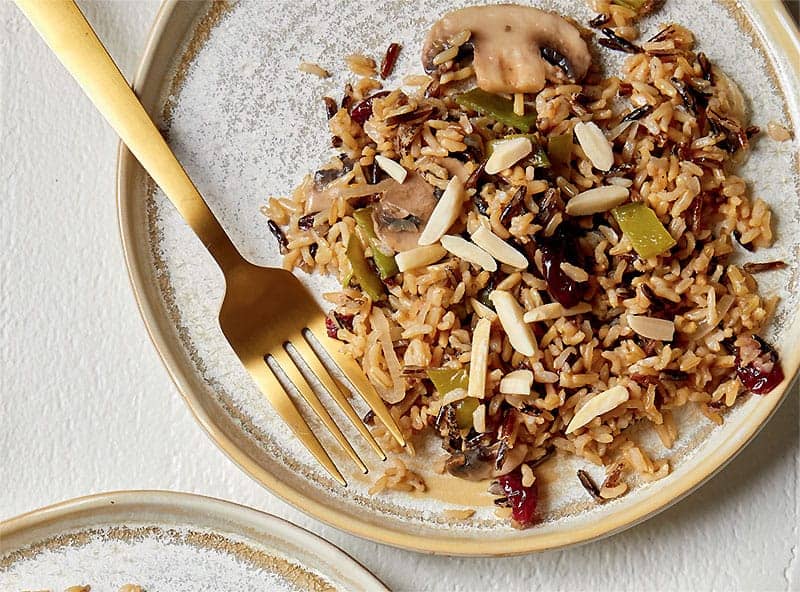 Do You Have to Soak Wild Rice Before Cooking In Your Instant Pot?
While some recipes tell you to soak your wild rice, not all of them do.
Soaking cuts down on cooking time, but it can get complicated when it's mixed with other rices like in this recipe.
You don't need to soak the rice for this Instant Pot Wild Rice Pilaf.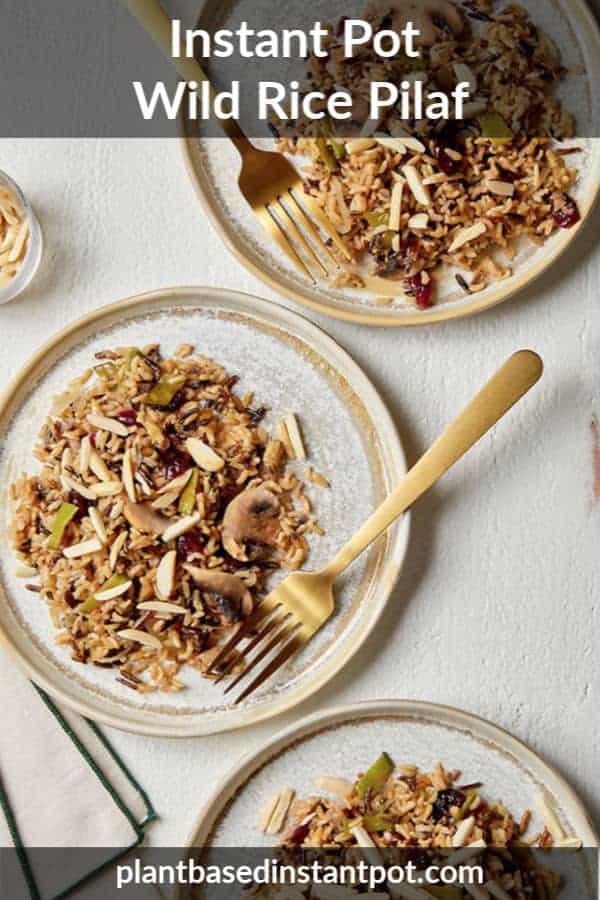 What Does Wild Rice Taste Like?
It has an earthy flavor kind of like toasted nuts. You'll find that it's chewy like brown rice since both have their outside bran on.
More Instant Pot Side Dishes
You may tend to use your electric pressure cooker for main dishes, soup, or stews, but don't forget it's a great place to cook side dishes too.
While you can eat Bean & Veggie Instant Pot Mexican Quinoa as a main dish, it's perfect as a side too.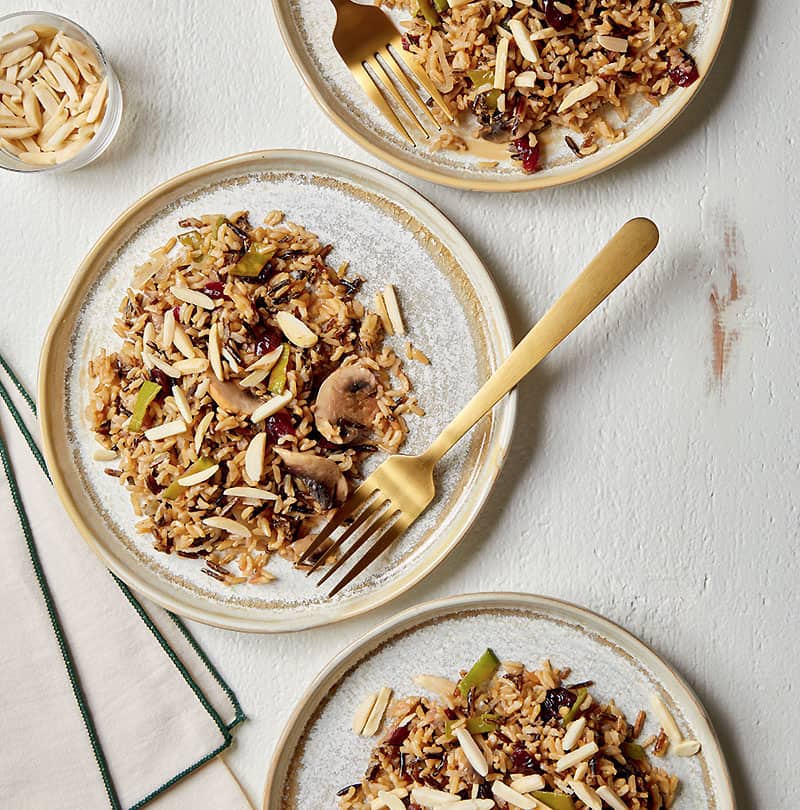 Serving Instant Pot Quick Pickled Beets is my favorite way to sneak beets into a meal. It doesn't hurt that they are delicious too!
If you don't have any wild rice on hand at the moment try my Vegan Instant Pot Mushroom Dirty Rice. It has lots of flavor and is as easy to make.
If you have some leftover wild rice after you make this try one of these recipes: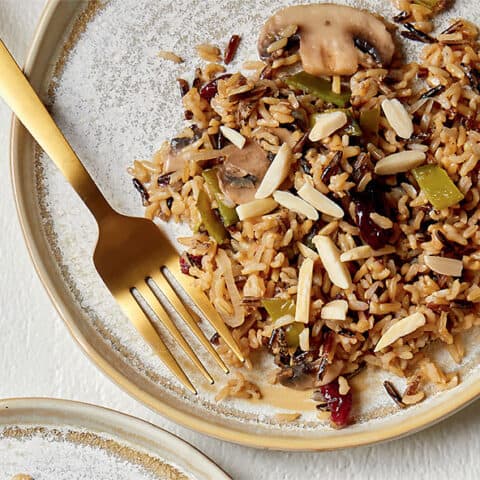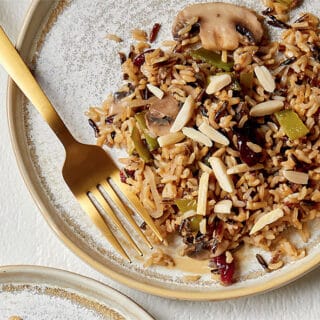 Brown and Wild Rice Pilaf with Mushrooms and Snow Peas
Jane Bonacci and Sara De Leeuw say: "Full of luscious flavors and textures, this pilaf is substantial enough to be a vegetarian main course, or serve it as a delightful side dish. The cranberries add a pop of fresh, bright flavor in every bite. Commercial rice blends come with a variety of ingredients and variable cooking times. Be sure to check the packaging to see what the recommended cook time is and halve it for this recipe."
Instructions
Press Sauté on your pressure cooker and add 1 tablespoon of the oil (or water to make oil-free) to the inner pot.

Add the shallots, snow peas, and mushrooms. Cook, stirring often, until the shallots are softened, about 2 minutes.

Use a slotted spoon to transfer the vegetables to a bowl. Stir in the cranberries and set aside.

With the pressure cooker still on Sauté, pour the remaining 1 tablespoon oil (or water to make oil-free) in the inner pot. Add the onion and cook until softened, about 4 minutes.

Add the rice and toss to coat each grain with the oil. Add the wine to the pot and scrape the bottom to loosen any browned bits.

Add the stock, water, salt, and pepper, stirring. Close and lock the lid, making sure the steam release handle is in the sealing position.

Cook on high pressure for half the time listed on the rice package, about 20 minutes.

When it is finished, release the pressure naturally, about 12 minutes. Turn the steam release handle to venting, releasing any remaining steam. When the float pin drops, unlock the lid and open it carefully.

Stir in the reserved vegetables and any accumulated juices, replace the lid, and let rest for about 4 minutes.

When the vegetables are reheated, remove the lid and use a fork to fluff the rice and distribute the vegetables evenly.

If there is excess liquid, leave it on Keep Warm or press Sauté (set to low) for a few minutes with the lid off and it will evaporate.

Scoop portions onto plates, sprinkle with the almonds, and serve.
Nutrition
Serving:
1
g
Calories:
309
kcal
Carbohydrates:
43
g
Protein:
10
g
Fat:
11
g
Saturated Fat:
1
g
Polyunsaturated Fat:
4
g
Monounsaturated Fat:
6
g
Trans Fat:
1
g
Sodium:
270
mg
Potassium:
389
mg
Fiber:
5
g
Sugar:
9
g
Vitamin A:
225
IU
Vitamin C:
9
mg
Calcium:
61
mg
Iron:
2
mg