If you want to see just how much flavor you can squeeze out of a few vegetables, you need to make my Instant Pot Oil-Free Mushroom Gumbo.
The veggies cook down to create an intense umami broth that's thickened with toasted oat flour to make the flavor even more complex. But don't worry it's really easy to make!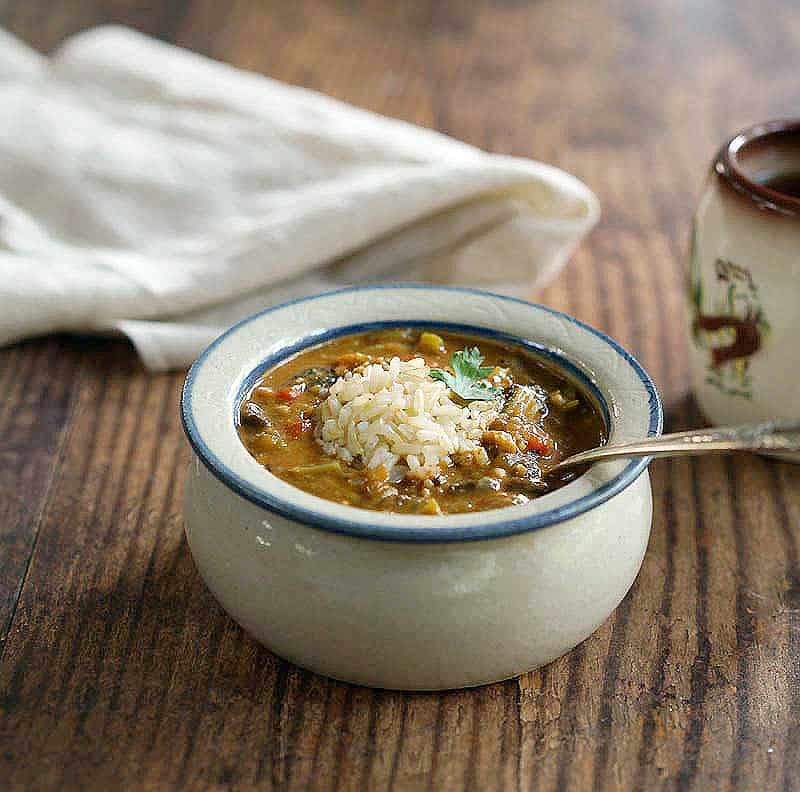 Can You Make Gumbo Vegan?
Of course, you can. I'm a firm believer that anything can be made vegan. In this mushroom gumbo recipe, it's the mushrooms that really up the flavor.
When the mushrooms cook down with the onions, peppers, and garlic it creates a deep, rich flavored broth that's the base of the dish.
This broth creates a stew that rivals traditional gumbo in my opinion.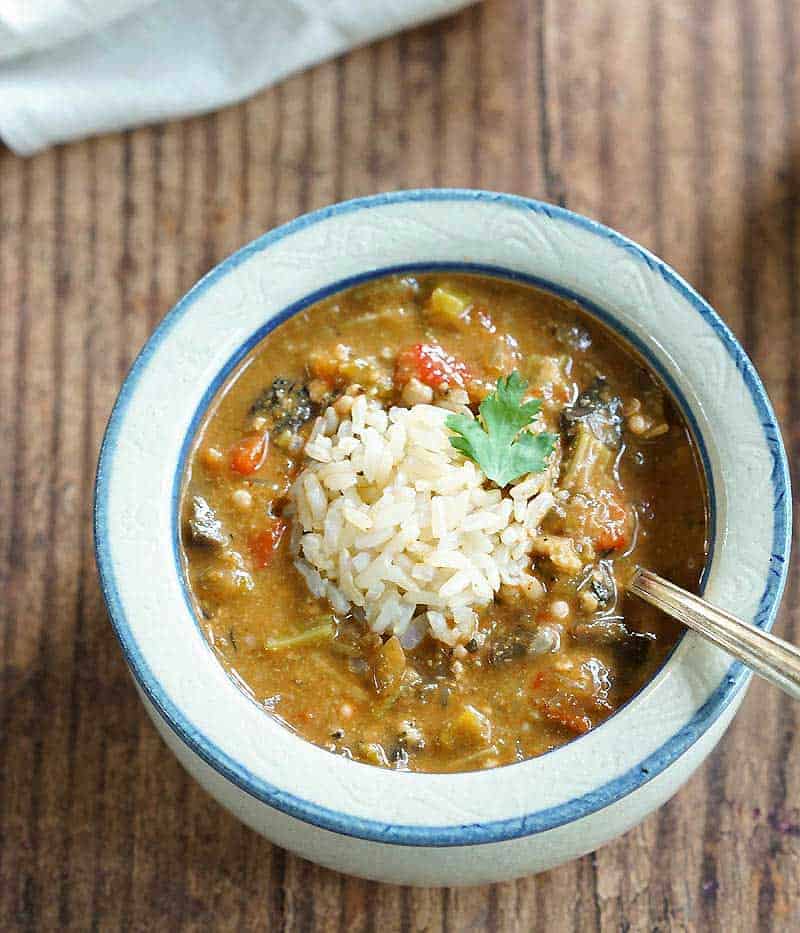 Is Gumbo Supposed to be Thick?
Gumbo, vegan or not, is a thick stew that's a hearty meal once you top with a scoop of rice. With that said different recipes can vary in thickness, but it should be thicker than a soup in my opinion.
How Do You Make an Oil-Free Roux?
Well, it's not a roux per say, but this oil-free method still adds flavor and thicken this stew.
A traditional roux is comprised of flour and oil, that's cooked slowly until it's rich and dark.
We are slowly toasting flour instead. This adds flavor. I'm using oat flour, but you could use wheat, brown rice, and other flours if you want.
How Do I Eat Vegan Gumbo?
In a bowl silly! Okay, I'll get serious. Gumbo is either served over rice or is topped with a scoop of rice.
When I eat my mushroom gumbo I stir it all together and add a little hot sauce too. Traditionally that would either be the spicy Tabasco sauce or the more vinegary Louisiana hot sauce – Texas Pete if you live in North Carolina.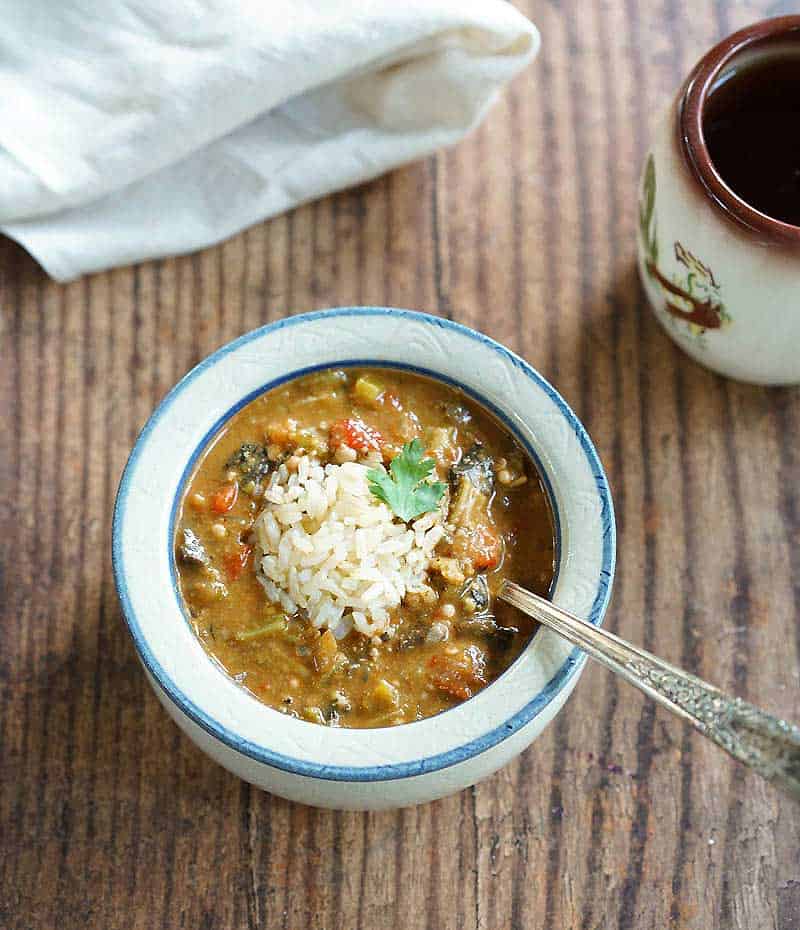 I Can't Find Fresh Okra
That's not a problem at all. You can use frozen okra instead and that's available all year round.
You may find that your frozen okra is a little less or a little more than called for in the recipe. I say throw caution to the wind and use that amount anyhow. Be a gumbo rebel!
While we get fresh okra in later summer, gumbo is the ultimate cool-weather dinner and leftovers freeze great!
What's the Difference Between Gumbo and Jambalaya?
Gumbo is a thick stew that's topped with rice and has a roux base. In this recipe we are just using toasted flour as our roux to make this an oil-free version.
Jambalaya is a rice dish that's made with broth but ends up being more like a casserole.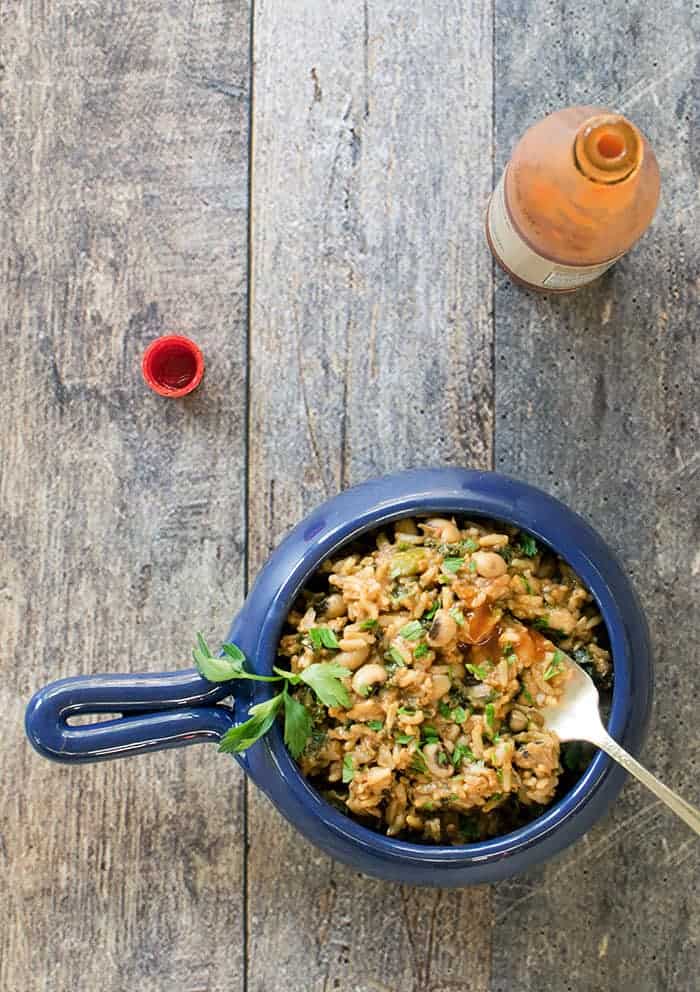 What is the Cajun and Creole Holy Trinity?
I lived in New Orleans for 12 years and food is really at the center of its culture. You can buy pre-cut trinity in every grocery.
The holy trinity is a combination of onion, bell pepper, and celery. While onion is most commonly used, shallots are great and can be subbed for onion if you have them.
What Other Ingredients Can I Add to a Vegan Mushroom Gumbo?
I like this gumbo just as written, but it is a lighter gumbo. If you're looking for something more filling try adding 1 to 2 cups of any of the following:
Crumbled tempeh
Cubed tofu
Shredded Jackfruit
Reconstituted Soy Curls
Cauliflower florets
Cooked Beans
Carrots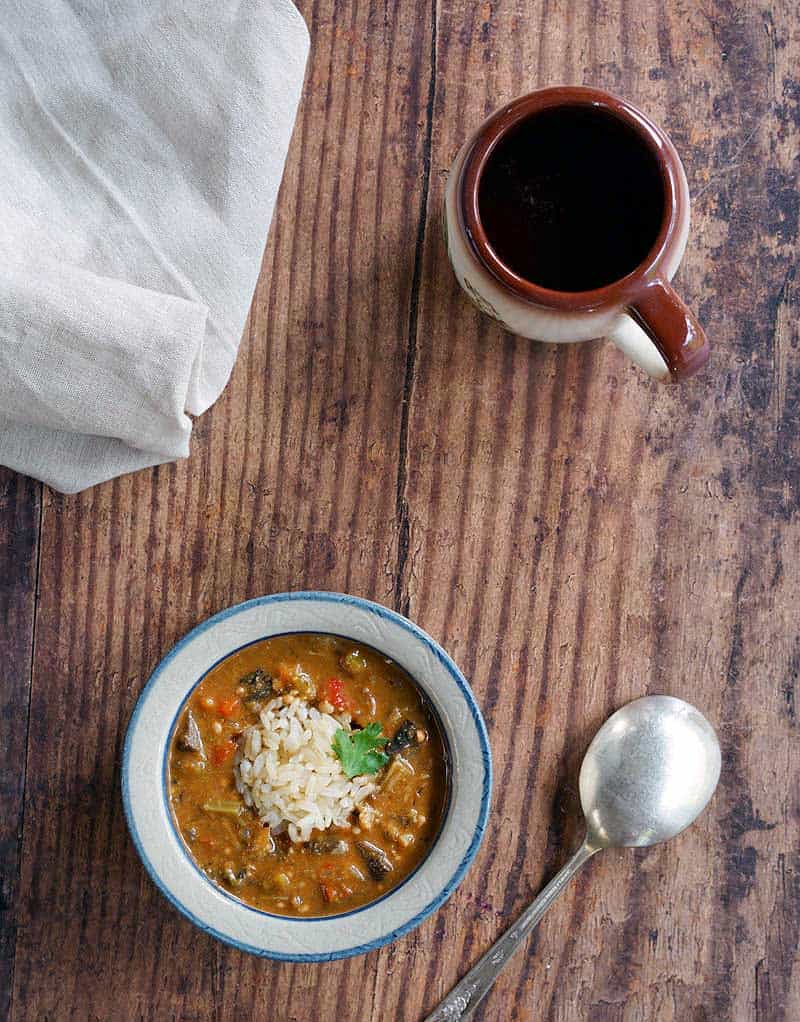 How Long Does Mushroom Gumbo Last in the Fridge?
This should last up to 1 week if all your veggies were fresh.
Can I Freeze Vegan Gumbo?
Yes you can. I suggest to freeze in single portions or enough for 1 family meals.
You can easily double this recipe to make sure you have some left over to freeze.
Serving Suggestion
Be sure to try this with steamed brown rice, but you can use any kind of cooked rice. I like to switch it up with Instant Pot Red Rice sometimes too!
More Hearty Recipes to Try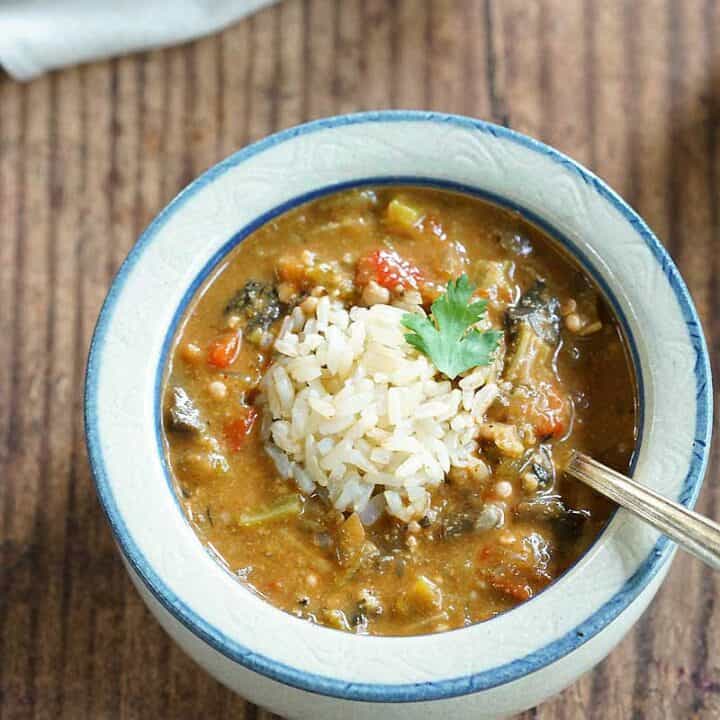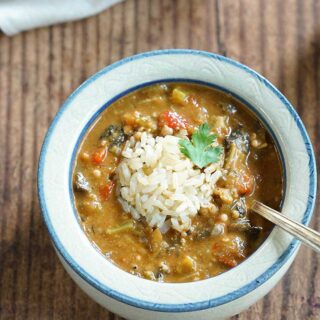 Instant Pot Oil-Free Mushroom Gumbo
This may be the best gumbo I've ever made. The mushrooms cook down into a decadent dark broth that makes this reminiscent of a traditional gumbo. There is no oil but we still toast up some oat flour to give our gumbo a thick broth and add another depth of flavor.
Ingredients
Water Saute Ingredients
1/2

cup

water

1 1/2

cups

minced onion

2

cups

bell pepper

I used red ones but any color will work

1

cup

minced celery

or 1/2 teaspoon celery seed

1

tablespoon

minced garlic

2

cups

chopped mushrooms
Instant Pot Ingredients
4

cups

water

3

cups

sliced okra

2

bay leaves

1

vegan bouillon cube

store bought or homemade

2

tablespoons

nutritional yeast

2

teaspoons

marjoram

1

teaspoon

smoked paprika

1

teaspoon

regular paprika

1/2

teaspoon

oregano

1/2

teaspoon

cayenne pepper powder

or use more if you like it hot

Before Serving

Salt or Salt Substitute

to taste

Pepper

to taste
For Serving
2

cups

steamed brown rice

1

cup

minced celery
Instructions
Heat the water on high saute in your Instant Pot. Once hot add the onion and saute until translucent. Add the bell pepper, celery, and garlic, saute 3 minutes more.

Add in the mushrooms and saute until the mushrooms are cooked down and the liquid is dark and it's not watery anymore. We are making a rich broth that will be the flavor base of our gumbo. Turn the saute off.

Next add the water, okra, bay leaves, vegan bouillon cube, nutritional yeast, marjoram, smoked paprika, regular paprika, oregano, and cayenne pepper powder. Close the lid and cook on high pressure for 15 minutes.

While the gumbo is cooking we will toast the oat flour in a saute pan on the stove. Cook over medium low to medium heat, stirring continuously to make sure it does not burn. They key to a good flavor is to slowly toast the flour.


Once the flour is about 2 to 3 shades darker, remove from heat and place in a bowl.

Release any additional pressure on your Instant Pot manually, because some of it could have released while you were toasting the flour.

Remove the lid and dip out about 1/2 cup of the gumbo broth and add it to the bowl with your toasted flour. Mix well. If there are a few pieces of oat floating around don't sweat it. It will still incorporate into your gumbo.

Mix the slurry into the gumbo and add salt or salt substitute and pepper, to taste.

Ladle up in individual bowls and plop a 1/2 cup steamed brown rice in. You can serve with hot sauce on the side.
Notes
To make this extra special stir in some chopped greens when you are adding salt.
Or make it heartier by adding tofu cubes, crumbled tempeh, or even hearty veggies like cauliflower, carrots or potato in the Instant Pot when you are adding the okra.
Nutrition
Serving:
1
g
Calories:
518
kcal
Carbohydrates:
105
g
Protein:
16
g
Fat:
5
g
Saturated Fat:
1
g
Polyunsaturated Fat:
1
g
Monounsaturated Fat:
1
g
Sodium:
251
mg
Potassium:
1341
mg
Fiber:
14
g
Sugar:
11
g
Vitamin A:
3706
IU
Vitamin C:
119
mg
Calcium:
158
mg
Iron:
4
mg