Oatmeal is one of my favorite winter meals and Instant Pot Steel Cut Oats make it easier to have them every day. You can set them up the night before and wake up to a steaming hot bowl of oats. Plus, you can make them sweet or savory depending on how you choose to top them.
My recipe makes the oats nice and chewy, but I give you info on how to make them soft and creamy if that's what you prefer.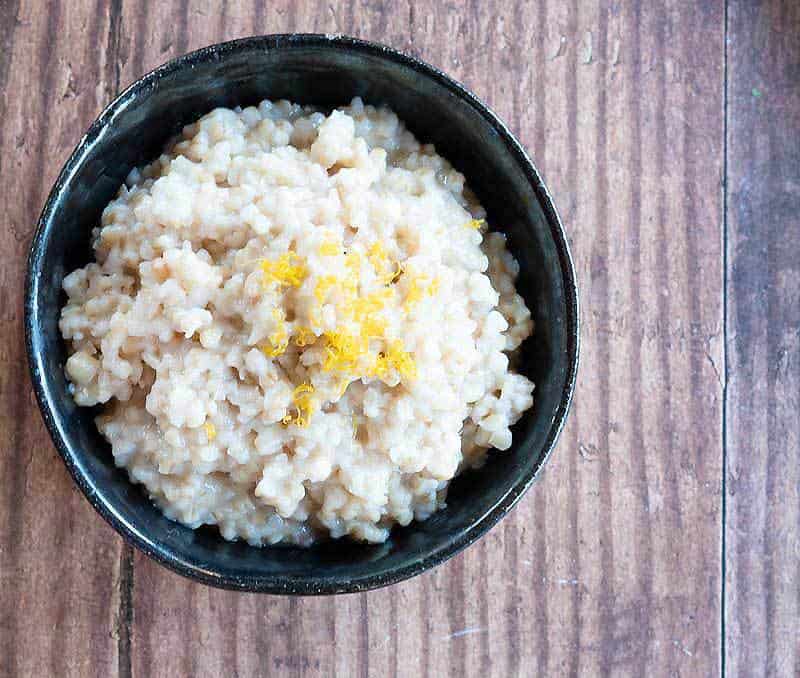 What's Your Favorite – Sweet or Savory Oats?
Today's recipe is for plain Instant Pot Steel-cut Oats. That means you can top it with fruit, cinnamon, and your favorite sweetener for a sweet morning treat or cook up some kale mixed with other veggies and call it dinner.
How Can Steel Cut Oats be Controversial?
In the age of the internet, I think everything gets passionately argued over. If you look at my Instant Pot Apple Spice Steel Cut Oats for 2 and Instant Pot Pumpkin Coffeecake Steel-cut Oatmeal over on HealthySlowCooking.com you will see so many comments that completely contradict each other.
I even have a comment about why are there so many contradicting comments. My only answer is people feel passionate about their oats and if they are chewy or creamy.
To me, there's no one right answer or recipe that will satisfy everyone. My recipe times are taken from Jill Nussinow, so I know there are a few of us out there that like a little bite to our oats.
What Do They Look Like Once They Are Cooked?
They look similar to the photo below. A little clumpy and with some extra liquid on top. This is NOT a sign to cook more.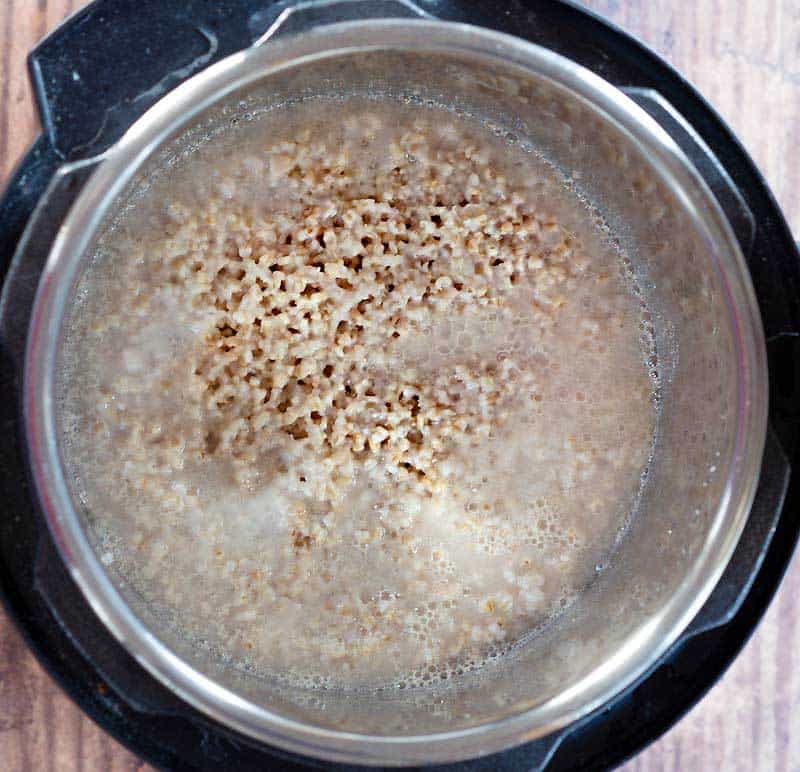 Make sure to stir them and see if the liquid integrates well. The photo below is the same batch of oats as above, only stirred.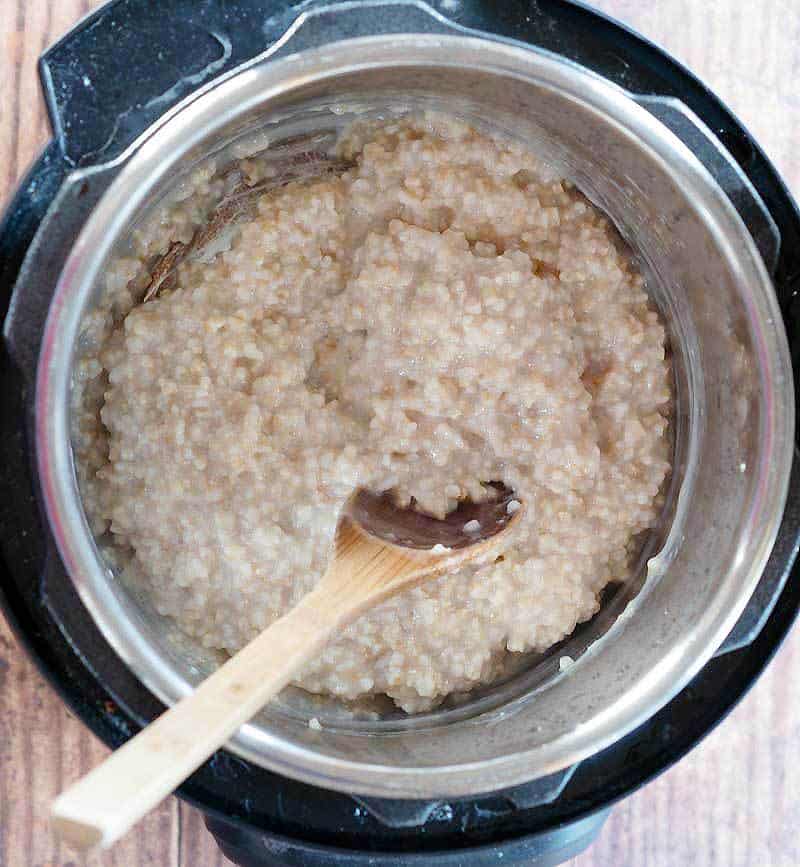 That looks better, doesn't it? After you stir them take a bite. Are they too chewy for you? If your answer is yes, then that's a great reason to cook them a few minutes longer next time.
You can make this batch creamier right now by adding some liquid and cooking on saute until they are as soft as you'd like them to be.
You could try to pressure cook them for a couple more minutes, but once super thick foods are cooked once it can stick and you'll probably get the burn message. I've had this happen on my split pea soup in the past. Remember you need at least 1/2 cup of water to come to pressure in the 6-quart Instant Pot.
How Can I Make Steel Cut Oats They Way I Like Them?
If you are super picky about your oats, you can look at Amy & Jacky's post here where they try 6 different times and liquid amounts. Then you can eyeball the one that seems best for you.
In addition to my 1 to 3 method that cooks 3 minutes, I also tried their method #4 which cooks with less water, but for 10 minutes. They were more similar in chewiness than I expected.
If you like your oats soft try cooking my recipe for 10 minutes and see if that gets closer to your preference.
Why Make Instant Pot Steel Cut Oats for 2?
Personally, I love setting the timer on my Instant Pot and set up my oats to be ready to eat or put in a thermos before I leave the house. If you are a small household or don't want to use a microwave once you get to work, making just enough is nice and not very hard.
How Do I Set the Delay Timer on My Instant Pot?
One of my favorite features of the Instant Pot is its delay timer. Add the water and steel-cut oats to your IP. Set the timer to start cooking about 20 minutes before you leave the house. That will leave you enough time to put it into your thermos and dash out to work.
Here are the step by steps:
First select a cooking method, manual/pressure cook. You can't set the time before you do this step.
Adjust cook time in minutes with the + and – buttons
The timer button must be pushed within 10 seconds of setting your cooking program's time or you will have to press cancel and start over.
Adjust delay time in minutes with the + and – buttons
8 hours is 480 minutes
Warning: Do not put perishable food in the pot without heat for long period of times. This is best for doing a plain water and grain mixture if it will be in the pot overnight.
Can I Cook Rolled Oats in the Instant Pot?
You can cook rolled oats, but you need to use different measurements and even a different method. I recommend cooking them in a pot in pot method. I'm working on a post about this with a recipe.
More Recipes to Try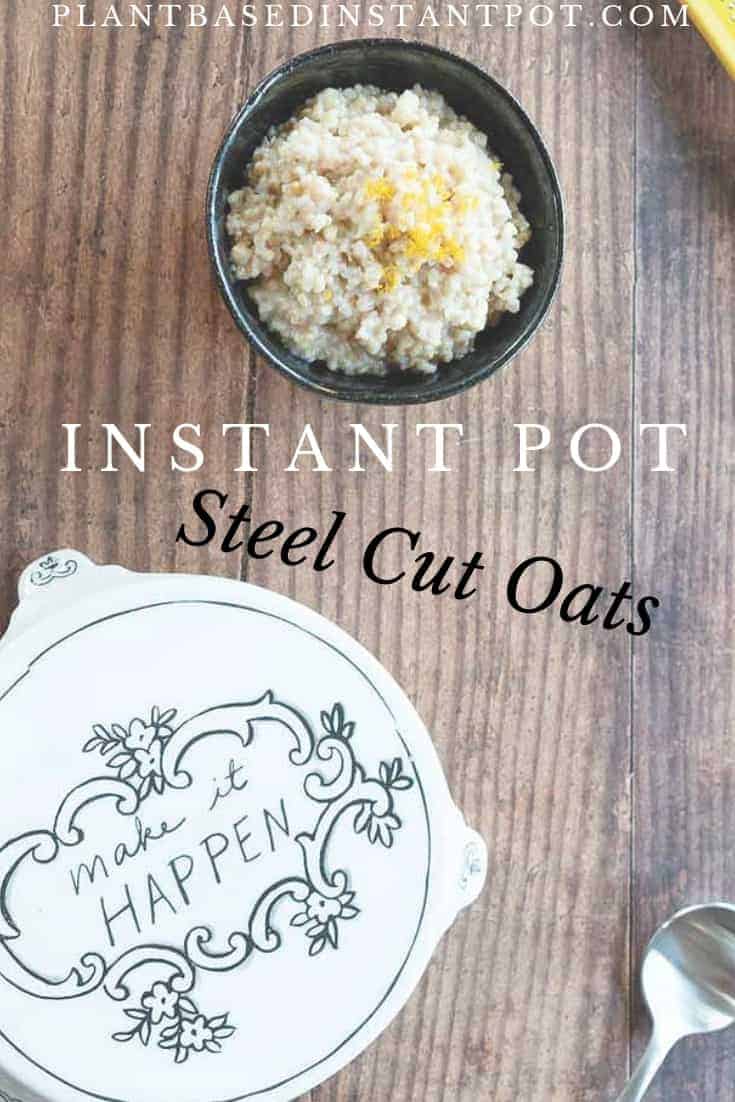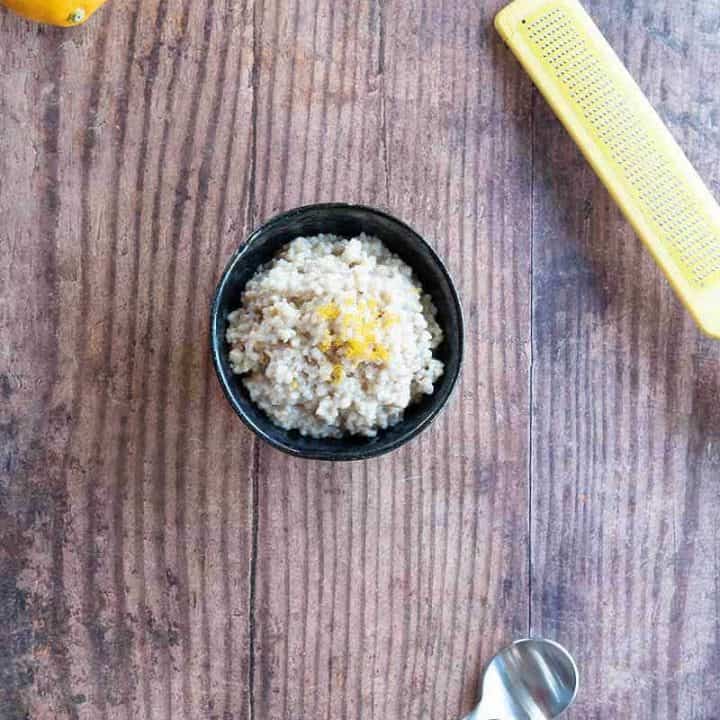 Instant Pot Steel Cut Oats
This is a basic recipe for 2 servings. You can double or triple it if you want. It cooks fine for 2 in a 6-quart or a 3-quart.
Ingredients
1 1/2

cups

water

1/2

cup

steel-cut oats
Instructions
Add the water and oats to your Instant Pot. Put your lid on and make sure the vent is closed.

Plug it in and select the manual setting and set to cook on high pressure for 3 minutes.

The Instant Pot timer will begin counting down the time once it gets up to pressure.

Allow the pressure to release naturally. You'll know when it's ready because the round silver pressure gauge will drop down. This will take about 5 to 10 minutes.
Video
Notes
You can use nondairy milk instead of water if you are NOT using the delay timer.
Nutrition
Serving:
1
/2 recipe
Calories:
154
kcal
Carbohydrates:
26
g
Protein:
6
g
Fat:
3
g
Sodium:
9
mg
Fiber:
4
g
Calcium:
25
mg
Iron:
2
mg