Wouldn't a salad be a perfect dinner? Use your electric pressure cooker for the power of good and keep your house cool at the same time. This Instant Pot Chickpea Greek Salad is fresh, filling, and vegan, plus you can make it ahead of time!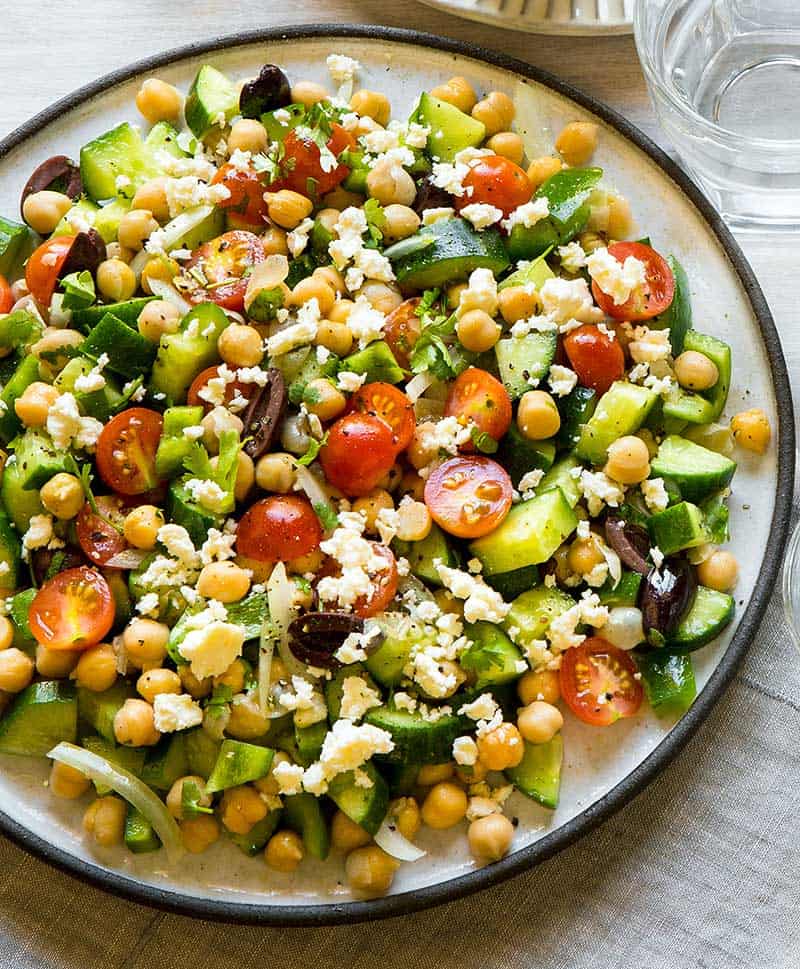 How Do You Make a Salad in an Instant Pot?
Well, you're not exactly making the whole salad in your electric pressure cooker. In this recipe you're just cooking the chickpeas in it. In the summer not turning on the stove is always a plus.
How Do I Quick Soak Chickpeas in the Instant Pot?
If you want to make it right now and you don't have any soaked chickpeas, you can quick soak them in your Instant Pot. Rinse the dry beans and add to your IP and cover them with water until it reaches about 2 to 3 inches above the beans.
Place the lid on and cook on high pressure, using the manual or pressure cook button depending on your model. Cook for 8 minutes and carefully release the pressure manually.
Pour the beans into a colander over the sink. Rinse with water and rise out the stainless steel IP liner. Now you're ready to start with the recipe as written!
How Long Do You Cook Chickpeas in the Instant Pot?
The most important factor is if the beans have been soaked or not. In this recipe we soak them overnight or quick soak them to get a similar result.
Soaked chickpeas cook in about 15 minutes on high with a natural pressure release. Remember that you will need more liquid to cook unsoaked garbanzo beans.
Unsoaked chickpeas will need about 50 minutes to cook on high pressure with a natural pressure realease.
How Do You Cook Soaked Chickpeas in Your Instant Pot?
If you've soaked your chickpeas overnight, just place them in your Instant Pot with 3 cups of water per 1 cup of soaked garbanzo beans.
Cook on high pressure for 15 minutes and let the pressure release naturally.
Can I Freeze Instant Pot Chickpeas?
You can and I recommend cooking extra whenever you can. Freeze in 1 1/2 cup portions in a freezer safe container. Then just grab one whenever you're making a recipe that calls for a can of beans!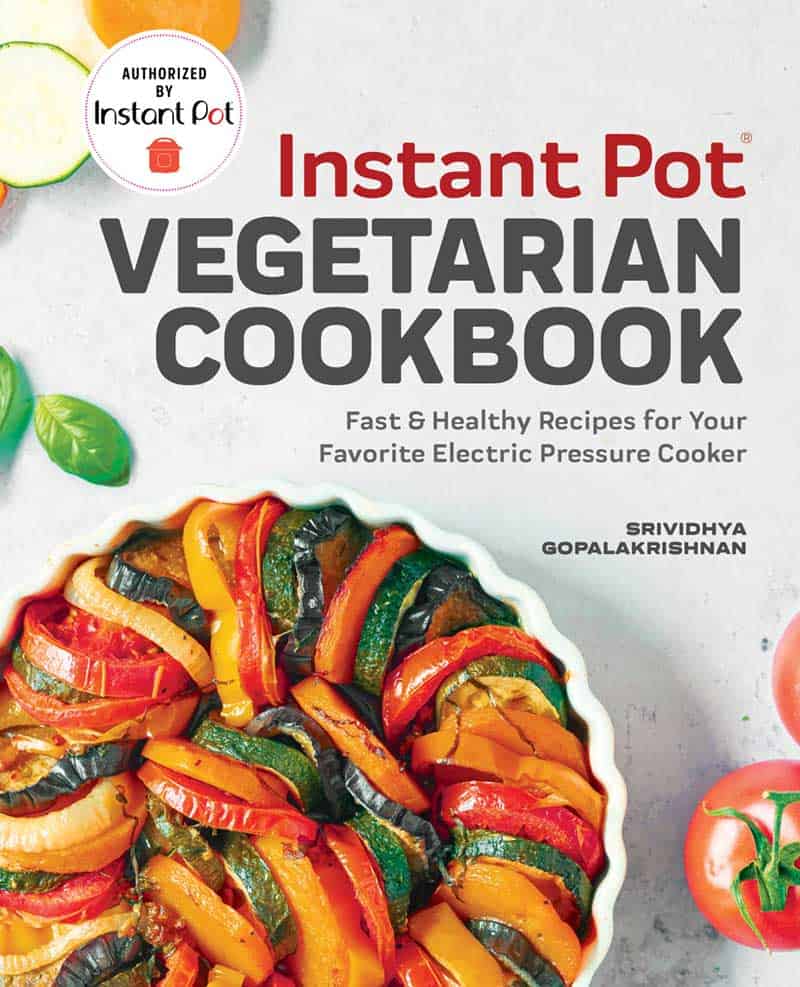 You Can Never Have Too Many Instant Pot Cookbooks!
I have always been in love with books, especially cookbooks. So many ideas and tips are always waiting inside, plus so much hard work went into them.
Cookbooks take up a big space in my heart and in my house. In my opinion you can never have too many.
I met Srividhya, of Vidhyas Home Cooking, at a food blogger conference in Utah. She's so nice and I enjoyed spending time with her and talking about Indian food and Instant Pots.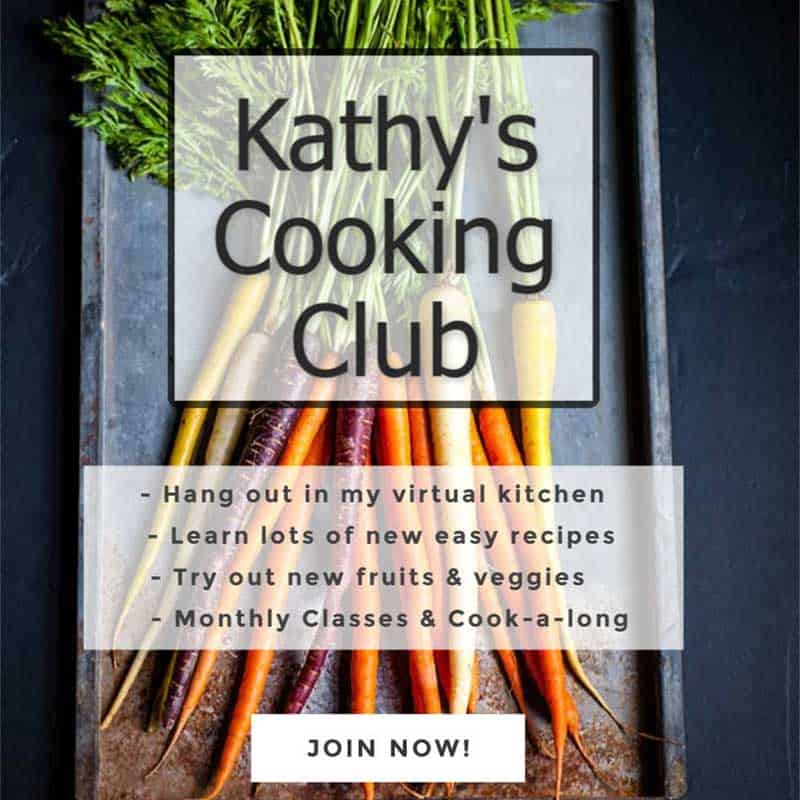 It was even more exciting because her first cookbook, Instant Pot Vegetarian Cookbook, was coming out soon.
It is a vegetarian cookbook, but there are some accidentally vegan recipes and almost all of the rest can be easily tweaked to be vegan. There's tons of good information on the Instant Pot and great recipes to try.
These are all on my to make list:
Creamy Beet and Corn Salad (just use vegan yogurt in place of mayo)
Ethiopian-Style Vegetable Curry
Mixed Vegetable Korma (use vegan yogurt or cashew cream in place of cream)
Mixed Vegetable Dal (use vegan butter or water saute in place of butter)
Thai Fried Rice
and the list goes on!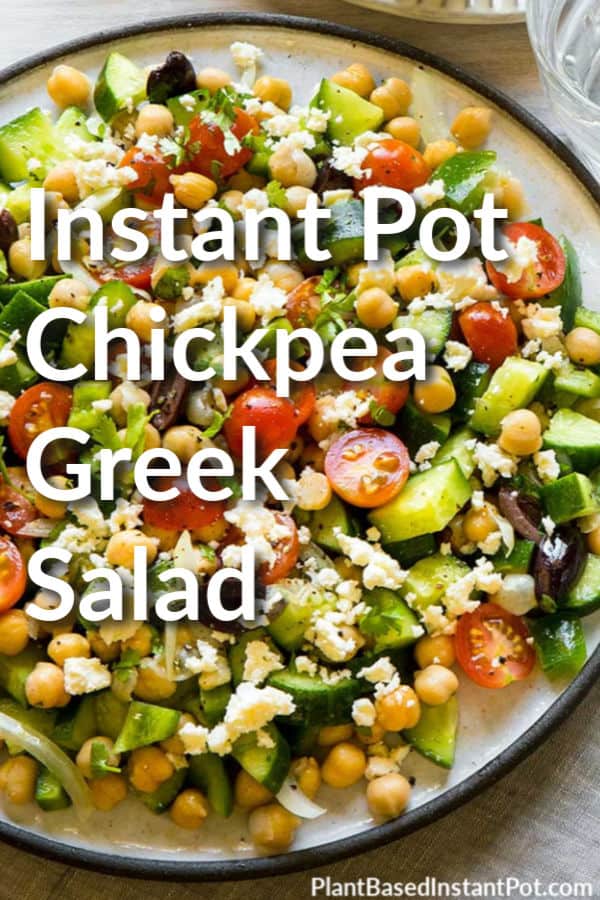 Is There a Such Thing As Vegan Feta?
You know that there is! Violife feta comes in a block and crumbles like traditional feta. I have used it and like it.
You can make this vegan Instant Pot Chickpea Greek Salad without the feta, but it really adds a lot of flavor. Keep reading
DIY Oil-Free Vegan Feta
The Violife feta is not oil-free, but a great homemade alternative is to make one with tofu.
press a firm block of tofu
cut into small cubes
juice of 1 lemon
2 tablespoons nutritional yeast or 1 tablespoon miso
garlic powder, to taste
dried oregano, to taste
salt, to taste
Mix everything together in a covered dish and let marinate for at least 8 hours. Keeps about 1 week.
How Can I Make This Oil-Free?
Easy, just replace the olive oil with aquafaba or skip the dressing altogether and use your favorite flavored balsamic vinegar. Oh, and skip the vegan cheese!
More Summer Instant Pot Recipes
I have another salad that comes from your Instant Pot, Plant Based Instant Pot Potato Salad with No Oil. Which is similar to a plant based salad nicoise.
Be sure to preserve some summer fruit with my Instant Pot Vanilla Peach Chia Jam recipe. You can switch it out for other stone fruits or berries.
In the south US we eat something called a vegetable plate, and my Fresh Summer Instant Pot Vegetable Dinner is a way to make 3 different veggies at the same time in one electric pressure cooker!